Want to get really organized and smart about your money? Free how to manage money worksheets to help you with all the things involved with managing your money.
Sooo…you're working on your money, and want to get more organized and feel more in control of everything.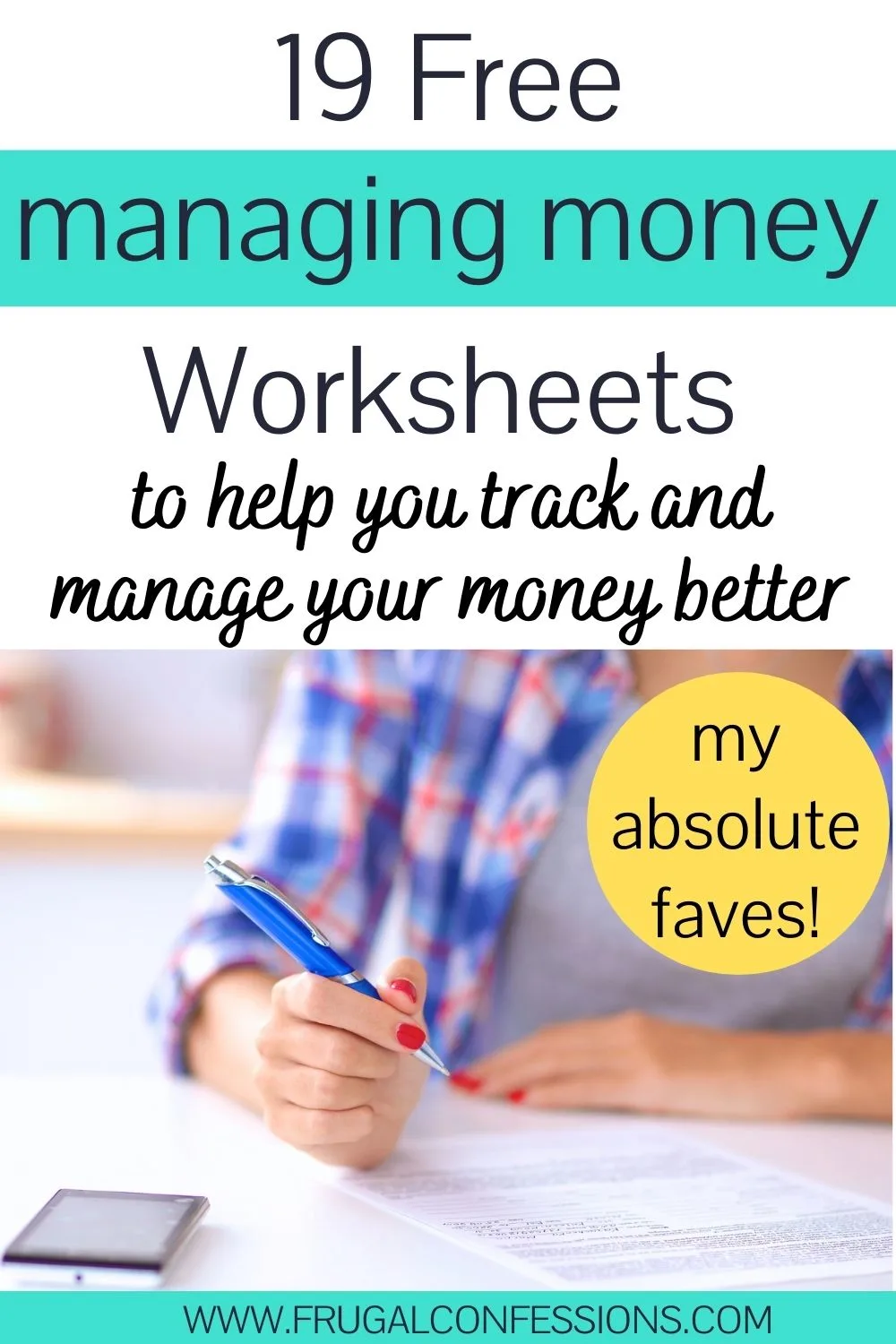 I applaud you!
That's why I've put together a list of my fave how to manage money worksheets that will push your money skills even closer to ninja-level.
The different types of money management worksheets I've included are:
Bill pay organizers
Spending plans
Spending Trackers
Budget worksheets (weekly, by paycheck, monthly)
Savings goal trackers
Debt trackers
Net worth trackers
Let's take a minute to define what managing money actually is, then we'll dive into those oh-so-cool and helpful worksheets.
What is Money Management?
Before we dive into the different types of free money management worksheets you'll want to snag, we should probably be on the same page about what money management actually is.
I define money management as:
Money Management is the collection of decisions you make and the actions you take with the money you have in order to get the best possible outcome (both immediately, and in the future). These decisions include how to spend it, how to save it, how to invest it, how to protect it, and otherwise, how to use your money.
Cool?
Alright, let's look at the worksheets that will help you to do all that.
How to Manage Your Money Worksheets
These how to manage your money worksheets, printables, PDFs, or whatever else you want to call them are going to be JUST THE THING to take your finances to the next level.
So, let's dive in!
Psst: ever wondered "How can I improve my money management skills?" You'll definitely want to check out my article on how to get better at managing money, and my most powerful personal money management tips.
Bill Payment Organizers
How are you supposed to keep track of bill deadlines, and which bills you've paid (and which ones you haven't yet)? Which bills have cleared your checking account?
There's gotta be a better way – and there is, when you use one of these money management worksheets.
Pssst: pair any of these worksheets with a one of these free money management classes and courses to really hone your money skills.
Budget Worksheets (Weekly, Bi-weekly, or Monthly)
Ahhhh, the budget.
This is where the money-management-rubber meets the road – where you write out how you'll use your money this week, or this paycheck, or this month.
We'll start off with my own free budget worksheet, which should definitely help you to manage your money better.
1. Frugal Confessions' Budget Worksheet
What I like about this worksheet (if I do say so, myself!) is that you can not only plan out your spending percentages for the month, but then you can come back and calculate your actual spending to see how close you got (or how far off your percentages are to what you prioritize in life).
Kinda priceless information.
Not only that, but you can do what I have called "Paycheck Blocking", meaning, keep visual track as you use up your paycheck, so that you can quickly get a snapshot of how much there is left.
Click here to get yours for free.
Also, check out this article for more free printable budget worksheets.
Psst: don't forget about budgeting for the holidays, using these free Christmas budget worksheet PDFs.
Savings Goal Tracker Worksheets
This is actually my favorite category of manage money worksheets – I'm all about savings goals.
See which of these line up to your own savings goals, download, print, and get movin'!
1. Honeycomb Savings Goal Tracker
2. Starter Emergency Fund Tracker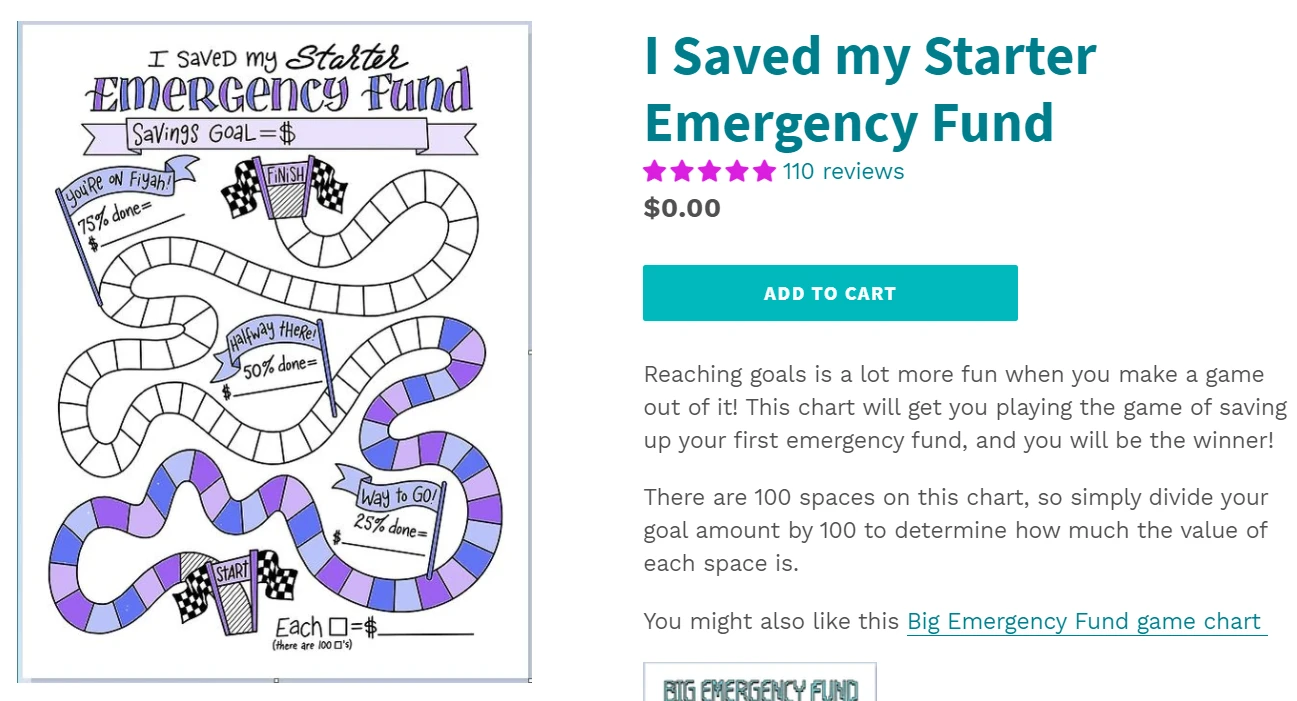 Here's a super cute, and motivating, way to help you save up for your emergency fund! Just take your total emergency fund goal (here's example emergency fund amounts, plus how to calculate what you need in an emergency fund), and you divide that by the number of squares on this gameboard.
As you save up that amount, you fill in the square. Until you get all the way to the end, where you've met your juicy and oh-so-important savings goal!
Is your goal to save up an emergency fund? Here are 11 free printable emergency fund trackers specific to reaching that goal.
3. Free Money Savings Goal Tracker
I created this free money goal tracker so that you can not only keep track of where you ARE, but also where you're SUPPOSED to be if you want to meet your savings goal deadline.
Psst: don't forget about event-targeted savings goals. Check out these free, 52-week Christmas savings plan printables. Also, some of these S.M.A.R.T. financial goals worksheets have trackers as well.
Spending Plan Worksheets
Spending plans are actually different than budgets, so I wanted to break these two money management worksheets up into their own sections.
A spending plan is where you set out how you're going to treat each dollar that comes into your life.
A budget is how you express the priorities and percentages that you've laid out in your spending plan, on a daily and weekly basis.
1. Money Prodigy's Spending Plan
Honestly…there aren't many spending plan worksheets where you're just working out what percentage of each dollar you bring into your home you want to set aside for each of the four categories: spend, save, donate, invest.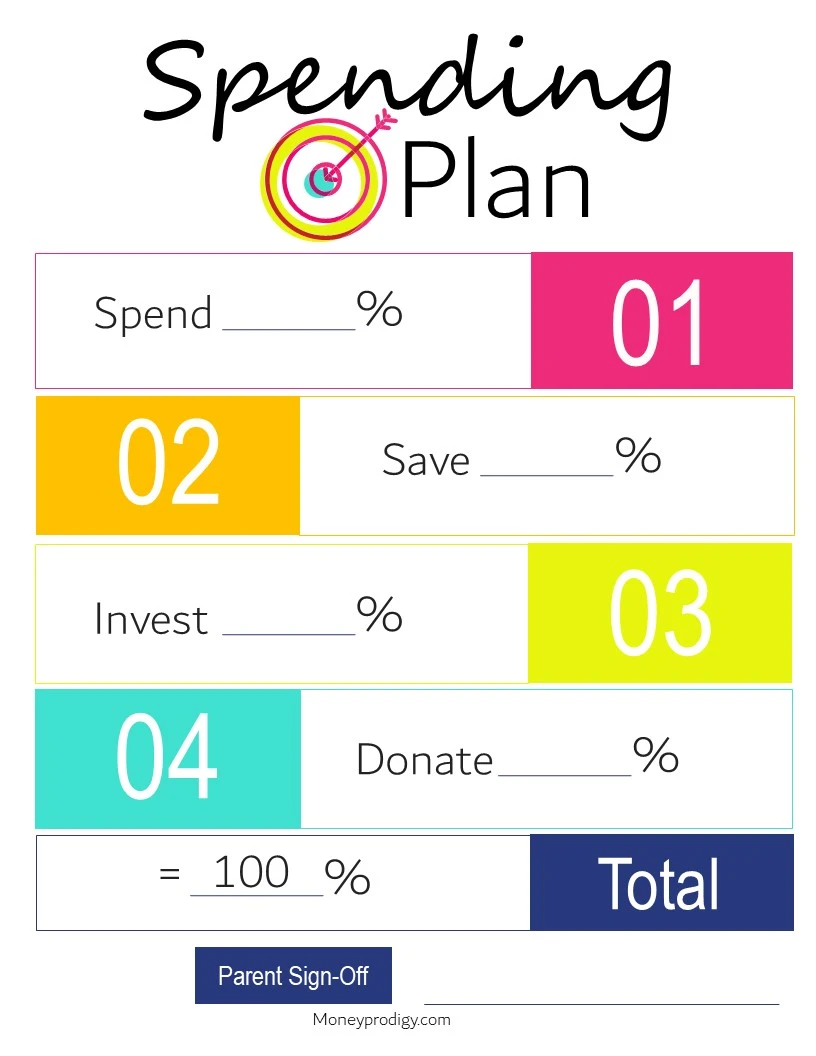 SO, I'm including the one I created for teens – still very applicable for adults!
Hint: You can read much more about this in my article on money management for kids.
2. Frugal Confessions' Budgeting Worksheet
Again, my budget worksheet has an area in it that includes your spending plan, both the percentages that you intend to use in each category, and what you actually use in each category.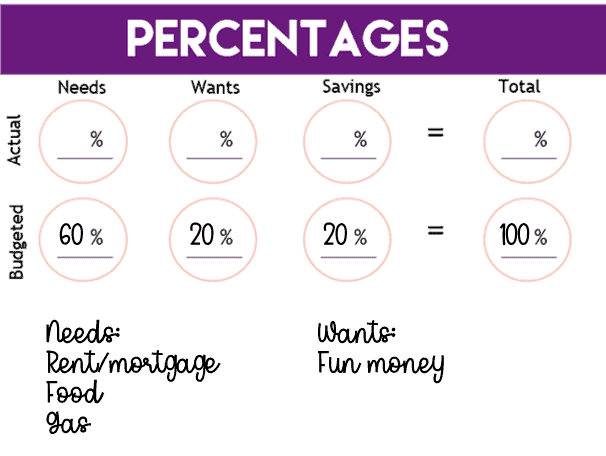 I've broken these up into "needs", "wants" and "savings". Use these categories how you'd like!
Spending Trackers
You've planned out how you're going to spend your money…but how do you keep track of how much you're actually spending?
With one of these free spending tracker worksheets.
If you want to track your spending, then I would suggest starting at the daily level.
That's because:
It's super easy to forget what you spent by the time you get around to updating your spending log
It'll give you daily-level data on your spending habits, which can trigger some serious changes
You could just use a notebook and pencil to get this done.
Orrrr…you can take it up a notch with these cute daily spending logs you can use for free.
Here's a daily spending tracker that breaks it into categories for you.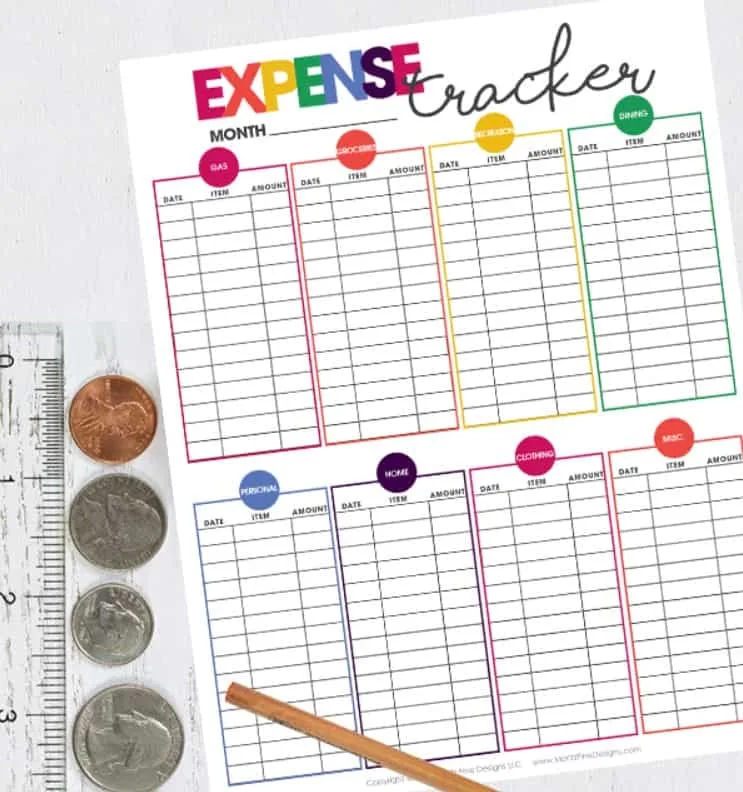 2. Cash Envelopes with Spending Tracker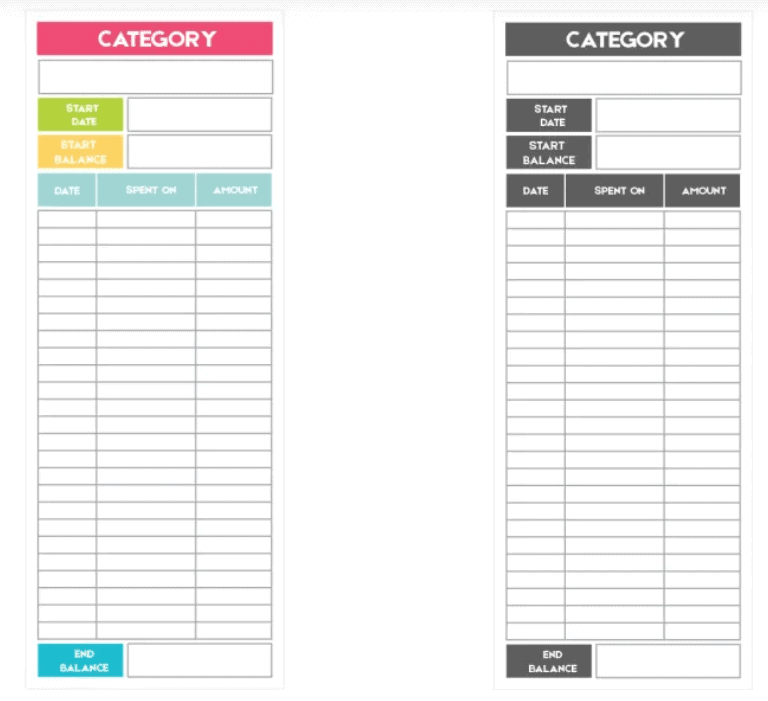 Do you budget with cash envelopes?
You could just print out some with spending trackers on the outside of them, so that you can track your spending that way. Like this set.
Psst: here's 10 more free printable cash envelopes.
3. No Spend Challenge Tracker
Have you ever taken a no-spend challenge for a week, weekend, or month? Aside from using these no-spend challenge ideas, you'll want to use one of these free no spend challenge trackers.
How many days can you go?!
Debt Tracker Worksheets
Trying to pay off your debt? Using a debt tracker worksheet when managing your money and funneling more of it towards past purchases can be motivational.
It's what Katie and Cullen did to get out of their $100,000 debt trap (you can watch their entire, fascinating, debt workout here).
This is probably my most favorite debt payoff tracker…and it's free to use!
2. Map Your Progress 10-Swirl Heart
You can get a free 10-swirl heart (plus access to her free course about progress mapping) that you can print out and use to motivate yourself to get that debt paid off.
Net Worth Tracker Worksheets
I personally track our net worth through this free dashboard, which automatically updates everything for me (saves a lot of time!).
However, you might want to start with a worksheet. OR, maybe you find it motivating to write things out.
If that's the case, then download one of these and get a snapshot of your current finances.
Hint: if you choose to track by worksheet? Then be sure to put the date that you do your net worth calculation, and keep them in a binder. Update your net worth every six months or so – here's why it might be important to track your net worth – and then you can look back to various dates in time and see how far, or not-far, you've come.
1. The Budget Mom's Free Monthly Net Worth Tracker
Sign up for The Budget Mom's Free Resource library, and you'll get access to her worksheet that takes you through tracking your net worth on a monthly basis.
Psst: you'll want to go beyond just tracking your net worth, and use this how am I doing financially PDF to see what's what.
2. Our Mindful Life's Net Worth Worksheet
Here's a simple, one-pager that will help you write down each of your assets and liabilities. From there, you can easily calculate your net worth, then compare it to other worksheets you've printed out.
Whew – you made it to the end. Now what? If I were you, then I would download and print out several of these printables, then create a money binder, hole-punch the heck outta' them, and sit the binder on my desk (or kitchen counter). That way, I'll be much more likely to use these how to manage your money worksheets. Ultimately, that's what's going to bring the most change to your financial life! Good luck to you.
The following two tabs change content below.
Amanda L. Grossman is a writer and Certified Financial Education Instructor, Plutus Foundation Grant Recipient, and founder of Frugal Confessions. Over the last 13 years, her money work has helped people with how to save money and how to manage money. She's been featured in the Wall Street Journal, Kiplinger, Washington Post, U.S. News & World Report, Business Insider, LifeHacker, Real Simple Magazine, Woman's World, Woman's Day, ABC 13 Houston, Keybank, and more.
Read more here
.
Latest posts by Amanda L Grossman (see all)