Get direction and help with this No Spend Challenge Guide so that you can use your money for something more important (like paying off debt or travel!).
So, you've heard of a No Spend Challenge as a way to get AHEAD of your debt (not to mention as a strategy to *actually* be able to save some money), but you're a little skeptical of your ability to pull one off.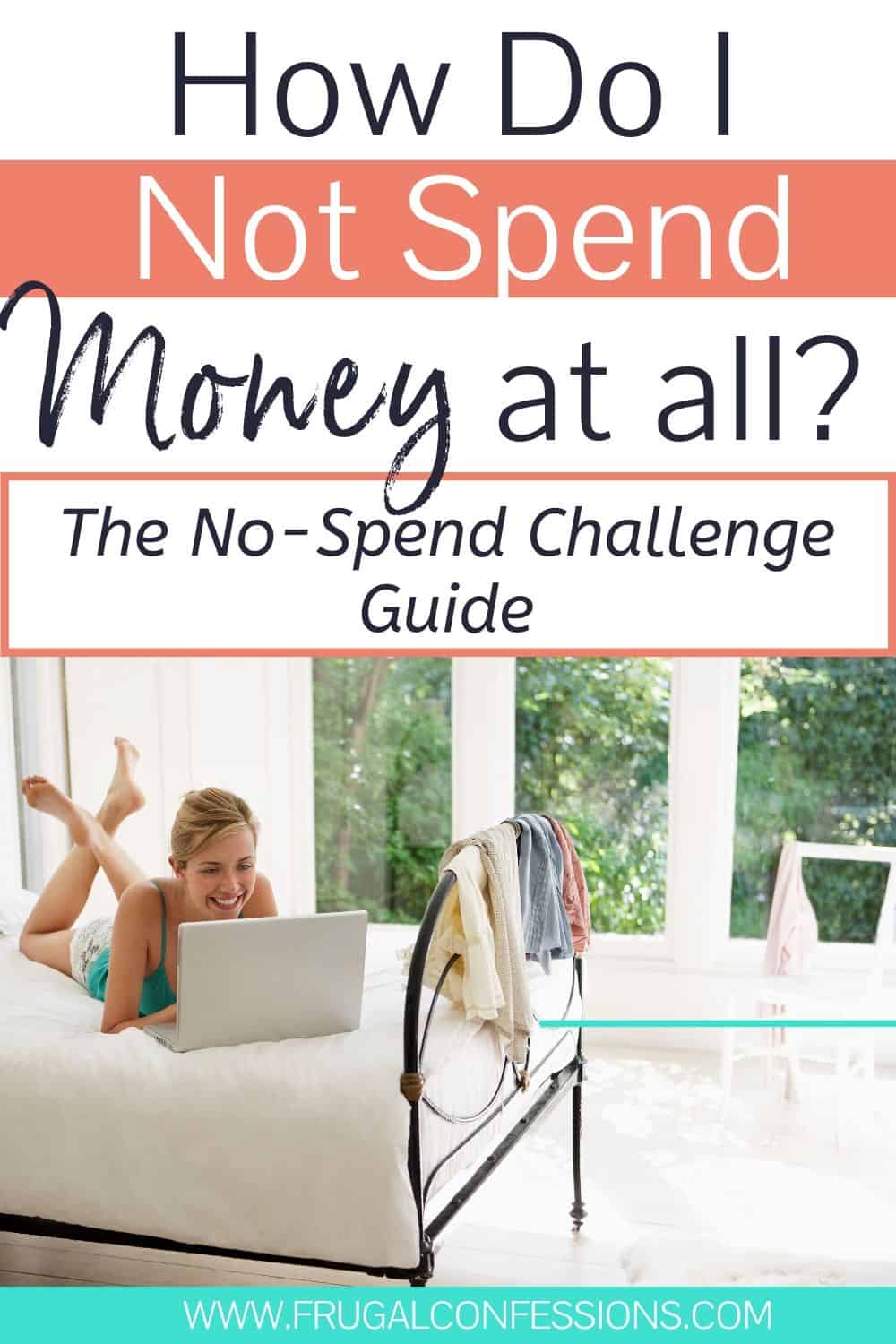 I get that. Fortunately, you're in the right place!
I'm going to be walking you through how to put together your own no spend challenge, as well as the prep-work that can make your challenge much more bearable (enlightening, even!).
But first, let me share with you my motivation behind writing the No Spend Challenge Guide.
Why I Care about No Spend Challenges
My family and I just moved – moving our goods was paid for by the Army, where my husband is employed – but it turns out that we are on the hook for paying taxes on the cost of our move.
And do you know how much a mover charges? About $1 per pound of stuff.
This, along with reading Marie Kondo's The Life-Changing Magic of Tidying Up, sent us into a decluttering frenzy (even after moving into our new home).
Not only did it have us questioning all of the belongings that we own (and donating, selling, or otherwise curbing about 30-35% of them), but it had me questioning my "hope chest syndrome".
Hope Chest Syndrome is a term I coined about a decade ago when I realized a pattern of mine:
I collect things that I want to use in my future self's life – sort of like a teenager or young woman does with a hope chest – but I don't actually ever use them.
You know, things like soaps and candles that I'll one day use when the timing is perfect, or tea bags that I'll use on a good occasion, or wine that I'm saving for just that special night.
Moving all of our stuff these things made me realize two things:
If you don't use things, they expire. Not only is that incredibly wasteful, but you've missed out on an opportunity to enrich your life.
Instead of buying anything new, I should immediately begin using up all these things I've stashed away for a future date.
That's why I've decided to sit down and write The No Spend Challenge Guide.
What is the No Buy Challenge?
Call it the Use It Up Challenge, the Zero Spending Challenge, the No Buy Year…or whatever you'd like. It's all the same thing.
A no spend challenge is where you choose a specific amount of time to reduce your spending dramatically, not including the regular bills you have to pay to keep your lights on. It's an intentional act to either supercharge your debt payoff, curb materialism, or save money towards something you want to be/do/have (or, a combo of all three).
Prep Work for Your No Spend Challenge
Look, you can wing this thing. You can just declare a no-spend weekend the next time you're short on cash, or a no-spend week to get you through to your next paycheck.
But if you put in some prep-work for your no spend challenge? Then it tends to go a lot smoother. Plus, the results can be even greater.
So, let's get to preppin' to figure out how to get ready for a no spend month/year/weekend/etc.:
#1: Choose Where You'll Funnel Your Savings to
This is Numero Uno because, to be honest, a no-spend challenge can be tough. If you can hold onto the reason why you're doing this – the place or goal or thing that is going to get all the money you don't spend – then you can win the battles in your head.
Ideas for where you'll funnel your extra money:
To your credit card bill.
To your student loans.
To your travel fund account.
To your piggy bank.
To your Christmas savings account.
To grow your emergency savings account.
To your retirement investments.
To an account where you can save up to start your own business.
#2: Choose Your Challenge Intensity Level
Wondering, "How do I not spend money at all?"
It's a really good question.
You might be surprised (or, really, not surprised) to learn that a no-spend challenge does NOT have to equal $0 spending on your part. I mean, let's be real – not spending a single dime is difficult to do. Actually, it's nearly impossible, unless you're this man living in a cave.
So, you've got to decide what intensity level you want.
Do you allow yourself to spend on bills only (like the mortgage/rent, data plan, gas, electricity, etc.)?
Do you take on the pantry challenge (see below), but allow yourself $50/week for milk, veggies, lunch meats, and fruits?
Do you cut your grocery budget in half and call that your no-spend challenge?
Do you keep your regular spending, but just spend $0 on entertainment for the month?
Do you allow yourself to go to free events, and spend the extra gas money on it? Or do you only count free events "free" if they're within walking/biking distance?
Do you read my article on Amish finances and use only candlelight for the night (just kidding – the Amish actually have propane, natural gas, or even kerosene lighting)?
It's up to you to make the rules and decide how intense you want to get.
#3: Choose Your Challenge Duration
You can choose to do a no-spend weekend, no-spend week, no-spend pay period, no-spend month, no-spend holiday, or even…a no buy year. How long you want to go depends entirely on you.
You want to consider things like how much you would love to have saved from this challenge, if you've ever tried a no spend challenge before, and how strong (or weak) your delayed gratification muscle is.
#4: Remove All Spending Temptations
You want to remove as many spending-distractions and spending-triggers as you can.
For example, start paying for your gas at the pump. That way, you won't be triggered to buy a coffee or candy bar while paying inside the convenience store.
Take 30 minutes and unsubscribe from all the store email newsletters you currently have popping into your inbox.
Resolve to only watch shows on DVR or On Demand so that you can fast forward through those tempting commercials.
Un-link your credit card information from online shopping sites to create another physical barrier between you and an online purchase.
Did you know that you can opt out of some of the behavioral targeting that happens online? Here's info about doing this in my article on how to stop spending money on unnecessary things.
#5: Make a Resource List of What You'll Use Up/Use
This is where I get excited – making a resource list ahead of time will help you in moments of pure boredom to have a list of at least 10 things you'd like to use up during the challenge. These will help keep you busy, help you declutter your home, and make your no-spend challenge way more comfortable.
For example, in my own no-spend challenge, I plan to use up/use the following:
Inflate my bath pillow, bust out that bath bomb I received two years ago, and actually use them.
*Actually* use all those nail tools and accessories I have and paint 'em black.
Sit still long enough to work on my baby's (errr, 3.5-year-old's) baby scrapbook.
Clean out our DVR.
Read a book from my 2-year waiting list (my husband laughs at me because he knows that if he buys me a book or when I purchase a book it automatically goes on my two-year waiting list. I literally have about a hundred books waiting to be read at this very moment!).
Use some of my beautiful stationary to write a handwritten letter. People rarely write letters anymore, and it is such a pleasure to receive one. Perhaps there are people that you have been meaning to thank. Now's the time to do it.
But don't just stop there. This is both for items you'll use AND for experiences you'll have.
Psst: you'll definitely want to check out my 74 things to do with friends without spending money.
So, add another 10 items to your list of experiences or things you can DO during your no-spend challenge that will cost you nothing.
Here are some ideas:
Make a Family Video and Upload it to YouTube: Do you have a video camera, or can you borrow one from a friend? Barb Friedberg suggests making a family video and taking it live on YouTube. What a fun project! You could also do a video to send to family and friends.
Scrapbook/Organize your Photos: I love to scrapbook and find that I buy the materials I will need, but take years to get around to actually creating the book. With all of the extra time you have, get your creative juices flowing, or even just organize your photos into boxes.
Geocache: Check out the Geocaching website, look up locations in your area, then go and find a hidden container to see what other people have put inside.
Window Shop (but only if you have lots of self-control): I used to do this while living abroad in both London and Japan. I didn't have a lot of extra money to spend, and I found out that you didn't have to spend any to have a good time and to learn something. What kind of new products are out there? What are the latest trends? Any ideas you find that you can make yourself?
Update your Recipe Box or Create One: I get such pleasure from trying out new recipes, and then copying the memorable ones onto index cards and putting them into my recipe box. I only take the time to update my recipe box about twice a year, but it gives me such pleasure to do so.
Update your Address Book: It was great to have a reason to update our entire address book for our wedding in 2010. Why not undertake this when you have nothing but time on your hands? The organization will save you time in the future.
Play a Game of Midnight Hide and Seek: Play midnight hide and seek, even with your dogs!
Scout out Your Next Road Trip: What could be more fun than sitting down with your map or the internet and mapping out a future road trip? Make mix CDs of your favorite tunes to listen to, a list of places to visit at each point along the way, and figure out how much you need to save to make it a reality. Perhaps you want to plan the road trip around an event, like a concert you really want to attend, or during a festival.
Pick Up Running Again: Or yoga (I love this woman's free, at-home yoga videos). Or any number of things you could do with the exercise equipment and body you already have.
Update Your Resume: You never know when this will come in handy, and it's probably been more than the suggested six months since it's been last updated (especially if you've held your current job for several years).
Choose Your Own Flavor – No Spend Challenge Variations
Women have probably been undertaking no-spend challenges for generations. But because they've become so mainstream and people can share ideas more easily over the internet, the no-spend challenges of today look QUITE different than the ones our grandmothers did for themselves.
Because of that, I want to open your eyes to all the varieties of no buy challenges out there. Use these to follow along with, and to help shape your own challenges.
Take the Pantry Challenge: You only eat from your pantry/freezer/cupboards (except maybe milk and bread and eggs, or something like that) for a period of time. Like this lady did. Melissa from Mom's Plan concluded her pantry challenge, where she challenged herself to eat through her food in the pantry and cupboards instead of purchasing more food (she did allow herself $100 per month, then banked the $200 she saved from her typical food budget). Use your creativity and eat that food before it expires!
Take the Zero Entertainment Challenge: Hey…this one is mine! I challenge you to take your entertainment spending down to $0 for a year. There are TONS of free things to do if you live in a city, and tons of things around your home that are just waiting for you to explore. On top of that, if you have parents or family members who ask what to get you for the holidays (like we do), ask for experience gifts (such as movie theater gift cards, a cooking class, a foraging hike, etc.). Then, use them one by one throughout the year as your entertainment.
Take the No Spend January Challenge: Do you have extra holiday bills lurking over your head? If you're dealing with a spending holiday hangover, then use your entire entertainment budget in the month of January (and any other spending categories you can lop off) to pay off holiday bills.
Pair with a Savings Challenge: I've noted a bunch of different savings challenges in my article on 250 money saving tips. One you might want to shoot for during a no-spend money challenge is to save one entire person's paycheck!
No Eating Out Challenge: You can try a no eating out challenge, either with your no spend challenge, or AS the no spend challenge. Besides adding some extra cash flow back to your life, you'll become more aware of how often you DO eat out.
No Spend Challenge Ideas (Tips & Tricks)
As a person who has done a few no spend challenges over the years, I'd like to leave you with some no spend challenge ideas, tips, and tricks.
#1: Lean on THE Frugal Foundational Principle
Whenever you think you NEED to purchase something in those 30 days (or however long your challenge is), go through the four-step process of figuring out whether you can use it up, wear it out, make it do, or do without!
Substituting with something else really works as well.
#2: Use a Habit Tracker App for a No Spend Tracker App
You can use a habit tracker app, such as Coach.me, to track your no spend challenge.
#3: Scatter a Few No-Spend Weekends Around
If I were you, I wouldn't start off with a 30 day no-spend challenge. Instead, I would sprinkle in a few no-spend weekend challenges for yourself.
You'll get a taste of how this works, the amount of money that you can keep in your life by doing them, and THEN you can start aiming for longer challenges (say, a one-week, pantry-eating challenge).
You now have a powerful tool in your hands too accomplish some crazy financial goals, like paying off $50,000 in one year, or paying off $2,000 on a credit card in just 30 days. You can do all sorts of things with the money you're earning now, especially with periodic no-spending challenges!
The following two tabs change content below.
Amanda L. Grossman is a Certified Financial Education Instructor, Plutus Foundation Grant Recipient, and founder of Frugal Confessions. Over the last 10 years, her money work helping people with how to save money and how to manage money has been featured in Kiplinger, Washington Post, U.S. News & World Report, Business Insider, LifeHacker, Woman's World, Woman's Day, ABC 13 Houston, Keybank, and more.
Read more here
.
Latest posts by Amanda L Grossman (see all)
https://www.frugalconfessions.com/wp-content/uploads/2011/01/What-is-the-no-buy-challenge.jpg
512
1024
Amanda L Grossman
https://www.frugalconfessions.com/wp-content/uploads/2019/02/frugal-confessions-logo-340.jpg
Amanda L Grossman
2019-08-19 05:00:52
2019-11-06 12:41:59
The No Spend Challenge Guide (How Do I Not Spend Money at All?)