Got a financial goal? Use one of these free S.M.A.R.T. financial goals worksheet to turn it into something you can achieve.
How do you turn a financial goal you have into a S.M.A.R.T financial goal?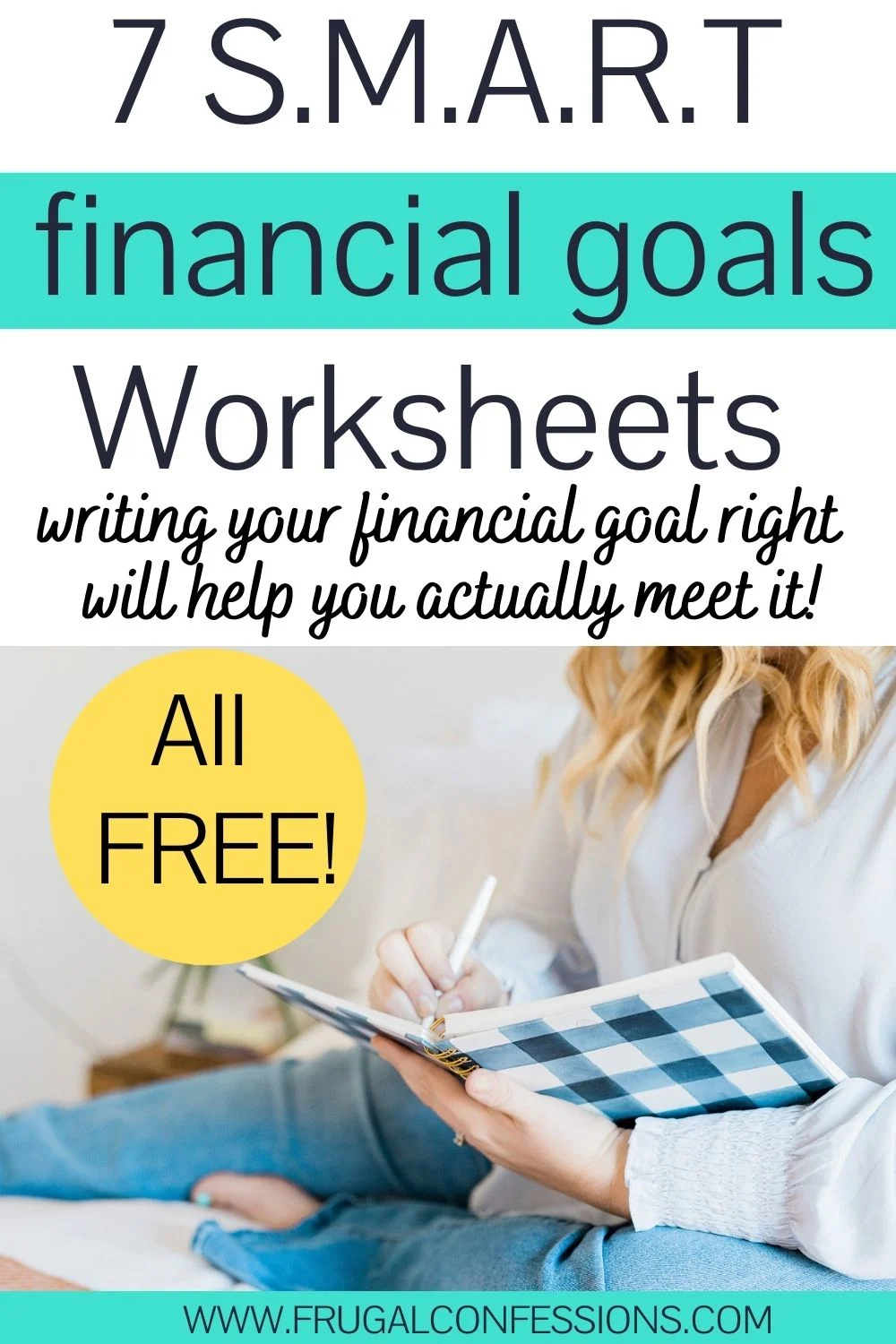 Well, these S.M.A.R.T. financial goals worksheets will definitely help.
Let's first look at what makes a financial goal "S.M.A.R.T.", examples, and then free worksheets to help you set yours up the right way.
What is a S.M.A.R.T. Financial Goal?
A S.M.A.R.T. financial goal is any financial goal that meets the following criteria:
S = specific
M = measurable
A = attainable
R = relevant
T = time-bound
You can make any financial goal you have into a S.M.A.R.T. financial goal. It's just a matter of rewriting it or recommunicating it using the S.M.A.R.T goal criteria.
In fact, let me show you by writing out several regular financial goals, and then rewriting them to become S.M.A.R.T. financial goals.
S.M.A.R.T. Financial Goals Examples
Let's look at some specific SMART financial goal examples.
Let's say you have this as your current financial goal: I want to save more money.
Now, let's put it through the SMART goal criteria to turn it into a S.M.A.R.T. goal:
Specific: I want to save at least 10% of my income.
Measurable: I will know I'm meeting this goal because I set aside 10% of each paycheck, or $240 for a $2,400 paycheck.
Attainable: I know I can meet this goal if I just take it seriously, ask for a discount on our cable/internet bill, and eat out a few less times per week.
Relevant: This goal is extremely relevant to me and my family because it'll help us do things like save up for an emergency fund and for a home down payment.
Time-bound: I want to start this goal next paycheck, and to see it through for at least the next 6 months.
Taking all of that information, here's how you could rewrite this goal:
I will save 10% of each of my paychecks starting next paycheck, for the next 6 months. Doing this will help us to fund our emergency savings and then to save for something that we want. I'll start eating out less each week, plus call for a discount on our cable tv to start. At the end of six months, we should have an extra $2,880 in savings ($240 from each of 12 paychecks).
Here's one more example of a short-term S.M.A.R.T. financial goal.
Example of a regular financial goal:
I want to save up enough money to pay for our vacation next summer.
This financial goal, turned into a S.M.A.R.T. one:
I'm going to save up $1,700 by April 2022 so that we can pay cash for our summer vacation to California. To do this, I'll set aside $200 each month into our vacation account.
Ready to create your own S.M.A.R.T. financial goals? These worksheets will help.
Psst: get way more S.M.A.R.T goals examples here.
S.M.A.R.T. Financial goals Worksheets
Here you'll find all the free SMART financial goals printables and worksheets you need to be able to set your own.
While this one isn't entirely a "SMART" goal worksheet, it is helpful when money goal setting. It's also really nice-looking, which counts!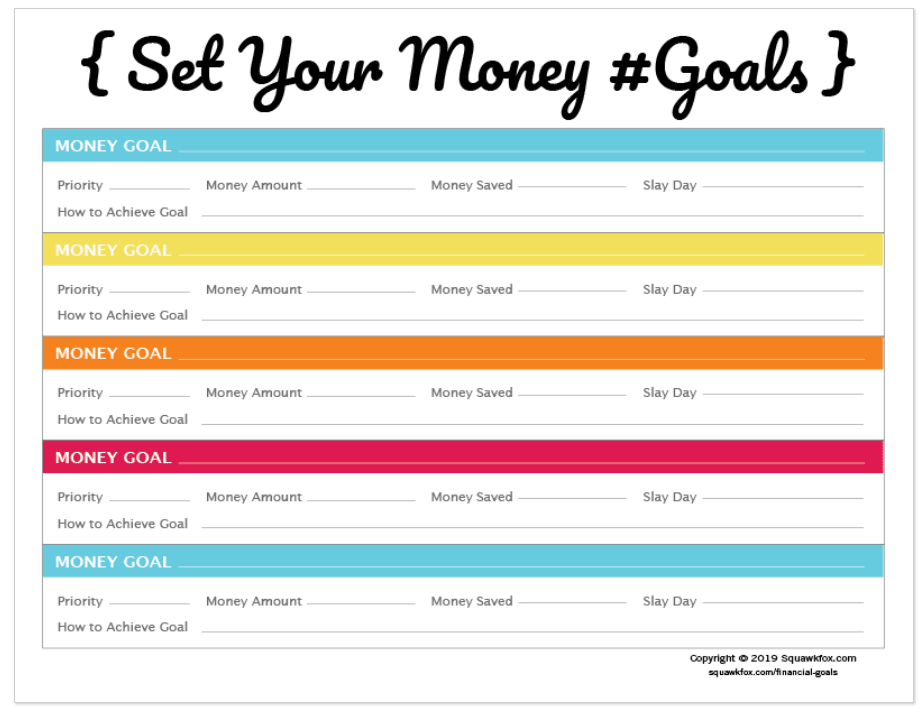 Part of the Bureau of Consumer Financial Protection's Financial Empowerment toolkit includes a set of S.M.A.R.T. goal-setting worksheets.
Hint: the entire Your Money, Your Goals toolkit is 43 pages, and you can download it for free. There are some good resources in it!
You can also find a set of worksheets specific to setting up your financial goals to be S.M.A.R.T. ones under the "focus on reentry" companion guide area of their website.
The worksheet will prompt you to write out your short-term financial goals, then to write the resources you'll need to meet them, the deadline you have, and when you complete it.
For long-term financial goals, there are more spaces given so that you can write out the multiple steps you'll need to complete to complete the full goal.
I found this free S.M.A.R.T. financial goals worksheet that helps you get clear on your financial goals plus write them so that they're turned into S.M.A.R.T. ones.
After brainstorming, you'll fill out the following for each goal you plan to focus on:
Goal
Timeframe
Amount needed
How I'll get there
You can use this S.M.A.R.T. goals worksheet for any goals you have, not just financial ones.
I like how she details out what each characteristic means, and how to fill it out.
This one's a basic, one-pager that gives you space to fill in each part of the SMART goal equation.
Including:
Description of goal
Specific cost
Measurable monthly amount
Attainable method
Realistic goal length
Time-bound timeline
Here's a set of three S.M.A.R.T. financial goal worksheets, separated by the length of the goal you're setting.
FYI, they define length of goals as:
Short-Term: 1-3 years
Medium-Term: 3-5 years
Long-Term: 5-10 years
Hint: scroll all the way down on their page until you see the link.
Any of these S.M.A.R.T. financial goals worksheets will help you to whip your own financial goal into shape. After that, it's up to you to keep your saving money motivation and other motivation going in order to reach it. And, use one of these free money saving goal trackers. You got this!
The following two tabs change content below.
Amanda L. Grossman is a writer and Certified Financial Education Instructor, Plutus Foundation Grant Recipient, and founder of Frugal Confessions. Over the last 13 years, her money work has helped people with how to save money and how to manage money. She's been featured in the Wall Street Journal, Kiplinger, Washington Post, U.S. News & World Report, Business Insider, LifeHacker, Real Simple Magazine, Woman's World, Woman's Day, ABC 13 Houston, Keybank, and more.
Read more here
.
Latest posts by Amanda L Grossman (see all)