Want to be much more likely to stick with your budget? Download and print out one of these cute printable monthly budget worksheets.
Cute is powerful.
Because when a system is "cute"? You (and I) are about 1,345% more likely to stick with it.
I mean, who wants to look at a drab, black-and-white, budget worksheet every month? Not me.
I'd rather print out one of these cute printable monthly budget worksheets and feel inspired (and maybe even smile) each time I whip it out.
That's why I've put together my special list of the coolest, cute printable monthly budget worksheets out there.
First up? Let's briefly discuss what to look for if you're just starting to budget for the first time.
Best Beginner Printable Budget Worksheet
Looking for a beginner printable budget worksheet to print out and use?
Great. Let me give you a few suggestions for what to look for as you go through the cute budget worksheets below.
First of all, a good beginner printable budget worksheet should:
Be Simple: You're just starting out, so you want a worksheet that is not overwhelming. Once you get hooked on budgeting, you can definitely move up to a more advanced one.
Let You Track Spending: Budgeting is just one part of the equation – you also want somewhere to track your spending. As a beginner, don't be surprised if what you budgeted is not even close to what you end up spending. Just stay in the ring, meaning, keep coming back and budgeting again and again. Before long, your ability to estimate what you'll spend will get much better.
Be Free: Since you haven't budgeted before, you definitely want to test the waters with a free worksheet. That's because the first one you try might not be the perfect one for you – you can try it out, then print out another one and try that on. Once you find the kind that you love? Then you can spend some money upgrading (if you want to).
Psst: after choosing one below? You'll want to check out my 14 stupid simple budgeting tips for beginners.
Alright – let's check out some cute budget worksheets.
Cute Printable Monthly Budget Worksheets
Pick one of these cute printable monthly budget templates that you like, print it out, and get to budgeting.
And next week? Maybe try a different one on for size (go ahead, change up your budget worksheets like you change up your shoes!).
Hint: here's my guidance on how to fill out and use a budget sheet.
Budget Period: One Month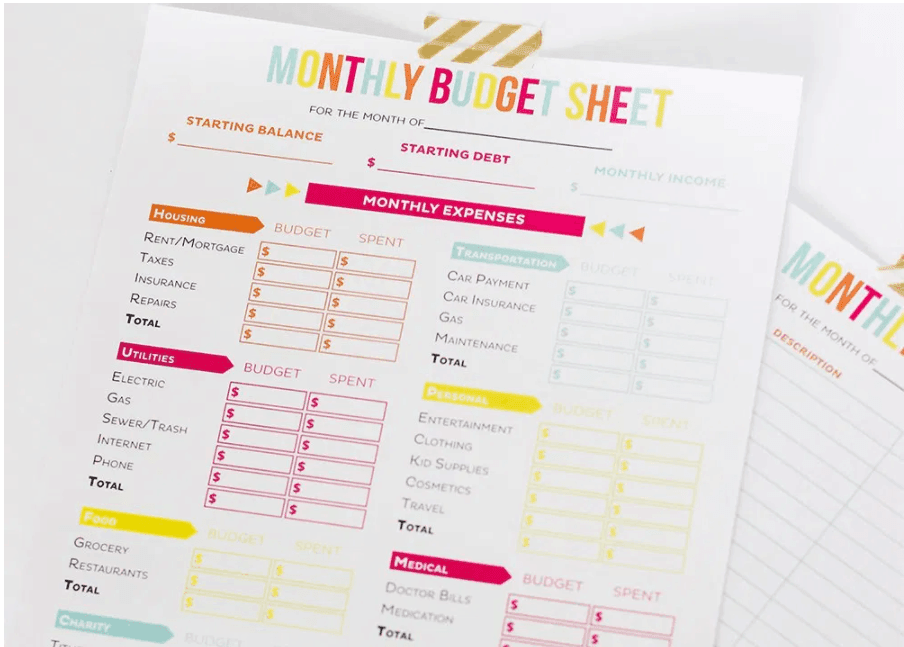 These are pretty much the cutest budget sheet set I've ever seen!
And the great news? Is that the printable versions are free (you can pay for editable versions, if that's your thing).
Each month, fill in what you budget to spend in each expense category, and then come back throughout the month and record next to it what you actually spent.
Which is great – it's like a spending tracker, on a budget sheet!
She's also got a less-colorful one, in case that works better for you.
Budget Period: One Month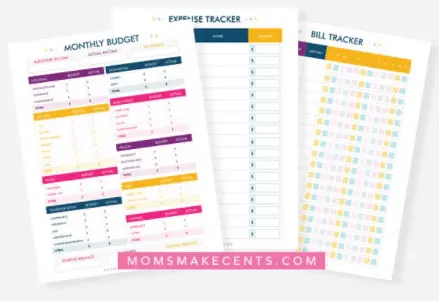 McKinzie's free, adorable monthly budget template printable comes with a monthly budget sheet, an expense tracker, and a bill tracker.
Love the colors!
Psst: looking for an entire budget binder? Here are sets of free budget binder printables.
Budget Period: One Month
I just love these cute colors throughout this set of free blank monthly budget worksheets!
In fact, can I just print this set out now and carry on with my budget-friendly life?
Here's what you get:
Monthly budget worksheets
Expense tracker
Bill pay stickers
Pay day stickers
Debt payoff plan
Password tracker
Etc.
Hint: you'll need to sign up for her free printable library to access everything.
Budget Period: One Month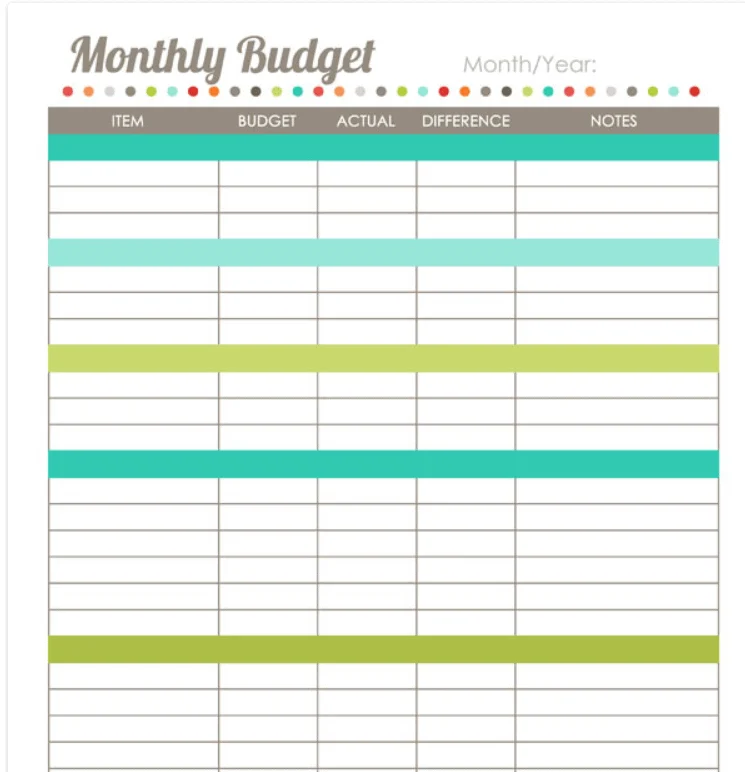 What I love about this set (aside from how cute it is!) is that it comes with not only a budget sheet printable…but so much more.
You get:
Annual Budgeting Template
Bank Account Log Worksheet
Debt Worksheet
Tax Deductions Worksheet
Monthly Budget Worksheets (3 options to choose from!)
Bill Payment Log
Printable Sticker Sheets!
The three, budget planner templates you can choose from include a completely blank one, and two with categories partially filled in. Super customizable for you!
Psst: after you pick out your cute printable budget worksheet, then check out my guide for cute free printable cash envelopes to use throughout the month. Also, I've got free daily spending logs to help you stay on track.
Budget Period: One Month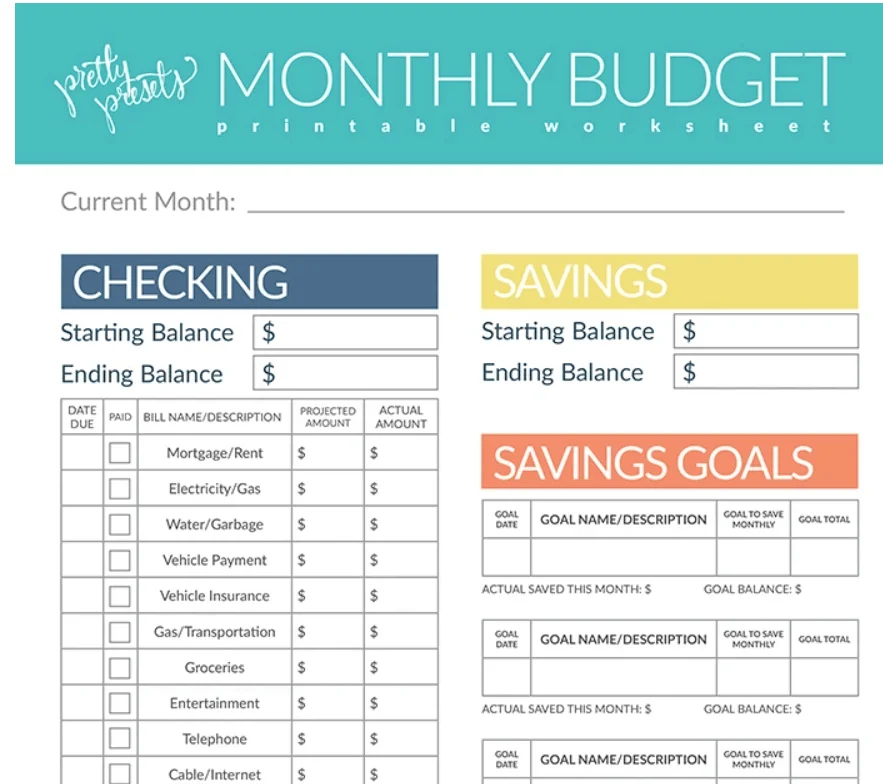 Here's a cute, one-sheet way to track your spending, your savings goal, and the balances in your checking and savings accounts.
You get to fill in what you project you will spend for each category, and then fill in what you actually spend as you go about your month.
It's a great way to quickly reflect on your spending and become aware of bills!
Budget Period: One Month (for the whole year)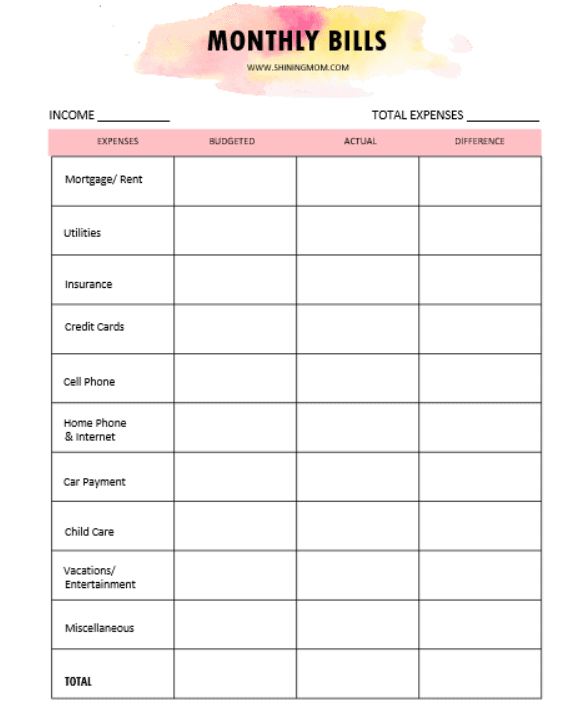 Check out this cuuuutttteeee, year-long budget binder you can print out for free!
Each month has its own set of pages and cover to go with it.
Budget Period: One Month
Do you get paid bi-weekly? Some people find it much easier to budget by paycheck (helps with some of these 12 common budgeting mistakes), and this bi-weekly budget calendar helps you do just that.
Plus, it's pretty cute (at least if you ask me!).
You fill in your paycheck dates, amounts, and then the due dates and amounts of each bill you'll encounter throughout the month.
It's a great way to keep track, visually, of all your dates.
Hint: here are more budget by paycheck worksheets.
Budget Period: One Month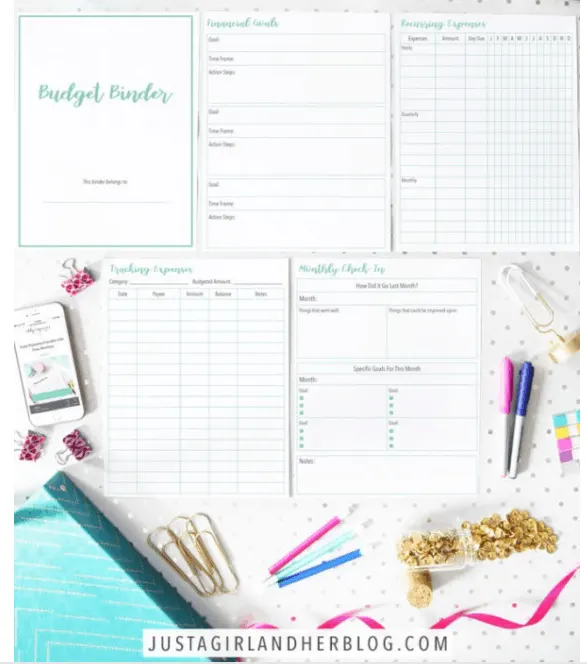 I like the simplicity of this budget binder, as well as the monthly check-in worksheet that asks you to reflect back on how you did over the month (budget-wise).
You'll also get a binder cover, a Financial Goals worksheet, a Recurring Expenses worksheet, and a Tracking Expenses worksheet.
Cute, fresh, and simple color.
Psst: here's how to transition from a credit card to a cash only budget.
Budget Period: One Month
This is delivered in a zipped folder format, and you get to choose from either a black and white/floral patterned budget binder, or two other designs.
Budget Period: One Month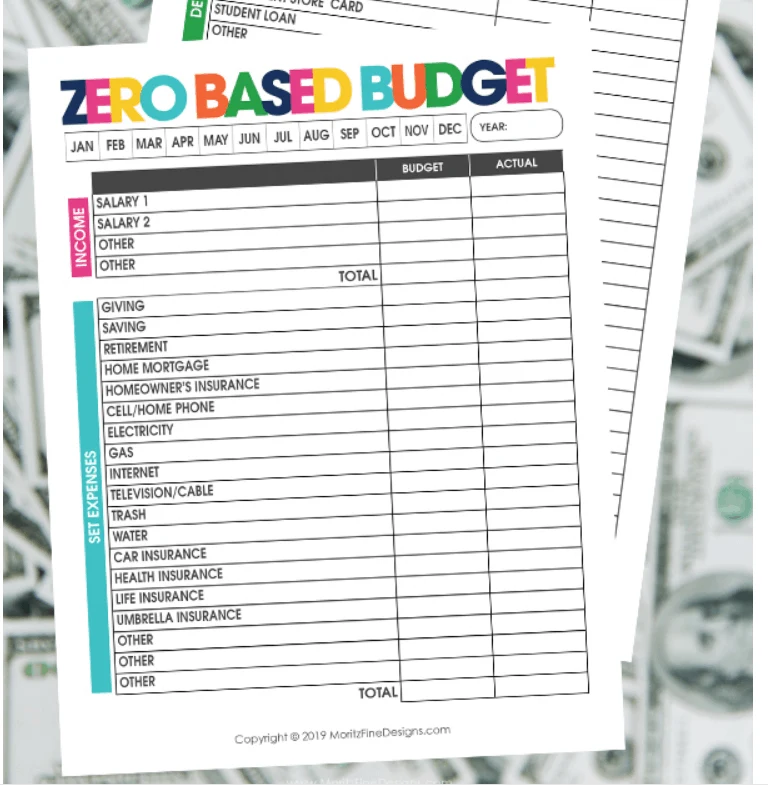 Have you ever heard of a zero-based budget?
It's when you calculate everything out so that you come exactly to the number $0 after taking into account income, expenses, and savings.
You're giving all of your dollars something to do – whether that's paying a bill, saving for a trip, or paying down extra on your debt.
Check out this super-cute zero-based budgeting worksheet you can download for free!
After seeing all these super cute printable monthly budget worksheets…don't you just want to dive on in and get to work setting up your next budget? I know I do! Next step is to pick out your personal budgeting method.
The following two tabs change content below.
Amanda L. Grossman is a writer and Certified Financial Education Instructor, Plutus Foundation Grant Recipient, and founder of Frugal Confessions. Over the last 13 years, her money work has helped people with how to save money and how to manage money. She's been featured in the Wall Street Journal, Kiplinger, Washington Post, U.S. News & World Report, Business Insider, LifeHacker, Real Simple Magazine, Woman's World, Woman's Day, ABC 13 Houston, Keybank, and more.
Read more here
.
Latest posts by Amanda L Grossman (see all)