A free no spend tracker printable or app will give your no spend challenge a purpose, plus keep you motivated. A must-have for your next challenge!
Are you attempting to stop spending money for a period of time (here's my free No Spend Challenge Guide to help with that)?
A no spend tracker is the perfect way to:
Keep you motivated to not spend money
Give your No-Challenge more purpose
Give you something else to focus on, besides spending money
That's why I've rounded up the BEST, free, no spend trackers available.
No Spend Trackers
Pick out the no-spend tracker that makes your heart sing! Or…that at least makes you excited to undertake a no-spend challenge.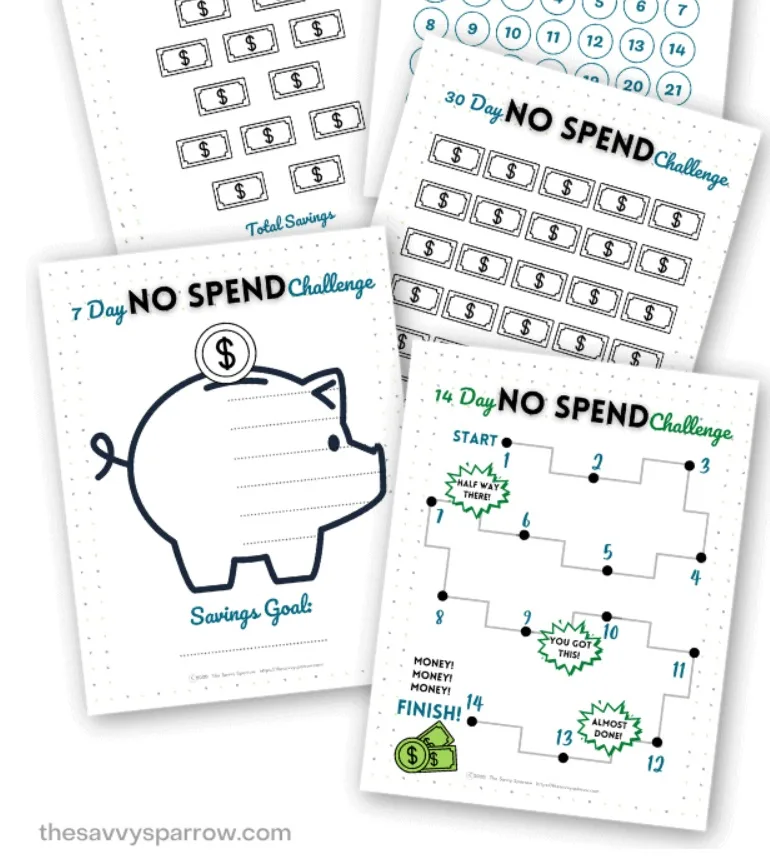 What a lovely set of free worksheets to track your next challenge!
Use these to:
Track 30 days without spending
Track 15 days without spending
Track 14 days without spending
Track 7 days without spending
She's also got a free freezer inventory list you can download while there, which can help you get a handle on what you already have to eat.
Here's a cool-looking tracker you can put on your wall, bulletin board, or really anywhere else!
This one also has a slot to fill in one specific goal (so, you could fill in the savings goal or debt payoff goal you're trying to achieve with this challenge), and how you'll reward yourself for getting through it.
Hint: you could also use this one to track your 30-day, no eating out challenge.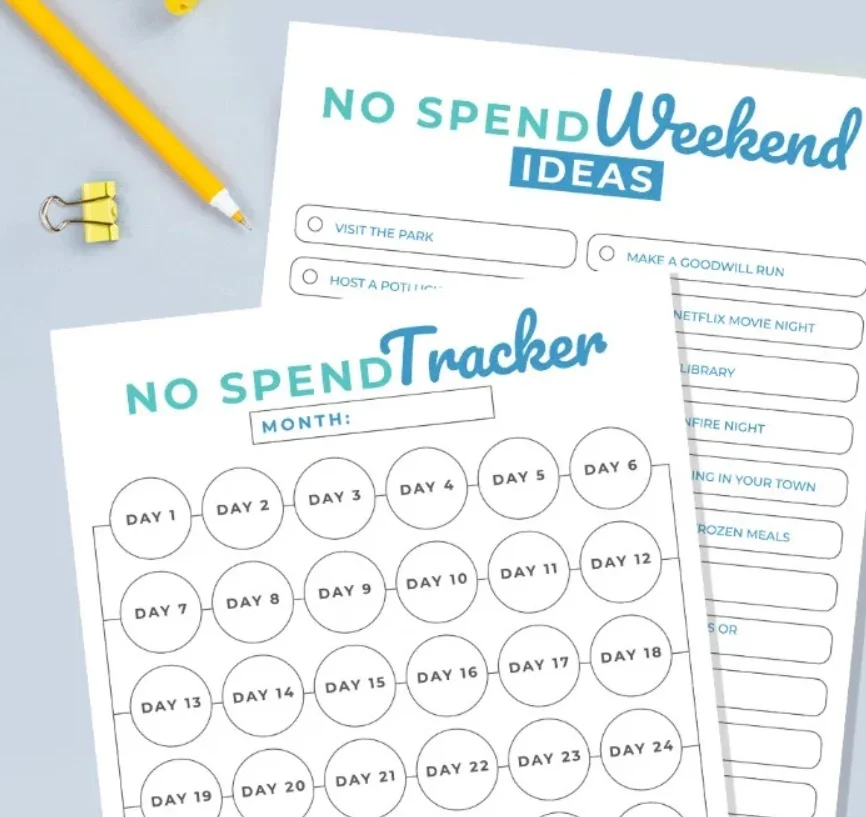 I absolutely love her design for this month-long, spending-free tracker!
It'd be fun to put this on the fridge, and then use circle magnets, or even stickers, to mark off each day you don't spend money.
Psst: you'll definitely also want to check out my article on no-spend challenge ideas.
Here's a great set of no-spend worksheets, including:
Stickers ("my bad" stickers to track mistakes, and weekly progress stickers)
Planner insert (28-31 days available)
Goal planner insert
Wants and needs planner insert
Free activities list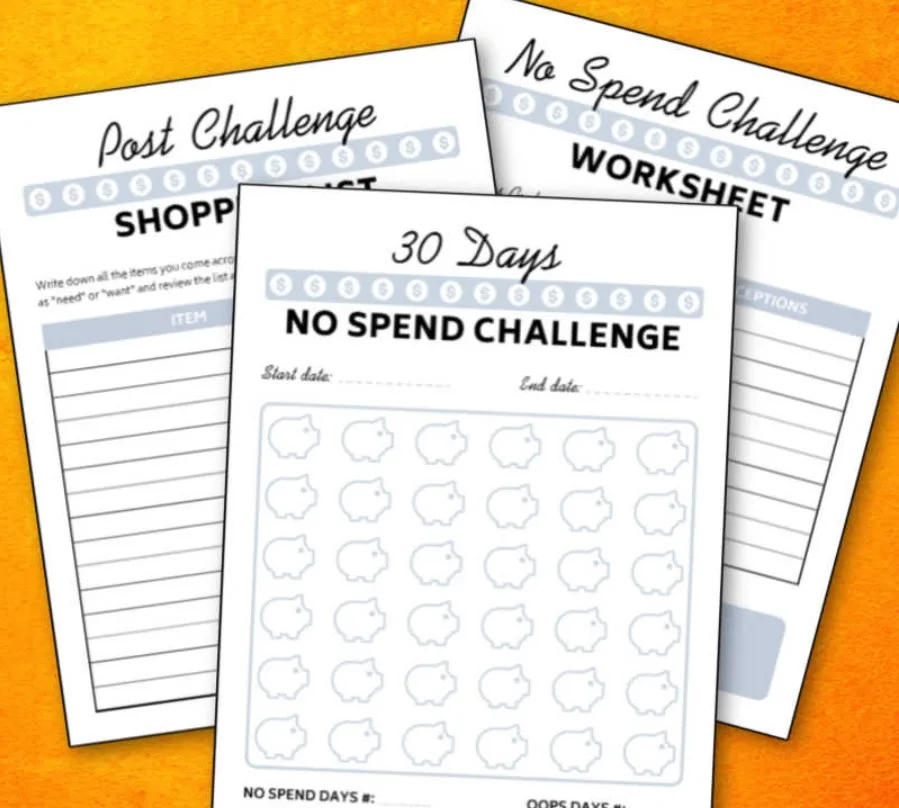 This no-spend printable set comes with a 30-day no-spend tracker, a worksheet, and a shopping list to keep you aware of all the things you want to buy (but don't) during your challenge.
Great idea to give you some awareness of how many things you want to buy are really a need, or a nice-to-have.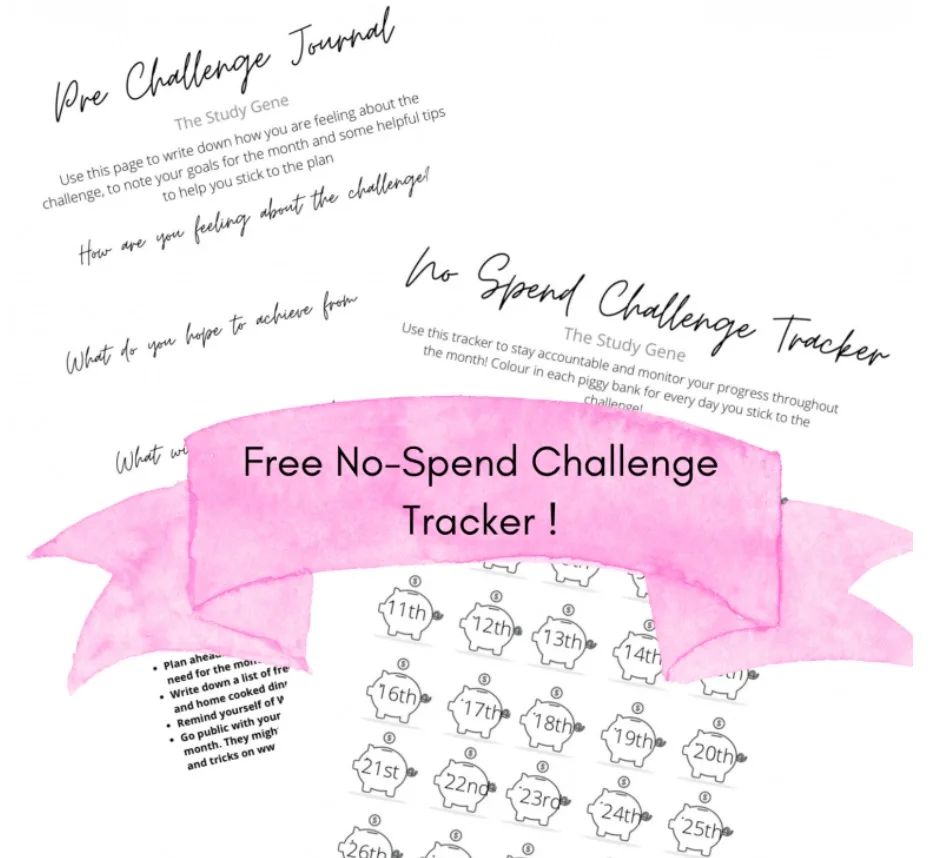 Here's a free worksheet with questions to help sort out how you're feeling about your upcoming spending challenge, what you hope to achieve by it, and tips for setting everything up.
Then, there's a cute tracker with specific rules to follow for 30 days.
These colors are great – I'd love to hang this month-long, no buy tracker on my fridge the next time I do a no spend challenge!
Next up, let's go digital!
No Spend Tracker Apps
If you'd rather track your no spend days by app, then this section is for you.
While there are no specific apps for No Spend Challenge trackers, I did find several that you can easily adapt to use for this purpose.
1. Habit Bull Tracker
While technically you can use this app to track any habit you're trying to do, it works for a no-spend challenge, too.
You type in the habits you want to track, and then you click each day that you actually did that. For your challenge? Your habits could be:
Not spend any money
Not enter a store
Not browse online stores
Etc.
It also shares your progress as you go along (daily streaks), letting you know how many days in a row you've done your habit.
Free to use for both iOS and Android.
Psst: here's a list of spending habits you might also want to track.
2. Mint.com
Did you know that you can use the Mint.com app to track a no-spend challenge?
Just download a .csv file with all of your transactions at the end of your challenge, sort it from lowest to highest in the money column, and count up the number of $0's that show up.
Free to use for both iOS and Android.
3. Coach.me
Here's another habit tracker where you track anything you'd like to make into a habit – such as not buying non-essentials for a certain period of time.
Set up the goals you want to achieve, and then check in with your progress (plus set a milestone to reach, like 50% completed!).
Free to use for both iOS and Android.
No Spend Tracker Bullet Journal Spreads
Do you use a bullet journal? Here are several free ways to track your no-spend challenges using it.
Here's a very simple setup for how to track a challenge with your bullet journal. Plus, they've got a facing page with specific rules they're using during their own.
2. One-Column No Spend Bullet Tracker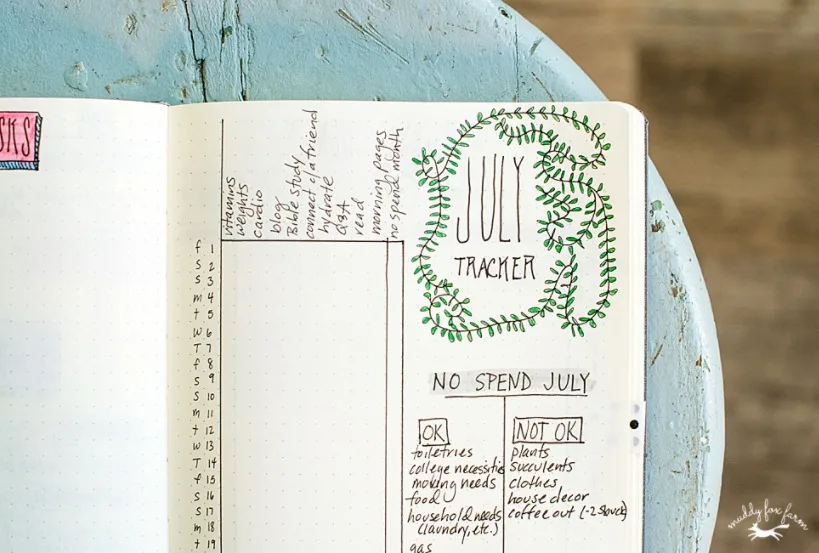 Here's another very simple setup to track a no-spend month. This woman just adds one column to her monthly bullet journal spread, which helps her to quickly see her spending over the entire month and see how successful (or not) her challenge was.
Remember that you want to pick out the no spend tracker that works for YOU. And you might need to try a few different types out – starting with a printable and then maybe choosing an app to see which one works better. Also, be sure to check out my article on the No Spend Challenge and No Spend Challenge Ideas to guide you in setting yours up.
The following two tabs change content below.
Amanda L. Grossman is a writer and Certified Financial Education Instructor, Plutus Foundation Grant Recipient, and founder of Frugal Confessions. Over the last 13 years, her money work has helped people with how to save money and how to manage money. She's been featured in the Wall Street Journal, Kiplinger, Washington Post, U.S. News & World Report, Business Insider, LifeHacker, Real Simple Magazine, Woman's World, Woman's Day, ABC 13 Houston, Keybank, and more.
Read more here
.
Latest posts by Amanda L Grossman (see all)