Sharing finances in marriage is one of the most challenging things to do. Here's how to fix money problems in a relationship (plus prevention).
Sharing finances in marriage is not like learning how to share a car with your family, or even learning how to share the TV remote.
It's much more complicated than that.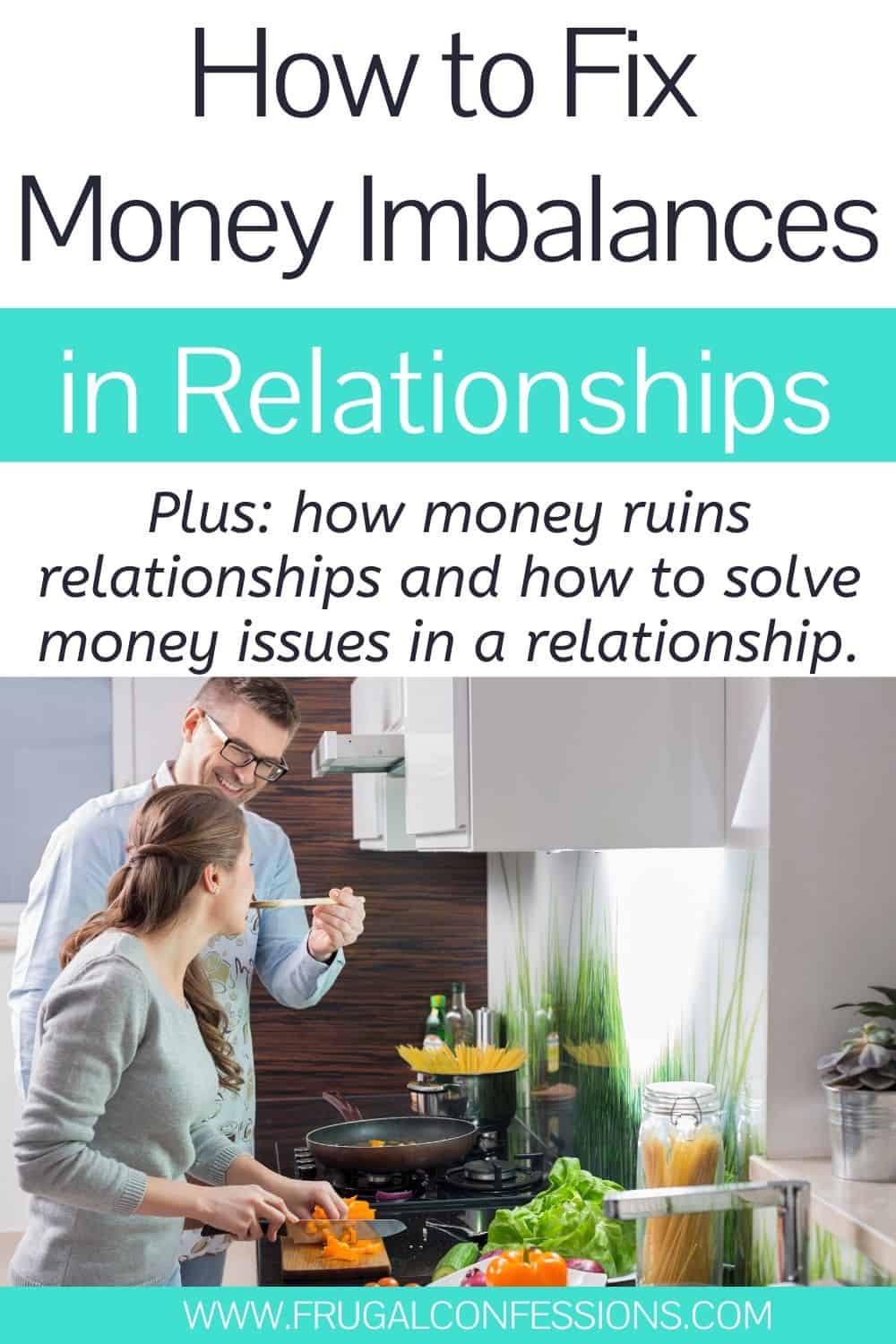 That's because whenever there are two people involved in managing a limited resource, there's going to be conflict.
Different ideas about how the money should be spent (propelled by different money values, money experiences, needs, desires, etc.), different ideas about how much money should be saved, different incomes, different expectations, etc.
Need I go on?
You've likely come butt-up against some of these issues already in your own marriage.
So, how to fix money problems in a relationship?
First up, to address both how to share finances in marriage the right way, AND, what might be going wrong to force you to need to fix money problems in your relationship, let's look at the foundations to solid financial unity in marriage.
Achieving Financial Unity in Marriage
I'm a firm believer that you should know what the two of you are shooting for before we dig into all the problems.
Heck, even just reading this list will help because you can identify some of the problems you might not even know you have (because they're below the surface).
The goal here is what I like to call "Financial Intimacy". I define it as:
Financial Intimacy: Being able to work together and share your thoughts, feelings, needs, and desires about money with your partner in a safe space where you feel you are being heard and your needs are being reasonably met.
Note that you can have financial unity in your marriage, and NOT actually meet all of these criteria – as with everything in a relationship, it's a work-in-progress.
If you fit the bill on several or a hand full of these? Then you're well on your way.
Financial unity in marriage looks like:
You Both Know Each Other's Digits: You each should know how much the other person earns, where the money is located, credit score estimates (here's how to get your free credit sesame score, plus how to use it), and how much debt there is.
You Both Have a Voice in Finances: It's so, so, so important for each of you to both be able to vocalize what you want and what you have issues with in the financial arena, as well as to listen to the other person. Even if you can't agree on things, you at least are both being heard and taken into consideration. (Newsflash: there are always going to be money issues where you both won't agree. That's okay. Hear each other out and start looking at compromising and/or the "best" solution at the time).
You Both Have Access to the Finances: Another important point is that even if one person takes the lead in dealing with household finances (that's me!) that the other person has full access to the finances (psst: are you scared to allow a partner to know all financial information because they may spend you both into ruin? Here's my article on financial dishonesty in marriage).
So…what if your own couple's financial picture doesn't look even remotely that rosy?
Not to worry. Next up, I'll be sharing specific things you can do together to gain financial intimacy.
Idea #1: Work Together on a Couple's Money Goal
There's something magical that happens when you work together on a problem or on a goal.
I've felt it in my own marriage – both when we've had a money goal, and when we've had a money problem.
For example, when we first got engaged, we were $25,000 in debt between the two of us. Read all about how we worked together as a newly-engaged couple to get out of this debt (plus pay cash for our wedding, our 11-day honeymoon to Austria, and put a down payment on a home) in just 15 months.
Here are Couple's Money Goal Examples:
Saving up enough cash to pay for a honeymoon (how to save for a honeymoon)
Target vacation savings goal for next summer
Earning enough money + decreasing expenses enough to become a one-income household and have someone stay home to raise the kids
Paying off debt together
Making $X in side-gig income by a certain date to diversify household income
Having one spouse finish their college degree
Complete a No-Spend Challenge together
Idea #2: Get on the Same Financial Page
Get on the same financial page. You simply cannot manage money together, effectively, if you don't both know what's going on with the finances.
Here are free tools to help:
Here's my full article on best free budget app for couples.
Idea #3: Do Something FUN Together
You ever notice how all kinds of stress – financial, and otherwise – can melt away when you do something fun together?
Not only that, but infusing your relationship with fun experience helps the two of you remember to keep things in perspective.
Financial troubles do not last forever, and the two of you can look at one another with love instead of with frustration, anger, helplessness, or whatever else you're feeling from being under financial strain.
I happen to love to invest my time in writing about cheap date ideas and ways to have fun together:
Next up, we'll look at what causes financial strain in relationships.
Financial Strain on Relationships
Have you ever thought to yourself, "financial stress is killing my marriage"?
It's a sad reality, but one that many American couples feel at some point in their marriage (being a 10-year personal finance writer, I've heard a lot).
So, what are some of the things that can cause financial strain on relationships?
One thing I've learned is that financial strain on relationships can be caused in two different ways (and yes, it helps to categorize so that you can better cope with the problem):
Financial Strain from External Sources: These are things that are mostly out of your control, and that happen to you – like your home sitting on the market for too long before getting sold.
Financial Strain from Internal Sources: These are things that are mostly in one or both of your control – so, caused by one or both of you – such as one person wanting to spend more and the other person wanting to save more of the money.
I'll show you specific examples I've witnessed or heard about over the years. Pay attention, because this is how money ruins relationships (but by paying attention? It doesn't have to ruin yours).
External Relationship Financial Strain Examples
Underwater mortgage
Variable-interest-rate mortgage, and the interest rate goes up
Getting denied a mortgage, car loan, etc. because of one person's credit score
One person losing a job
Having to pay on a mortgage and rent or two mortgages at the same time because your home is taking longer to sell
High student loan debt
High credit card debt
Internal Relationship Financial Strain Examples
One person loaning money to family or friends
One person identifies as a "spender" and one person identifies as a "saver" (hint: this combination in a marriage is more common than you think! Perhaps it's because we're supposed to learn from one another and become less extreme? Just a thought.)
One person spending more of the resources than the other, causing resentment (excessive selfish spending)
The person who earns less income being expected to contribute just as much money towards bills
One person coming into the marriage with much more debt than the other person
One person or both people having bad credit scores
One person hiding financial resources
Disagreement over how to combine finances
Miscommunication over how much is in the account (that leads to consistent overwithdrawals)
One person taking over the finances (either by choice, or by necessity)
One person shutting out the other person from the finances
Here are 33 financial problems examples that might not be listed above.
So, how do you correct some of these money imbalances in a relationship?
Correcting a Money Imbalance in Relationships
Whenever there's a money imbalance in relationships – such as when one person earns all or much more of the money, or one person spends considerably more than another – then there's a much higher chance for conflict.
Fortunately for you both, there are several ways you can correct a money imbalance between two people.
Use Percentages Instead of Dollar Amounts: Instead of using actual dollars, use percentages. For example, if you one of you earns much more than another, then you would want to figure out a percentage that each should pay into the bills rather than contributing the same amount (which would be an imbalance – the goal is not to 'impoverish' one partner by soaking up more of their income towards bills just because they earn considerably less).
Make a Mindset Shift: I find that in many relationships where there's a money imbalance, there's also a mindset imbalance. Meaning, one or both of the partners is valuing each other's contributions to the relationship and to the marriage based on the money that is contributed. This is going to take a considerable mindset shift to change, but it needs to be done for the sake of you both staying together. Each person brings value to the relationship besides the money that they earn – things like cooking nutritious and yummy food for everyone, chauffeuring the family to and fro events, moral support, love, comfort when someone is down. These qualities don't have a monetary value, and they shouldn't.
Consider Combining Debts (in Your Mind): When my husband and I got engaged, one of the first things I did was sit us down and add up our combined debts left. Turns out, we had a combined $25,000 in debt leftover from my college, his car, and the engagement ring, etc. And you know what? While we both didn't take ownership of that debt on paper, we knew that it would benefit each of us, AND our marriage, by taking on each other's debts mentally. So, we vowed to pay off that debt together before walking down the aisle. You can read all about our debt payoff journey here, especially the part where it took an additional 5 months after being married to do. But it was SO worth it to combine our debts mentally and work together on a financial goal.
Two other resources for you include how we dealt with the money issues in our own marriage, and financial marriage problems I learned about over the last decade of being married.
The following two tabs change content below.
Amanda L. Grossman is a Certified Financial Education Instructor, Plutus Foundation Grant Recipient, and founder of Frugal Confessions. Over the last 10 years, her money work helping people with how to save money and how to manage money has been featured in Kiplinger, Washington Post, U.S. News & World Report, Business Insider, LifeHacker, Woman's World, Woman's Day, ABC 13 Houston, Keybank, and more.
Read more here
.
Latest posts by Amanda L Grossman (see all)