I've gathered some awesome free marriage counseling classes online, free relationship programs with great marriage advice and help, and free marriage counseling apps.
Every marriage under the sun needs tweaking as the months and years go on…and some even need a huge overhaul.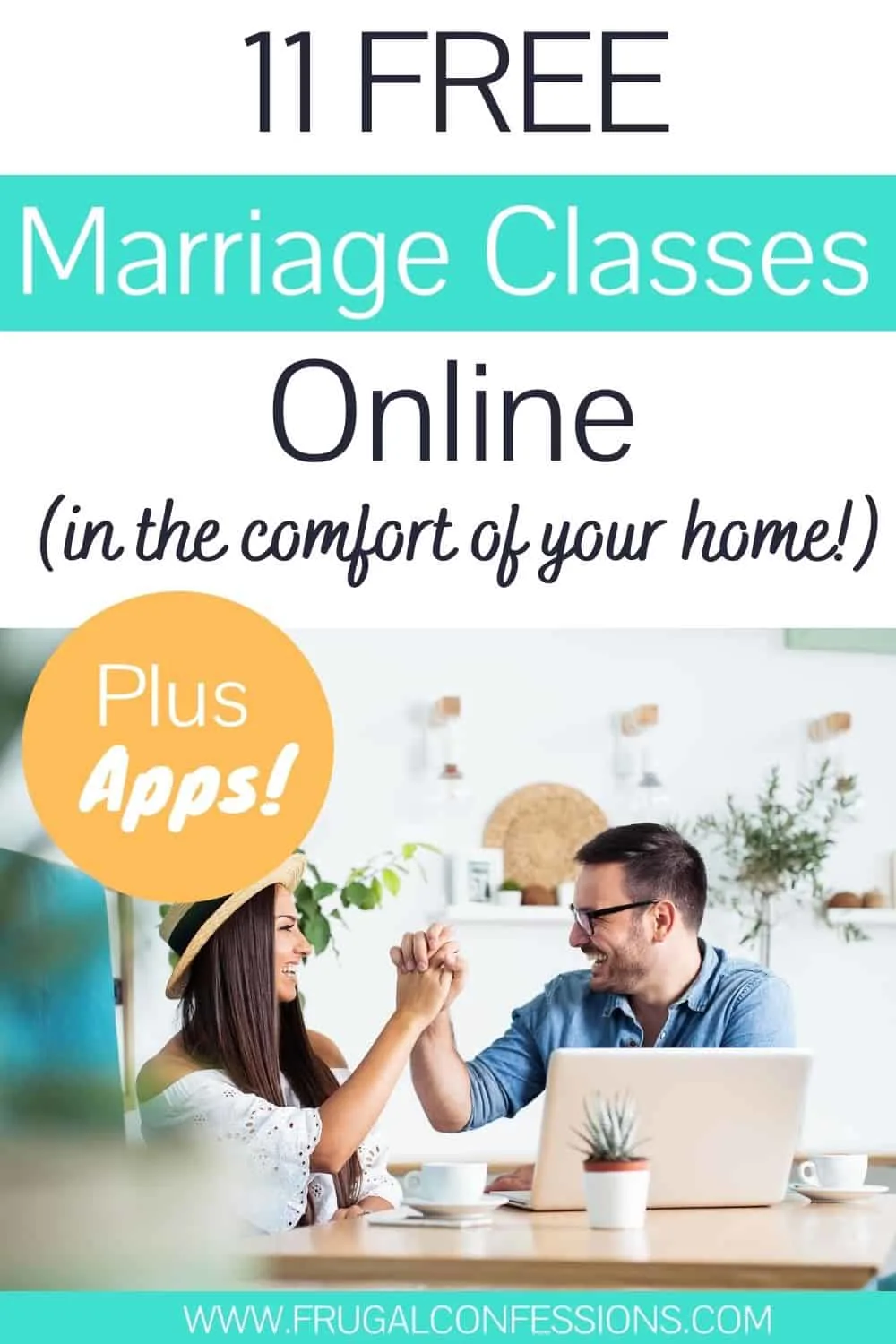 No matter which category your marriage falls into – and we've been on both sides of that continuum, both needing tweaks AND needing a few major overhauls – you can find a lot of help, advice, and tips from these free marriage counseling classes online I found for you below.
Psst: not on the same financial page with your spouse? Definitely check out my article on financial goals for married couples, and the best budget apps for couples. Also, here are 14 topics to cover in your financial meetings with your spouse. Stop those money fights!
Free Marriage Counseling Classes Online
Some really awesome resources for married couples below.
Looking for a fun relationship program to strengthen your marriage?
Then sign up for this mini email course to divorce-proof your marriage. You'll get a gorgeous, workbook to print out, as well as access to each of the printables needed for the 10 days.
Lots of printing, but some really cool stuff in here.
In fact, this is the course that my husband and I took that got us to start consistent, at-home weekly date nights about 3.5 years ago!
We'll forever be grateful.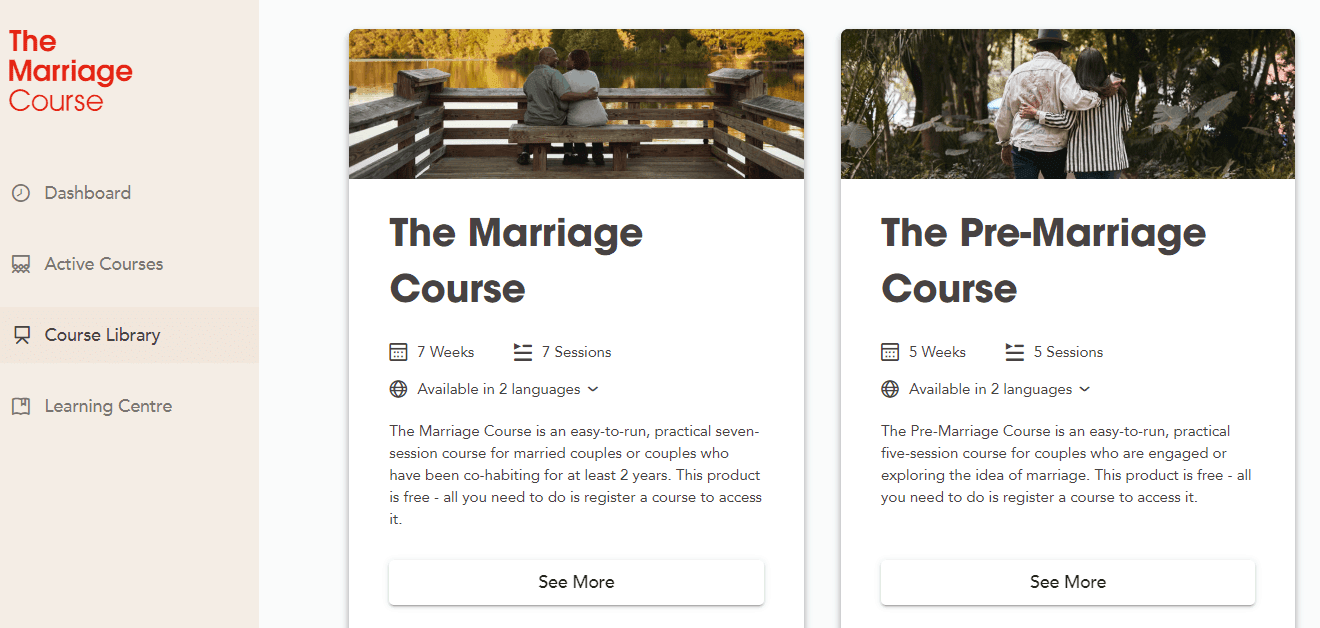 This is actually an online marriage program churches and organizations can use, completely free…but you know what? I signed up for it (giving an event date and a name for the event) and was able to access everything.
Think of this as your online marriage workshop…that's completely free thanks to some generous sponsors!
Topics include:
Strengthening connection
The art of communication
Resolving conflict
The power of forgiveness
Good bedroom time
Love in action
Lots to go through, here.
Is this a marriage counseling class online? No. It's a marriage podcast by two people – Jim and Christie – whom my husband and I were lucky enough to be in a Church couple's class with for about two years.
We've taken a 6-week, in-person marriage course they taught, and we've periodically listened to their marriage podcast.
You can follow along on various topics to start really meaningful and engaging conversations with your spouse on all kinds of marriage topics.
Like…
Money
Intimacy
How to be a better husband/wife
How to be better woman/man
Communication
Christian marriage topics
Teamwork
Respect
…anything else that has to do with a healthy, vibrant marriage
They also run a Cupid Challenge once a year around February – it's good!
Psst: don't forget the power of infusing FUN into your relationship to help with marital problems! Here are my favorite, FUN apps for couples.
Here's a free marriage counseling class online with 4 out of 5-star reviews from 51 of the 2,700 people who have gone through it.
What makes this an option for an online marriage counseling class? Well, you can chat with the instructor and ask your questions about the course material.
Brush up on important marriage skills, like:
Resolving conflicts
The vision for your marriage
Communication
Etc.
Free Marriage Counseling App
Who ever thought there would be an app for free marriage counseling? I sure didn't.
I've been pleasantly surprised with the ones I found. Check 'em out!
Psst: don't forget to keep things fun, too! Here's 41 fun relationship challenges for couples to do together.
This is actually a paid counseling marriage app, BUT, you get 5 sessions for free. How great is that?
Also, you can access the couple's conversation starters and relationship reminders for free, too.
First up, you'll go through a 4-minute assessment to personalize your plan.
For example, based on my answers, my recommended focus areas were:
Trust
Conflict
Appreciation
It offers you easy prompts to text your partner with, and an easy way to invite your partner to participate with you in a session in the app.
Sessions are both videos or text-based, whichever you prefer (and about 5 minutes or less, at least from the 5 that I did).
In my first free session, alone, I learned a seriously useful tool I've never even heard of before: emotional calling. Emotional intimacy in marriage and relationships is so important!
Hint: when you download the app and the subscription screen pops up, you can click the small arrow in the upper righthand corner of your screen to go to the next screen.
Gary Chapman from The 5 Love Languages created the Love Nudge App, which is part marriage counseling, and part coaching.
And 100% free!
This app can be used with or without your partner (but obviously it's more effective together…just like a marriage). You each take the quiz to find out what your love language is, and then you set goals to regularly do activities that reflect your partner's primary receiving love language.
In other words, this app nudges you to fill your partner's love tank on a regular basis! It's pretty neat.
And you can "nudge" your partner to fill your own love tank with specific activities that would help. Or just to let them know yours is a little empty (hey, we all need help sometimes, amiright?).
The Gottman Institute takes a research approach to relationships, and created a really popular deck of cards based on couple's retreats they've held over the years.
Well, now you can get that whole deck of cards (1,000) for free through their app!
You can even shake your phone to pull up a random card from the app.
Card categories include:
Love mapping
Rituals of connection
Open-ended questions
Opportunities
Expressing needs
Empathy
…and many more
Psst: don't forget how important making consistent date nights are, even at home! I've got tons of date night ideas for you.
Free Online Premarital Counseling
Paul and I went through premarital counseling 11 years ago with our pastor, over the phone. IT was good!
Still, it's nice that there are now online premarital counseling options (that are free) out there.
Let me share a few free premarital preparation courses with you below.
Gary Chapman came up with this free marriage counseling area of the internet, and it's really pretty cool.
These are 5 sessions you and your partner can take together
Hint: You'll need to link your two accounts in order to unlock the content.
This course is both for engaged couples as premarital counseling, AND for married couples looking to engage with each other more.
There are 25 total lectures, for a total of about 1.5 hours. Content covers:
Communication
Resolving conflict in marriage
Finances
The vision for your marriage
Intimacy
Marriage mindset
Dealing with the past
Romance and demonstrating love
This course makes a bold claim that you can actually look forward to talking about conflict instead of dreading it…and as crazy as that statement sounds, the course comes highly-rated.
There are 29 lectures over about 5 hours of video content.
Content includes:
Your relationship environment
Sharing information
Your protective egoity
Effective interaction
Outcome and benefits
Bonus lessons
No matter if you have a budget for it or not, I hope I've shown you that you can get help to work on your marriage. While these free marriage counseling classes online and marriage therapy apps won't take the place of actual couple's therapy, they're an awesome way to improve your marriage and work together for the benefit of you both.
The following two tabs change content below.
Amanda L. Grossman is a writer and Certified Financial Education Instructor, Plutus Foundation Grant Recipient, and founder of Frugal Confessions. Over the last 13 years, her money work has helped people with how to save money and how to manage money. She's been featured in the Wall Street Journal, Kiplinger, Washington Post, U.S. News & World Report, Business Insider, LifeHacker, Real Simple Magazine, Woman's World, Woman's Day, ABC 13 Houston, Keybank, and more.
Read more here
.
Latest posts by Amanda L Grossman (see all)