Having trouble budgeting money with your spouse or partner? There's a couple's budget app for that. Seriously! Best paid and free budgeting apps for couples.
One of the biggest (if not, THE biggest) problems couples face when trying to manage their money?
Is keeping each other aware of what's being spent, and how much is left.
I can't tell you how many times I've texted my husband with, "can you tell me what's in our checking, please?" Or, with "we're tight until your payday" which is code word for "spending lock-down" in our household.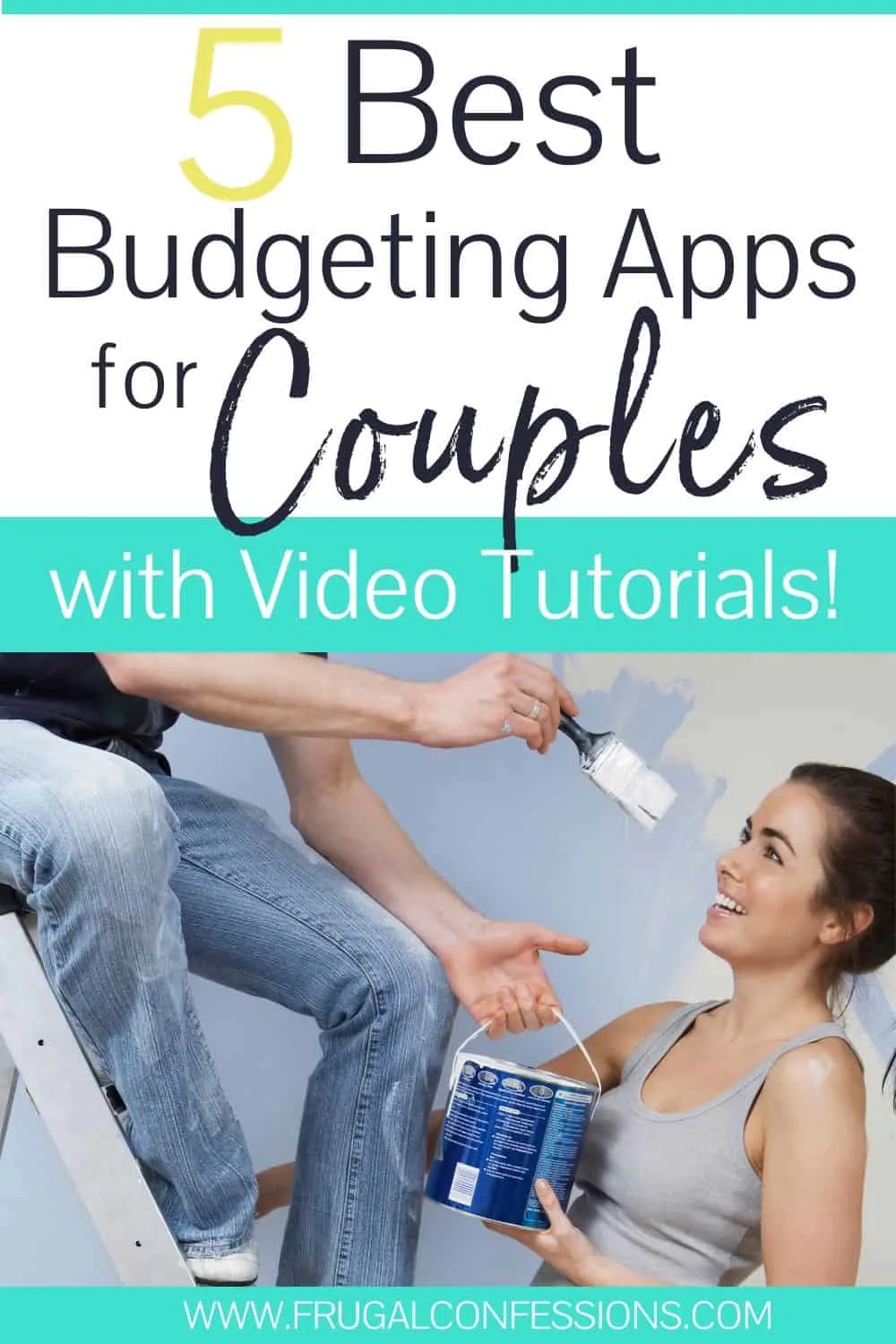 Other common couple money management problems include:
Trying to manage money with a partner who has different spending habits than you
Not checking in with each other, or a joint account, before one partner goes grocery shopping or spends money online
Disagreeing on how joint money should be spent
Choosing to separate finances (which is fine), but then not figuring out a way to still work on couple's money goals together
Different money philosophies that lead to arguments (like one person being a "saver" and the other person being a "spender")
Did you know that you can make budgeting for couples a bit less…annoying?
Yes – imagine your budget, spending plan, current checking account amount (if you have joint financial accounts), updates on your retirement dreams, and progress on your couple's money goals being available at the touch of EITHER of your fingertips, anytime you want it.
Finances synced between spouses' phones…sounds about heavenly, right? Let's check out these awesome couple's budgeting tools.
Best Budget App for Couples 2023
Let me share with you the best couples budget apps that will not only take out a lot of the nagging undertones of money-related texting, but will help you both see your bigger financial picture so that you can make better financial decisions.
And we'll start with my top pick for couple's digital cash envelope budgeting.
1. Best Cash Envelope Budget App for Couples – Qube Money
Do you use the envelope approach to budgeting? Meaning, you keep envelopes for different categories and fill them with a certain amount of cash to spend?
This app offers a digital cash envelope budgeting system…with some seriously great couple's budgeting functions (available in beta testing right now – you can sign up for an account and then ask them to let you in).
With this app, you and your partner can both use envelopes digitally, and will be notified with the other's spending, as well as how much is left in that particular category ("Qube") to spend.


Here's how to use this:
Choose one person to be the primary money manager, and each of you creates an account. Then the primary user sends an invite to their partner to join their account (with the beta joint accounts). Each person will see the same thing.
Receive a card to use with the app so that you don't need to carry around cash to the envelope budgeting system – the card will "debit" the amount from the category you want to spend in (couples will each receive their own card).
You transfer money from your bank and/or joint accounts to this app (all Qube accounts are FDIC insured by our sponsor bank, Choice Financial Group up to $250,000).
Create your personal "Qubes" (you can think of these as your physical cash envelopes), and then deposit money into each Qube.
As you fill up each Qube, it'll automatically tell you what you have left in your overall Qube account to fill the remaining Qubes up with.
There are quite a few pros to using this system. For starters, you get a routing number and account number for your envelope system, meaning you can use it with online purchases (can't do that with physical cash envelopes!).
It offers security and peace of mind you don't necessarily get with carrying around cash. For example, you could just lose your cash in envelopes (this has happened to lots of people!). But with Qube, you can't just "lose" the cash or the cash envelope. Also, someone cannot use your Qube cash like they could cash in an envelope they find – that's because you have to open the Qube on the actual app on your phone before you can proceed with the transaction through the card.
Here's a video tutorial so that you can visually see it:
2. Best Joint Account + Debit Card for Couples – Zeta
Available on Android or iPhone
With this finance app for couples, you're sharing a joint account and joint debit cards with each other. So, what makes this different from a normal bank account?
They'll:
Automated Couple's Savings Goals: You can automate your deposits via couple's goals and the rules you set up (heads up: you can tell this app what you're trying to achieve, and by when, and it'll automatically give you the digits on what you should save…then you can tweak and set up the automation).
Automatic Bill Pay: Set up couple's bill automations in their Bill Reserve, where you automatically pay the bills each month. They also anticipate your larger bills during the year, and automatically tell you what you need to save and how often to have the money set aside.
Communicate in the App: In-app communication by text about finances and anything else you guys would like (wink, wink).
Automatic Sinking Funds Set Up: Set up Sinking Funds automations with their intelligent system – you tell them what larger bills you have as a couple and when it's due, and you'll get strategy for how much to automatically save and when (then you can adjust and set up the automation)
Exciting features coming by the end of this year:
Individual Accounts: They'll be coming out with individual accounts as well, so that you can share a pot of money in your joint account, but then keep separate ones, too, with instant transfers between accounts.
Monthly Financial Insights Statement: Coming soon, every month you and partner will get a bank statement on everything you guys spent on, and with insights on what they're seeing (places you've gone over and under on spending, resources to help you save more towards one of your couple goals, etc.)
Zeta Vs. Honeydue App
These are both no-fee, FDIC-insured, joint bank accounts connected to a couple's money management app. Couples can also use the chat function in each of these apps to communicate about transactions, financials, and anything else they want.
Here are some differences:
Here you go:
You Don't Need a Joint Bank Account with Honeydue: Honeydue still offers a co-money-managing app that you can use with your current bank accounts to manage money together, whereas with Zeta, you have to open a joint bank account to use their app.
Zeta offers Automatic Bill Payment: Zeta can automatically pay your bills for you, and Honeydue is working on coming out with this feature. Honeydue can remind you about when it's time to pay a bill, though.
Available on Android or iPhone.
3. Best Couple's Budgeting Apps – Honeydue App Review
Available on Android, or iPhone.
When you first sign up for this personal finance app, you set up your profile (meaning, you get to choose a photo from your phone's image library of yourself!). Then, you get to send an invite to your sweetie to join up with you.
Next, you can set up common bill reminders, such as the rent/mortgage, phone bill, electric bill, etc.
While the app is free to use, you will be asked to tip them a monthly donation – you can choose yes, or no for this.
Some surprisingly helpful functions that make this a very couples-friendly budget app? Are the ability to chat about money (or whatever) within the app itself, plus the ability to make comments on transactions (there's even emojis!).
Hello, functionality!
Also, if you split expenses with your significant other (meaning, you guys haven't combined finances into the same account, or you're keeping tabs on who pays what bills), then you'll really enjoy the Split Expenses function. It allows you to track the split expenses and the app will remind you when it's time to settle up with one another.
Available on Android, or iPhone.
4. Couple's Finance App – HoneyFI
Available on Android, or iPhone.
HoneyFI is all about helping you sync up you + your partner's finances.
You can do things like:
tag transactions (yours, mine, or ours)
comment on various transactions that you make
have the app automatically categorize each of your transactions
build a custom household budget for you (you might want to sign up JUST to try this one out – to see what an app thinks your budget should be, based on your spending patterns)
chat about money (or whatever else you two crazy kids want to!) through this money tracker app for couples
track spending between the two of you
But the big difference with this app? You can choose WHAT to share with partners as well.
Yes – you have the power to limit the visibility at the account and/or individual transaction level. That makes this couples budget app stand out!
How to edit visibility by:
Transactions: The person who added the account where a transaction occurred also has the power to mark a transaction within that account as private. To do this, you would tap the avatar next to whichever transaction you don't want your partner to see.
Accounts: You can change the "shared" status of any account by clicking on Settings > Accounts > bank institution > name of the account you no longer want to share. Click on that account, then edit it to either Shared, Visible, Just Me, or Ignore.
I could certainly see this as a good function to use if you don't want your partner to see what gifts you purchased them for their birthday or holiday, but it could be questionable if used to hide money spent from your spouse.
Just a word of caution on that, as financial infidelity and financial dishonesty in marriage is a real thing!
Psst: here's how to fix money imbalances in relationships, 11 free online marriage counselling courses, and an annual marriage planning worksheet to help.
On the other hand, if your combined finances are set up so that you each have your own personal accounts, then this money tracking app for couples could be ideal for you guys because you can hide your individual accounts but still have access to their information on your own app.
Available on Android, or iPhone.
5. Couples Budget App – GoodBudget
Available on Android, or iPhone.
Do you do envelope budgeting so that you can plan your spending and not simply track it (or attempt to, but you don't really want to carry around physical envelopes)?
Perfect – I've got the solution for you: an Envelope budgeting software app, that syncs with your partner's phone!
Digital envelopes are set up for each area of your budget, and then an amount of money is put into each one. When someone spends money out of a specific envelope, both partners know.
The free version offers you:
10 regular envelopes
10 "more" envelopes
1 account
2 devices
1 year of history
Regular Envelopes are Envelopes that you use to track regular expenses, like Rent, Groceries, Gas, etc. More Envelopes are designed to help you track things that recur on a more irregular basis, like Car Insurance that recurs every 6 months. More Envelopes are also good for saving for things, like Christmas Gifts, or saving to buy a new car.
And if you find out it's your cup of tea? Then you can go paid at $6/month to unlock unlimited envelopes, unlimited accounts, unlimited accounts, and much more.
Unfortunately, your real life bank accounts do not automatically sync with each other (on neither the free nor the paid version). Instead, you can keep track of your account balances by manually uploading transactions as they happen, or by importing a recent activity file you download from your bank.
Available on Android, or iPhone.
6. Couples Budget Apps – Empower
You'll want to sign up for an account here —> Free Empower Financial Management account
Empower is actually way more than just about budgets, but they do have a budgeting tool functionality.
It's not as robust as other couple's budgeting apps, but you CAN use it with your spouse in a number of meaningful ways that could really add to the understanding of your overall financial picture.
Plus, it helps you set and track bigger picture financial goals for the both of you.
Some cool Empower finance tools you can use with your significant other to help with couple's money management:
Joint Retirement Account Tracking: If you're married, then you can add in your spouse's retirement accounts as well as your own to help track your portfolios, your couple's net worth, and if you're on track to retire as a team. You won't need to do a formal account linking (for married spouses), which is a benefit. What I like about this with my own husband is even though our work retirement accounts are in two separate companies, it feels like everything is under the same roof! Just like us.
Stay on Track with Joint College and Retirement Plans: You can actually figure out, quite quickly, whether the two of you are on track for your retirement dreams, and how much you need to be saving each month to meet your college savings goals. How cool is that?
Create Hypothetical Income and Spending Scenarios: Have you ever daydreamed with your spouse, and then sadly wondered if those dreams would ever be financially possible? Like, what if one of you decided to quit and stay home with the kids? What if one of you wants to start a business? What if you want to purchase a certain home? You can play around with the spending + income scenarios as a team, and see what these hypothetical situations would look like for your finances (all in the context of how your decisions will impact your retirement). Hint: this would make an excellent tool to use in a money quickie (money meeting) with your spouse.
You'll want to sign up for an account here —> Free Empower Money Management account
Can Couples Use Mint Together?
Need a budget, like yesterday?
Mint is a really popular budgeting app, so naturally many couples want to use it to manage their money together.
But, can Mint app be used by couples?
I checked with Mint.com, and at this time, there can only be one user per Mint account.
To share your financial information with someone else, you would need to create a new account in their name, and then add all the same banks and financial institutions linked to your account. You can create a Mint account and have two separate logins for bank accounts. However, the other login would need to be entered in daily in order to update that account.
Kind of a cumbersome user experience for a couple!
Managing your money with a partner just got a WHOLE lot easier…well, if you and your partner download and start using one of these best couples budgeting apps. Spend the time to get things set up now to save yourselves on money fights, over-withdrawals, and misunderstandings. Then check out this article for more family budgeting tools.
The following two tabs change content below.
Amanda L. Grossman is a writer and Certified Financial Education Instructor, Plutus Foundation Grant Recipient, and founder of Frugal Confessions. Over the last 13 years, her money work has helped people with how to save money and how to manage money. She's been featured in the Wall Street Journal, Kiplinger, Washington Post, U.S. News & World Report, Business Insider, LifeHacker, Real Simple Magazine, Woman's World, Woman's Day, ABC 13 Houston, Keybank, and more.
Read more here
.
Latest posts by Amanda L Grossman (see all)