Frustrated by trying to find a Starbucks discount promo code that's still active? Let me show you how I do it (plus 10 other Starbucks discounts).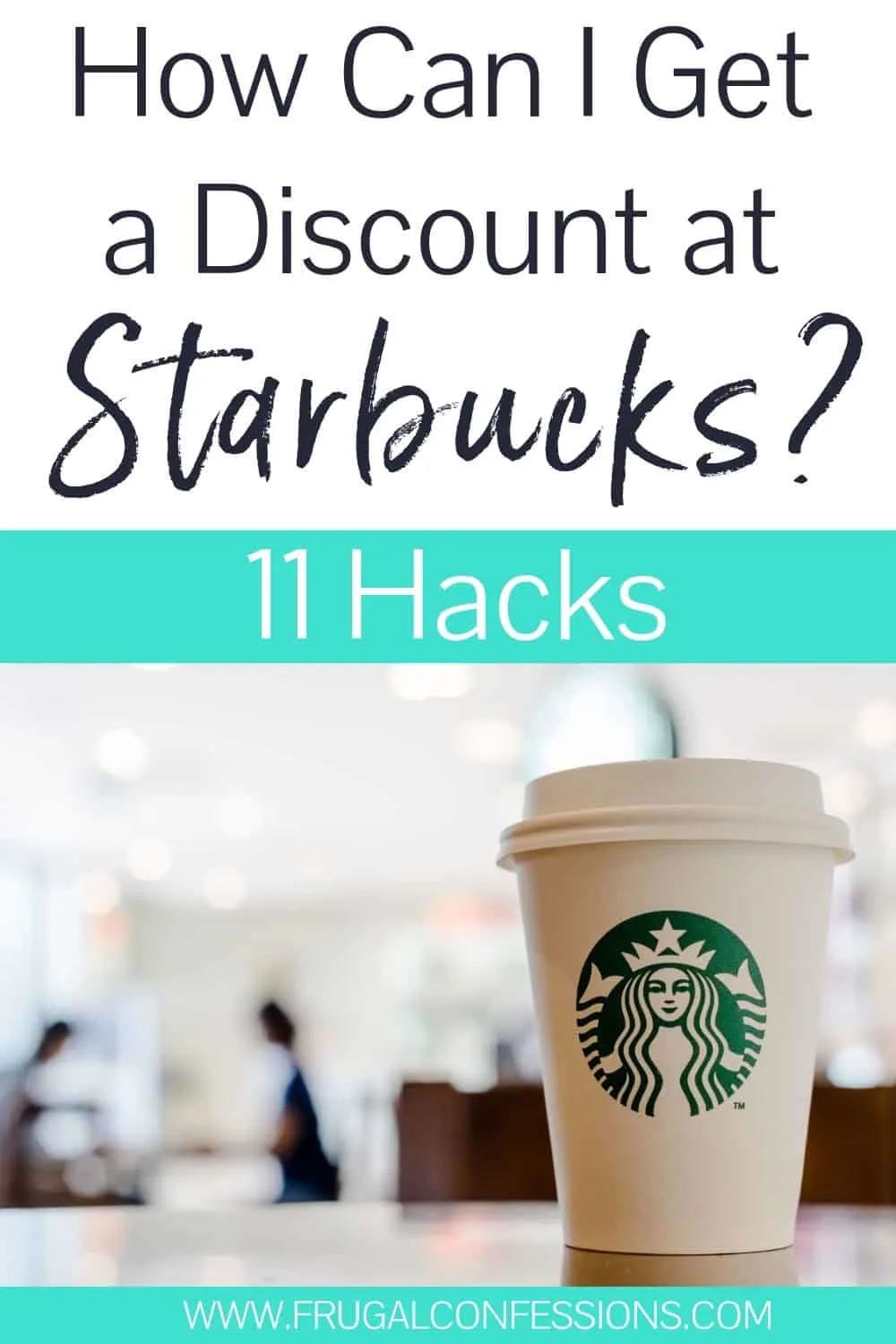 Let me guess…you're trying to find a Starbucks discount code and either one doesn't exist, it's for a product you don't use, or the Starbucks promo you DID find has expired?
Sooooo frustrating.
Not only am I going to show you 11 different strategies for finding Starbucks Discounts…but I"m going to show you a trick for how you will NEVER miss another LIVE Starbucks promo code again!
Starbucks Discount #1: Find Online Coupon Codes for Starbucks
I've detailed before several Swagbucks internet searches you can complete that will save you lots of money over the years. Searching for an online coupon code at the time of your checkout is one of the best ways to save money.
It's simple, really.
When you come upon the checkout screen where there's a discount code box, you simply put the name of the retailer into the Swagbucks search engine and add the language "online code", or "coupon code", or anything else you think might pop up a nice percentage off for you.
In my own attempts at this — before I started using Starbucks Discount Strategy #2 below — my success rate for finding a Starbucks Discount Promo Code was only about 50%.
50% of the time I find a working coupon code from one of the various online coupon code sites vying for the top slot in my search results.
50% of the time…the first code doesn't work. Neither does the second one I find, nor does the third. At which point I just give in and make the purchase without receiving any sort of discount.
It's no secret that finding online coupon codes for a Starbucks discount is kinda hard to do. They're just not a discount-type store.
And when you do find these codes, they're not very good (or at least not for anything I'd like to spend money on).
So, while this is not always the best option for saving money with Starbucks, when paired with strategy #2 below, it can really work.
See for yourself what two different online promo code sites are offering for Starbucks promo codes:
Retail Me Not
Dealspotr
You'll notice that on RetailMeNot.com, the best code you can find is for orders over $60. But on Dealspotr, you can get a code for 10% off of your entire order.
Something else you'll notice? On the top righthand corner of the Dealspotr Starbucks page, you'll see that it was updated by an actual person just 42 minutes ago.
In other words, someone is on the other side of the computer screen making sure the deals are the most up to date and expired deals are taken down in a timely manner.
I like that. I like it so much that several years ago, I wrote a whole post on how to get through to a live person when dealing with companies.
What else makes Dealspotr different?
Stores Can Upload Single-Use Coupons: That 10% coupon code for your first order is unique from other discount code sites because Dealspotr's platform allows community members to upload single-use coupons.
You Can Receive Referral Codes: Not only can you get a discount, but you can get referral codes so that you earn some sort of reward for referring the discounted product to family or friends.
Third Party Codes Also Included: They also will show third party codes, or discount codes at other retailers that can be used on the brand you're shopping for.
But…don't you just hate it when you miss out on a great Starbucks online discount code (since they aren't as consistent nowadays as they used to be)? This brings me to my next strategy, which will ensure you don't miss another Starbucks discount code.
Starbucks Discount #2: Set Up a Google Alert for Starbucks Offers Today (ANY Day)
Here's the thing: I took those screenshots above a year or so ago when there were Starbucks deals. But now? If you look on both of those sites, there's nothing. *womp, womp*.
Retail Me Not

Dealspotr
So, how are you supposed to keep up to day on Starbucks offers TODAY (and "today" being actually the date you're reading this)?
Have you ever heard of a Google Alert? It's something you set up with Google, and they'll alert you whenever they find what you're looking for (as it appears, new, in the search engines).
That's a powerful tool! Business owners use this a lot to see when other people have mentioned them online…but YOU are going to use this to see when a new Starbucks online discount code pops up.
That's right — no more missing those 24-hour deals on discount Starbucks gift cards and online promo codes.
To set this up, you need to:
#1: Go to Google Alerts.
#2: Then, enter a search term you want to track. I suggest one of the following (or all of them — it's up to you):
Starbucks coupon
Starbucks discount code
Discount Starbucks gift card
Starbucks promo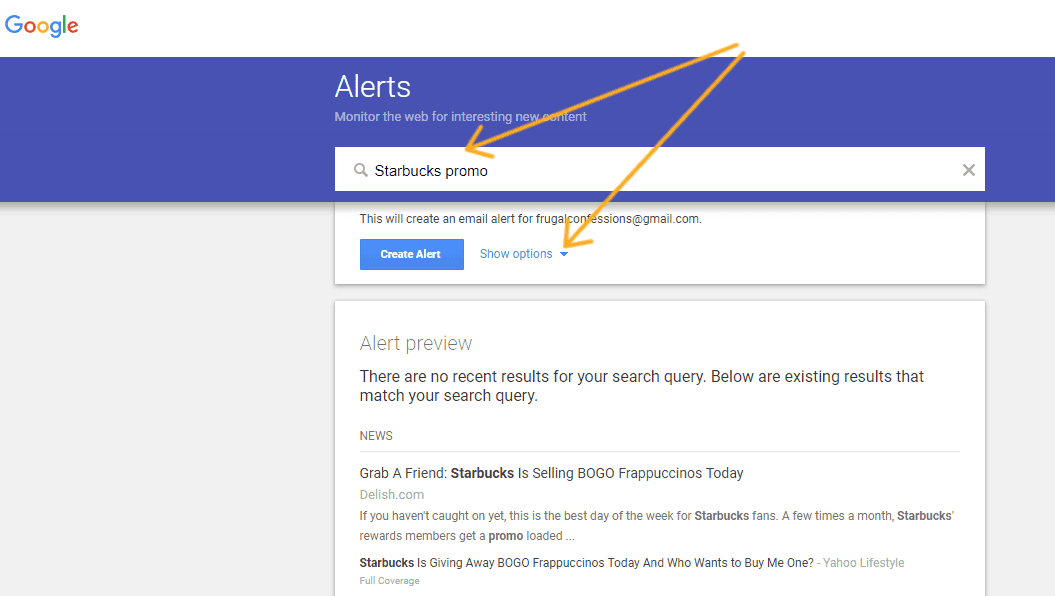 #3: Click on "Show Options", and choose how you want to be emailed about your Google Alerts.
#4: Click "Create Alert".
Boom, you're done! Now you'll be in-the-know about future Starbucks promotions and discounts, WHILE they're still live.
Just look what showed up in my Starbucks Promo Google Alerts within 24 hours of creating the alert above!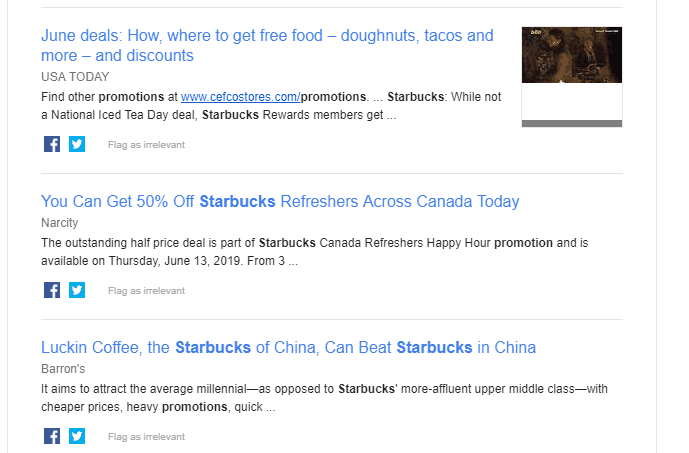 And here's another one: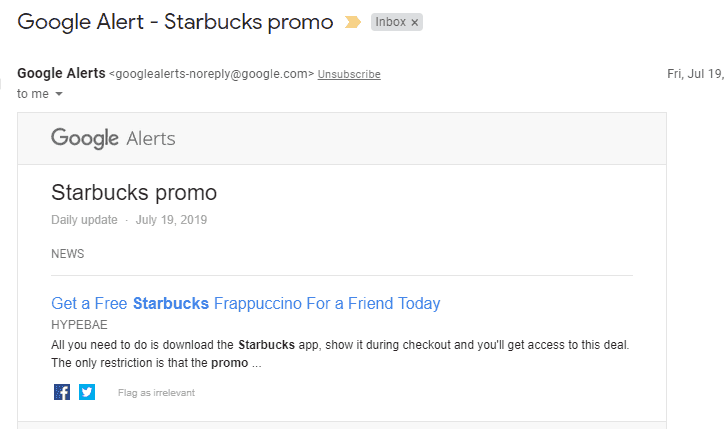 Alright, how about 12 more ways to get Starbucks discounts, besides searching for Starbucks promo codes online?
9 More Starbucks Discounts
Searching for online discount codes for Starbucks is a good strategy, but there are 9 more strategies that will reap you Starbucks discounts you've gotta give a try.
Starbucks Discount #3: Find Starbucks Discount Gift Cards
You've probably heard of Swagbucks, where you earn points that you then cash in for gift cards just by searching the internet.
Psst: wait a minute…you're NOT doing this yet? Please click here and get started earning cash by searching the internet — it's no joke!
What you may NOT know, is that Swagbucks periodically discounts their reward gift cards you can use your points to get, and that includes their Starbucks gift cards.
Here's a 12% discount on a Starbucks gift card I found just the other day!

Starbucks Discount #4: Download the Mobile App (that's where they moved the coupons)
Is Starbucks happy hour still going on? Heck, yes! But, they moved it.
Starbucks used to send out Happy Hour coupon codes and coupon printables through their email newsletter. But now? They've moved their "Happy Hour" to their free Starbucks mobile app.
Note: Happy Hour is either a discount on a beverage, or a BOGO discount. They have an specific date and the time frame to use it is from 3:00 PM to closing.
See? I got this email below earlier this year about the change (note: they do still offer other promotions through email).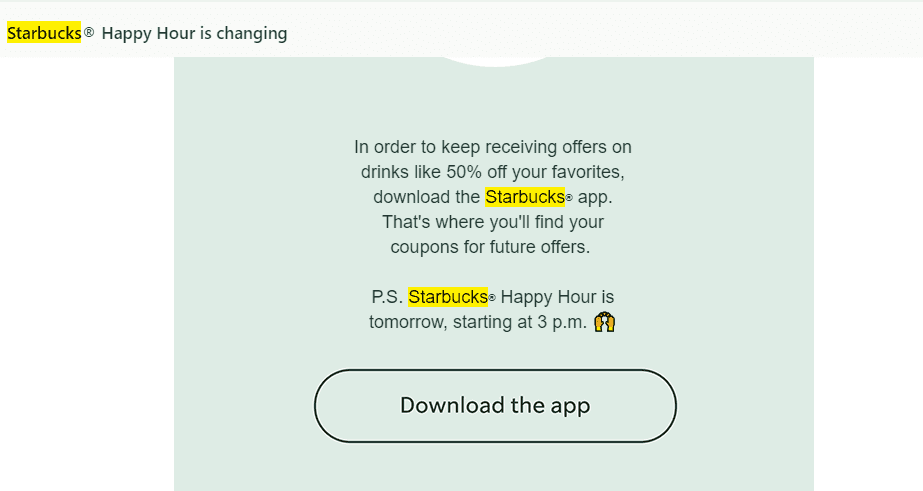 I recently signed up for the mobile app, and I had this offer waiting for me (hopefully more to come!):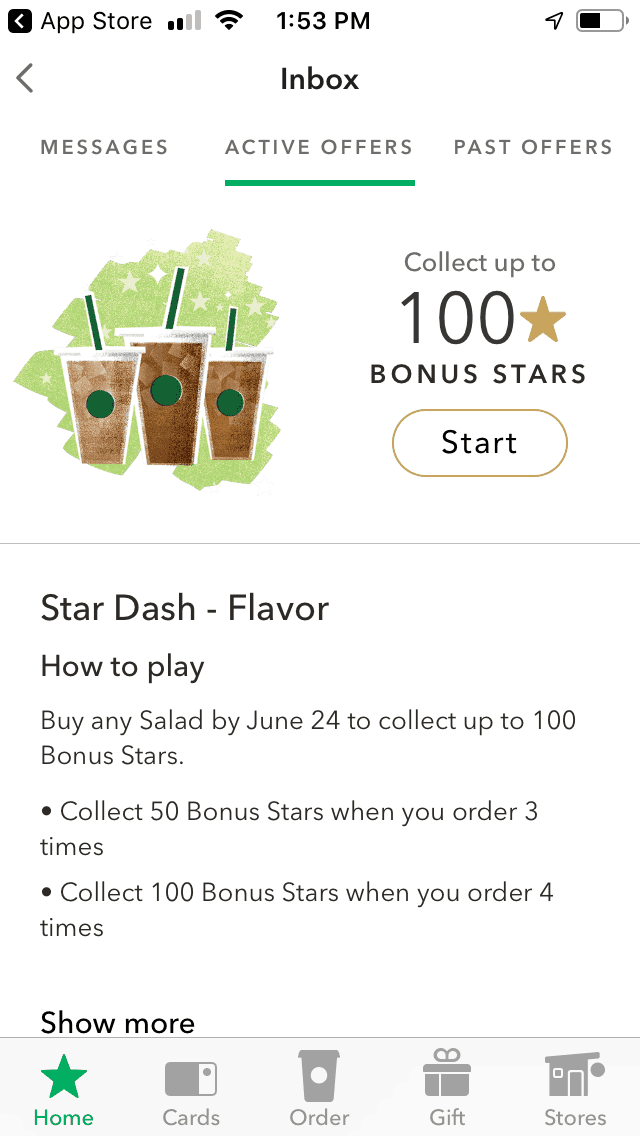 To find your own offers, go to the Mobile App, then to "Inbox", and then look in "Active Offers".
Starbucks Discount #5: Activate Your Double Star Days
Each month, you'll get a notification through the Mobile App of your double star days. These are the days when whatever you purchase, you will earn four (4) Stars for every $1 spent. Definitely take advantage of these days!
In order to get the double rewards, you have to activate the offer, though. Which usually means just clicking on a button in your mobile app or email. So, be on the lookout!
Starbucks Discount #6: Order the Smallest Size on Free Refills
You probably already knew that Starbucks offers free refills on certain products to registered Starbucks card users. So, if you order (hot, Iced Coffee or Cold Brew), and tea (hot, or iced) and use your registered Starbucks Discount card and/or Mobile App, then be sure to order the smallest size.
That way, you're paying the smallest amount for the product, and can just get a refill. Of course, this only works if you're staying in the store. Once you leave the store, you cannot get another refill (and it doesn't work on the drive-thru).
But for people like me, who use Starbucks as a second office/cheap co-working space, this is a great deal.
Starbucks Discount #7: Play Starbucks Games
Whenever you see one of their online games, you definitely want to play! Each time you make a purchase, you'll get turns to use. I did this for both their winter online game last year and their summer online game, and won bonus stars all over the place (22 in just the summer games).
It was awesome!
Starbucks Discount #8: Learn How to Upload Your Receipts
Did you know Starbucks changed their system for how you can redeem stars from products you purchase in stores? Kind of annoying…but you have to upload an image of your grocery store receipt now, via text message, and then wait for an "okay" back for it to be credited to your account.
I have to say…I don't like the new system. But you do get used to it (and since my husband buys ground Starbucks coffee when we go grocery shopping, it's something I needed to figure out!).
You need a clear picture of your receipt from the retailer, that has the date and the products on it, and you must upload it within 60 days of the purchase as a text message or to this email address: [email protected].
Here's where you can sign up for the new system. Then, once you do, you can just text your receipt image to 811-811.
Starbucks Discount #9: Redeem Credit Card Reward Points
I love using our free credit card reward points (because we don't pay an annual fee, and we pay off our balance each month within the grace period, so no interest is charged) for Starbucks gift cards.
Check with your own rewards program and see if they offer the same!
Well…that's it. I have no doubt you will find at least two new ways to get Starbucks discounts from above. And if you find any others? Please let us know in the comments below. I just might feature it in the article itself (with your permission, of course).
The following two tabs change content below.
Amanda L. Grossman is a writer and Certified Financial Education Instructor, Plutus Foundation Grant Recipient, and founder of Frugal Confessions. Over the last 13 years, her money work has helped people with how to save money and how to manage money. She's been featured in the Wall Street Journal, Kiplinger, Washington Post, U.S. News & World Report, Business Insider, LifeHacker, Real Simple Magazine, Woman's World, Woman's Day, ABC 13 Houston, Keybank, and more.
Read more here
.
Latest posts by Amanda L Grossman (see all)