Have lots of things you want and need to save up for but can't seem to figure out how to prioritize savings goals? Let me show you what goal to save for first, next, and last.
Savings goals can be really exciting.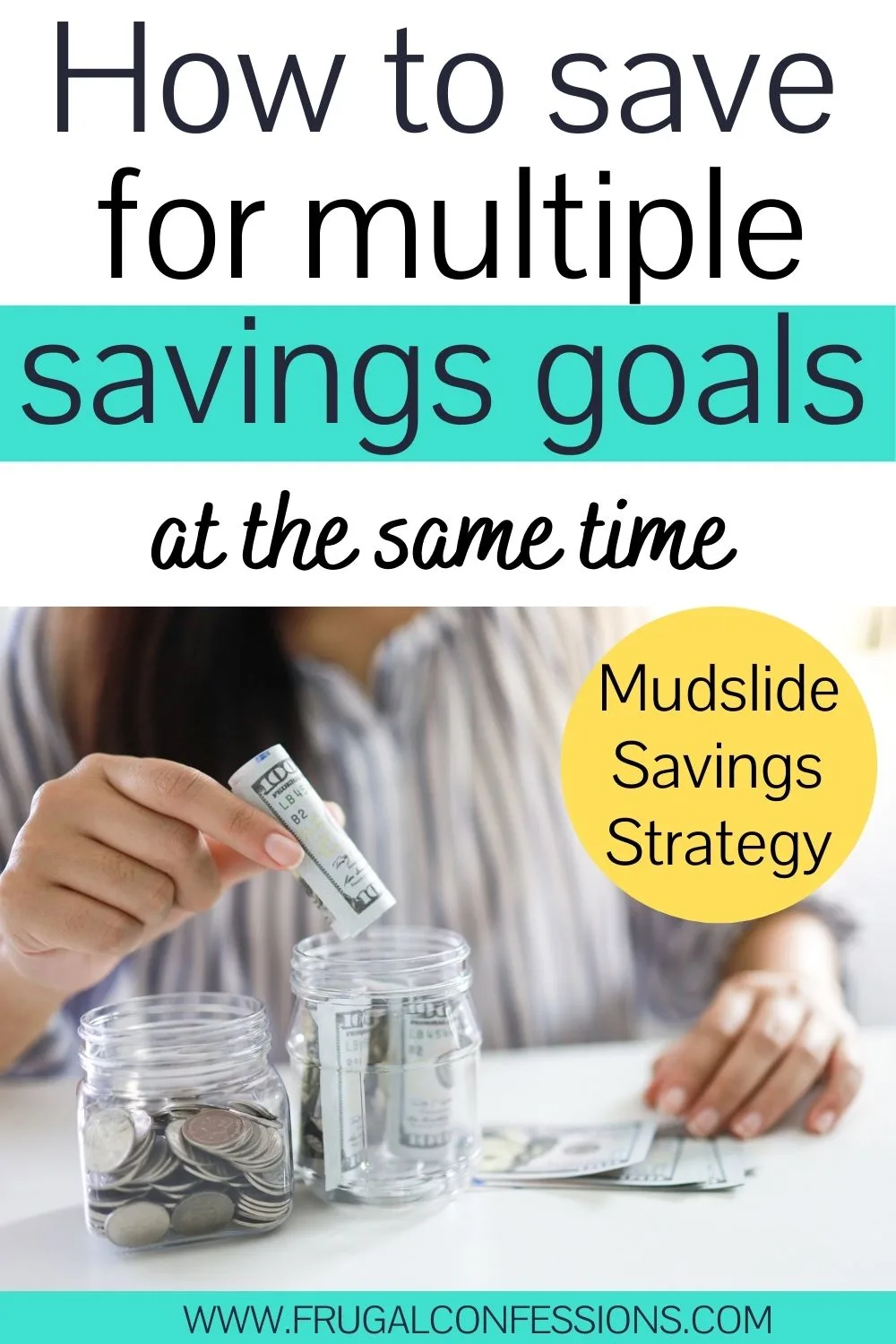 Except if you can't figure out how to prioritize savings goals to save for first, nor figure out how to save for multiple savings goals at once.
Either of these things can leave you treading water financially, unable to decide on how to move forward.
Not to worry.
I'm going to use my decades of experience – starting all the way back in high school with my prom-gown savings goal – to prioritize yours so that you can focus on the most important one first while still covering all your bases.
Then, I'm going to show you how to save up your money even faster, so that you can move onto your next prioritized savings goal. On repeat.
Let's get crackin'!
In What Order Should You Save Money?
First up, before we dive into prioritizing your specific goals, I'd like to talk about the order which you should save your money.
Because saving money in this order? Can both:
protect your saving goal money from pilfering (you know, when you have to withdraw it to pay for an unforeseen expense, causing you to lose ground + motivation to save money)
There are three items on your Savings Must List that you need to be saving for…(almost) no matter what:
Your Oh Sh*t Emergency Fund (it's sole purpose is to make sure you don't have to say that word)
Your Retirement Fund
Any savings account where you are getting matched savings
You've probably noticed something here:
In order to both cover your Savings Musts as well as save for anything that you want, you'll be saving for multiple goals at the same time.
Not to worry – I've got a great strategy called the Mudslide Savings Technique that will help you do just that.
How Do I Save Multiple Goals at the Same Time? The Savings Mudslide Technique
When saving money, you've gotta cover all your bases so that you both protect your family's future AND live the life that you want to live now.
This means covering all of your Savings Musts (your needs), as well as saving towards the things and experiences that you want.
That's why I've come up with the Mudslide Savings Technique.
You see, a mudslide slowly sweeps over everything in its path, and continues to grow in intensity as it travels down the line.
And a Savings Mudslide? Well, it does the same thing.
The Mudslide Savings Technique allows you to cover the minimum savings amount towards your Savings Must's goals, while at the same time saving money towards your other prioritized savings goals list.
Here's The Mudslide Savings Technique in a Nutshell:
Calculate how much you need to cover your minimum Saving Musts
Prioritize your other savings goals using a decision matrix
Send extra money to the lowest-costing, and most needed savings goal first
How to Prioritize Savings Goals You Need and Want
Figuring out which savings goals to prioritize can be a bit confusing. Especially since you are sure to have multiple needs and wants at any given time.
For example, how are you supposed to decide between saving for new tires versus saving to travel to your friend's wedding? What makes you certain that saving for retirement takes priority over saving for a new washing machine?
Let's bring some clarity on which goals you should be saving for in which order so that you don't find yourself pouncing around Italy (hurrah!) without the means to pay for a new tire after yours picks up a nail on the way home from the airport (doh!).
Step #1: Calculate Your "Saving Must" Minimums
I want to circle back to the Saving Musts, which should be on everyone's list.
These are the things we're paying for at the same time as paying for the savings goals we want to.
They are:
Your Oh Sh*t Emergency Fund (hint: you're only covering this until you reach a full emergency fund amount)
Your Retirement Fund
Any savings account where you are getting matched savings (which might be your retirement account, such as a 401(k))
You'll need to calculate the monthly amount you need to send to each.
1. Emergency Fund Monthly Amount
First, you need to calculate how much money you should have in your personal emergency fund. Then, subtract the amount you currently have in emergency savings from this amount.
That's your emergency fund GAP.
You want to fill this gap as quickly as possible, so figure out how much you can send to your emergency savings each month.
2. Retirement Fund Monthly Amount
This calculation can get really complicated…or it doesn't have to be.
Let's keep things simple.
Choose your monthly retirement fund minimum by either:
Enough to get the full employer match on your work retirement plan (see below)
Enough to save the full allowable contribution limit in your IRA
For example, in our home, we contribute 3% of my husband's pay for his 401(k) to get the full employer match, then $500 to each of our two Roth IRAs to make the full contribution of $6,000 for the year.
3. Matched Savings Monthly Amount
What is the minimum you can send to this account to get the full match? For example, if your boss matches 3% of your 401(k), then calculate 3% of your gross paycheck (0.03 X gross monthly paycheck) to figure out how much that is. Usually this is done through a percentage, so you can just opt-in for the full 3% to get the full match.
Add up the totals, and move onto Step #2.
Step #2: Brainstorm What You Want + Need
Next, you'll want to create a list filled to the brim with what you want to be doing in the next five years and beyond.
Like going on that trip to Italy, taking your kids to visit cross-country relatives, enjoying a yoga retreat, making a down payment on a new home, etc. (see the saving goal examples below for more ideas).
But your list doesn't just end with things you want.
You need to remember things you might need, too.
You'll want to take yourself on a "walkabout" in your current home + life to figure out what items are old and will likely need to be replaced/repaired in the near future.
This is an extremely useful exercise. I took myself on a walkabout and wrote about it in 2009, and everything on that list I created has needed to be replaced/repaired since then.
Step #3: Estimate How Much Each Will Cost
For each item on your list, estimate how much you'll need to save to get it or accomplish it.
Do the research – price things online, by calling an agent, by looking in a store, etc.
Step #4: Plug Your Savings Goals into this Decision Matrix
This decision matrix is going to help you separate your list of things you want to save for into needs and wants, and then low-costing and high-costing.
Now, separate your list into needs and wants. And be honest. You may think you need something, but in reality, it could be a want…and vice versa.
Then, you'll need to label each savings goal need and want as either low-costing, or high-costing. Much of this has to do with:
How much you earn
Your own thoughts on what "low-costing" and "high-costing" means
It's subjective.
For us? I would say that anything under $500 is a "low-costing" savings goal, and over $500 is a "high-costing" savings goal.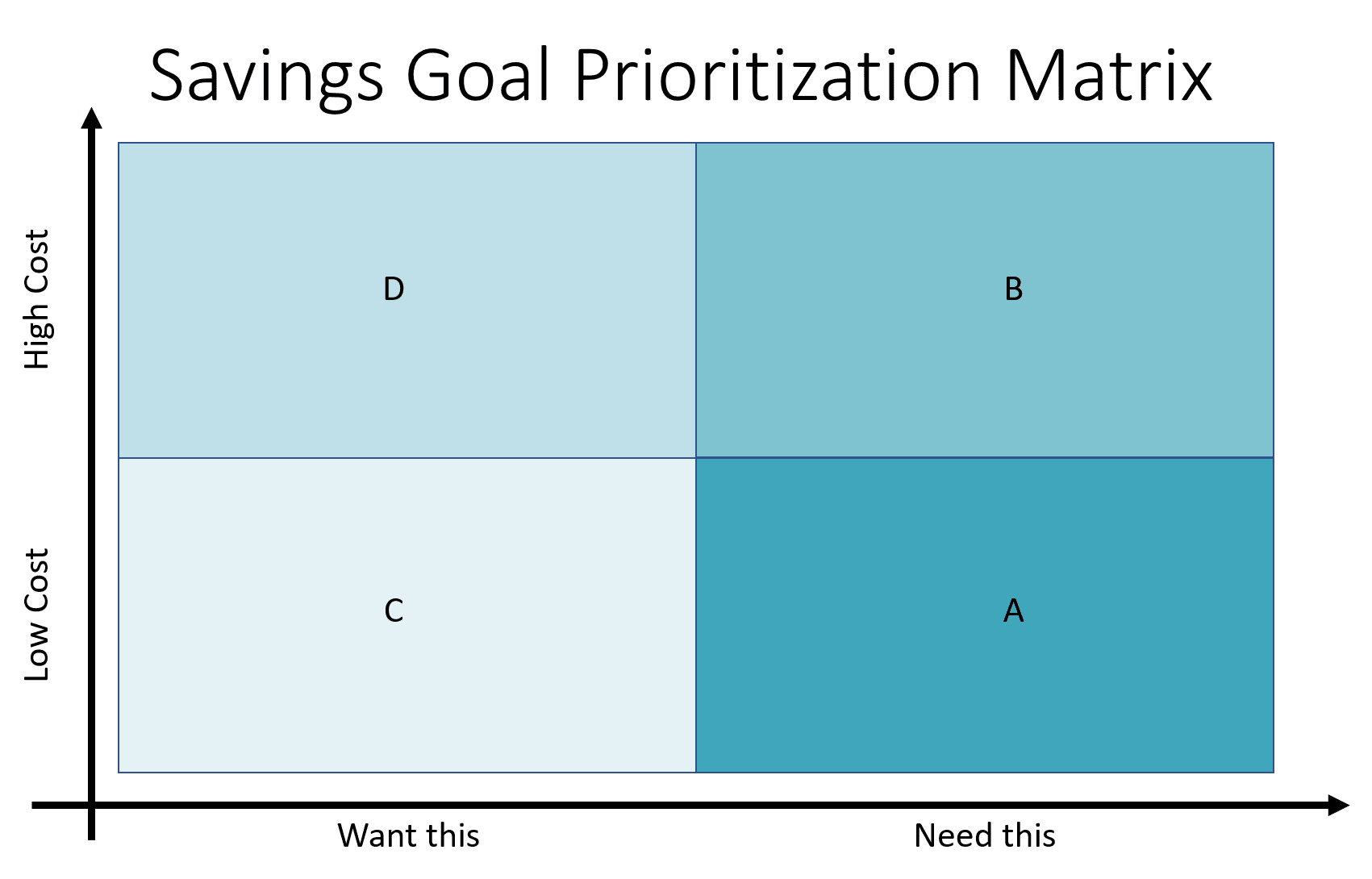 Your Savings Goals Should be Prioritized Something Like This
Remember, this order is after you save money each month towards the Oh Sh*t Fund, retirement, and any matched savings contributions.
Quadrant A = First: Goals that made it to this quadrant are needs, and are low-costing. Mean, you can quickly (or more quickly) save up for them and move onto the next thing.
Quadrant B = Second: Goals in this quadrant are needs, and are high-costing. Typically, these are needs that you'll need to fulfill further out than one year from now (like a new dishwasher).
Quadrant C = Third: In this quadrant are your low-costing wants.
Quadrant D = Fourth: With any money left over, you can start to save for your high-costing wants.
Common Savings Goals Examples
Let me share with you some common savings goals examples, so that you can pick and choose (or just get inspired) for yourself!
Save up for next year's vacation trip
Save 10% of my income
Max out our IRA (retirement account) contributions for the year (currently at $6,000/account)
Pay cash for Christmas this year
Save up 20% of a down payment to our next home
Save up and purchase our entire next home outright (yes, people have done this!)
Save up 3 months' expenses in an emergency fund
Save up 6 months' expenses in an emergency fund
Save up 1 years' expenses in an emergency fund
Save up for my child's tuition in a private school
Save up to pay for my next car in cash
Save up for a down payment on my next car
Save cash to buy the new iPhone when it launches
Save up for a new washer so that we don't have to go to the laundromat anymore
One of these 27 financial New Year's resolutions
And now, let's see how we would prioritize these, based on the decision matrix I showed you.
First of all, the ones that are Savings Musts (the ones we'll work on while working on another prioritized savings goal) are:
Max out our IRA (retirement account) contributions for the year (currently at $6,000/account)
Save up 3 months' expenses in an emergency fund
Save up 6 months' expenses in an emergency fund
Save up 1 years' expenses in an emergency fund
Here's how the rest of those goals stack up (remember, deciding on needs vs. wants is somewhat subjective, as is low-costing and high-costing):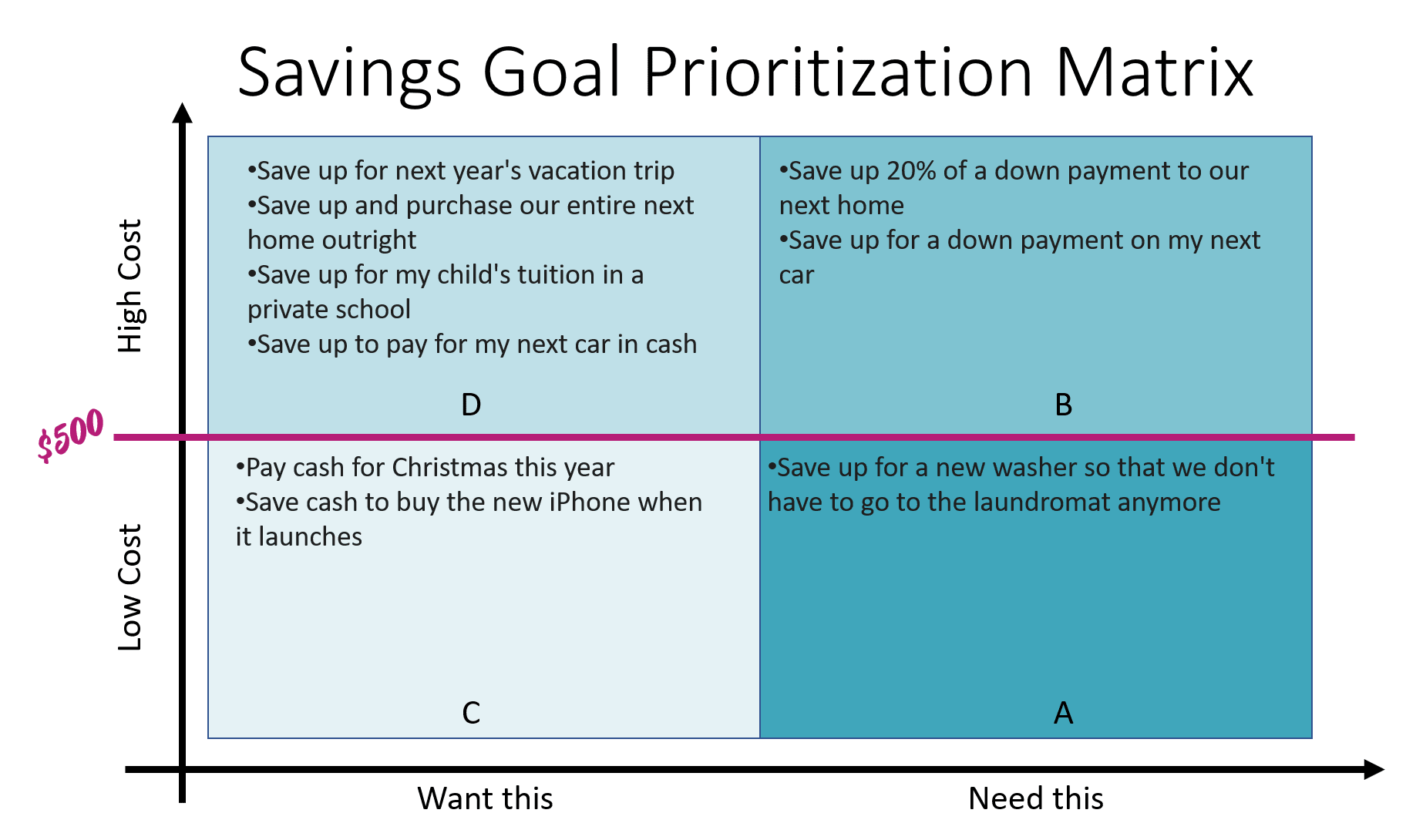 Any of those ideas get you excited, and your brain working?
How to Prioritize Your Savings Goal + Make it 33% More Likely You'll Meet it
When I was a senior in high school, I set a goal: to find a senior prom dress that would make me look like Julia Roberts in Pretty Woman (you know, mid-end of movie, after some of her employment drama was sorted out?). It had to be sateen, deep red or magenta, and of course I was not going to step foot in my date's car without the white, elbow-length gloves.
Result: Sure enough, 8 months after setting this goal, I emptied my coin jar into the local Coinstar® machine and took the $75.40 to buy a beautiful, magenta-colored gown complete with gorgeous gloves.
Four years ago when we were heavily focused on paying down our debt, paying cash for our wedding, and putting a down payment on our home, I set a goal to pay for our honeymoon to Austria ($2,500) with money I found outside of our paychecks.
Result: Just six months later, with an awesome extra (non-paycheck) $2334.78 sitting in an account, we booked our trip to Austria.
How did I/we manage to reach these financial goals?
I'll give you a hint: it's not because we were raking in the dough (my job at the time of buying that senior prom gown was mucking horse stalls for our neighbor, and Paul and I were at the beginning of our careers).
The reason I managed to reach both of these financial goals is because of money life hacks:
I wrote the goals down.
I can give you lots of other examples of goals I've managed to achieve – financial and otherwise – over the course of my life. But instead, I'd like to give you a statistic that is going to change your life.
Psychology professor Dr. Gail Matthews did a study on goal-setting. She found that you are 33% more likely to achieve your goals by writing them down + sharing them with others (accountability).
Talk about money life hacks you can live with! Couldn't get simpler than that.
In fact, if you filled out your own savings prioritization matrix, then you already wrote your savings goals down! You can also do this by using one of these free money saving goal trackers.
With this information, you should be able to hoist yourself off of the savings-goal sidelines and really figure out the exact savings goal to save for by priority. Not only that, but how to save for multiple savings goals at once and still move forward (plus cover all your bases).
The following two tabs change content below.
Amanda L. Grossman is a writer and Certified Financial Education Instructor, Plutus Foundation Grant Recipient, and founder of Frugal Confessions. Over the last 13 years, her money work has helped people with how to save money and how to manage money. She's been featured in the Wall Street Journal, Kiplinger, Washington Post, U.S. News & World Report, Business Insider, LifeHacker, Real Simple Magazine, Woman's World, Woman's Day, ABC 13 Houston, Keybank, and more.
Read more here
.
Latest posts by Amanda L Grossman (see all)