What, you didn't think you could have long distance relationship dates? Let me share with you two, sweet date idea for long distance relationships you can do over Skype.
Most of my relationship with my military boyfriend (now husband), Paul, was long distance.
We met in Japan in our 20s, fell madly in love, and spent the next several years traversing the globe every few months to be together.
I once spent a long weekend in Japan with him, he flew to Maryland next, and then when his grandfather died several months later we met one another in Tulsa, Oklahoma. One Christmas break I spent three weeks with him in Japan, and then he was sent to a school in Biloxi, Mississippi where we spent a wonderful week together (over spring break) months before Hurricane Katrina struck. Florida, Virginia, Texas, Pennsylvania…it didn't matter where the other was; we would fly to be together.
Because we went months without seeing one another we had to find long distance relationship dates to help us stay connected in-between. And not only connect, but to build and nurture a relationship through common experiences even though we were never on the same continent.
We also were both dirt-poor and any extra money we could get our hands on was spent on airline tickets. This meant that whatever we did in-between being together had to be cheap and effective.
Creative Long Distance Dating
We tried almost everything.
We wrote letters and included little tokens of affection, like a chocolate, a photo of something we had seen, a snippet of something we were reading with our own notes in the margins, confetti, stickers, a spritz of cologne/perfume, magazine articles the other might enjoy, etc.
After each trip I would develop the photos we had taken and send him copies in a letter.
Once I videotaped myself reading my letter out loud, and then took my video camera around my farm home in PA so that Paul could get a better sense of where I grew up.
We even both read the same book at the same time.
All of these letters and mementos were wonderful, but the most effective thing we started to do was a brilliant idea of Paul's: dinner and a movie.
Long Distance Relationship Date #1: Dinner + a Movie
You may wonder how two people who were sometimes over 7,000 miles apart were able to enjoy dinner and a movie together.
Very simply: we cooked dinner and watched a movie at the same time.
One person would choose a recipe and a movie, and would email this to other person.
Both of us agreed on a day and time we would start cooking.
We would text one another during cooking (skype would be a great option, now!), and when each was finished, put in the rented movie.
If someone needed a break, they would text the other and we would pause at the same time, and restart together again.
Not only did this have us eating good food and watching great flicks, but it created this experience we were sharing together. We could discuss the movie, we could laugh together, or get choked up and share it with the other person.
This simple act extended both of our living rooms so that the distance suddenly shrunk dramatically.
What I love about this frugal long distance relationships dates idea is that you can use it whether you have a long distance relationship or if you live with your partner.
Here's more info on how to set this up:
Pick a Movie and Recipe: Possible Theme Ideas
You might want to introduce a family recipe to your partner, or try something you saw in a magazine from six months ago. Likewise, you could pick a movie that is an old favorite, or something new neither of you have watched before.
While you do not need to pick a recipe and movie that complement one another, it could really add to the experience.
A mafia movie and an Italian dish: Paul and I watched the season finale of the Sopranos to a lovely chicken francesca recipe from the Sopranos Cookbook which I checked out of my local library
Julie and Julia and a french dish
Westerns and chili or barbecue
Slumdog Millionaire, The Namesake, or other Indian movies and Indian-inspired dishes
Invite Your Loved One to Dinner and a Movie
Anticipation of a wonderful time together starts with the invitation. Photocopy the chosen recipe and bundle this together with the movie idea.
You could roll it up and tie it with a bow.
If you are long distance, create an email with the recipe attached (or written out in the email), and construct or copy and paste some romantic text art like a rose, cupid, or a heart.
Include the date on your partner's calendar or a calendar you share together. If you are together, or have time to mail a letter, you can include a CD of some tunes to play while in the kitchen that you handpicked for the occasion.
Long Distance Relationship Date #2: Take a Free Online Cooking Lesson Together
I want to leave you with one other idea.
Paul and I (along with lots of couples) love to take cooking classes together.
The problem is that they can be expensive. For your frugal date instead of just cooking a meal and watching a movie, you could choose an online cooking lesson to take together for free. Here are a few to get you started:
PBS offers 28 free full episodes of Julia Childs (scroll down and click on "More Full Episodes Options" for more).
Epicurious.com has some great menus with ingredient lists and videos detailing how to make each. They also offer technique videos.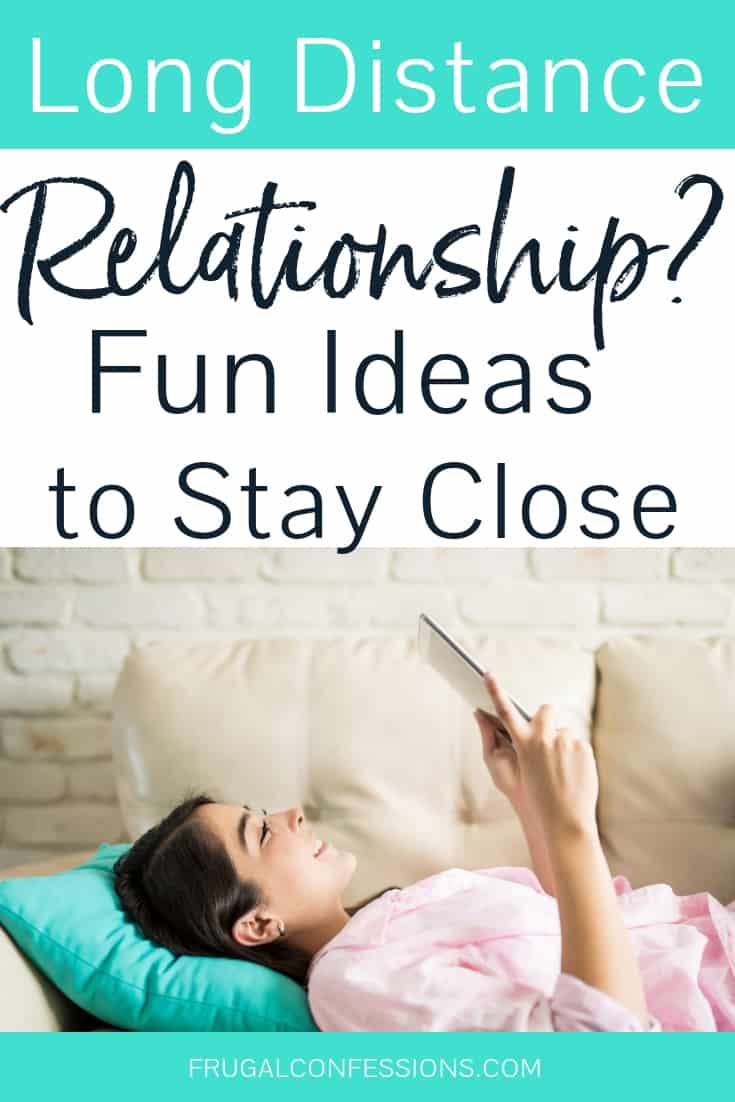 https://www.frugalconfessions.com/wp-content/uploads/2012/02/long-distance-relationship-dates.jpg
512
1024
Amanda L Grossman
https://www.frugalconfessions.com/wp-content/uploads/2019/02/frugal-confessions-logo-340.jpg
Amanda L Grossman
2012-02-08 05:00:20
2019-02-07 10:30:37
A Frugal Date for Long Distance and Near Distance Couples