Easy vacation meals for a group. These easy meals to cook on vacation include multi-family meal planning tips, make ahead meals for vacation, and much more.
Headed off to a long-weekend or week-long vacation with several families or friends, and need some easy vacation meals for a group?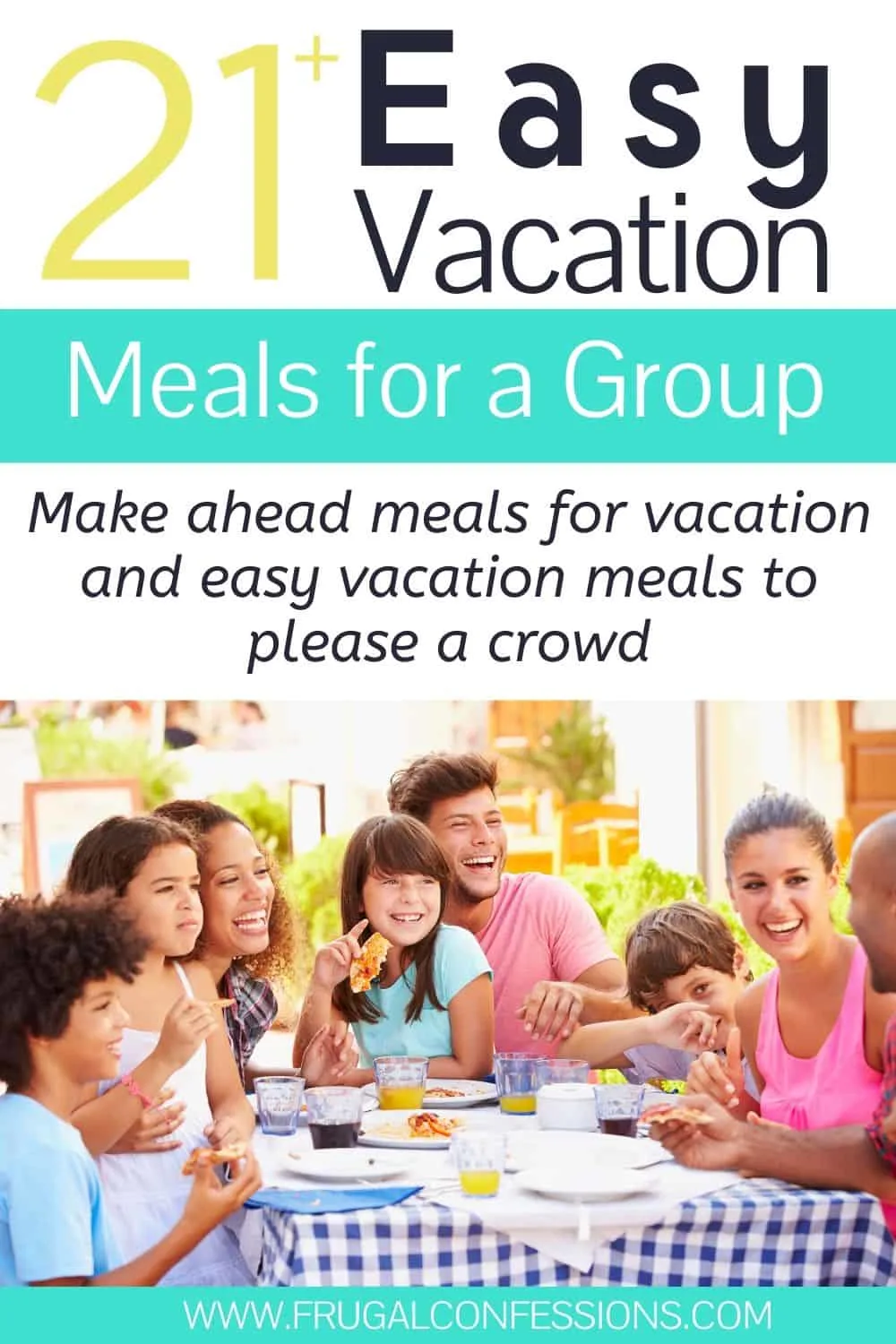 I've got you covered.
For several years running, my husband's side of the family all went in together on a beach house in the Galveston, Texas area. This was a long weekend getaway, just an hour and a half from where we lived, in beach houses that were gorgeous.
Part of the reason we didn't skimp on house size, location, and overall awesomeness? Because we split the cost between several families.
Each time, my sister-in-law did a fantastic job of picking out a gorgeous beach house that was either on the beach, or just a few rows back.
And the total cost for this long weekend in a luxurious beach rental? One year, it came out to $224 (plus the cost of food) for three nights and four days (we arrived early, and since it was only an hour car ride home, we stayed late).
What a steal!
House-splitting a large place can be quite affordable, not to mention tons of fun. If nothing else, it's always memorable.
When organizing or taking part in one of these group vacations, you'll also want to figure out how to feed a crowd. Let's talk about how to divvy up meal times – there are several options – and then some easy vacation meals that will feed a group, while keeping everyone out of the kitchen as much as possible.
Multi-Family Vacation Meal Planning – How to Divvy Up Mealtimes on a Group Vacation
One of the fun parts of a group vacation is getting to share mealtimes with everyone. At least, I enjoyed this part a lot!
Not only does it make everyone come together in the same place at the same time – an anchoring point for the day – but you also get to test out other people's food. You might even ask for a recipe or two!
There are several ways you can organize mealtimes, as well as ways to divvy up responsibility so that no ONE family, or ONE person is taking care of the majority of them.
In the end, divvying up mealtime responsibilities also saves everyone both money, and TIME. Time that you can then use to exploring or relaxing!
Option #1: Shared Dinners, Only
The first option is the one our family chose, which was this: every family was on their own for breakfasts and lunches, and then each family rotated a turn to plan, buy ingredients, and make dinner for the group.
One nice thing for us: since Galveston was only an hour and a half to get to by car, we just planned out our food ahead of time, and then stopped at a grocery store on our way into the beach house.
Option #2: Shared Everything
Your group could decide on a huge list of meals for breakfasts, lunches, dinners, and snacks all together, and then one or several of you guys goes grocery shopping for all ingredients. You would then divide the receipt up among the different groups of people there, and everyone pays their share of the costs.
Hint: one issue that could come up from this is how to divvy up the leftover/unused ingredients. These could go to the person who is driving home and/or has a cooler, in cases where some people fly in and wouldn't want to take leftovers/food on the plane.
Option #3: Each Family/Group Cooks for Themselves
If you do this option…then you don't really need easy vacation meals for a group. Not to mention, you'll all be crowding around the kitchen around the same time to try to make lots of meals at once for your own family.
But, thought I'd put it out there, because it IS an option (just maybe not the best one, unless families have lots of specific dietary needs, or are pickier eaters than most).
Now, let's get to the fun part – easy recipes to feed a crowd. I'll divide them up into the following categories:
Hot and Cold Sandwiches for a Crowd
One-Sheet-Pan Meals for a Crowd
Homemade Pizzas for a Crowd
Slow Cooker Recipes for a Crowd
Freezer make ahead meals for vacation
Psst: pair these main dish recipes with one of these 17 easy side dishes for family reunions.
Hot and Cold Sandwiches for a Crowd
I just love the idea of creating huge sandwiches all at the same time, cutting them up, and letting people have their share.
Here's a few of my favorite crowd-pleasing sandwiches great for easy vacation meals:
These make great lunches on vacation, too. Here are 14 more easy vacation lunches.
One-Sheet-Pan Meals for a Crowd
What could be better than putting all your ingredients for a group meal on one large sheet pan…and putting it in the oven? I'm sold.
Here's some of my favorites:
Psst: trying to feed 20? Here are 13 easy meals for 20 people.
Homemade Pizzas to Order
My husband absolutely loves to make pizzas from scratch. So, for him, packing up our pizza stone, our pizza peel, some corn meal, and then picking up ingredients to make the dough and toppings on the way into the beach house was a piece of heaven.
And he chose several different toppings/varieties to satisfy all kinds of people – such as a Hawaiian pizza with ham and pineapple, a meat-lover's pizza with sausage and pepperonis, and a veggie pizza with green peppers/onions/mushrooms/etc.
Two ways to make this a very convenient option:
You can prep a bit more than he did if you like this option – make several batches of pizza dough ahead of time and pack them in a cooler.
Opt to make this the night that everyone gets in, because people will arrive at different times. You can easily just prep the pizzas, and then stick them in the oven for 14 -25 minutes to cook as they're unpacking. Who doesn't like a hot, homemade pizza? It's a pretty no-fuss way to feed a crowd who arrives at various times.
We also made a salad dressing ahead of time that we brought with us, then put together a salad for people to help themselves. Easy-peasy!
Even better, there was enough pizza leftover that people could chow down on cold pizza the next morning for breakfast, or heat some up for lunch! Score.
Slow Cooker Recipes for a Crowd
You can easily cook a meat in a slow cooker (and get people really excited from the good smells all day long), then just assemble a bunch of ingredients to go with it for people to feed themselves buffet-style for dinner.
This option also lets the person cooking – probably YOU – a pretty hands-off approach to cooking for a crowd, meaning you can enjoy your vacation that day like the rest of the group instead of prepping a big dinner. How awesome is that?
And if you have two slow cookers, or can ask someone to bring a second? Even better.
Some of my favorites:
Slow Cooker Carnitas for a Crowd: You'll want to provide tortillas, chopped cilantro, chopped tomatoes/onions, pickled red onions, sliced avocados, cheese, sour cream, enchilada Verde sauce/salsa, and lime wedges for people to assemble their own dinners. You can also provide a big bag of tortilla chips so that some can do pork carnitas nachos. YUM.
Slow Cooker Chili: Slow cook chili all day long while you and the group is out on the beach or otherwise making the most of your vacation rental. Then, about an hour before dinner, pop some potatoes into the oven and bake them. Let people make chili baked potatoes, or chili bowls, or even chili tater tots by setting out all the fixings (Fritos for Frito Chili Pie, chopped onions, cheese, sour cream, sliced chives, sliced avocados – yes, I put avocados on my chili – etc.).
Psst: here are 17 more make ahead summer meals for a crowd.
Freezer Make Ahead Meals for Vacation
If you're not flying in, but driving, then you can actually create some make-ahead meals to cover at least part of your mealtime responsibilities.
It's kind of like cheating, right? You make the meal (or part of the meal) ahead of time, freeze it or otherwise bring it to eat within a day or two of arriving, and you've basically bought yourself extra vacation time.
Before I reveal some great make-ahead freezer meals you can take with you on vacation, I want to point out a really cool freezer meal service that my own family uses and loves.
Erin's MyFreezEasy does all the freezer meal planning work for you – and the cool thing that you might want to try for your group vacation meal planning (just give it a month, or check out her free freezer meal plan download here) is adjusting the servings numbers for the recipes you choose.
When you sign up, you get access to all of the 800+ freezer meal from past months, PLUS each month she dishes out recipes/meal planning/videos for a new set of freezer meals. And when you choose the ones you want, you can just adjust the serving sizes to feed a crowd (from 2 servings all the way up to 12 servings and more!).
Her freezer meal plan service includes:
Printable labels for the specific meals you choose
Printable recipe lists – they spit out into your printable after you customize your freezer meal list
Customizable serving sizes, so you can use these recipes and grocery lists for your own family or to feed a crowd
Some of my family favorite meals (the kind we'll be keeping in our family recipe box forever!) include Erin's BBQ Chicken Sweet Potatoes (and we don't even like sweet potatoes!), her Chicken Verdes Taquitos (oh my GOSH, I can't even…), and her Crockpot Crack Chicken.
Get your free freezer meal plan download to try out >>
YUM.
Okay, onto make ahead freezer meal recipes for your group vacation:
Psst: still budgeting your vacation out? Here are 7 free vacation budget worksheet printables.
How to Make Your Vacation Group Meals a Success
Headed out for a cheap weekend getaway with a group? I've got some advice for how to pull off successful meals for a group that are easy, and that are loved.
First off, you need to have options and variations for each meal so that everyone can eat it. So, you want to choose a main meal to cook, but have lots of ways to enjoy it (such as pizzas with various toppings – all veggies, all meats, without sauce, etc. – or chili with lots of ways to enjoy it, or a salad with several salad dressings on the side to choose from). In other words, think of recipes where it's really you cooking the main part, then prepping components that go with it, and then letting people build their own meal from the various ingredients.
Secondly, you don't want to try out new types of food when a crowd is counting on it, and you want to pick recipes with as few moving parts as possible – after all, you want to enjoy your vacation day as well, and not be worrying about how you'll pull off dinner. Don't think about making courses, or even making it a formal sit-down dinner. Buffet-style can be easiest, as it both gives people options to build their own dinner and it's less work for you.
Finally, you want to prep a few things at home if you can (honestly, choosing to cook that first night is a strategy call! Because you can prep a few things at home and pack them in an ice cooler – makes your meal easier and makes you spend less of your actual vacation time in the kitchen).
The following two tabs change content below.
Amanda L. Grossman is a writer and Certified Financial Education Instructor, Plutus Foundation Grant Recipient, and founder of Frugal Confessions. Over the last 13 years, her money work has helped people with how to save money and how to manage money. She's been featured in the Wall Street Journal, Kiplinger, Washington Post, U.S. News & World Report, Business Insider, LifeHacker, Real Simple Magazine, Woman's World, Woman's Day, ABC 13 Houston, Keybank, and more.
Read more here
.
Latest posts by Amanda L Grossman (see all)