Creative date ideas for married couples who need to rekindle their marriage. Lots of dating activities for married couples to do together!
About two years ago, when our little guy was one year old, my husband and I did something CRAZY: we committed to weekly date nights as a married couple.
I say it was crazy because I had an infant, we both were barely sneaking in 6 hours of sleep a night, and I was running an online business.
Still, we felt our marriage slipping away.
Suddenly, instead of having hours together to talk about our days, our lives, and what we wanted for our future, our pockets of conversation time were reserved for logistical matters.
Like:
who's getting up with the baby tonight
who can pick up X ingredient from the store
how little sleep we got the night before
etc.
We could see where things were going for our relationship, and it didn't look good.
So, we took action.
We went through the Dating Divas' 10-day, Divorce Proof Your Marriage mini-course (it's free!), and we made dating one another a top priority for us.
We designated one night a week to be date night, and we take turns with who is going to plan it out.
Some date nights are out of the house, and most date nights are at home date nights in (after we put the little one to sleep).
And my goodness, we are both SO thankful that we did. Not only did it nourish our marriage in a way that few other things have, but we've gotten some awesome creative date night ideas for married couples by trying them out on each other.
Before we dive into this list, I want to talk about the importance of date night for married couples — both from my personal experience, and from the experts.
Hint: stick around, because I'm going to reveal the secret my husband and I stumbled upon for how to rekindle our marriage after kids.
Importance of Date Night for Married Couples
I had an inkling that date night was key in a happy marriage — especially after my husband and I had our child and started getting into the weekly date night groove together.
Honestly, up until that point our date nights had been sporadic, and made up of spur-of-the-moment ideas (you know, the 'ole, "you wanna go to the movies tonight?" at 3:00 p.m. on a Saturday).
But once we made a ritual of it, it became clear just how helpful having a weekly, set date was to our marriage.
But I didn't know all of the studies that have been done that came to the same conclusion we did.
For example, did you know that regular date nights protect your marriage from divorce? It's true! The Date Night Opportunity Report, which surveyed more than 1,600 married couples between the ages of 18 and 55, concluded,
"the more couple time that wives and husbands reported…the less likely they were to divorce in the intervening five years."
They outline how date nights enhance several areas of a relationship, including: communication, novelty, eros, commitment, and help with de-stressing.
Sounds pretty important, to me!
Hint: not married, but cohabitating? The study found that "cohabiting women who spent couple time with their partner at least once per week were over four times more likely to be very happy in their cohabiting relationship than were cohabiting women who spent less time with their partner."
Date Ideas to Rekindle Marriage – What Do they Look Like?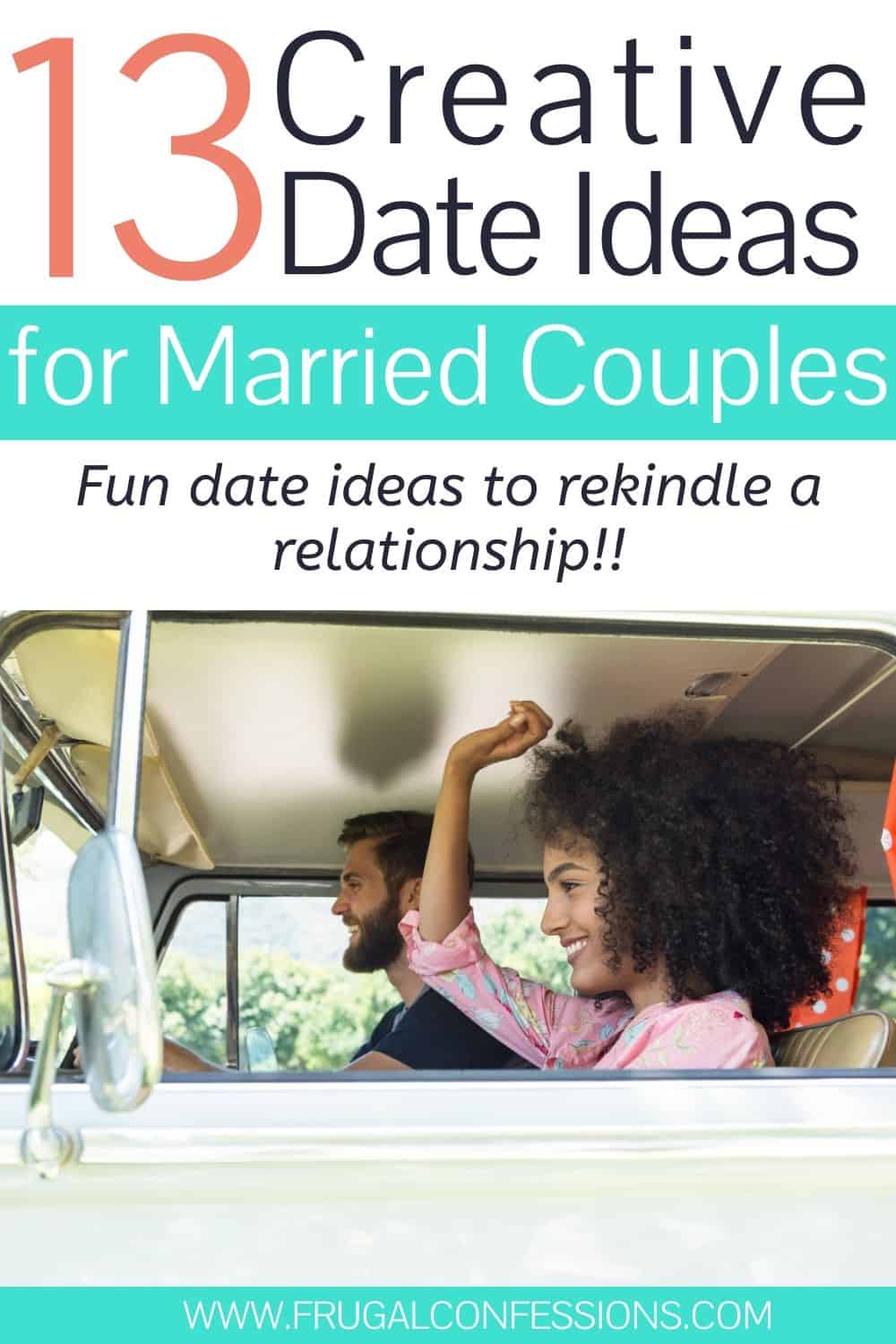 My husband and I just celebrated our 9th wedding anniversary. I could say the cliche "WOW, I can't believe it's been that long"…but that's expected, right?
What's NOT expected is taking the time to talk about date ideas we've used to rekindle our marriage.
Because let's be honest — marriage is work.
You need to put in some work to build a solid foundation, and then you need to put in some work to plan things that will keep your marriage fresh and romantic and EXCITING.
Guess what are the best date ideas to rekindle a marriage?
The secret to rekindling your marriage after kids is to:
Choose date nights that involve the two of you exploring something new together. Even little things. Even at home.
Think about it — what did you do in those first few months and years of being together, you know, during the exciting "honeymoon phase" of your relationship?
You tried new things together. All. The. Time.
New restaurants
New conversations
New movies you never would've watched except that your partner was interested in them
New books recommended by each other
New towns and cities you explored together (or old ones, but with new lenses now that you were exploring together)
New recipes
New everything!
But somewhere along the way — probably between anniversary #3 and #8 — kids, bills, jobs, and lives took over.
Trying new things together took a backseat to routine, stability, grocery store runs (is it just me, or do you end up at the grocery store 3 times as often with kids) and important things like that.
But don't just take my word for it. This is actually backed up by studies. According to Arthur Aron, a professor of social psychology at the State University of New York, when you experience something new together, you actually ignite the same chemicals in your brain as what you felt in the early stages of your romantic love. He says,
"…for couples who have a reasonably good but slightly dull relationship, novelty may help reignite old sparks."
These date night ideas are going to help you reintroduce that novelty feel in your relationship, so give them a try!
Some of my favorite date ideas to rekindle a marriage:
Date #1: Couple's Massage (Free, and At-Home)
I'm about to introduce you to one of my fave finds on the internet — Denis Merkas and his YouTube videos (also, his completely natural massage oils!).
I cannot, for the life of me, remember how I came across him. But boy am I glad I did!
Just the other night, I surprised my husband with a couple's massage using Denis' tutorials (we actually love his free YouTube videos so much that I splurged and bought his online massage class). My husband was like putty in my hands…and it sparked QUITE the ending to a wonderful, backyard date idea <wink, wink>.
Here's a link to a few of my favorite free videos of his:
His videos are not only entertaining, but you'll pick up enough massage tips to make this night pleasurable for you both. (Hint: he sells an almond massage oil called Melt – the only ingredient is almond – and I bought us a set to use on our couple's massage date night!).
Date #2: Recreate One of Your First Dates
Another one of my favorite, creative dates to rekindle a relationship? Connect over how it started by recreating one of your first (and favorite) date nights together. You know…when the two of you were still dating?
For us — we met in Japan. We used to go out to bars together with a bunch of other Navy sailors (I met my husband while he was n the Navy). So, I'd probably recreate one of our first date nights by actually getting a babysitter, taking him out to a pub trivia night, and riding a cab home together (that's what we used to do in Japan, when we didn't have a car and the trains stopped around 11:00 at night).
Think of ways you can take elements from that first date night and reinvent them. What will be really fun is when your spouse/partner realizes what you've done!
If you're looking for what to do for a date tonight, then keep reading. I've got LOTS more ideas.
Unique Date Ideas to Rekindle Your Marriage
Two things you need to know about my husband and I: we both love to explore, and we love to take in new cultures.
In fact, we met in Japan. He was a cryptologist in the Navy, and I was studying abroad at Meiji Gakuin University.
Taking in new cultural experiences has always been a "thing" for us.
Like when we went to Austria for 11 days on our honeymoon, or to Cozumel for our 5-year anniversary. Or when we visit my family in PA and explore Amish Country (it's like entering another world – seriously).
But now that we've got a little one? The international travel has toned down.
And by toned down…I mean come to a screeching halt.
At least for a while.
And in the mean time? Well it dawned on me that we can still let our exploratory sides express themselves through both at-home and out-in-the-city dates.
Date #1: The Surprise Date Challenge
Have you heard of The Surprise Date Challenge?
It's a quickly-growing trend for married couples (and any couples) who want to keep the spice in their relationship. You commit to planning one SURPRISE date for your partner each month. You put it in the calendar, and several hours before it's supposed to start, you tell them what to wear, where to meet you, etc. So fun!
Here's a book that helps you with planning one surprise date monthly.
Now, let's move into some really creative date night ideas.
Date #2: Culinary Trail Date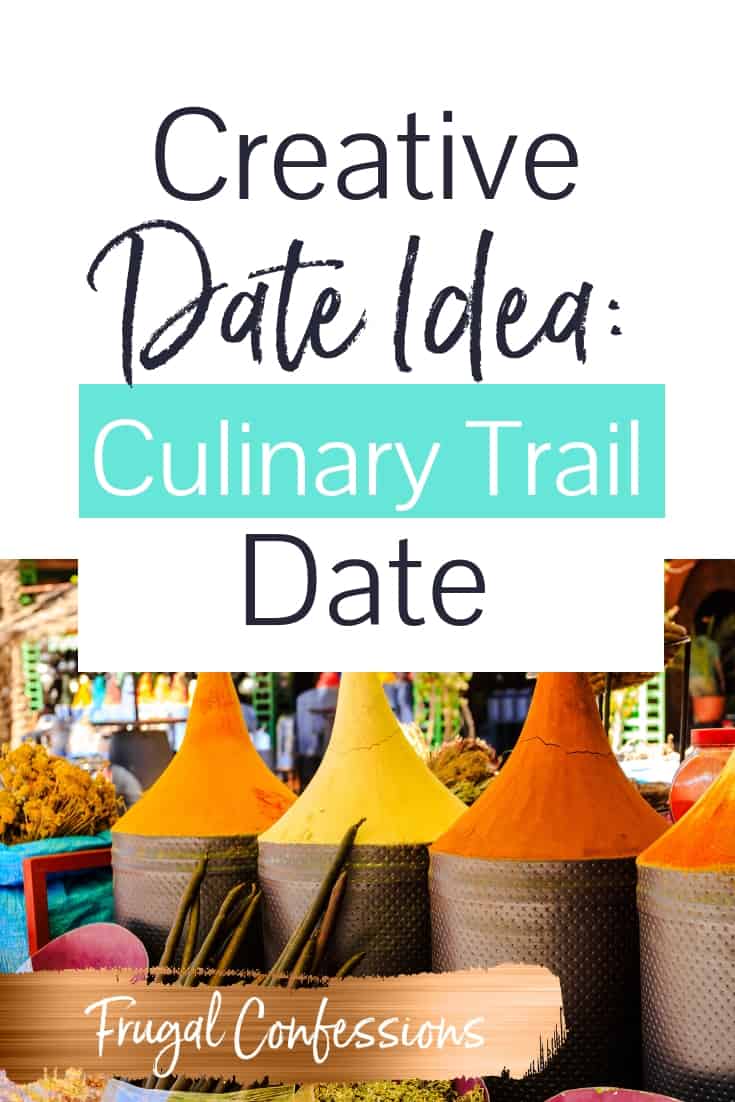 Several years ago, Paul and I had a blast wandering from ethnic food store to ethnic restaurant for the better part of a day.
This was after it dawned on me that we live in Houston − a hugely diverse city with access to authentic foods from the corners of the world. In fact, Anthony Bourdain had just completed a trip to Houston for his CNN show Parts Unknown and he visited many locales near our home.
So, I researched a bunch of pit stops for us to make, and we put together our own culinary trail date.
All put together, it was quite fun.
So, what exactly did we do on it, and how can you set up your own culinary trail date?
Pssst: this would be a great date to tag onto a money quickie meeting you have with your spouse to deal with your marriage and money.
It's fun to either dive deep into one specific culture/ethnicity when putting together your own culinary food trail date, or to do a wide-ranging, worldwide tour.
It's one of our favorite date night ideas for married couples!
Also, use a combination of cultural centers, restaurants, and grocery stores to really take it all in. In fact, the lovely Dating Divas came up with a years' worth of cultural dates, all laid out for you that would make a nice addition to the info below, OR substitute entirely if you're in a particularly cultural-void area of the world. Their Year of Dates: Around the World includes countries like India, Ireland, Egypt, Brazil, France, etc.
Ideas for your Culinary Trail Date include:
:: Eating yummy foods
:: Window-shopping products from other countries (this used to be one of my favorite things to do while living in Japan — you can learn a lot about a culture this way!)
:: Walking around
:: Sampling more foods
:: Looking up recipes beforehand and then purchasing special ingredients you'll need to cook at home
Our Houston Culinary Trail Date
While it would be cool if you focused on one specific culture per date, we kind of bobbed between all kinds of cultures of the world (and, honestly, it'll give you an idea of what's out there for you to then explore further in the future).
Russian General Store: We had noticed this store right by our house, but allowed over two years to pass before we satisfied our curiosities. Until our culinary trail date, that is. If you can imagine a store that sells Soviet-era looking dried fish, then you get the picture. Think Russian nesting dolls (matrioshkas), Russian books and CDs, Russian beer, and all kinds of Russian ingredients. And from this pit-stop I got the idea for us to do a sort of Russian cultural study together. Yep, we're happy nerds like that).
Nippon Daido: This was how we stumbled upon our favorite Japanese grocer's (which is important to us as we met in Japan and still cook some of the cuisine together). We literally felt like we were perusing the aisles of a Japanese grocery store once more, putting all kinds of interesting and (sometimes) bizarre things into our cart and attempting to cook with them. The Japanese snacks aisle is especially grand.
Istanbul Market: This was a small store with a nice selection of olives, feta, cheeses, hummus, falafel, baklava, and snacks.
Phoenicia Specialty Foods: Paul once told me he stumbled into a store with a conveyor belt wrapping around its insides where fresh bread is made. This was it! We ended up bringing home this amazing Palestinian bread crusted in herbs (mmm…just typing that out makes me want to go back and get more) plus a few spices. We also really enjoyed looking through all of the cheeses from around the world.
Abdallah's: Paul ate his first Shawarma at this Lebanese Restaurant & Bakery since his days serving in Bahrain! I had a bite and can attest it was super yummy.
Several others, including Halal Meat Grocery Grill Supermarket (ever wonder what an entire lamb goes for? Apparently around $164.28), a Hookah bar (my first Hookah experience!), and Jerusalem Meats.
This was pretty much an awesome, memorable date day that had us exploring our local area while at the same time connecting over our love for learning about different cultures.
You can do this with just about anything. Some places even have loosely set up culinary trails for people, such as South Lousiana's Boudin trail, or North Carolina's Moravian Trail, or exploring Pennsylvania's Amish + German heritage.
Date #2: Adventure Challenge Date Night
Imagine this – you find a babysitter, or wait until the kiddos go to sleep…and you BOTH get to be surprised with what date night is.
That's what The Adventure Challenge: Couple's Edition does for you.
It's this really cool, scratch-off collection of date nights that promise to add some adventure to your at-home or out-of-home dating life with your partner. There's also a spot next to each date night for you to write in a memory from the evening, plus to take a photo and use the tape to create a date night album.
Love that!
You're not completely in the dark on what the date night will be: for each scratch off date options, you get to see the following:
Category and Title of the Mystery Date (trust me – you still won't be able to guess)
Time Needed to Complete the Date
Estimated Amount of Money Needed to Complete the Date
For our personal date night? We got to find out each other's Love Language, and then brainstorm awesome ways to incorporate it into a date night. My husband and I are both "Physical Touch", and it was kinda fun brainstorming a few ways we can incorporate that into some of our future date nights.
Date #3: Around the World Date Night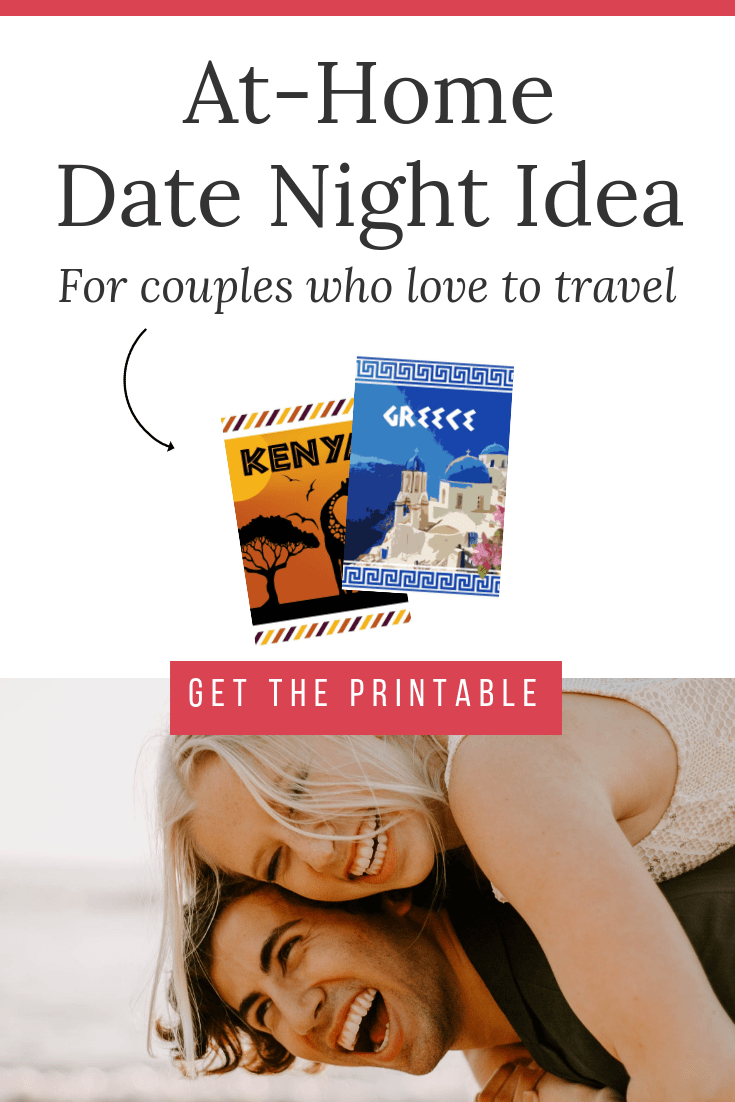 Ever wondered what to do on a date night…that's exciting?
We're always looking for exciting things to do on a date night, and we've gone on some quite creative date nights.
The best date nights for us have included things like:
Plan Some Sort of "Event": Our entire date night revolves around one central theme/event, such as when we set up our own culinary trail, or when the eclipse came and I got us viewing glasses (I put a surprise pair in my husband's lunch with instructions printed out for when the eclipse would show in our area) + watched Dolores Claiborne (haha–one of the only movies I could find where an eclipse was central to the plot) the night before, a chocolate bar tasting, etc.
Pair it with Food: Food is definitely another core part of figuring out what to do on a date night. Sometimes I cook — er, rather my crock-pot cooks — the most amazing Indian food (seriously, you have GOT to try this Indian Crockpot Cookbook out), or we head out to a Food Truck (you can find out when specific food trucks, like international fusion ones, will be in your area by searching RoamingHunger.com), or we pick up something on the way home.
Get Something Done on the Couple To-Do List: We don't always do this, but sometimes pairing some sort of event above with discussions on marriage and money – what I like to call money quickies – is very helpful. After all, we've got a toddler and don't always have time to talk about things that need to be discussed.
So, now I'm going to share with you one of our most favorite things to do on date night. It's a memory we'll never forget!
I decided to add some pizzazz to our normal date nights, and not only get a friend to babysit for us – thank you so much, Sharareh! – but to also center the night around exploring a culture together.
When thinking about things to do on date night, I knew the Around the World dates packet from the lovely Dating Divas would be a real help.
(Hint: these date nights were designed to take place completely at home. I just decided, since we had a volunteer babysitter, that we would spice things up even more by taking it out into the city of Houston!)
And I got to choose from one of 12 countries around the world for us to explore:
China

India

Ireland

England

Italy

France

Spain

Greece

Kenya

Egypt

Jamaica

Brazil
I decided India was for us. At least for themed things to do on this particular date night!
Our India-Themed Date Night
After printing out the India packet of goodies, I got to work planning out a date with both at-home and in-the-city components.
Here's what I set up for us:
Elephant Invitation

: First up, I cut out and filled in the invitation for Paul to our date night. He didn't even know that I had found a babysitter, so this was a big surprise for him!

Indian Dessert

: The day of, I visited an Indian bakery right near our home (Masala Munchies) and tasted several different dessert samples before choosing White Penda and Mint Chocolate Chip Burfa. Instead of using the bag toppers in the printables packet for Holi powder, I stapled them onto two lunch bags with the desserts inside!

Hindu Temple Tour

: Lo and behold, just 14 minutes away from our home is one of the most

ornate, gorgeous Hindu temples

(and buildings) we've ever seen – and I'm talking on the inside, where photographs are not allowed. We were entirely awestruck, not to mention entirely transported to India while in this marble building.

Indian Grocery Store Tour

: After the tour of the temple, we headed to

Keemat Grocers

, which is an Indian food store Anthony Bourdain toured for his CNN show. How fun to go up and down the aisles, checking out all kinds of Indian food goodies – spices, sauces, drinks, frozen foods, etc.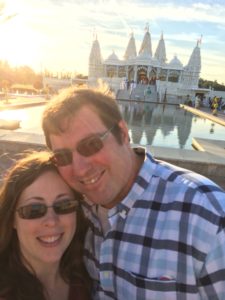 The date packet came with so much more – Holi Powder recipe, dinner recipes for two Indian dishes, iron transfer art for tee-shirts, a sexy Henna activity, a list of Bollywood movies to add to your Netflix queue, etc. – and we're going to use these things to do on date night for a Holi festival date come Spring. It turns out Houston has the biggest Holi festival in the U.S.!
Date Idea #4: Nordic-Themed Date Night
My husband and I looooovvveeeee to learn about + experience other cultures.
I mean, we met while he was a naval cryptologist in Japan, and I was studying abroad. Together we've been to Japan, Austria, Alaska, and Cozumel (among other locations), and we have plans for lots more travel in our days.
And before getting married, we separately traveled to Singapore, Spain, England, Scotland, Wales, Paris, Geneva, and a host of other locations.
Traveling abroad can really add up (though travel hacking certainly helps with this; go ahead and Swagbucks search that term). Not to mention, we also have time constraints (hello 9-5 job + full-time college + 8-month old baby!).
Traveling abroad can really add up (though travel hacking certainly helps with this).
Click To Tweet
So even though we'd love to prance around Europe, or putz around Asia in our spare hours, we can't always do so.
That doesn't mean we have to give up our passion for culture, though.
In the meantime, we sort of do these informal cultural studies where we netflix movies + documentaries about a country, read books on it, go to ethnic food stores here in Houston having to do with that country, etc.
Yeah…writing that out makes it sound geeky, but I swear it's super cool.
An Example: Our Russian Cultural Study
To give you an idea, two years ago we were hooked on soaking up Russia. Paul has actually visited there while in the Navy, but I haven't.
It didn't matter though, because we could still experience the culture together in our area.
Over the course of several, concentrated months, we:
DVR'd several documentaries on Russia's history to watch together including documentaries on the Romanovs, Stalin, and Apocalypse: World War I.
Netflixed and watched Doctor Zhivago, The Hunt for Red October, K19: The Widow Maker, etc.
Visited our local Russian General Store (oddly enough we happen to have one just two miles up the road. If you can imagine a store that sells Soviet-era looking dried fish, then you get the picture).
Visited a free photo exhibit of Soviet Ukraine in WWII at our local Holocaust museum.
See, all those things separately spaced out over the years don't add up to something cool necessarily.
But together, it was like exploring a new culture. Our knowledge built, and our excitement grew each time we found something new we could do together to learn about Russia.
We still remember it fondly!
This brings me back to my newest idea: Nordic Cultural Date Night.
It all started when I made a trip to Marshall's several months ago and found a glass bottle of water bottled in Norway (Brand: Voss) for 50% off.
Then I remembered how IKEA has that really cool food area with all kinds of Swedish prepackaged foods.
So I purchased the water, then set off to peruse IKEA's food area to see if I could buy an interesting spread of foods for us to try. I found all kinds of cool things!
Such as:
TÅRTA CHOKLADKROKANT: "An almond cake with chocolate, butter cream and butterscotch"
DRYCK BUBBEL ÄPPLE & LINGON: Sparkling Apple and Lingonberry drink
LASAGNE LAX: Frozen Salmon Lasagna
I also borrowed The Nordic Cookbook from our library and found several interesting recipes I can try (including: Sweet-and-Sour Braised Red Cabbage from Sweden, Finnish Carrot Casserole, and Danish Boiled Meatballs in Curry Cream Sauce).
Then, I looked on Netflix and found a cool-sounding series, Lilyhammer, about an ex-mafia guy starting over in Norway.
Sounds like the kickoff to another cultural study to me!
Dates for Busy Couples (Without the TV)
I get it — I'm a Mom and business owner, myself. Sometimes, you are so cramped for time that you're just barely squeezing everything in.
Come back to this list when you need dates for busy couples, like yourself.
Here are 3 date nights planned FOR you, with minimal prep work:
Have a Date for a Honeymoon Lunch: Several times, I've met my husband at his work for a one-hour lunch together. It's what we were able to squeeze in at the time, and it was a nice connection point throughout our week. You can pack two lunches and bring these with you, or eat at the cafeteria at his work (if it's decent — we were lucky, and had a gourmet cafeteria to eat at).
Get a Date Night Box Subscription: My husband and I reviewed 6 different date night box subscriptions. Not only did we have snort-level fun together, but there was no prep work involved. Plus, each of the date nights took between just 45 minutes to a little over an hour. Check this out for the best date night subscription box reviews.
Break Out the S'Mores: During the week when you normally go to the grocery store anyway, pick up s'mores supplies. Then, you can just put everything out on a plate and either light a fire in your house's fireplace, or light a fire in your pit outside. You can find the sticks, together! Here are some free s'mores date night printables.
Psst: definitely check out all of these date night ideas!
Winter Date Ideas for Married Couples
Why does everyone seem to forget about the beach (me, included) in the wintertime?
I know, I know. It can be cold.
But one of my most memorable dates I've ever been on is being driven to the beach, and flying a kite in the middle of winter.
We dressed appropriately, and knew we'd only be out there for half an hour or so. But the novelty of it was unforgettable!
Other memorable winter date ideas for married couples:
Indoor Rock Climbing: Be on the lookout on social buying sites like Groupon for deals to get tickets at 30%-50% off.
Fly a Kite at the Beach: I mentioned this one above, but wanted to include it in the bulleted list for you skimmers! Head to the beach for an hour or two, and bring a kite to fly. Don't forget your warm clothes.
Crank Up the Thermostat and Play Strip Poker: Hahaha–seriously! Make it nice and toasty after the kids go to bed, and print these strip poker free printables out.
Date Ideas for Separated Couples
Are you in a different area of the country (or world) than your partner? Lucky for you, I was in a long distance relationship with my boyfriend (now husband!) for 7 years.
So, I've got you covered with some really cool long distance relationship date ideas that will work whether you're away for a night, a month, or years. Some of these long distance relationship gifts can help, too.
So what do you think, will you try this out? What places can you find to go to in your own area?
The following two tabs change content below.
Amanda L. Grossman is a writer and Certified Financial Education Instructor, Plutus Foundation Grant Recipient, and founder of Frugal Confessions. Over the last 13 years, her money work has helped people with how to save money and how to manage money. She's been featured in the Wall Street Journal, Kiplinger, Washington Post, U.S. News & World Report, Business Insider, LifeHacker, Real Simple Magazine, Woman's World, Woman's Day, ABC 13 Houston, Keybank, and more.
Read more here
.
Latest posts by Amanda L Grossman (see all)