We've been doing weekday date night ideas and activities for years – let me share my favorite easy and quick weeknight date activities.
Here's a little-known secret I've never shared about our dating life: we schedule almost all of our dates on weeknights after work instead of on the weekend.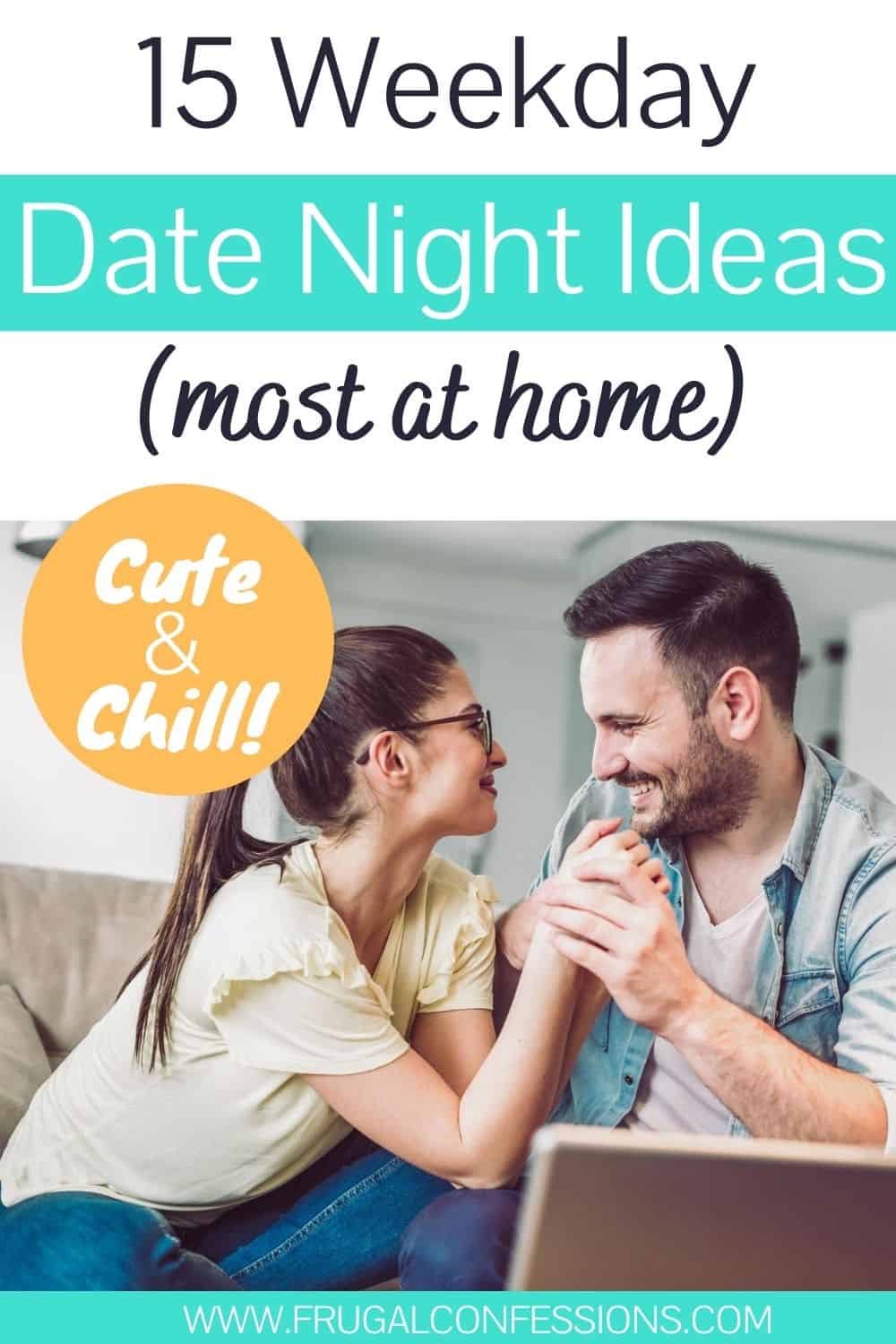 And we've tried tons of new weekday date night ideas (always looking for more!).
Which is great news for you, since you're looking for date nights that will work during weekdays.
Because let's be honest – mid week date night ideas look different than weekend ones.
First, I'll let you in on why we date during weekdays/weeknights, only, and then I'll dish on our favorite, low-pressure, weekday date night ideas.
Why Do Weeknight Date Nights (Instead of the Weekend)?
Several years ago, Paul (my husband) was in college at the time, and we had just had a baby…so time for our marriage had taken a backseat.
We knew our marriage needed some work! Not that things were bad, but they were definitely "off".
We decided to take a free online marriage class. Once a week we would put the baby down at around 8:00 p.m. (until his 2:00-ish am feeding), grab my laptop and prop it up in our bed, then go through one of the modules together.
And the biggest takeaway we got from that time?
Was to go on a date with your spouse, every single week. Monday date nights. Wednesday date nights. Even if "just" at home.
Honestly, the concept was entirely new for us – but as soon as we heard them talk about it, we knew it was what we both wanted to do. To date each other, again (consistently) – like in the beginning!
We divided up responsibilities by each of us taking over the planning and doing of date night every other week.
And we decided that date night would be Thursday nights, without fail.
Why did we choose a weekday date night? Probably for a few of the reasons you're thinking it's a good idea, too:
It extends the weekend feeling, and anytime you can do that is a win in our book!
Things that are scheduled during the week tend to get done more consistently than things scheduled for weekends.
Date night on a Wednesday or Thursday makes that weekday night turn from ho-hum normal into something special.
It's easier to find a babysitter on a weeknight than a weekend night, in some cases (though almost all of our date nights were babysitter-free and at-home).
Now that I've gotten that out of the way, let's dive into some really cool weekday date night ideas you can use for yourself!
Weekday Date Night Ideas At Home
Who says you have to leave home to have an awesome weekday date night?
In fact, most of our date nights are both on a weekday, AND at home!
Trust me when I say that these ideas go wayyyyy beyond enjoying a Netflix show or series together (which has its place, too).
Still, they're low-prep and easy enough to pull off.
What do you do on a stay home date night? I'll show you.
1. Play Game of Phones Scavenger Hunt
Prep-time: Low
Supplies: Free printout, takeout/food you've prepared, two charged smartphones
Just the other week, I decided to surprise my husband with a date night that included me picking up a box of wings from a local takeout place, and downloading/printing out the Game of Phones date night printable from The Dating Divas.
I also made sure we both plugged in our phones ahead of time.
Hint: not sure how to send their gorgeous evite to your spouse to get them excited about the upcoming date? I wasn't, either. Turns out, you want to go to their article through your mobile phone, then click on the evite download, save it to your pictures, and then send it through text to your lovey. Boom!
2. Take an Online Marriage Class
Prep-time: Low
Supplies: Online class, a laptop/cord, any printouts/pens needed, something to eat or snack on
Not only is taking an online marriage class with your partner a great way to work on your relationship…but it's a seriously low-prep, weekday date night activity.
A few for you to check out:
The Marriage Course (heads up – this is for a church/organization to run a course using their videos and everything for free; however, I was able to sign up as an individual and access the courses by choosing a start/date time, location, etc.)
Prologue by Gary Chapman, author of The 5 Love Languages (this is a pre-marital class, but it's helpful for married couples, too!)
Hint: you might have homework. Just a heads up!
3. Use an Intimacy App
Prep-time: Low
Supplies: Download a free relationship app
Have you ever heard of intimacy apps?
They're one of my favorite relationship apps for married couples. They help kick things up a notch in the bedroom…and build more intimacy between the two of you.
Check out the free Ultimate Intimacy App. Have each of you download it in prep for your weeknight date, and then play the Ultimate Intimacy App Game together.
4. Print Out a Free Printable Board Game for Adults
Prep-Time: Medium
Supplies: Free printable, printed out, and assembled (as needed)
I have an article stocked with free printable board games for adults. Just pick one, print it out, father some game pieces from games you already own, and get to playing together!
5. Give Each Other Pedicures
Prep-Time: Medium
Supplies: at-home supplies you own like a big bowl, bubbly soap, cuticle oil, clippers, etc.
Paul has been surprised by me setting up a hot foot soak for him after a long day (and after putting our little guy to sleep).
I just took a towel and laid it down, heated up water and filled a large, metal bowl, added soap, and let him soak his feet for a bit. Then I put cuticle oil on his cuticles, clipped everything up, used a foot file I had to pumice his heels, and rubbed his feet with lotion.
What a treat!
6. Use a Date Night Subscription Box
Prep-time: Low
Supplies: a date night subscription
How does having an entire at-home date night pop up at your front door sound to you?
It was a Godsend to us. Several years ago, when our little guy was just 2, I decided to sign us up to try out several date night subscription boxes.
And once a month, date night was covered! Meaning, we BOTH got to be surprised as to what our at-home date night was, and no one had to plan anything.
Genius!
Here's my review of the best date night subscription boxes.
Our favorite pick?
Crated with Love.
Get an exclusive $5 off coupon by going through this affiliate link, and using my unique crated with love coupon code: FRUGAL for $5 off.
Prep-time: Low
Supplies: printable documents, scissors, pens
Have you ever done an escape room with your partner?
SUPER fun.
Did you know you can do one at home (and a free one, at that)?
Download the free iPhone app or free android app for some audio clues and files. Then, have fun solving puzzles, deciphering codes and deactivating pretend bombs together.
Next up, let's look at some fun weekday date night ideas outside of your house (it's nice to venture out together sometimes, right?).
Psst: check out tons of date night ideas!
Mid Week Date Night Ideas Out on the Town
Looking for midweek date ideas that aren't at home?
Great – here you go!
1. Meet Up for Dessert
Paul and I used to love meeting up on a weeknight for chocolate cheesecake, or chocolate shakes, or chocolate anything from the Chocolate Bar in Houston.
You can also meet up at a cupcake boutique, or for a piece of cake at a local coffee place.
Psst: here are 17 best coffee shop date ideas to check out.
2. Do an Activity in the Park
I've written about 17 different park date ideas you probably haven't thought of yet – go ahead and take a look! It's a great and easy way to get outdoors, plus get date night going on a weeknight.
3. Find a Food Truck
Go to RoamingHunger.com and find a scheduled food truck near your area. Paul and I did this, once, on a Wednesday.
We enjoyed the BEST Asian-Mexican fusion cuisine that night! Plus, it was parked right next to a park, so it was a nice atmosphere.
4. Ethnic Food Store Crawl
When Paul and I lived in Houston, we had access to some of the coolest ethnic restaurants and grocery stores in the U.S.
Indian foods, Chinese foods, Japanese foods, Vietnamese foods – all just a few miles away.
So, one time we went on a weeknight date night by "crawling" through several of these ethnic grocery stores that we usually just drive past.
It was so fun buying some ingredients we either had or had not heard of, and then figuring out something to cook with it a few weeks or so later.
5. Solve an Escape Room
One evening, Paul and I dropped our toddler off to a church babysitting service at our church home, and we went to a local escape room on a Tuesday evening (it was around Valentine's Day)!
That was tons of fun – working on a puzzle and deciphering codes someone else had set up for us. It also worked out well, because it's on a timer (meaning, the date night was just 1 hour and maybe 15 minutes long – perfect for a weeknight).
Note: we needed sooooo many clues! Oh well – it was a ton of fun.
Weekdays or weeknights a little bland (OR, need help squeezing in a consistent date night with your spouse)? I hope I've shown you why you might want to start up a weekly midweek date routine, plus how to do it with just a little bit of prep and energy. It's made such a world of difference to our marriage these last 3.5 years, and I hope the same for you!
The following two tabs change content below.
Amanda L. Grossman is a writer and Certified Financial Education Instructor, Plutus Foundation Grant Recipient, and founder of Frugal Confessions. Over the last 13 years, her money work has helped people with how to save money and how to manage money. She's been featured in the Wall Street Journal, Kiplinger, Washington Post, U.S. News & World Report, Business Insider, LifeHacker, Real Simple Magazine, Woman's World, Woman's Day, ABC 13 Houston, Keybank, and more.
Read more here
.
Latest posts by Amanda L Grossman (see all)