Need a little help planning your next date? These cheap picnic ideas for couples will keep things interesting.
When's the last time you took your partner on a picnic date? These cheap picnic date ideas for couples should remedy that.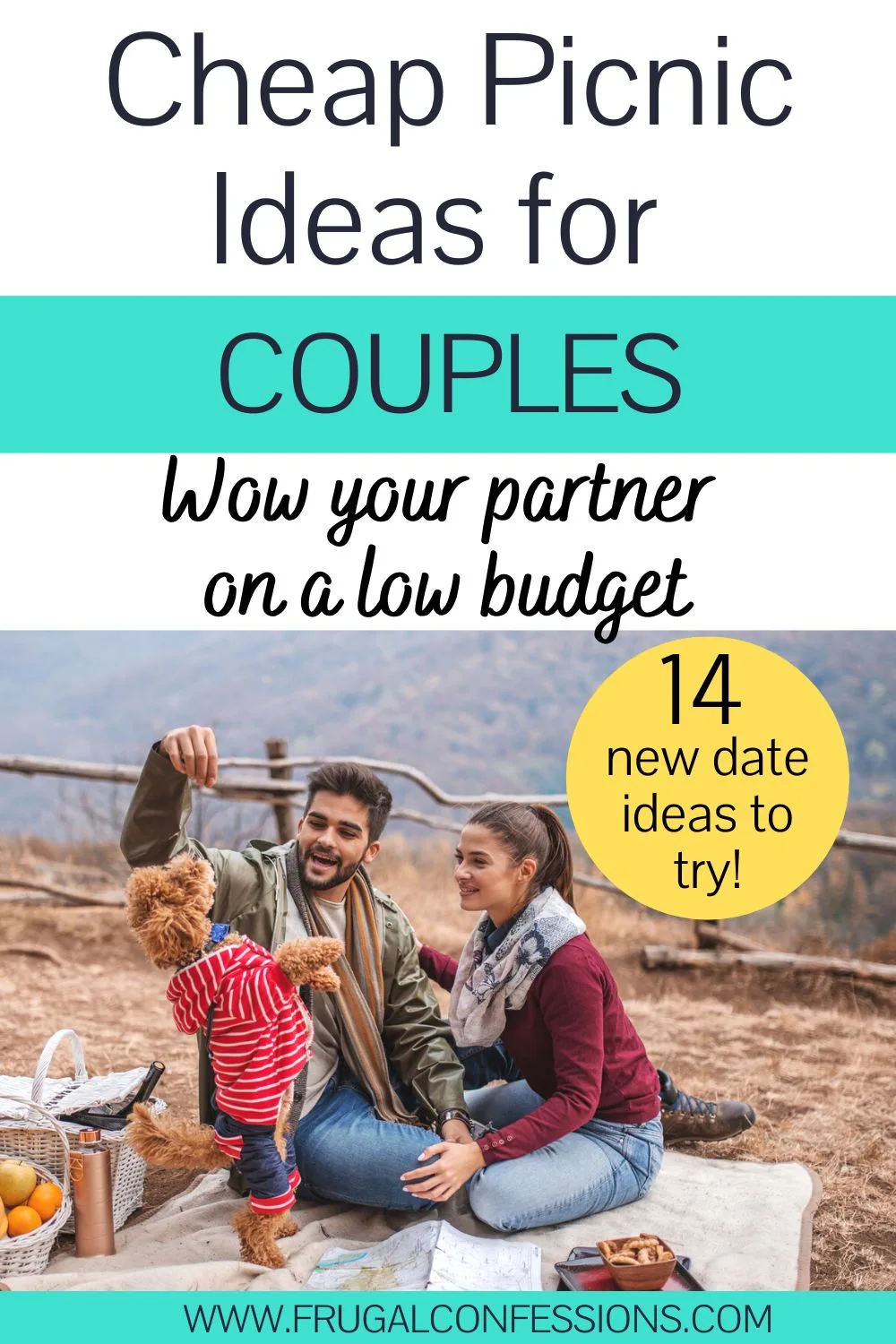 Between snackle boxes, bagel brunch picnics, and picnicking in the dark, I feel pretty confident that surprising your partner with a cheap picnic date might just make the top of your to-do list.
First up, the basics for what to bring to a couple picnic.
What Should I Bring to a Couple Picnic?
I'm going to give you lots of great ideas for how to set up an awesome, cheap picnic for couples below.
You can mix 'n' match, as you like.
Here are the basics of what you should bring to a couple picnic:
Something to sit on (outdoor pillows really add to things, blanket for floor, but also a blanket to snuggle with)
Something to eat with (forks, knives, spoons, chopsticks, etc.)
Something to eat on (paper plates and cups, but also think about a wooden plank or something sturdy to be used as a table)
Food (snacks, or a whole meal?)
An activity of some sort
1. Around-the-World Snacks Taste-Test Picnic Date
That was a really long title, I know (I'll have to think on how to shorten it).
For this cheap picnic date, you want to find one or several local ethnic grocery stores. Zero in on their snack food section, and purchase a mish-mash of snacks you and your partner are going to taste-test together.
For example, in our local Asian grocery, you'll find this snack foods section:
All kinds of cool things to try! It's a new experience, without having to go further than your own backyard or local park.
2. Bedroom Floor Picnic Date
Who says your picnic has to be outside?
This picnic idea for couples at home works beautifully – I would know, because it was one of my favorite at-home date nights I set up for my husband when we had an infant.
You know, when we weren't open to having someone else babysit yet, but desperately needed a new experience together to reconnect as a couple.
I set everything up so that after putting our little guy down for his first 4-hours of sleep that night, it'd be ready.
This included putting a picnic blanket on our bedroom floor, making a pot of orange-juice based tea (we learned this trick when Paul took me to tea locally), and the tea sandwiches/finger foods I had prepped earlier in the day.
Here's the homemade picnic recipes I used:
And since we were in our home – our bedroom, no less – and our little guy was an infant, so no interruptions? I decided to surprise him with a game of poker. You know, the kind where there are clothing consequences when you lose…you can get some free date night printables for that, here.
3. Bagel Brunch Picnic
Here's a small picnic idea for couples: surprise your partner with a bagel brunch picnic.
Set the scene by laying a blanket and pillows down.
Go to your local bagel shop, and get:
3-4 different bagels
3-4 different schmears to try
You can also get some seasonings from your grocery store, like Everything seasoning, or cinnamon.
Grab a newspaper to read together (yes – an actual newspaper), and set the whole thing up. Don't forget to pack at least one knife for the cream cheese.
WOW would I love to be surprised with this!
4. Off-Season Beach Picnic Date for Couples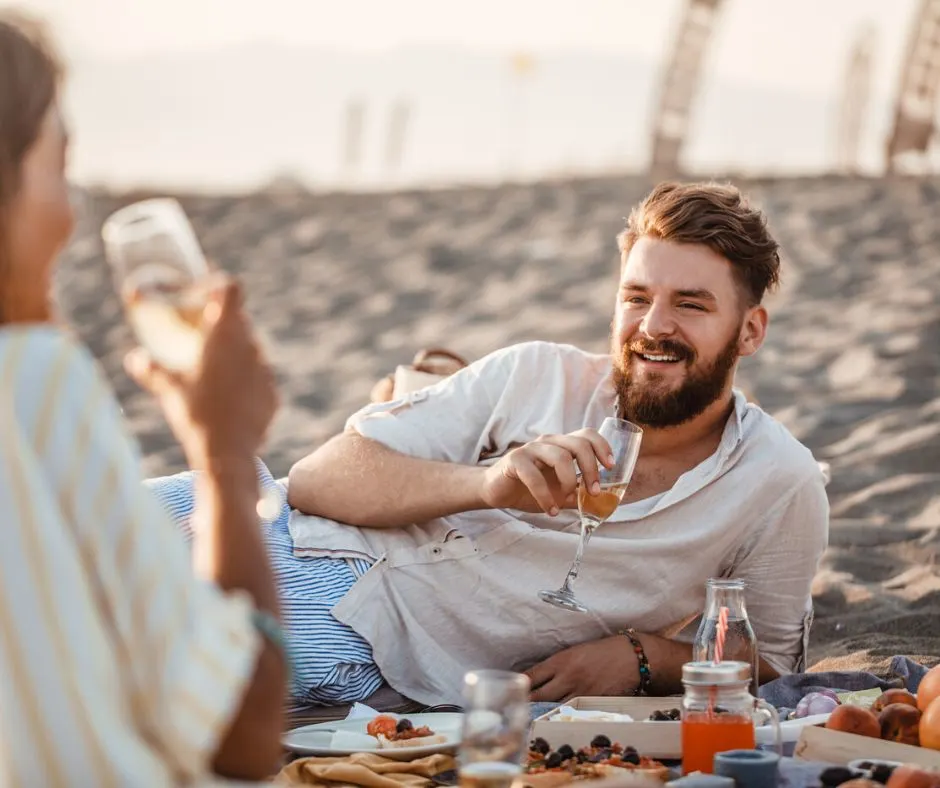 The beach doesn't have to be the "happening" place only during the summertime. I actually had a beach date once with an old boyfriend in the middle of winter (we flew kites).
While you may not want such chilly weather for your beach picnic, you can definitely pull this one off in the spring or fall when it might be too cold to swim (but it's warm enough to enjoy the view with your partner).
For a low-budget picnic, you can buy all the foods you need from the Dollar Tree. Including:
Snack foods (my faves are Maple Walnuts and the garlic bagel chips, but there's loads more to choose from, like chocolate-covered raisins, assorted nuts, etc.)
Two cheeses (Dollar Trees with a refrigerated section have 4-oz blocks of real cheddar cheese and real pepperjack cheese)
Crackers
Desserts (my favorite is the fudge mint cookies – man are those good!)
Psst: check out my Dollar tree Lunch Ideas, and Dollar Tree healthy snacks articles for more examples.
5. Doggie Play Date Picnic
What about a picnic date centered around having fun with your pup(s)?
Go to a pet store and choose some snacks from the doggie snack bar for you and your partner's dog (if you each have one!) to bring along on a picnic.
Bring a leash, a brush, and some toys.
Oh yeah – and bring some food for the humans, too.
6. Hot Springs Hike + Picnic
Do you live within a reasonable distance to natural hot springs? You know, the kind you have to hike to get to?
We live in the desert, and are just a little over an hour from some natural hot springs (and a few hours away from natural ones you hike to!).
Pack a picnic basket (a backpack or this backpack picnic pack will be useful), wear bathing suits under your clothes, and hike to the hot springs. Then, either eat before you soak, or soak before you eat.
7. Picnic + Tent Skywatching Date
Have access to a meadow, or even a backyard?
I grew up on a 110-acre dairy farm, so this would work out well.
Invite your partner to a picnic + tent right around sunset so that you can nibble on food (and maybe each other…) while the sun goes down.
Time this around an astronomical event, and stay up or out long enough to watch it together (you can nap in the tent while waiting, then set your alarm for when it's supposed to start).
Themed foods can include:
Bonus points if you guys actually spend the night in the tent!
8. Wine-Tasting Picnic
Take one category of wines – white, rose, red – and purchase several mini bottles of different varieties.
Set up a blanket with lounging pillows, and enough glasses for each person for each of the varieties of wine you purchased to taste (or just one, if you're low on wine glasses).
Bonus: You can do a blind taste test from the most expensive to the least expensive, and ask them to guess the order.
9. No-Cook Picnic in the Park
Want to set up a cheap picnic for your partner, but got zero time (or interest) in cooking anything?
Then this one is perfect for you.
You'll want to go shopping and grab:
Baguette
Two different varieties of cheese
Grapes, strawberries, or some kind of fruit to go with everything
Container of nuts (honey roasted, salted, or whatever flavor you prefer)
All you'll need to do is slice the baguette before the picnic. Talk about easy prep!
Put everything in a basket or container of some sort – don't forget a knife for the cheese – grab a blanket and a few pillows, and ask your boyfriend/girlfriend to meet you in the park.
10. Pack a Snackle Box Picnic
Take the idea of a picnic, and do it anywhere – no blanket or pillows needed – with a snackle box.
Haven't heard of a snackle box?
It's basically a tackle-box-type container that you fill with all different kinds of snacks to nibble on.
Snacks like:
Fruits (grapes, raspberries)
Nuts
Cut-up cheese squares
Corn chips
Piece of chocolate
Chocolate-covered nuts
Mozzarella balls
Etc.
Load two up, and invite your partner to dangle feet on a dock. OR, put blankets into the back of your pick-up truck, drive out to the middle of nowhere, and eat some snacks under the stars.
You can take these anywhere.
Pro tip: not all tackleboxes are food-grade (okay to come in direct contact with food), which makes sense, since they weren't created to carry food. You'll want to pay attention to the recycling number on the bottom to determine if it's food grade or not (numbers 2, 4, and 5 are the safest).
11. Backyard Picnic-in-the-Dark
Throw an outdoor picnic date for your love in the dark.
Your backyard is probably the best bet – as many parks close after sunset.
Grab lots of glow sticks to put around the blanket (you could even spell out a romantic word for them on your lawn, like "love").
Arrange your food, then align a pathway out to the picnic with solar lights in mason jars from the Dollar Tree, for a romantic way to light their walk out to the picnic.
Psst: you'll want to check out these 17 cheap park date ideas.
12. Picnic + Outdoor Theater Show
Many cities have outdoor theaters with free theater performances or theater previews.
Get one of the spots out in the grassy area, and use it to lay out your blanket and picnic.
Now you've got dinner + a show, for very cheap!
Pro tip: make sure to check ahead of time if there are any restrictions, such as glass containers.
13. Reader's Picnic Date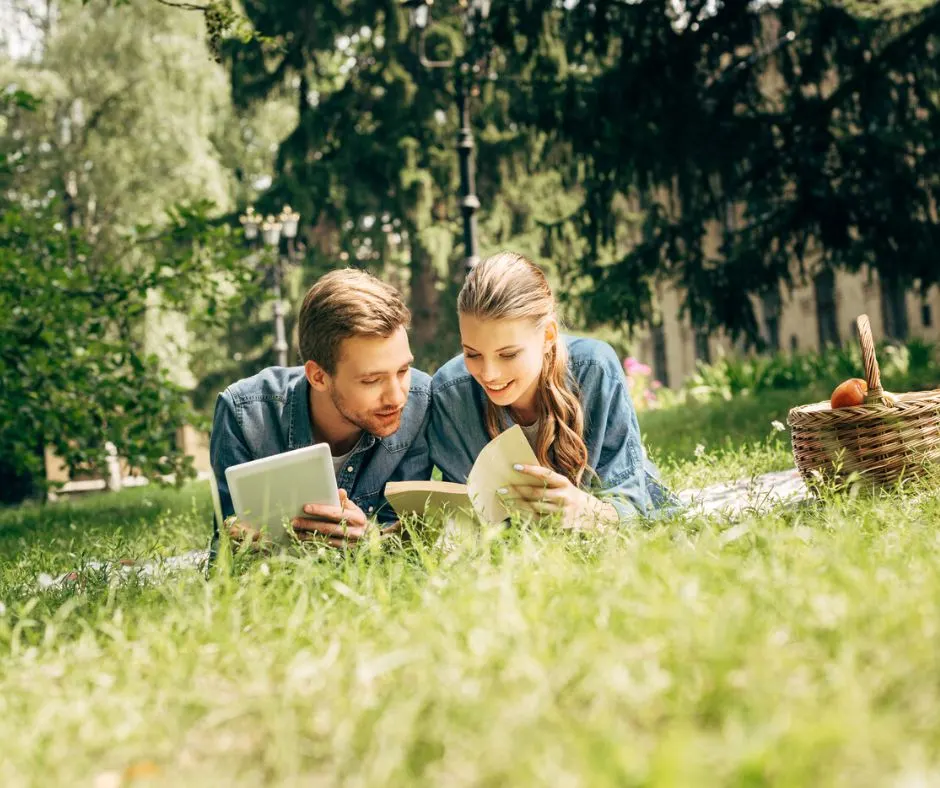 Do you both love to read? My husband and I do, and we get much less time to do it nowadays.
That's why I'm including this picnic date.
You could set up all the food and the location, then tell your partner to make sure they bring the current book they're reading.
Eat. Read. Talk. Eat. Read. Talk.
Sounds lovely to me.
14. Mad Libs Picnic Date
Take your partner back in time, likely to their childhood, when you whip out a Mad Libs for the two of you to do together.
Sounds childish, maybe. But when I did this with my husband? We were both snort-laughing in no time flat.
Cheap picnic ideas for couples may not cost much – certainly not as much as the ol' dinner and a movie – but they pack a punch. You both get to go outside (well, that is, unless you choose the bedroom picnic date idea…), spend time together, and make a memory. Now that's worth gold!
The following two tabs change content below.
Amanda L. Grossman is a writer and Certified Financial Education Instructor, Plutus Foundation Grant Recipient, and founder of Frugal Confessions. Over the last 13 years, her money work has helped people with how to save money and how to manage money. She's been featured in the Wall Street Journal, Kiplinger, Washington Post, U.S. News & World Report, Business Insider, LifeHacker, Real Simple Magazine, Woman's World, Woman's Day, ABC 13 Houston, Keybank, and more.
Read more here
.
Latest posts by Amanda L Grossman (see all)