Free date ideas for married couples that aren't boring? Yep – check out these free date night ideas (even romantic ones!).
You and your spouse need to get your date on…but you need it to be a free date night?
No worries at all with these free date ideas for married couples.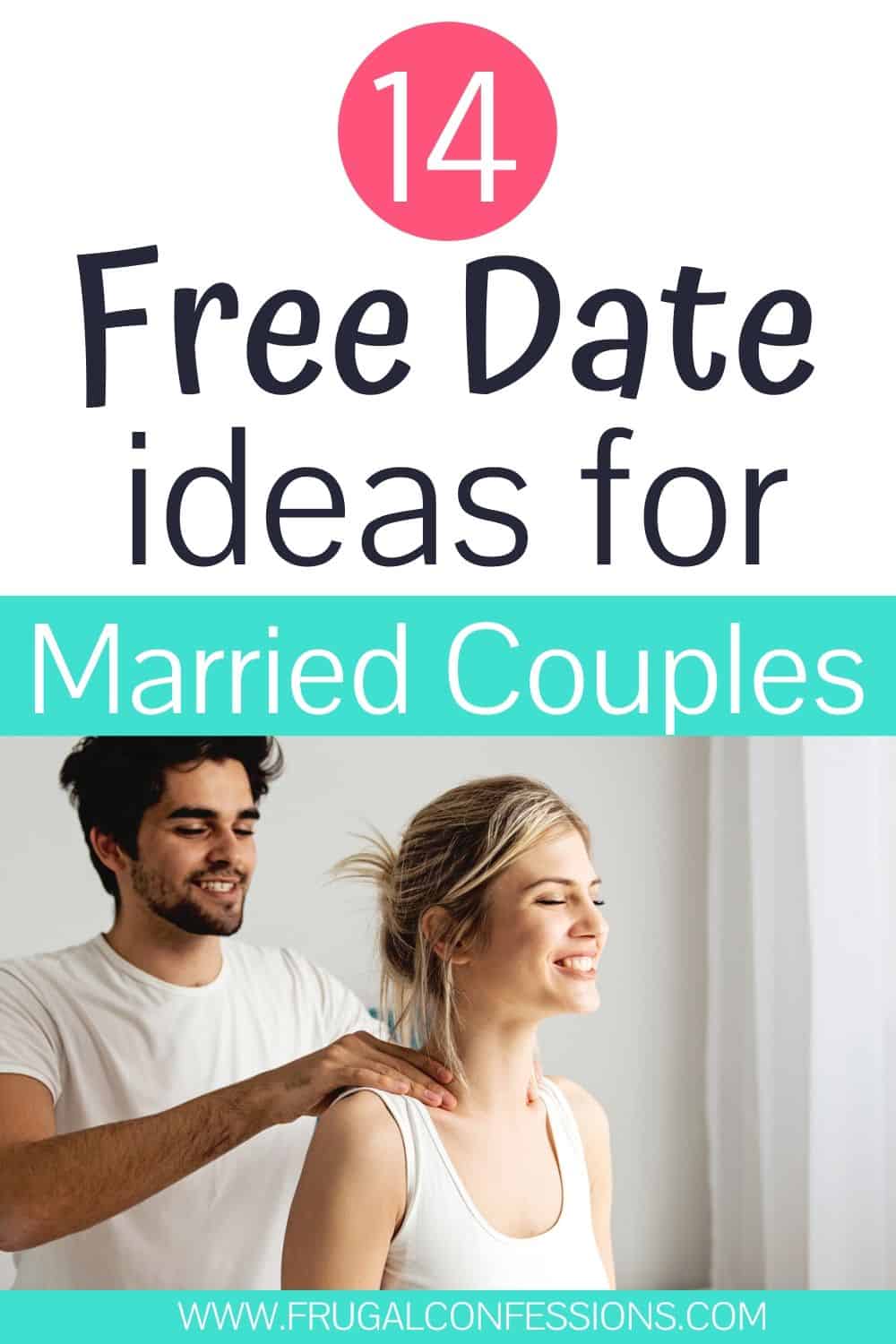 I can't wait to show you all of the fun and romance you can have without spending a dime!
Free Date Ideas for Married Couples
What can couples do for free? Turns out, quite a lot.
Check out these free date ideas for married couples below. And remember – just have fun with it!
1. Online Couple's Dance Class
Did you know there are lots of free, couple's dance classes online?
One of the best things about this is that for someone who feels embarrassed about their dance skills (my husband, *cough, cough*), this is a much better option than dancing in front of others.
Free Online Couple's Dance Classes:
2. Childhood Movie Exchange
My husband and I learned SO much about each other, and saw each other's faces light up, when we took the time to share a favorite childhood movie with the other person.
Things like:
Partly how they were parented (did their parents let them watch a movie Rated PG-13, R, and nothing over G)?
Some of how their adult ideals were formed
A childhood dream of theirs
Mine was The Little Mermaid, and his was The Princess Bride.
We both agreed that if you watched a movie as a kid, it holds a special place in your heart and conjures up all kinds of feelings. But watching that same movie for the first time as an adult? Well…it's not usually as good.
An interesting date night, and certainly a twist on the ol' Netflix binge, for sure.
Psst: we did this for books, too! We each picked out one book that changed our lives, bought it for the other person, and we agreed to read it from cover-to-cover.
3. Couple's Bucket List
When was the last time you took the time to daydream together?
Get this free couple's bucket list printable, and talk to each other. What would you love to do as a couple? What does your wife want you each to do, and what does your husband want you to do as a couple?
You might be surprised what your spouse has never shared before.
Bonus: *actually* schedule out one of the things on your couple's bucket list! Either as a surprise, or together.
4. Play DVR Roulette
Have a DVR, or Netflix?
Set the rules up for the evening ahead of time, and the actual date night, roll a dice to figure out which movie or show you have to watch together.
5. Find a Free Event on Eventbrite
Did you know that Eventbrite has a filter for just "free" events near you?
Search your location, and the amount of miles you're willing to drive. Then, filter for "free".
See what pops up!
6. Work through a DIY Escape Room
How does working together to solve puzzles, decipher Morse codes, and deactivate bombs?
Great!
Check out these free escape room printables. They come with audio files for the missions (you'll need to download their free iPhone app or free android app).
Prep ahead of time by locating the following items in your home: scissors, pens, single-sided printed copies of the free missions, etc.
Psst: love these ideas? You'll definitely want to check out my cheap park date ideas article, and my 37 spicy at home date night ideas for married couples.
7. Eat Sandwiches in Front of Your City's Water Fountain
Make some first-rate sandwiches, and surprise your wife or husband by packing them up and driving to a gorgeous city or town fountain. Sit down on the ledge, break out dinner, and pause your life to talk to your loved one.
8. Take a Ferry Ride
If you live within an hour or two of a free ferry? Then take advantage of it.
We rode the Galveston-Bolivar ferry several times while living in Houston. It was free, and we got to see dolphins and pelicans!
9. Crime Podcast by Candlelight
Get your normal dinner ready, set the table, and light some candles.
Then, choose a crime podcast to listen to together (one I've enjoyed is Serial). You can pause it and discuss certain parts, and watch each other's reaction as the true crime stories unfold.
Trust me when I say that listening to a podcast together is different from sitting in front of the TV, together!
Looking to connect with your spouse, romantically?
Free Romantic Date Night Ideas
Choose one of these free date ideas below.
1. Free Couple's Massage Session
Looking for hot date ideas for married couples? Here's one of my favorites.
In a perfect world, you could swing to the store real quick and buy a nice, almond-based massage oil (this is the one we own).
BUT, you can actually do this romantic date idea TONIGHT because you likely have all the ingredients you need to make a homemade massage oil (and if you don't have essential oils? Just use the oil).
Plus, I've got some great couple's massage videos you can use here, for free!
I've been following Denis for a few years now:
What an awesome way to physically reconnect with one another.
2. Silly Poem Date Night
Grab a thesaurus, pen, paper, a timer, and a blanket. Either sit with each other on your bedroom floor or outside in the backyard.
Set the timer for 5 minutes or 10 minutes, and you each work on writing a poem to one another. Could be silly. Could be romantic. Bonus points if it kinda rhymes.
Then, read them out loud to each other!
3. Couple's Date Night Bucket List
You probably both don't want to do free, at home date nights forever.
No worries there – why not devote an entire date night around just creating a couple's date night bucket list? Here are free printables for your daydreaming and fantasizing.
I don't have to remind you of the importance of date night for married couples – that's why you're here. What I hope I've given you are some great free date ideas for married couples and activities for married couples to do together you can use in your own home.
The following two tabs change content below.
Amanda L. Grossman is a Certified Financial Education Instructor, Plutus Foundation Grant Recipient, and founder of Frugal Confessions. Over the last 10 years, her money work helping people with how to save money and how to manage money has been featured in Kiplinger, Washington Post, U.S. News & World Report, Business Insider, LifeHacker, Woman's World, Woman's Day, ABC 13 Houston, Keybank, and more.
Read more here
.
Latest posts by Amanda L Grossman (see all)