Free date ideas for married couples that aren't boring? Yep – check out these free date night ideas (even romantic ones!).
You and your spouse need to get your date on…but you need it to be a free date night?
No worries at all with these free date ideas for married couples.
I can't wait to show you all of the fun and romance you can have without spending a dime (talk about a cheap date)!
Free Date Ideas for Married Couples
If you're stuck on the dinner and a movie date wheel, then you might be wondering what can couples do for free?
Turns out, quite a lot. Both at home, and out on the town.
Check out these free date ideas for married couples below. And remember – just have fun with it!
1. Take an Online Couple's Dance Class
Did you know there are lots of free, couple's dance classes online?
One of the best things about this is that for someone who feels embarrassed about their dance skills (my husband, *cough, cough*), this is a much better option than dancing in front of others.
Free Online Couple's Dance Classes you can do in your living room:
2. Tour Your State Capitol Building
Most state capitol buildings are completely free to tour, either self-guided or with a guide.
We toured the Texas state capitol and got to see some beautiful architecture, learn some interesting stories, and view lots of old paintings. It was totally worth it (especially since there was no cost!).
3. Create a Chopstick Snack Bar
Put several bowls of different snack foods on your coffee table, and two pairs of chopsticks.
You could include:
Doritos, Fritos, or your favorite potato chip (Herr's Sour Cream n' Onion, for the win!)
Oreos, or homemade chocolate chip cookie pieces
Pieces of chocolate
etc.
Now, talk, play cards games for two, or watch a movie together while using chopsticks with your favorite snacks!
4. Do a Childhood Movie Exchange
This is movie night, with a twist.
My husband and I learned SO much about each other, and saw each other's faces light up, when we took the time to share a favorite childhood movie with the other person.
Things like:
Partly how they were parented (did their parents let them watch a movie Rated PG-13, R, and nothing over G)?
Some of how their adult ideals were formed
A childhood dream of theirs
Mine was The Little Mermaid, and his was The Princess Bride.
We both agreed that if you watched a movie as a kid, it holds a special place in your heart and conjures up all kinds of feelings. But watching that same movie for the first time as an adult? Well…it's not usually as good.
An interesting date night, and certainly a twist on the ol' Netflix binge, for sure.
Psst: we did this for books, too! We each picked out one book that changed our lives, bought it for the other person, and we agreed to read it from cover-to-cover.
5. Create a Couple's Bucket List
When was the last time you took the time to daydream together?
Get this free couple's bucket list printable, and talk to each other. What would you love to do as a couple? What does your wife want you each to do, and what does your husband want you to do as a couple?
You might be surprised what your spouse has never shared before.
Bonus: *actually* schedule out one of the things on your couple's bucket list! Either as a surprise, or together.
6. Eat Dinner Together at Home, with Chopsticks Only
Have you ever tried to eat with chopsticks? My husband and I met in Japan, so we're actually decently skilled in it. But when you try to do it with American foods?
Well…it's rather engaging. If nothing else, you'll have lots of giggles this evening.
Hint: just save up some chopsticks the next time you get Chinese takeout or Poke bowls.
7. Find a Free Event on Eventbrite
Did you know that Eventbrite has a filter for just "free" events near you?
Search your location, and the amount of miles you're willing to drive. Then, filter for "free".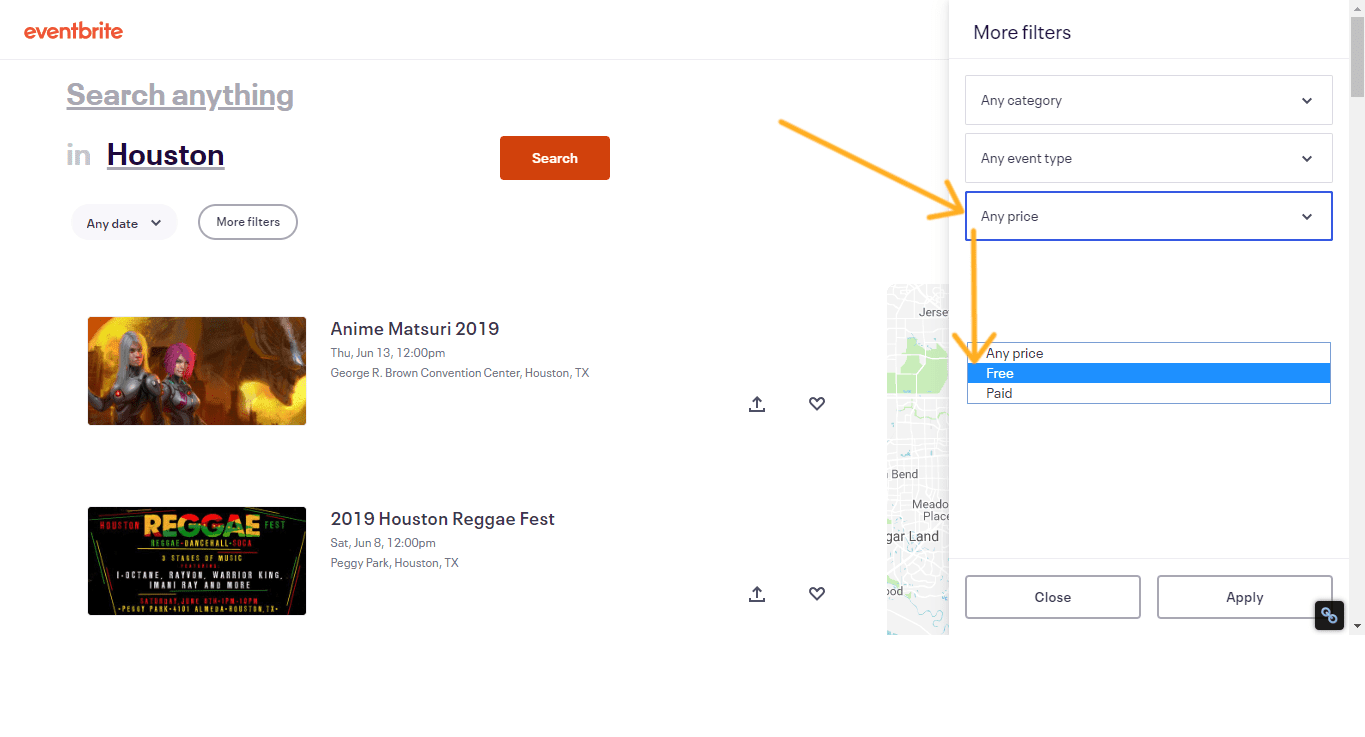 See what pops up!
Hint: other cheap and free ways to get out of the house? Check out these bookstore date ideas and cheap picnic date ideas.
8. Work through a DIY Escape Room
How does working together to solve puzzles, decipher Morse codes, and deactivate bombs?
A lot better than the usual board games you play, right?
Check out these free escape room printables. They come with audio files for the missions (you'll need to download their free iPhone app or free android app).
Prep ahead of time by locating the following items in your home: scissors, pens, single-sided printed copies of the free missions, etc. Then, work together to solve the mystery.
Psst: love these ideas? You'll definitely want to check out my cheap park date ideas article, and my 37 spicy at home date night ideas for married couples.
9. Eat Sandwiches in Front of Your City's Water Fountain
Spending time together outside of the home is really important — but you need it to be free.
I've got you covered!
Make some first-rate sandwiches, and surprise your wife or husband by packing them up and driving to a gorgeous city or town fountain. Sit down on the ledge, break out dinner, and pause your life to talk to your loved one.
10. Take a Ferry Ride
If you live within an hour or two of a free ferry? Then take advantage of it.
We rode the Galveston-Bolivar ferry several times while living in Houston. It was free, and we got to see dolphins and pelicans!
11. Crime Podcast by Candlelight
Get your normal dinner ready, set the table, and light some candles.
Then, choose a crime podcast to listen to together (one I've enjoyed is Serial). You can pause it and discuss certain parts, and watch each other's reaction as the true crime stories unfold.
Trust me when I say that listening to a podcast together is different from sitting in front of the TV, together!
Looking to connect with your spouse, romantically?
12. Play an Outdoor Board Game at the Park
I just love outdoor board games set up at parks. Once, we found a giant chess set with doll-sized pieces to play together.
Then there was the foosball table out in the middle of a beautiful park in Houston.
All free, and all a fun way to date each other for free, outdoors!
13. Play DVR Roulette
Have a DVR, or Netflix?
Set the rules up for the evening ahead of time, and the actual date night, roll a dice to figure out which movie or show you have to watch together.
OR, with Netflix, you can use their "Play Something" area — it'll literally choose something random for you guys to watch together!
14. Print Out a New Board Game to Play Together
I've detailed free printable board games for adults, here. Find one you like, print it out at home, and play it together.
15. Take an Online Marriage Counseling Class Together
Several free dates with my husband have been nothing more than setting up the laptop in our bed, and going through a marriage class online together.
Here's my article on 11 free marriage counseling classes online.
16. Chaperone a School Dance Together
First love — there's kinda nothing so sweet and inspiring, right? Volunteer as a couple to chaperone the next local school dance.
Not only will you be helping people out, but you might just get reminded of those butterflies and excitement of new love.
Plus, unlike all those middle school dances you attended as a kid, you actually get to go home together. Sweet.
17. Get Dressed Up for Your Dinner Table
Make dinner together at home tonight special by getting dressed to the nines for one another. Wear a dress, wear a suit with tie, and include a nice set of heels and shoes!
18. Do Wine and a Puzzle Together
Get out some wine or whatever drinks you have of your choice, and a really detailed puzzle. This date gets more fun as the night goes on…silliness and not finishing the puzzle is totally okay!
19. Build a Card Home Together
Got a deck of cards (or two)? Great. Put them to use by seeing how high the two of you can build a card home together.
20. Complete an Internet Scavenger Hunt
Use these cute, free printables to do an internet scavenger hunt. They even come with an adorable digital invite you can send them during the day!
Hint: you can also completed a scavenger hunt at the Dollar Tree! Check out more Dollar Store date ideas here.
21. Have Dinner + a Ted Talk
Did you know there's a category of marriage Ted talks? You can eat dinner with a Ted talk on marriage playing in the background.
Make sure you can easily pause it to discuss anything you'd like!
22. Tour Each Other's Home Towns by Google Earth
Open up Google Maps on your laptop, and take turns showing each other where you used to live and/or where you grew up.
Where did you walk to? What memories do you have of some of the nearby places?
So much to learn about each other from this activity!
23. Organize Couple's Phone Photos Together
Take the time to download each other's phone photos of each other in one location. Then, go through them.
Share which ones are your favorites, and why. What do you remember about that day, and that memory?
I'm always surprised when my husband shares something that he remembers or a moment from a specific thing we did together — oftentimes, I didn't notice this or it didn't stick out to me as really important.
24. Dangle Your Legs off of a Dock Together
When our 5-year-old was just a baby, we took a trip to visit my aunt and uncle. They (amazingly) volunteered to watch him for a day so that we could just go be a couple together.
One of my favorite memories from that day? Was going to a boat/dock area, sitting at the edge of it with my husband, and talking. We took our shoes and socks off, rolled up our pants, and dangled our legs over for at least an hour.
What a beautiful time together!
Psst: here are 17 more free summer date ideas.
25. Recreate a Blockbuster Friday Night at Your Library
Do you remember when Blockbuster used to be open, and you would go with your date to rummage through and pick out movies together?
In this streaming-era, you'll be happy to know that you can recreate that experience at your local library. Just head to their DVD section, and spend 20-30 minutes picking out movies together for a movie date night.
26. Drive By or Walk By Outdoor Art
Most cities and some towns have impressive pieces of art not stuck behind paid-for-museum-walls, but out in parks, near museums, etc.
Find out what the best art installations are in your area for free, and create a route to go check 'em out with your loved one.
If nothing else, these could make for fun couple-selfies to post online!
27. Take a Church Couple's Class
The church we were blessed to be part of in Houston actually held a couple's 6-week class one night each week, complete with childcare and dinner.
It was an awesome little thing we worked on together, plus a nice break from the little guy, too.
28. Take a Stroll in Outdoor Public Gardens
Many cities have free outdoor garden spaces where you can stroll through with your love.
For example, I just learned that El Paso (where we live now) has a free municipal rose garden that opens to the public on March 1st! I can't wait to take my husband.
You could go there to talk about something specific, pack a quick bite to eat, or just sit on a bench and listen to a podcast together.
Pssst: here's 16 other cheap park date ideas.
Take turns taking the free online love language quiz, and find out each other's primary way to receiving love.
This is eye-opening, and relationship-changing.
30. Head Out on a Bike Ride
Grab your bikes (dust them off, if needed), and head out on a several-mile-long bike ride together. Pack some snacks in your backpack, and stop off for a little impromptu picnic when you find a beautiful view.
31. Read a Love Note to Each Other
Prep for this date night by asking your spouse to write a love letter to you. Over dinner, read them out loud to one another.
32. Collect Rocks Together
Wherever you have to walk around you – a park, a trail, the beach, etc. – go on a nice long hike and collect some rocks.
Psst: if it's a national park? Make sure you leave the rocks behind and not take the home.
Free Romantic and Hot Date Ideas for Married Couples
What can couples do for free, when they're looking for romance?
Choose from one of these free romantic date ideas below.
1. Do a Free Couple's Massage Session
Looking for hot date ideas for married couples? Here's one of my favorites.
In a perfect world, you could swing to the store real quick and buy a nice, almond-based massage oil (this is the one we own).
BUT, you can actually do this romantic date idea TONIGHT because you likely have all the ingredients you need to make a homemade massage oil (and if you don't have essential oils? Just use the oil).
Plus, I've got some great couple's massage videos you can use here, for free!
I've been following Denis for a few years now:
What an awesome way to physically reconnect with one another.
2. Go Skinny Dipping in the Dark
Do you have a pool or a hot tub out back?
Great — use it! Only, in the dark…
3. Download a Free Couple's Intimacy App
Did you know there are several free couple's apps that help you spice things up in the intimacy department?
Here's my article on 15 best, fun apps for married couples.
4. Be a Guest…at Your Own Wedding
Dust off that wedding album and wedding video, and hold a viewing tonight just for the two of you.
Talk to each other about how you were feeling at different parts of that day — what a revealing conversation that my own husband and I had about 7 years after we'd married!
Speaking of your wedding…
5. Dust off Your Wedding Vows and Recite them
Get out your old wedding vows, and surprise your partner with reading them out loud to one another by candlelight, either in your backyard or indoors.
How romantic! Also, a great time to talk about if you're living up to them, and what has changed.
6. Hold a Silly Poem Date Night
Grab a thesaurus, pen, paper, a timer, and a blanket. Either sit with each other on your bedroom floor or outside in the backyard.
Set the timer for 5 minutes or 10 minutes, and you each work on writing a poem to one another. Could be silly. Could be romantic. Bonus points if it kinda rhymes.
Then, read them out loud to each other!
7. Make a Couple's Date Night Bucket List
You probably both don't want to do free, at home date nights forever.
No worries there – why not devote an entire date night around just creating a couple's date night bucket list? Here are free printables for your daydreaming and fantasizing.
8. Have a Couple's Eye-Gazing Session
Don't knock it 'til you try it — it turns out that gazing deeply into each other's eyes for a few minutes can REALLY up your intimacy.
Don't forget to light some incense or a candle with this. It can really add intimacy to the atmosphere.
The Dating Divas have created some cool, free printables for a steamy exercise session you and your partner can do together at home.
9. Go to the "Make-Out Place"
Where did you go to make-out when you were younger? Or, where do the youngin's go now to make-out around where you live? Take your spouse there. Seriously!
I don't have to remind you of the importance of date night for marriages – that's why you're here. What I hope I've given you are some great free date ideas for married couples and activities for couples to do together you can use in your own home.
The following two tabs change content below.
Amanda L. Grossman is a writer and Certified Financial Education Instructor, Plutus Foundation Grant Recipient, and founder of Frugal Confessions. Over the last 13 years, her money work has helped people with how to save money and how to manage money. She's been featured in the Wall Street Journal, Kiplinger, Washington Post, U.S. News & World Report, Business Insider, LifeHacker, Real Simple Magazine, Woman's World, Woman's Day, ABC 13 Houston, Keybank, and more.
Read more here
.
Latest posts by Amanda L Grossman (see all)