Is going to a coffee shop an actual date? Yup. Let me show you how to turn it into one with these fun + romantic coffee shop date ideas.
Coffee shops are not just a source of caffeine for morning commutes, afternoon pick-me-ups, and college students looking to squeeze in extra work.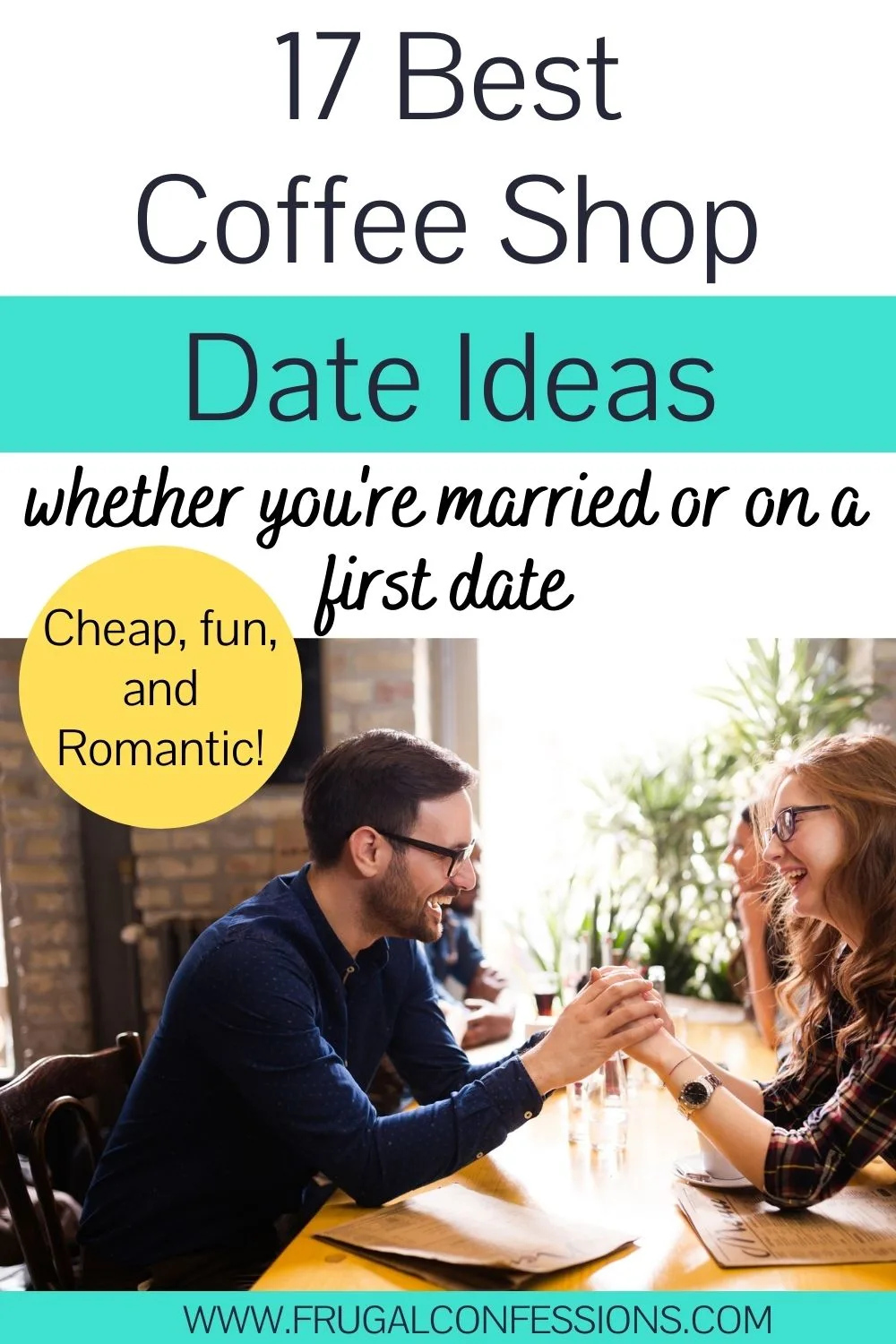 They also make a great date night setting.
These coffee shop date ideas will show you that you can have a really meaningful, fun, and even romantic date night with your partner (that's light on the wallet, too).
But first…
Is Going to a Coffee Shop a Date?
Are you wondering whether or not your spouse or date will "count" a coffee shop date as an actual date night?
I hear you. And I'm here to tell you that going on a coffee shop IS a date, but only if you plan something to do while at the coffee shop.
Which is what this article is all about!
Don't show up without a plan – you need to show your date that you've put some real thought into this date night, and that'll be the start to a great coffee shop date night.
Hint: it's the same for these bookstore date ideas, and Dollar Store date ideas – have a plan!
What Do you Do on a Coffee Date? Coffee Shop Date Ideas
It turns out, there are tons of ideas for what you can do on a date night at your local coffee shop.
Whether you're a married couple looking for a cheap (but fun) date night out of the house, or you're going on your first date and you want to get to know someone better – you'll find an idea to impress your date, below.
1. Solve an Escape Room Together
You can bring everything you need to work on an escape room puzzle together as a couple, right to your coffee shop.
Choose from one of these free printable escape rooms. They even let you know the time commitment (from between 10 minutes and 40 minutes long).
You'll need paper, pencil, the printable, and an app on your phone. That's it.
Themes include:
Mission 3: Stopping an Elevator Hack
Mission 5: Saving Passengers on the Subway
Mission 9: Stopping Financial Catastrophe at a Bank
Etc.
2. Host a Minute-to-Win-It Olympics (at your table)
You can pick out 5 different minute-to-win-it games, and bring all the supplies you need for each.
Host an "Olympics" at the coffee shop, with you guys competing against each other and seeing who wins overall.
Some ideas that would work at a coffee shop:
3. Create a Couple's Bucket List Together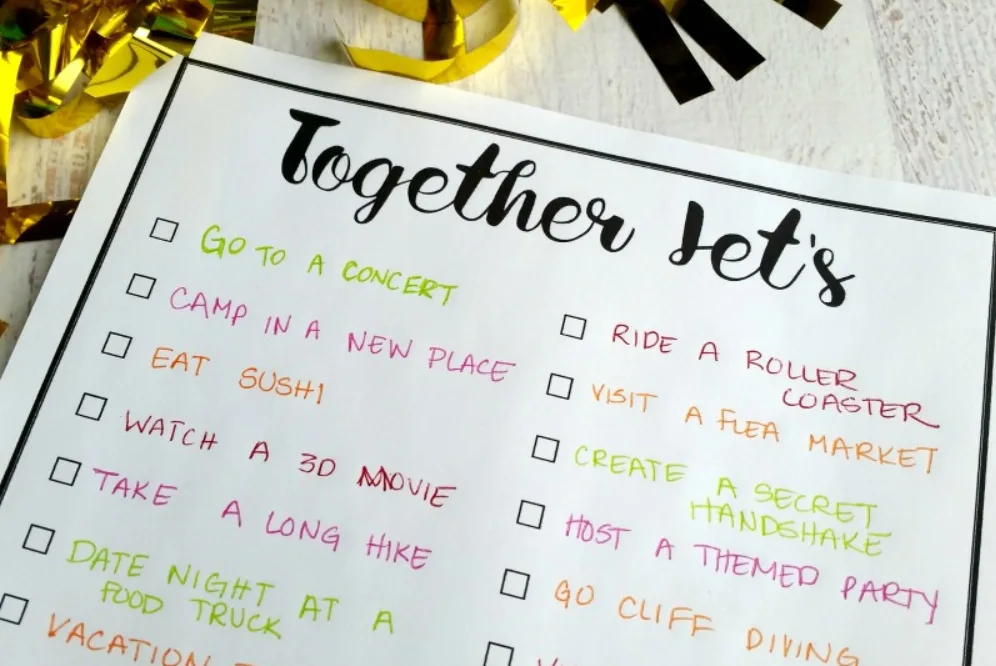 Allow the two of you to dream together. Print out this free couple's bucket list, and fill it in (without filtering) what each of you fantasizes about doing together.
You could learn a lot about your partner from this!
Hint: you could theme this, too. Like, create a couple's date night bucket list. Or a couple's travel bucket list. Or a Couple's 5-year bucket list.
4. Go to a Coffee Shop Event
Many coffee shops have an event every so often. This is the perfect chance to invite that special someone to, with something planned already for you!
You can each order your favorite drink and snack, then sit and "enjoy the show."
To find these events, you can:
Keep your eye on any bulletin board, chalk board, or flyers you see in your local coffee shop
Ask a manager while getting your morning caffeine-fix
Search for your local coffee shop's Facebook page – many small businesses list their events on their social media page
Hint: looking for another event to do after the coffee shop (or before)? Check out these 9 dollar store date ideas.
5. Taste the Rainbow Date Night
My husband and I did this silly, but oh-so-fun date night at home…but it would work well at the coffee shop, too.
Print out the free printables, grab a blindfold, something to write with, and a rainbow-colored candy (we used skittles and nerds…yes – we played it twice!), and bring it all to the coffee shop.
Order your coffee and snacks, then take turns with the taste-testing. See whose tastebuds are right on, and who's, well, need work.
6. Do a Coffee-Shop Crawl
Do you live in an area that has lots of coffee shops?
Take your date on a coffee-shop crawl. Meaning, you start out at one coffee shop, order something to eat/drink together. Then, you head to another coffee shop and try out something different.
You could end up going to 2, 3, 4 or as many coffee shops as you'd like!
If nothing else? Then you'll likely have lots to talk about (which espresso is stronger? Which menu is best? What's the most surprising menu item? Etc.).
7. Listen to a Crime Podcast Together
Share earbuds over dessert and lattes, and dig into one of these amazing, and free, crime podcasts together (using your smartphone, and sharing one set of earbuds):
To make this even more engaging? Be sure to make some predictions. Also, you can each listen to the next part while apart from each other, and you'll have something to continue talking about over text and phone!
8. Grab a Conversation Starter Deck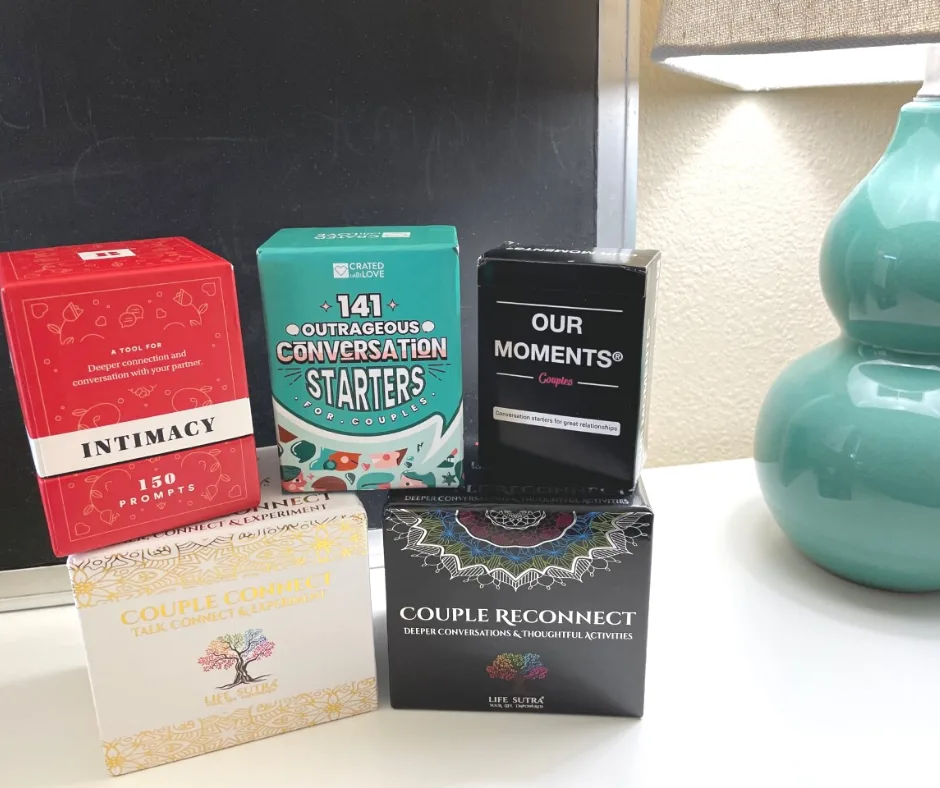 Do you want to have some of the most interesting conversations with your partner…while learning all kinds of things about them you never knew?
Then a conversation starter deck is the thing. I have loved using them with my own husband so much, that I've got a whole article on the best conversation starters for married couples decks you can check out.
Here's the cliff-notes for my favorites:
9. Do a 5-Minute Mystery Together
Use your local library's interlibrary loan system, and get one of the 5-Minute Mystery books to think through and solve together.
10. Write a Couple's Mission Statement
Who has time to focus on a couple's mission statement at home, between work, driving the kids to school and activities, doing the dishes (because the dishwasher broke…again, or is that just us), and the rest of your lives?
Meet up at a coffee shop with the goal of writing a couple's mission statement. What a cool project to work on together!
Here's some direction for how to do this.
11. Go Over the State of Your Financial Union
Married? I suggest doing consistent financial meetings with your spouse (that article also has 14 topic ideas for what to talk about). And one that you could save for the coffee shop is an annual, State of Your Financial Union.
I created free printables to fill out and follow along with – you both will be enlightened about your finances afterwards.
12. Play a Board Game
Many local coffee shops have their own set of board games you can borrow. OR, bring your own favorites along.
Hint: looking for a group coffee date option? We once played the game Apples to Apples as a group date – perfect for those coffee shops with long tables, or tables you can push together. Absolutely hilarious game!
13. Do a Couple's Bible Devotional Together
Over the years, my husband and I have periodically spent 10-20 minutes going through a couple's bible devotional together.
The coffee shop is a great place to do this.
The one we're currently working through is one, by Jimmy Evans.
One we did a few years ago (that's not couple-focused, but was enlightening to go through together)? Is the 40 Days of Prayer by Rick Warren.
14. Brainstorm Something Together
I have such a fond coffee date memory with my husband.
We were out on a date watching Extreme Weather 3D on the IMAX screen at the Houston Museum of Natural Science. Suddenly, I had an idea to create a children's book about a glacier that breaks off and slowly runs through different bodies of water going through one adventure after another.
Paul likes to write as well, and he was immediately interested. We scooted off to get coffee, and had so much fun thinking about realistic and completely silly circumstances this piece of glacier finds itself in.
This filled up like two hours!
15. Take the Couple's Staring Challenge
This is one of my favorite, fun relationship challenges for couples!
You wouldn't think it'd make a difference, but it really does. Don't be surprised if you both feel much closer afterwards.
16. Take a Personality Quiz
Find a free personality quiz (like this one (PDF), print out two copies, and bring two pencils (they might want to change their answer!). It'll be fun to learn more about each other, and about you guys as a couple.
17. Figure Out Each Other's Love Languages
One of the most insightful quizzes that my husband and I ever took together was the free Love Languages quiz. It tells you how you receive love, and how you give love (and how your partner receives and gives love).
In other words, it's an incredibly helpful tool in making sure that you guys are both filling up each other's love tanks!
You can break out your smartphone or bring laptops, and go through the free quiz here. Then, talk about the answers.
Don't be surprised if others in the coffee shop are looking at you both and smiling – they'll want in on all of the fun and romance you guys are having from these coffee shop date ideas! In fact, you might just start a new coffee shop date trend.
The following two tabs change content below.
Amanda L. Grossman is a writer and Certified Financial Education Instructor, Plutus Foundation Grant Recipient, and founder of Frugal Confessions. Over the last 13 years, her money work has helped people with how to save money and how to manage money. She's been featured in the Wall Street Journal, Kiplinger, Washington Post, U.S. News & World Report, Business Insider, LifeHacker, Real Simple Magazine, Woman's World, Woman's Day, ABC 13 Houston, Keybank, and more.
Read more here
.
Latest posts by Amanda L Grossman (see all)