Feeling uninspired in the kitchen? Not anymore – these fun meals to make will put a pep in your whisk, and save your wallet from weeknight drive-thrus.
Why am I talking about fun meals to make on a frugality blog? Actually, the connection is quite simple: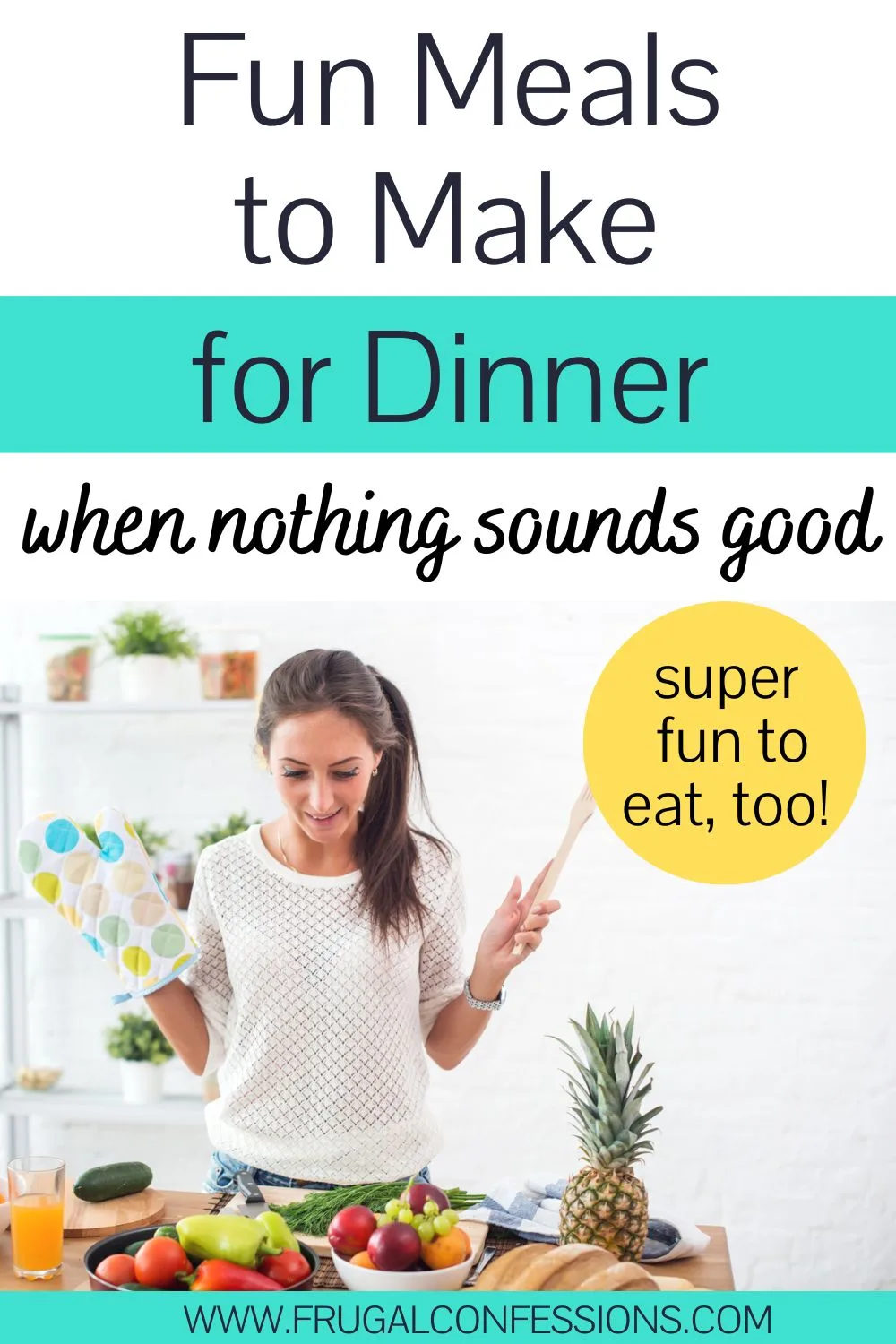 Making fun meals at home you look forward to eating (because they're also fun to eat) makes you about 1,327% more likely to cook instead of eat out.
And choosing to cook more meals at home is a daily frugal habit with one of the biggest cash upsides you can find.
What is the Funnest Thing to Cook?
So, what exactly makes the meals I'm about to share fun to make? A bit, out of the box?
It's usually a combo of things, like:
It's surprising, and something new
It's so ridiculously easy that you feel like you're getting away with something
There's a messy element that you get to play around with
It's darn fun to eat (sometimes, it's all in the anticipation)!
Fun Meals to Make
Making a meal that's fun to cook AND fun to eat will motivate you to "eat in" more often. Which not only saves you money, but time, and (mostly) calories.
Check out these foil packs, giant nachos, tortilla folds, and more for inspiration – all out of the box dinner ideas everyone will appreciate.
Hint: trying to curb your Door Dash tastes? Check out even more tips on how to stop eating out so much.
Foil Pack Dinner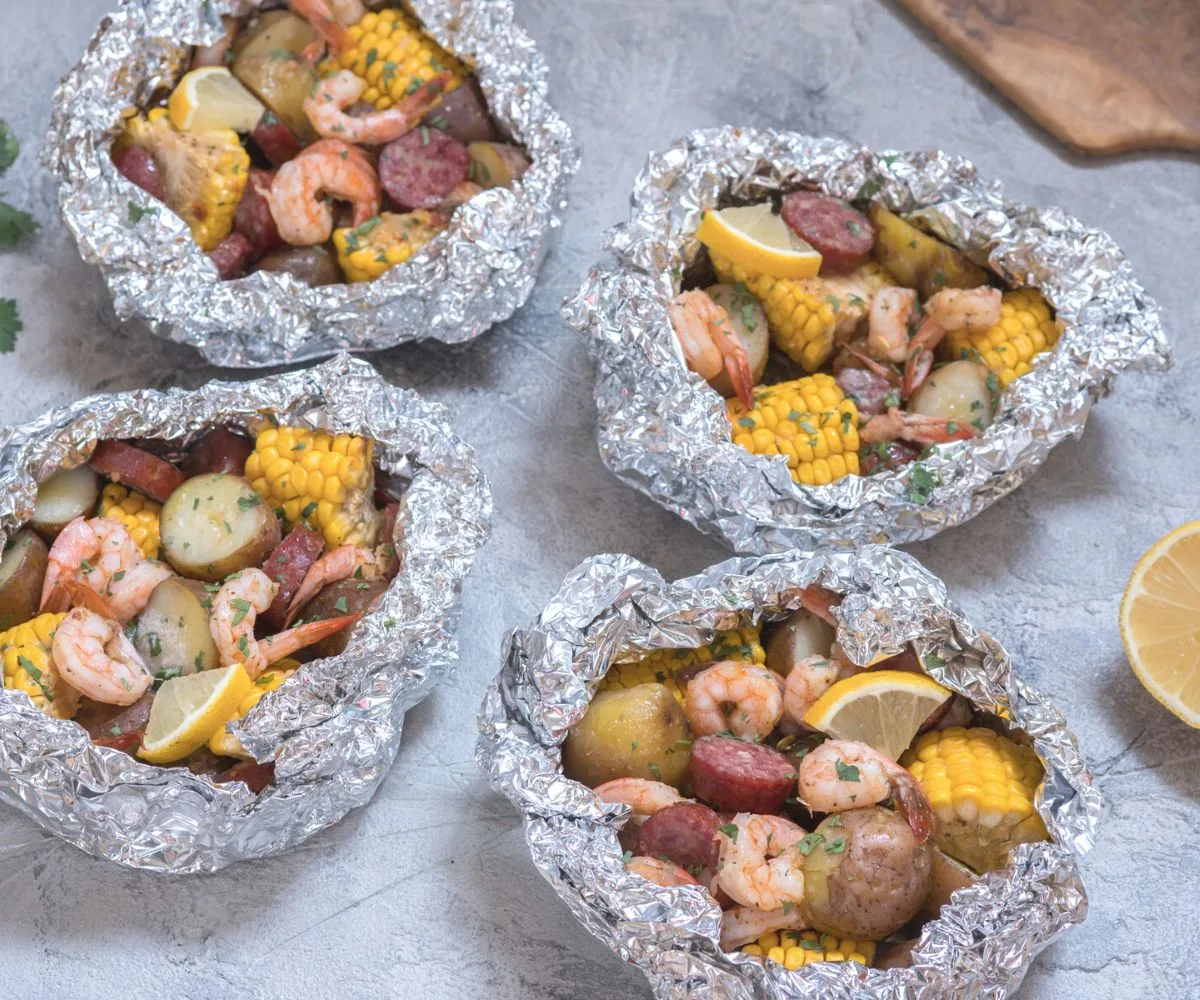 Who said those foil pack dinners have to be just around a campfire in the middle of summer?
I loooovvveeee making foil pack dinners at home.
They're so fun to assemble. Then, you get to just close the foil wrap around everything, and put them in the oven until you're ready to eat.
Even better: you can usually use frozen veggies from the freezer without dethawing them first – that's what I do in a pinch.
Here are a few to try:
Hint: these offer really easy clean-up – they don't dirty up pans or a baking dish, or even plates. Just fold them up and toss 'em when you're done.
Totchos (Tater Tot Dinner Nachos)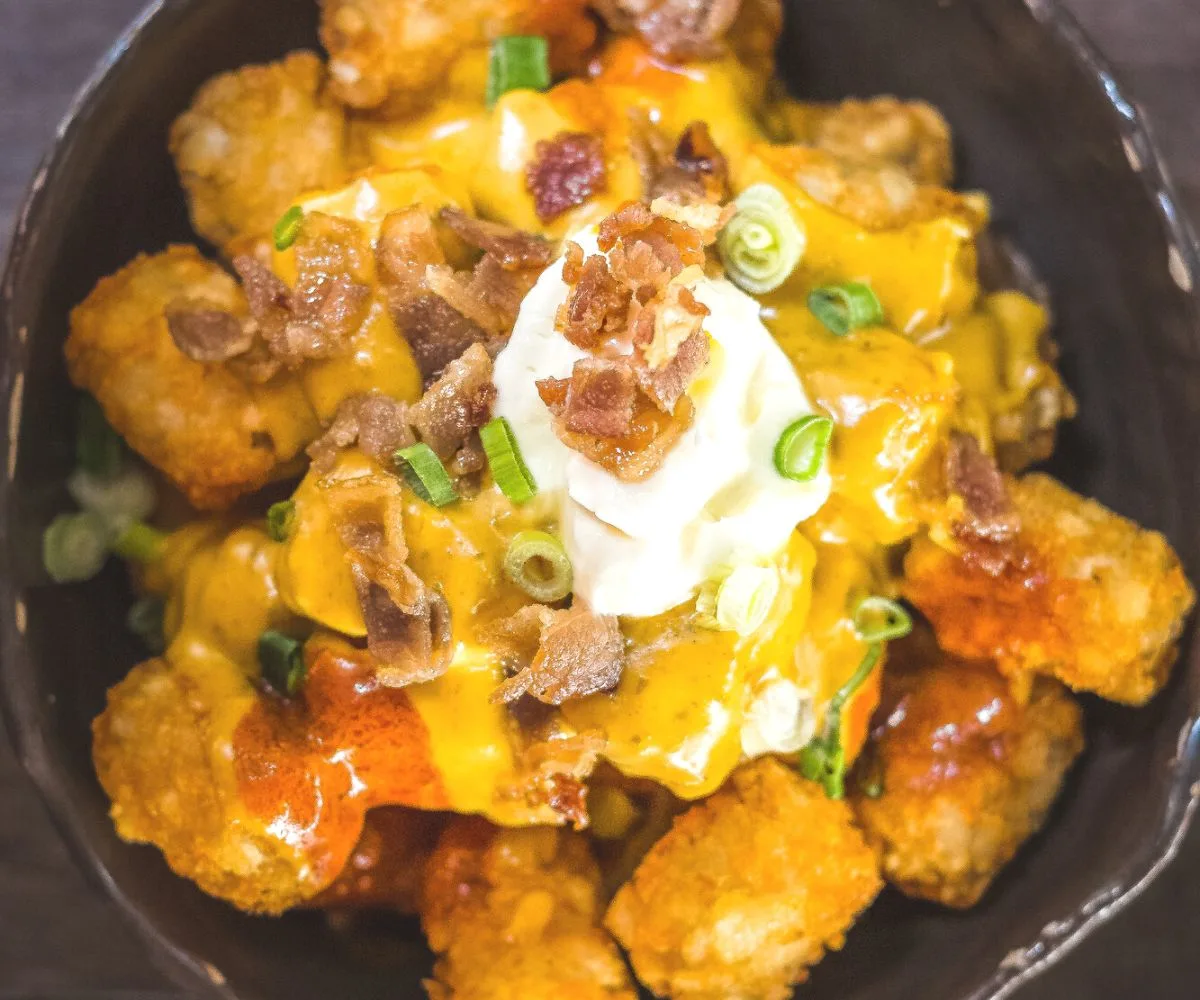 How did they not have these tater tot-based dinners when we were kids?
Well, at least they've shown up for our adulthood.
Put some tater tots in your grocery cart, and change your life with these TexMex Totchos.
Giant Nachos Tableside-Style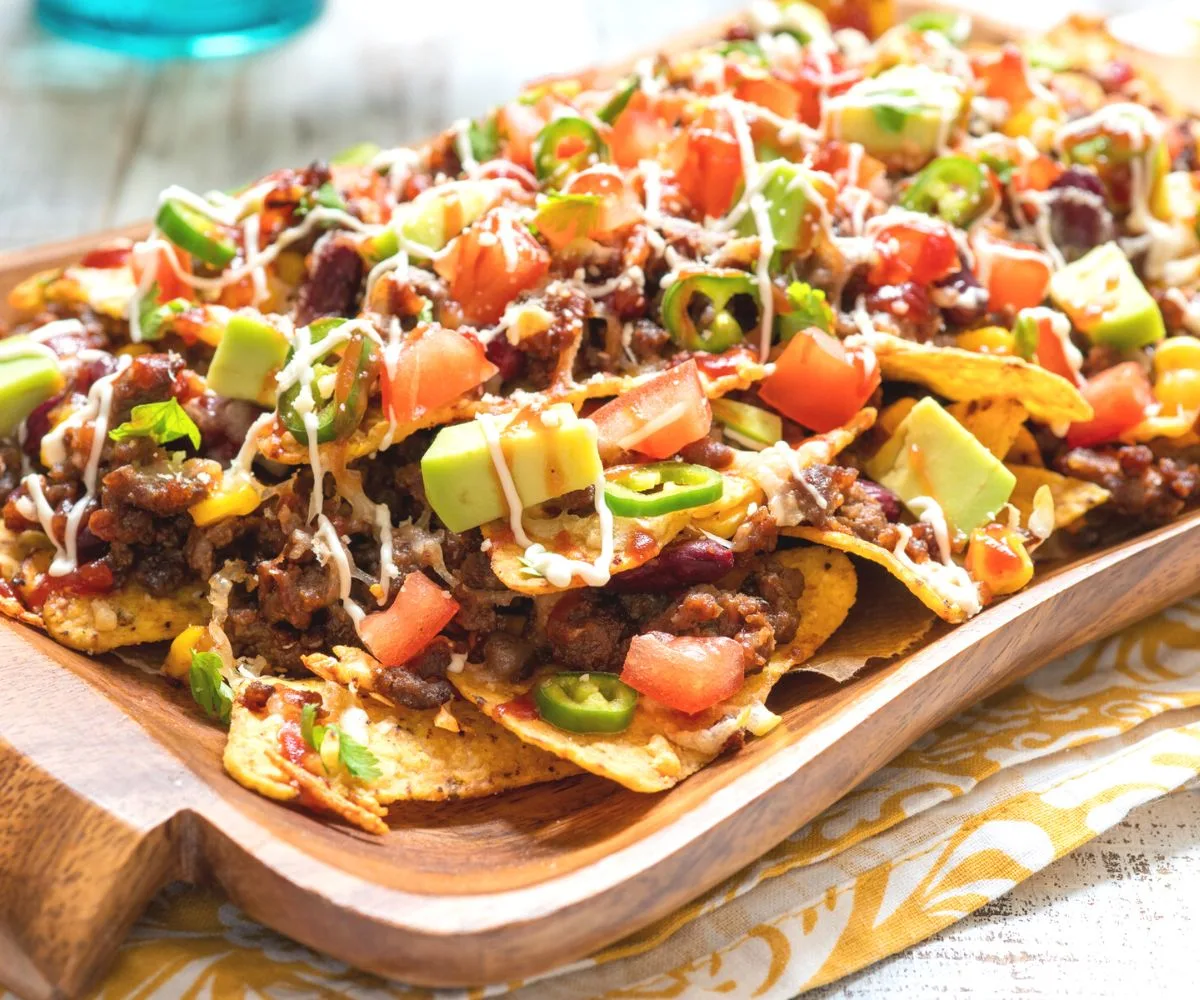 Giant wooden plank filled with nachos in the middle of the table?
Yesssss.
I found the recipe and idea for these giant tableside nachos on the Rachel Ray show, and knew we had to try them ourselves.
And tossing everything together was about as much fun as a person can hope for when cooking on a Tuesday evening – it took me back to elementary school days when you get to work with crafty things at a station without caring what mess you make.
Here's the "Nacho Average Taco Salad" recipe (oh and PLEASE make sure you get the squeezy bottle – it's so much fun to squeeze a homemade sauce onto something).
Gourmet Grilled Cheese Sandwich
Forget the same old, boring grilled cheese. Have some fun by dressing yours up with one of these gourmet recipes:
Psst: another goody? Just use slices of Texas Toast for your regular ol' grilled cheese sandwich. Really takes it up a notch.
Breakfast for Dinner
This is what our parents though of as "fun meals" to make for dinner – breakfast for dinner.
And there's good reason for that!
It's quick, it's yummy, and it's different from what you normally cook around 5:30.
Here's some fun ideas besides just eggs and bacon:
Psst: looking for more cheap dinner ideas? Here's 17 cheap pantry meals to try.
TikTok Tortilla Fold Sandwich
No fun meals article would be complete without mentioning those super-cute and easy-to-make tortilla sandwiches that started on TikTok.
You know, the ones where everything cleanly fits in its own quarter and then gets folded up quickly like this: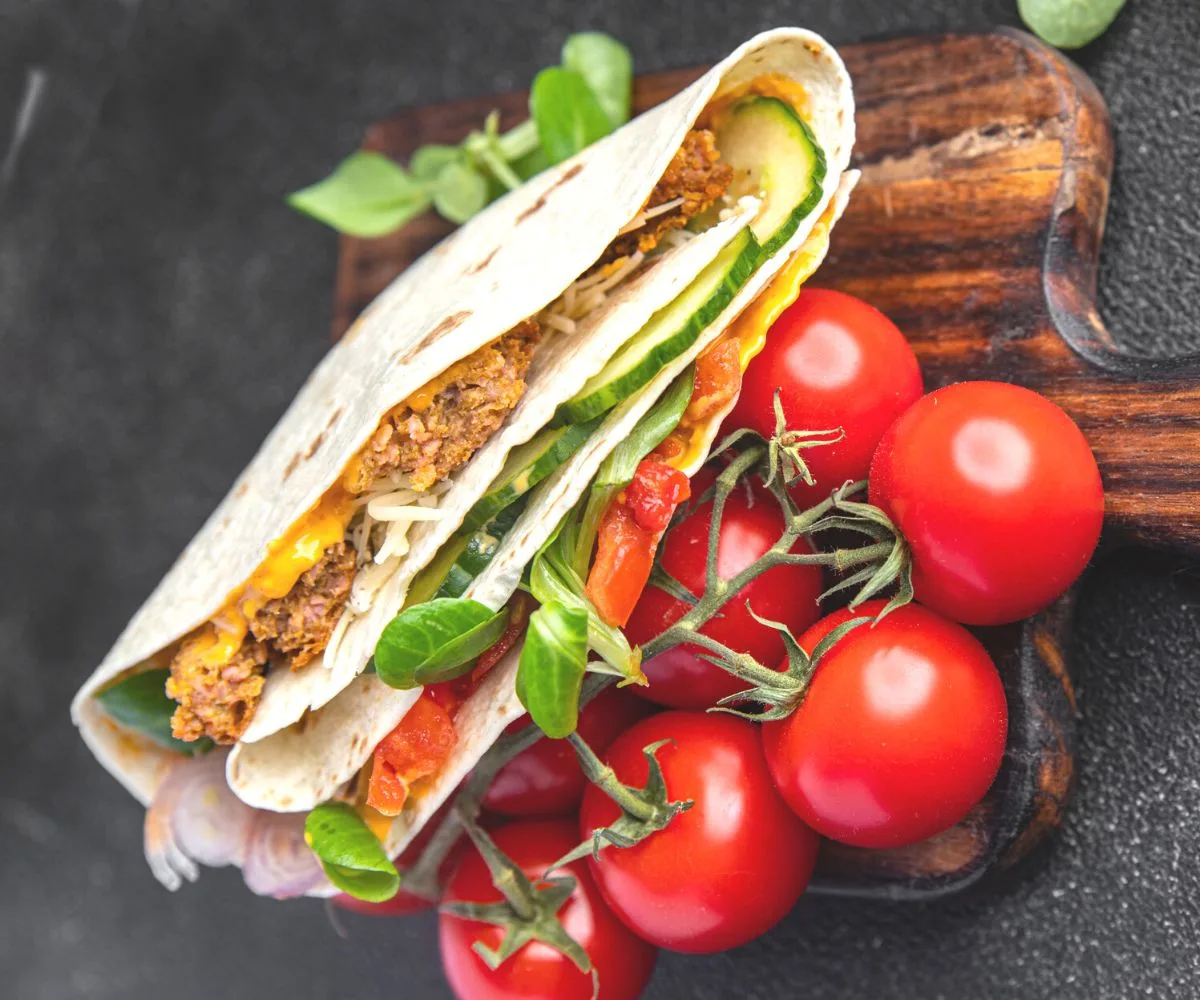 Who knew that basically making one cut in a round tortilla not only makes all of us feel exceptionally capable in the culinary skills department…but adds an element of fun to kitchen prep?
Here's a few yummy ones to try:
Charcuterie Board Dinner
I absolutely love prepping Charcuterie boards. There's chopping, pouring, and lots of finding small, cute dishes to put things into.
That's fun, at least to me! And definitely a break from usual cooking.
Not only that, but grazing from a board of food is truly fun for me and my husband – so this is a winning dinner for us.
Here's the Pioneer Woman's Charcuterie Board to try.
Psst: here are Dollar Tree charcuterie board ideas, too!
French Bread Pizzas
Can you imagine having a bubbly pizza slice ready to eat without getting the yeast out for dough-making?
What I love about French bread pizzas are that you can literally make lots of different types in the same batch.
One French bread could be used for pepperoni pizza, the next could be for a Hawaiian pizza, and then you could make a Philly cheesesteak pizza with the third.
Frito Chili Pie
I had never heard of the Frito Chili Pie until I moved to Texas 14 years ago. Even so, when my husband explained it to me, I thought he must be joking!
Now, I'm a fan. Because the taste simply can't be beat – that is, only if you eat it every so often (once a year is good for me).
It's a very easy and fun meal to make, especially if you then eat it in a snack-sized Frito bag.
Homemade Sushi Bowls
Maybe you don't want to attempt sushi making (even if you had this amateur sushi-making kit) and that's totally fine. Instead, make a sushi bowl! You can try this Homemade Sushi Bowl with Spicy Mayo, or this Easy Sushi Bowl.
I hope I've given you lots of fun meal ideas for what you'll make for dinner tonight. And if you'd like a few fun desserts to make while you're in the kitchen? Be sure to check out these pancake sushi, or these Oreo S'mores in the Oven. Great way to end the evening.
The following two tabs change content below.
Amanda L. Grossman is a writer and Certified Financial Education Instructor, Plutus Foundation Grant Recipient, and founder of Frugal Confessions. Over the last 13 years, her money work has helped people with how to save money and how to manage money. She's been featured in the Wall Street Journal, Kiplinger, Washington Post, U.S. News & World Report, Business Insider, LifeHacker, Real Simple Magazine, Woman's World, Woman's Day, ABC 13 Houston, Keybank, and more.
Read more here
.
Latest posts by Amanda L Grossman (see all)