Who couldn't use a free printable board game for adults or printable card games for adults? Here's a list of my favorites I'm dying to try.
The greatest thing about printable board games for adults?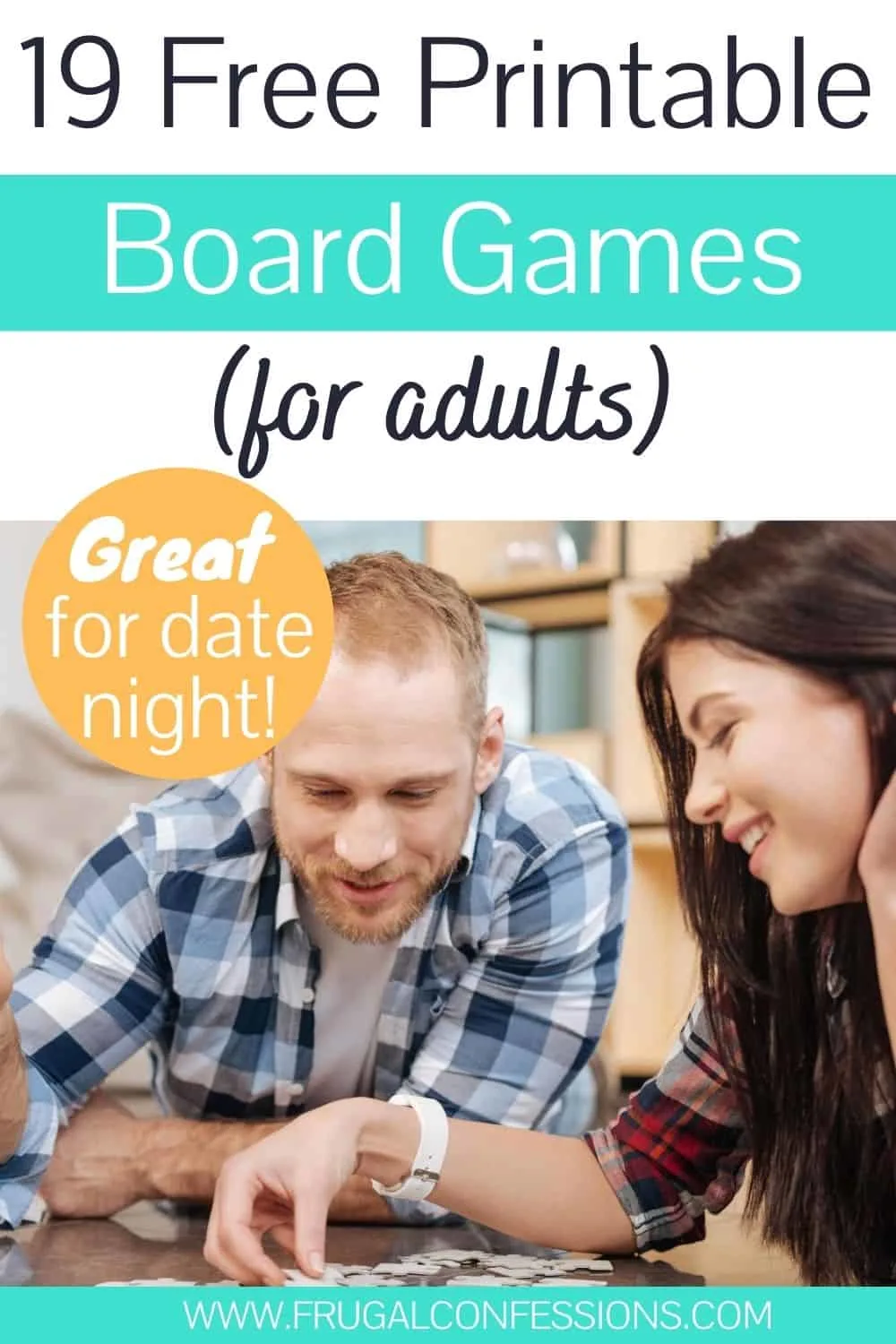 You can literally crank one of these out of your at-home printer, and have something fun to do together in just a few short minutes.
And other than your printer ink, these free print-and-play games and printable card games for adults won't cost you a dime.
Below are some of my favorite printable games I've found available right now.
Free Print and Play Games for Adults (PDFs)
First up, let's go through some awesome choices for free print and play games for adults (all PDFs you download and print).
Note: some of these are for two people, and others are for a whole group!
Number of Players: 1+
Use these free cards and clues from their app, you'll search scenes and solve these free escape rooms at home.
The 5 free print and play escape room games include:
The Elite
5th Avenue
The Doo-Arann Dungeon
In Pursuit of Cabrakan
The Temple of RA
Number of Players: 1-8
Are you a big fan of mysteries?
Download this free Sherlock Holmes printable board game, as well as the instructions, clues, newspaper clippings, etc. Everything is to challenge you to solve the case of The Mystified Murderess.
Number of Players: 3-6
Instead of buying this fun game all about crazy qualifications and interesting job requirements, you can download the free printable!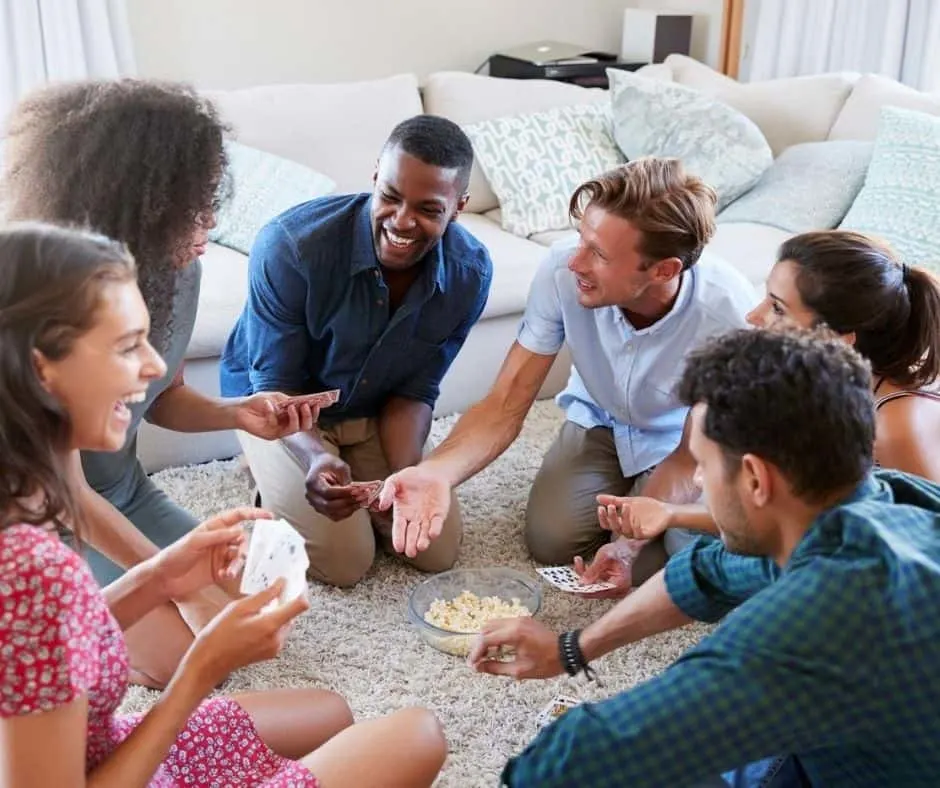 Each player is given four random qualification cards, and you each take turns interviewing for positions. Both job positions and qualifications? Are pretty mismatched and hilarious – making the interviews hilarious to watch.
Number of Players: 2-6
Both the training mission and the Central Station missions are part of these free escape room printables.
Each mission comes with audio files for the missions (you'll need to download their free iPhone app or free android app). You'll just need to print these out (in black and white), a pair of scissors, a pen, and some paper.
No optin required to get your free game printables!
Number of Players: 2-6
Want to play a game all about the acting industry? You'll be asked to take on various acting roles, with the goal of actually being paid.
The game lasts about 60 minutes, and the person with the most points, wins.
FYI: you'll need to find a 6-sided dice from another board game to play this.
6. Monikers
Number of Players: Divide group into teams, at least two teams
Here's a party game where teams play against each other. The way you play is giving clues to your teammates so that they can (hopefully) guess the identity on your card.
Card examples:
The Pied Piper
Christopher Walken
The 99%
Rosa Parks
A mole
Etc.
When someone correctly guesses it, they keep the card so that you can add up all the points you guys received at the end.
The team with the most points, wins!
Number of Players: 2
Dive into a competition between antigens and antibodies with your partner in this game of offense and defense.
There are two ways to win:
Antigens take over the entire board (attackers win)
All antigens have been captured by antibodies (defender wins)
Number of Players: 2
This game originated somewhere in the American Southwest. Picaria is a super-simple game board and setup, and you win by getting three of your tokens in a row (sort of like tic-tac-toe).
Number of Players: 2
I love how simple this game is – both in prep and in play. It's a one-page map you download and print for free, then you furnish each player with ten coins: one quarter, two dimes, three nickels, and four pennies.
Players use their playing pieces to occupy or take over someone's territory. Game play is over when all coins are in play, and determining the winner is as simple as adding up the number of territories each player occupies.
Number of Players: 2
Such a simple printable board (and you can grab poker chips or other objects for actual game pieces) – this Take Back Toe game for two is all about strategy.
You roll the dice, and must move that number of poker chips/stacks. If you can't, then you have to skip your turn. The winner? Is the first person to get three stacks of identical size, anywhere within the gameboard row.
Number of Players: 2
Here's another fun couples' game for the two of you – Couple's Cranium. Just print it out, and engage with your partner as you each go through the different challenges (Pictionary/charades/name-that challenges).
Printable Card Games for Adults (PDF)
Looking for a deck of printable card games for adults (PDFS – free)?
Great! I've got some interesting choices for you, below.
1. Love Letter: Sender
Number of Players: 2-6
What a funny and unique free printable card game for adults – think of it as a card-game version of a love reality TV show…that takes place in Medieval-type times.
The Kingdom's princess is looking for a suitable partner, and it's you want your suitor to be the one that gets entrance. Each player is hoping their suitor will be taken by the princess by trying to get the Princess' family members and friends to ally with you and help deliver letters, etc.
2. Bandido
Number of Players: 1-4
Bandido: Virus edition is a cooperative game – like the original Bandido – where the goal is to work together to block off all of the tunnels (thereby successfully getting rid of the virus).
Number of Players: 2
Here's a deck of cards that you can then use for a variety of games (with varying number of players needed – for a two-player game, you'll want to play the "Borogoves Map Making Game").
The winner is the first person to score 42.
Be warned: this has a lot of rules!
Number of Players: 3-20
Did you know you can download and print off a free copy of the popular game, Cards Against Humanity?
It's a hilarious group/party card game (and sometimes, awkward – be forewarned!) where someone asks a question from the black deck of cards, and people must answer the question with their funniest/best response from the white deck of cards.
Psst: they've also released the beta version of their family-friendly edition of the game, and you can print that for free.
Number of Players: 3-12
Download and print off The Cult of Cat, a card game where you must play a card in your own hand by following the rules of cards in everyone else's hands.
That sounds complicated…but it makes a bit more sense when you read the example in their instructions (also included in the download).
What makes this really interesting is each player only is privy to a few of the rules…and so you must learn and watch others to figure out what rules there are (or break them and learn the hard way).
Number of Players: 4+
Here's a hilarious, free card game for parents. I printed my own set out and can't WAIT to play this at a group, at-home date night!
Printable Board Games for Couples to Play (Adults)
Looking for some board games…just for the two of you? These are lovey-dovey (and sometimes spicy) board games that are great for at home date nights for couples.
Number of Players: 2
Download and print out this free Pictionary game just for couples!
Each person takes a turn drawing a card that will prompt you to draw a picture depicting an experience that has to do with your spouse. Your partner then needs to guess it.
For example, you might have to draw, "a place you traveled to together".
Number of Players: 2
What a cool, free printable board game for couples to play together – you get to actually customize this board to places in your own relationship!
Number of Players: 2
Here's a free printable scattergories game all about your couple-hood! You pick a category card, pick a letter, and set the timer for 3 minutes. Each of you answers all of the questions, with responses that start with the letter that was drawn.
For example, if the letter "P" is drawn, and one of the category questions is "A movie your spouse loves to watch", you could answer things like:
Princess Bride
Pirates of the Caribbean
Pi
Etc.
Number of Players: 2
Hey…this is a list of free printable board games for adults, right?
I wanted to include a free, DIY bedroom board game you and your beau can print out and have fun with tonight <wink, wink>.
Folks, that's it for free printable board games for adults (and card games…and couple's games!). I'd love to hear below if I've missed any good ones.
The following two tabs change content below.
Amanda L. Grossman is a writer and Certified Financial Education Instructor, Plutus Foundation Grant Recipient, and founder of Frugal Confessions. Over the last 13 years, her money work has helped people with how to save money and how to manage money. She's been featured in the Wall Street Journal, Kiplinger, Washington Post, U.S. News & World Report, Business Insider, LifeHacker, Real Simple Magazine, Woman's World, Woman's Day, ABC 13 Houston, Keybank, and more.
Read more here
.
Latest posts by Amanda L Grossman (see all)