Let's face it, at home date night looks kinda different after the kid(dos) come along. Here are our 5 most unique experiences we shared together, all within listening distance of our baby.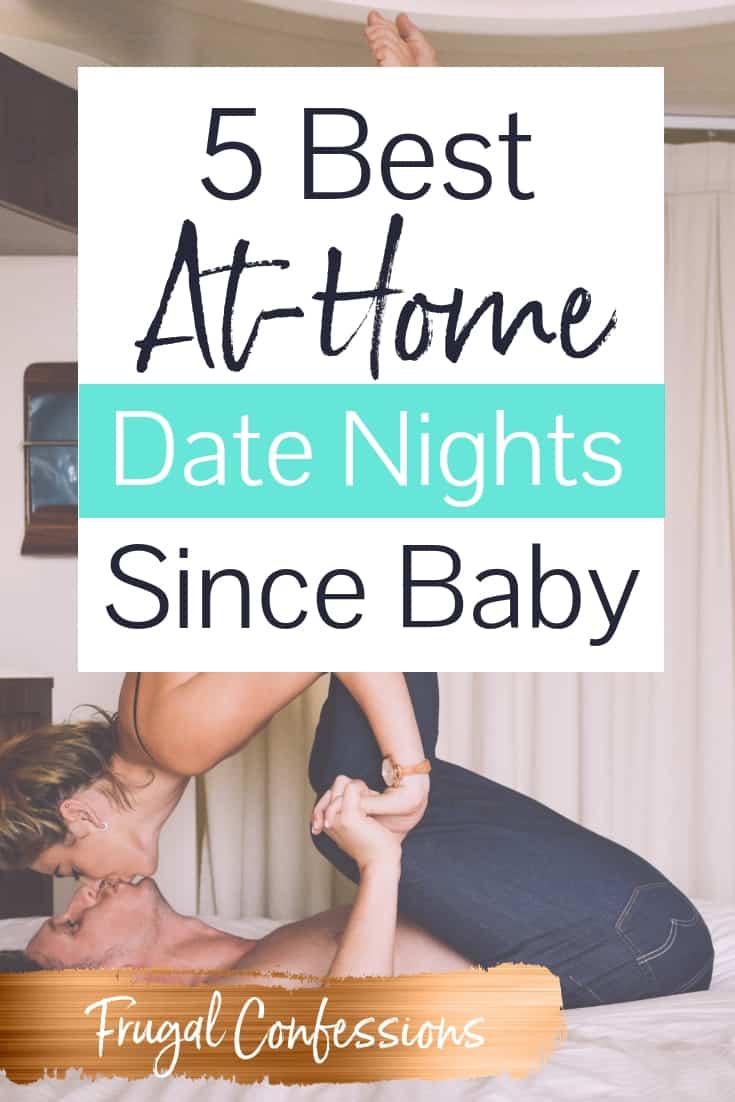 Date nights look…different after kid(dos) come along.
Sure, we could get a babysitter once a week and make things proper by going out on the town. Truth be told, we probably DO get a family or friend to babysit for us about once a month to do just that.
But doing this every week for the first 22 months of our child's life? It just wasn't in the cards for us. There's sleeping schedules, sleep deprivation, feeling comfortable with leaving your baby at night with someone (did I mention, your FIRST baby?), etc.
So, while we've had some hellacious-ly fun dates out on the town since baby was born, the majority of our weekly at home date nights for married couples (that's us!) have been in the comfort of our own home (er, well, at least in the comfort of within baby-monitor-distance. You'll see more info on that below).
With the help of ideas from others, we've managed to come up with some really unique ways to create an experience that feels just like we'd been out on the town.
I'd like to pass those along to you in your quest to keep the intimacy + romance + fun alive with your partner after baby comes along.
Pssst: Yes, these are all tested by me and my spouse, Paul, over the last 11 months. Boy did we have some fun! A note on the ones that took place outside – you need to just be within comfortable distance from your baby so that you can hear them and/or check on them in case something's wrong. This could be by opening a window near their bedroom so you would hear them cry, or using a baby monitor with a decent distance, or checking in on them every so often by opening the back door to your house and seeing if you hear a peep. It's all up to your comfort level!
But First, How Date Nights Work in Our Household
Before we start, just wanted to give you a little outline of the important date nights in our household. Thanks to wisdom from The Dating Divas, about 14 months ago we figured out that a weekly date night just had to happen for us. No matter if we had an 8-month old at the time, or not.
We set the following parameters:
Divvied Up Responsibility: Our weekly date nights are on a rotating schedule. Every first week my husband is responsible for setting it up, and every other week I'm responsible for setting it up.
Got Flexible on What's Considered a Date: We're not prepared to find a babysitter every week. Even if we were, I'm not sure we'd like to leave the home that often with the little guy (though as he's getting into toddlerhood…we're getting more comfortable with the idea?). So, we decided that date nights could be either in the home, or out of the home. Whatever the person chooses.
Date + Time: We also decided some general ground rules for date nights. Our date night will be on Wednesdays. But it's totally fine if the person wants to reschedule to a weekend night if we get a sitter, or another night if there's a special event. It's just helpful to know in general what to expect. Also, again "in general", date night starts after the youngin' goes to sleep. Which is pretty much like clockwork at 7:30 p.m. (what a blessing!).
Now, onto those special at-home date nights we enjoyed together:
#1: Star-Gazing in an Inflatable Pool
Several years ago, I came upon this awesome, quirky idea on Pinterest: to use your child's inflatable pool as a star-gazing venue for you + your beau.
I can officially say, it's a really cool idea!
Take yours up a notch with this free printable date night under the stars.
For us? It was surprising my husband with the blankets and pillows already set up, snuggling under a star-studded sky (yes, we were both surprised by how many we could see even though we're in the city), and listening to the bugs chirp. Just wonderful.
#2: Chocolate Bar Tasting for Dessert
Over the course of several afternoons, I took our little guy on a date-night mission: we went to several stores to source exotic and indulgent chocolates of all kinds for a date night.
Honestly, the act of sourcing chocolates I would never normally think about buying because of the high price tags felt really good (Hint: the place where there was the most selection? Whole Foods.). Total cost was just $15.86 (I somehow walked into a Buy-1-Bar, Get-2nd-Bar-Half-Off sale).
I chose 6 bars to correspond with The Dating Divas' FREE Chocolate Tasting Date Night Setup:
Why was this seemingly simple date night successful? Because it brought a new experience – tasting various chocolates from around the world – right into our living room. It was engaging, and sparked conversations + playful debates. Did I mention it took care of dessert as well?
Home run!
#3: Drive-In Movie…in Our Driveway
You heard me right. We had a right and proper drive-in movie…in our driveway.
And let me tell you, it made all the difference. We really felt like we were getting "away", even though the baby was soundly sleeping just half a house away from us.
Pssst: add these awesome Cuddle Car Date free printables to your own date night!
How we set up this date:
Charge Up Your Laptop: I charged up my laptop + then propped it on Paul's car dashboard (his car is the one that doesn't house the car seat).
Get Some Theater Candies from the Store: During my bi-weekly grocery trip, I picked up several of our favorite boxed theater candies.
Add a New Movie to Your Netflix Queue: I made sure to add a new movie we would have loved to see in theater pre-baby to the top of our queue (we're theater buffs), and sent back the last movie to give plenty of time for it to arrive.
Get Out the Blankets: I grabbed some blankets from our living room to make the back seat of his car cozy.
Figure Out How to Hear the Baby: We're lucky in that there's a window directly overhanging the driveway that I could open so that we'd hear the baby if he cried. Fortunately, it's been 6 months since he cried in the middle of the night (WOW is that nice to be able to say; it was a tough first sixteen months!), but just in case, it made us feel more comfortable to be able to hear him.
#4: Solar Eclipse Two-Part Date
This one was a blast to set up and keep secret (though offering emoji clues throughout the week) from Paul.
I scouted out free, NASA-Approved solar eclipse glasses from a library in Houston, and actually found several pairs!
Then I rolled through the movie rolodex in my mind. The only movie I can remember seeing that has a solar eclipse in it is Dolores Claiborne, by Stephen King. We both happen to be King fans, so it was perfect.
Here's how I set this up:
Got the Solar Eclipse Glasses: I got my butt in gear about a week before the eclipse happened and felt lucky I still found these!
Added the Movie to Our Netflix Queue: I made sure to add the new movie to the top of the queue a week ahead of time, then send back one of the DVDs we had.
Setup Movie Night for the Night Before the Eclipse: The eclipse was on a Monday, so we actually had the "dinner and a movie" on Sunday night after our son went to sleep.
Stash a Pair of Glasses + an Eclipse Schedule Printout in his Lunch Bag: So the super-surprise, Part II of this date was actually experiencing this solar eclipse "together" …even though he was going to be at work. I printed out a schedule of when it would hit Houston, wrapped the glasses and put them in his lunch bag with a note for him to open it at the time the eclipse would begin, and also told him we'd be watching it together. Fortunately for us, the eclipse began when our son naturally took his nap anyway (I'd have to duct tape those safe solar glasses to his head to have him not rip them off).
What an awesome (emphasis on the "awe")  experience this was for us. Even though we weren't together for the entire part of it, it really brought us closer. Reminds me of those long distance date nights he and I used to have when he was living in Japan and I was living in Florida.
#5: Tea and Crumpets…On the Bedroom Floor
I had never in my life had an indoor picnic. But after cleaning out the tea portion of our cupboards and stumbling upon tea I had purchase while in London, I decided tea + crumpets (or, rather, finger foods) was just the ticket!
Pssssst: a round of strip poker may or may not have followed. We'll never tell.
Here's how I set this up:
Made Finger Foods: I used the Pioneer Woman's recipe for Garden Spread Finger Sandwiches (these were the hit of the night!), and Giada's recipe for Mini Frittatas, and Six Sister's Stuff's Gingerbread Cookie Cups.
Made a House Tea: Paul surprised me on my first Mother's Day by taking me to a tea house. The waitress actually told me their secret to their house tea: brew it in orange juice. Inspired by this, I picked out vanilla chai-spiced tea bags and brewed them in some apple cider I had frozen (leftover from a recipe). Can I just say, delicioso?
Cleaned Off the Floor: You can imagine (or you might not have to) the clutter that comes with a 22-month old. Stuff everywhere! So, I cleared our bedroom floor of everything. As Paul was finishing up in the bathroom, I snuck in and put a blanket down. Then I told him to sit on it and the date night would come to him.
Put Out the Spread: I put the tea pot + tea cups on the blanket, plus each of the foods. We had ourselves a lovely, finger food-feast.
*Ahem* the Activity: And if you're up for the strip poker? Now would be the time to introduce it to your partner.
Seriously, each of these date nights are memorable to both of us. Who knew you could have so much fun at home?
You may have noticed something: these are all dates I set up for my husband. Don't worry – his specialty seems to be in setting up on-the-town dates outside of the house (complete with finding us a babysitter). I'm a lucky girl for that! My specialty seems to be creating really unique experiences at home. What can I say? We work well as a team.
Psst: these are awesome at home date ideas to set up for when you have your money quickie meetings — you know, where you discuss marriage and money with your partner. 
https://www.frugalconfessions.com/wp-content/uploads/2017/09/at-home-date-night.jpg
512
1024
Amanda L Grossman
https://www.frugalconfessions.com/wp-content/uploads/2019/02/frugal-confessions-logo-340.jpg
Amanda L Grossman
2017-09-11 05:00:30
2019-04-10 19:22:17
Is At Home Date Night a Routine in Your Household? The 5 Best We've Had Since Baby