Got a class action lawsuit postcard in the mail, and wondering are class action lawsuits worth it? I give you real examples, plus explain the process.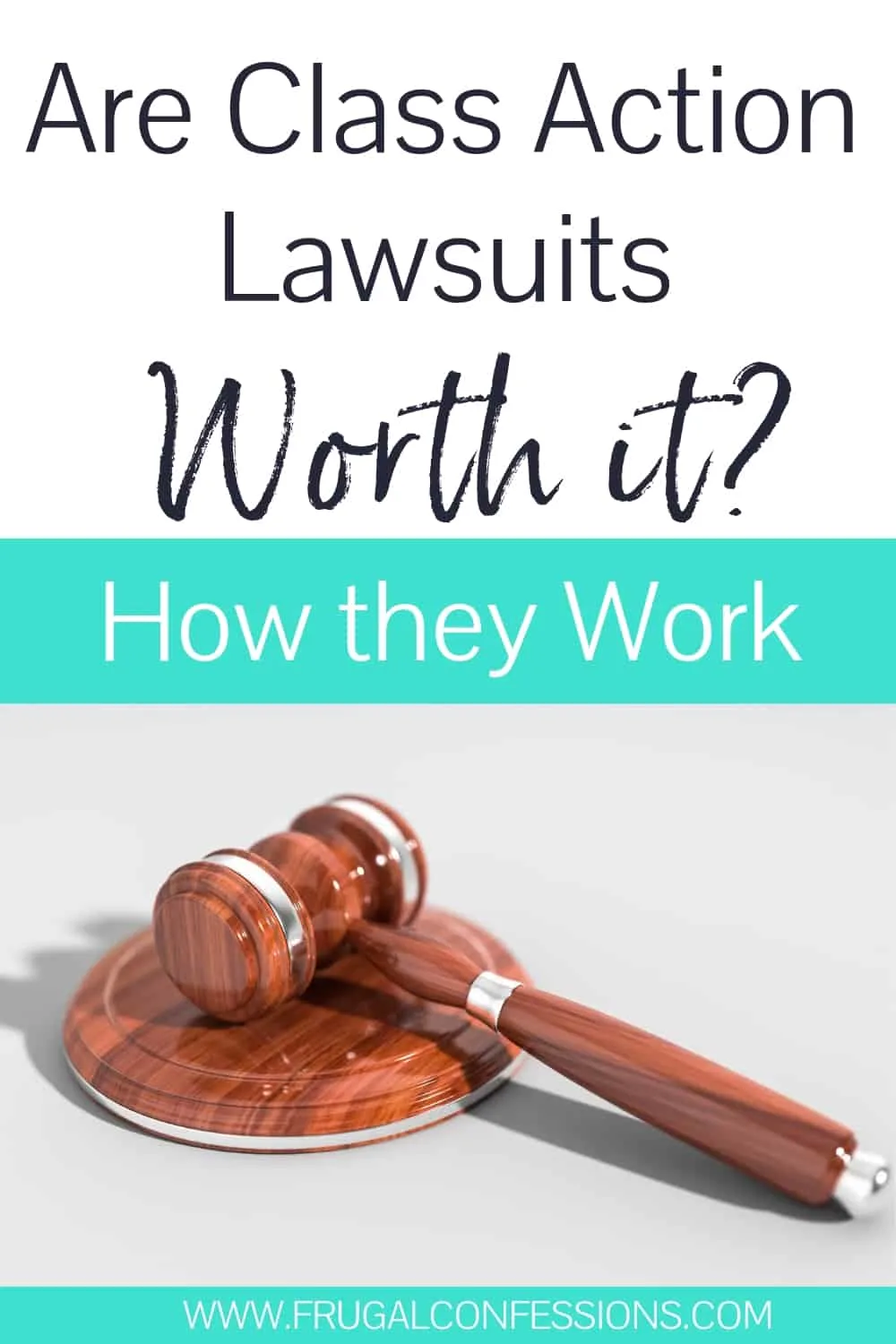 If you're like me, then you've received one of those postcard notes in the mail (aka, a class action lawsuit settlement notice, or a class notice) about a product or service you remember buying in the past.
Or several.
These will either say that a set of lawyers are filing a class action lawsuit with a potential award that you may be eligible for, OR, they already settled out of court with a company and they think you may be eligible to receive some of the payment.
And you might be wondering if getting involved with a class action lawsuit is worth it or not.
I mean, how much can you get if your class action lawsuit wins? How long does it take? What does the payout look like?
I've personally received $103.82 from H&R Block, and $10 from LifeLock, both from class action lawsuits – and it took me very little time to fill out my information.
Let's discuss how a class action lawsuit works, and figure out whether or not it's worth it to join one.
Psst: I'm not a lawyer. However, I used to work in state regulations. Honestly, I think this combo is helpful – I can talk in plain terms and explain stuff so that it's understandable instead of having you sift through court room jargon the majority of us don't understand.
How Does a Class Action Lawsuit Work?
A Class Action Lawsuit is a civil case brought to court by one or more lead plaintiffs (also known as named plaintiffs) on behalf of a group of people who all have the same grievance. It's a more efficient way for a group of people to get through the court system, rather than having each person do an individual case (which would clog up the court system).
Reasons (from actual class action lawsuit examples) to create a class action lawsuit:
Product defects that cause harm
Consumer privacy violations
Economic injuries (from securities fraud)
Employment practices
Corporate misconduct
The way a class action lawsuit works is a plaintiff (a person who has a grievance against someone or a company) comes to a lawyer, and they file the case with a court. At that point, they don't actually need to know all the other people out in the world who have also had their rights violated. They just need to have a "good faith basis" that there are others (and over 40 is a good number to have, at least, to satisfy what's known as "impracticability of joinder") who have suffered the same grievance. They then ask the court to certify their case as a "class action".
You will receive one of the following in the mail (though notifications also take place via media and advertisements):
Class Action Notice: You could receive a class action notice in the mail, which is a statement saying a lawyer or law group is filing a class action lawsuit on the behalf of XXX, why they are doing it, and that you were identified as potentially being eligible to participate. You then need to either decide to participate, to opt out, or to participate as a named plaintiff in the lawsuit.
Class Action Settlement Notice: What is a class action settlement notice? Crazy enough, you could be part of a class action lawsuit and not even know it. That is, until you get a notice of the settlement.
There are two different types of class action lawsuits (as far as us consumers are concerned):
Class Action No Proof of Purchase: These class action lawsuits do not require you to prove that you actually purchased the service or product during the specific time period they're looking at. This opens up room for people to cheat the system, but it also is helpful for people who are genuinely victims but did not keep a receipt or record from years ago.
Class Action Proof of Purchase: This type of lawsuits requires you to prove, by a receipt or some other document, that you belong in the lawsuit because you made a purchase or used a service within the time period that they're suing for. Hint: if you do have to come up with proof? Don't forget to call your bank, credit card company, and look through your taxes for that year to help. You may also be able to find an emailed receipt by searching your email inbox for that company's name and/or the year of the purchase.
Onto another commonly asked question about joining a lawsuit.
Pssst: is your complaint against a company? You should know that the FTC (Federal Trade Commission) works on behalf of consumers to stop unfair and deceptive business practices. They also work on getting consumers refunds. You might want to try this route by logging a formal complaint with them.
Do You Have to Pay for a Class Action Lawsuit?
You might be wondering, "Can you join a class action lawsuit, and do you have to pay for it?"
I mean, typically speaking, you have to pay a lawyer to bring a lawsuit to court (either upfront, on retainer, or through a percentage of your winnings).
The answer here is, "NO". You don't have to pay anything to be in a class action lawsuit…at least not upfront, and definitely NO if you don't win.
Class action lawyers typically work on a contingency basis, meaning if they don't win then they don't get paid. If they do win? The court fees and their fees are taken out of the settlement amount (which means, ultimately, you are paying for their services because the amount you and everyone else in the suit will receive is decreased after these payments).
Are Class Action Lawsuits Worth It?
According to a study conducted by the Institute for Legal Reform, analyzed a sampling of 148 class action lawsuits filed in 2009, "The vast majority of cases produced no benefits to most members of the putative class [the individuals in the class action lawsuit – like you and me] — even though in a number of those cases the lawyers who sought to represent the class often enriched themselves in the process".
What else did they find?
About 14% of all class cases they looked at were still pending four years later, without any sign of going anywhere.
About 31% of the cases were dismissed by the judge.
Kind of sobering statistics – but really important to know before you lock up too much time in one.
However, there are many pros to joining a class action lawsuit (the two that I joined DID give me a small settlement, and took up virtually none of my time). Let's look at those.
Pros and Cons of Joining a Class Action Lawsuit
First, the cons of joining a class action lawsuit:
Now, the pros of joining a class action lawsuit:
It's Easy: You don't have to get your own lawyer, you don't have to miss work to show up for court, and in some cases, you don't even need to provide proof of purchase.
There Could be a Financial Payoff: You could receive part of a settlement. It's normally not a lot of money, but you wouldn't receive it otherwise without having to go through the legal process.
What Happens When You Win a Class Action Lawsuit
It's usually not accurate to say "win" when talking about a class action lawsuit. That's because most class action lawsuits never actually go to trial – they are settled somewhere in the "Discovery" phase of it all (this is pre-trial, when both sides are getting all their information together).
Why do so many cases fail to go to trial?
Soooo…just how much money DO you get from a class action lawsuit?
How are Class Action Settlements Divided?
How exactly is class action settlement money divided up? I mean, there's typically a whole group of people in a class action suit…so who gets what?
Before we get into that, you should know that some class action settlements have agreements where the money has to go to a charity or to injunctive relief. Meaning, each member of the class gets nothing.
And sometimes? The lawyers get paid and all the class action members get is a coupon for a free product.
*womp, womp*.
But, in the case where there WILL be settlement paid out to class action members, how long does it take to receive payment from class action lawsuit, and how is that money divided up?
The division of the money – specifically percentage amounts – is decided among the court, the lead plaintiff, and the attorney.
Here's a rundown of how the money is divided up:
Lawyers First: The lawyer generally worked on contingency, meaning they weren't paid for their work. So, they get a percentage of the overall settlement amount.
Lead Plaintiff Cut: The lead plaintiff generally gets their percentage next, as they put in more time than the other plaintiffs and/or have more damages/injuries.
Class Action Members: The remaining amount gets divided among the rest of the members.
Typically, it can take a while to actually get your payout from a settlement. There is a lot of paperwork involved, and there needs to be time to assess claims, fix mistakes, etc. You can contact the individual law firm that is doing the lawsuit to get an estimate, and don't be surprised if it takes months or even a few years. The good news? You might actually earn interest on your money (some states require interest to accrue once you sign your release form).
You should also know that to get your money, you'll need to sign a release form stating that you will not pursue further money from the entity you all were suing.
How to Get in on a Class Action Lawsuit
So, how exactly do you get in on a class action lawsuit a company or organization – I mean, aside from having a class action notice mailed to you?
There are several websites that make searching for class action lawsuits a cinch.
Try these out:
You'll need to get any documentation needed that they require (such as receipts), and then submit a claim form and release form if and when a settlement has been reached.
Class Action Lawsuit Examples in My Own life
I've got a few class action lawsuit examples for you from my own life, and then others.
About a year and a half ago I received two notices from courts for class action lawsuits.
One was for LifeLock and one was for H&R Block. In both cases the reason for the class action lawsuit was because these companies had failed to disclose all of the fees involved in the services I had used. I was no longer using either of these services at the time of receiving these notices, but I remembered my experience with each.
During my first year out of college and my first year of full-time employment I decided to use a coupon I had received for H&R Block to get my taxes done because I did not understand taxes very much at the time.
The woman who helped me told me that if I were to open a traditional IRA for $2500, I would get back roughly $825. It seemed like a good idea to me at the time (when does $825 not seem like a good idea?) so I opened an express IRA through their company. Later as I researched and became much more interested in retirement accounts I rolled this over to a Roth IRA with Vanguard.
Lifeguard's services I had used over the course of several months in order to monitor my credit.
I had filled out class action lawsuit applications in the past, and had never seen any results from it. Still, it would only take a few minutes of my time to fill these forms out and I reasoned that I didn't have to show up in court (that I knew of from reading the information) or on court tv shows (ha!), and there was potential for gain. In other words, I decided it was worth my time. Lo and behold, about six months later, I received two checks in the mail: $103.82 from H&R Block, and $10 from LifeLock!
Class Action Lawsuit Example Cases
After this occurred, I was interested in learning about other class action lawsuits and their settlements. Below are some that I found in my research.
Here's a current class action lawsuit that affects me: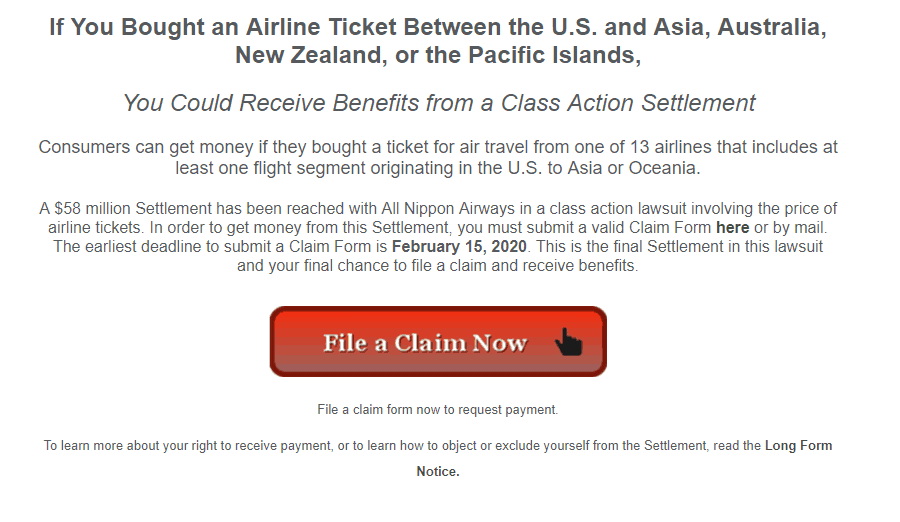 I don't think you will get rich off of class action lawsuits by any means, but it could be worth your time to fill out the paperwork. If you are interested in keeping up with class action lawsuits you can check out this website where you can find details on pending ones as well as whether or not you may be eligible.
Have you ever received part of a settlement from a class action lawsuit?
The following two tabs change content below.
Amanda L. Grossman is a writer and Certified Financial Education Instructor, Plutus Foundation Grant Recipient, and founder of Frugal Confessions. Over the last 13 years, her money work has helped people with how to save money and how to manage money. She's been featured in the Wall Street Journal, Kiplinger, Washington Post, U.S. News & World Report, Business Insider, LifeHacker, Real Simple Magazine, Woman's World, Woman's Day, ABC 13 Houston, Keybank, and more.
Read more here
.
Latest posts by Amanda L Grossman (see all)