7 At Home Date Night Ideas for Married Couples (WITHOUT the Television). Find romantic date ideas for married couples.
Looking for at home date night ideas for married couples? Ones you'll actually have time to use?
A year or two ago, my husband and I felt huge time constraints. We had an infant, and felt like there was no time or energy to plan at home date nights.
So — not wanting to throw in the towel on date night altogether — I conducted a time audit using toggl.com several months ago. I wanted to find out where the heck all of my time was going to (as if the answer wasn't crawling around, babbling in front of me), and if it went to places that were actually a priority for me – like continuing to date my husband, at home.
Inspired by Amber McCue, I accounted for almost every minute (except sleeping time) of my day for three whole weeks.
That might sound like a big giant task on top of all the other tasks I've taken on, but it wasn't that bad. Toggl is a free time + website-tracking service that I used to track my website usage as well as actual time usage, and it has an app so I could just start/stop the same activities I was pursuing each day as I went along.
I learned a ton.
But one of the biggest nuggets?
How much time my husband and I spend together in front of the television.
Mindlessly turning on the television in the evenings or in the mornings has long been a gripe of mine, but I didn't have any data to back it up (what can I say, I'm a numbers geek!). I mean, we have our shows together that I just adore. But the rest of it? Not so much.
So for three weeks I tracked our couple's time two different ways (you can create as many categories as you want and name them whatever you'd like with toggl): couple's time with television, and couple's time without television.
The results were…well, bad.
Now, we're on a mission to get more couple time together that doesn't involve a television (even just in the background).
Importance of Date Night for Married Couples
I cannot stress enough the importance of date night for married couples. Consistent date nights.
We went through a free online challenge to enhance our marriage at around the same time that I made the discovery about how much television was intruding on our couple's time, and the HUGE takeaway for both of us: we need to plan date nights in our marriage.
So, we decided to plan a date night every single week, and take turns with who was in charge of it.
That was about two years ago, and I can't tell you the difference it's made in our relationship, and in each of us.
Twice a month, I get to just "show up" to date night with my husband, and twice a month he gets to come home from work to a planned evening together. Just the act of coming up with little surprises for the date night for one another has reaffirmed our love.
We're in a season of life where most of our date nights are fit in at home after the baby has gone to sleep (we probably get a babysitter just once every other month).
We have over two years of experience with coming up with at-home date nights, so I'm sharing some of our favorites with you! These are cheap date nights for married couples.
Below is your at home date night ideas for married couples list – use these ideas for when you're setting up what I call "money quickies" (money meetings with your spouse that end with a date night) to discuss your marriage and money.
Psssst: Can't afford a babysitter for the night? If your kiddos are a bit older than ours, try out this idea for Babysitter in a Bag to keep them occupied. While this particular article is about leaving this Babysitter in a Bag for your ACTUAL babysitter to use, what you can do instead is to create a similar bag but ONLY bring it out on nights that you're carving out time for you + your spouse. That way there's some novelty to keep them more interested.
Cheap Date Night Ideas at Home
Perhaps you're looking for not only date night ideas that are at home out of convenience (it's a lot to find a sitter), but you also want them to be cheap, too.
I totally get you!
That's why each of these ideas listed below is with that in mind.
Date Night Plan #1: Mini Wine/Beer Tasting
Pick up those hotel-like small bottles of wine and single bottles of beer you can get in liquor stores so that you can get a large variety without breaking the bank. Then pick up an assortment of finger foods, or have fondue night (cheese + wine = yum!).
With a Twist, Please: Go to your local warehouse-type alcohol store, and pick small wine bottles and single beers from each of the countries you've visited as a couple together. Not stepped outside of the great ol' US together? Choose beers and wines from states you've visited, or even local breweries and vineyards.
Date Night Plan #2: Impromptu Photo Sesh
Ready for giggles? Ready to see your beau in a whole new light? Target your loved one through a lens. Try different backgrounds (don't be afraid to hang some sheets!), try different yard locations, try lots of different things.
Funny selfies? Totally acceptable.
With a Twist, Please: Why not make a private photobook of your photo sesh together? You know, for your eyes only? Or just print a few out and include them in their lunch bag one day. What a lovely way to commemorate a fun evening.
Date Night Plan #3: Pokemon Go Hunting
Wait…I didn't say screen-free, right;)? Download the Pokémon Go app on your smart phone over your lunch hour (one that you actually take!), play around with it for a few minutes. Better yet, find someone under 4′ tall − they'll likely be able to show you how to play it.
And if you have a really little one? You can venture away from your backyard by taking them on a walk with you in the stroller while you guys get your hunt on.
With a Twist, Please: Make this competitive by having both of you download the app on each of your phones and seeing who can capture the most Pokémon in a set amount of time.
Date Night Plan #4: Cook a New Recipe Together
My husband loves to cook just as much as I do. It's rare when we're both in the kitchen together (usually the other person is wrangling our 13-month old or decompressing for a few minutes after a long day).
Make a point to research a new recipe or meal, gather the ingredients during your next grocery shopping trip, and work on it together in the kitchen. Oh, and music is key here. So create a mixed CD or load up your MP3s and have those playing in the background.
With a Twist, Please: Each choose a few recipes you've been dying to try, then set up a tasting station for one another a la The Taste.
Date Night Plan #5: Read Aloud to One Another (Double Points for Kids' Books)
Have you ever read aloud to one another? Paul and I love doing this.
We sit in the library and read excerpts from what we're reading that we think the other person would find shocking or interesting, or we read a chapter or two together.
With a Twist, Please: What's even more fun than reading out loud to each other? Reading a kids' book to your spouse. I know, sounds crazy. But it's comforting and the pictures are lovely. Share one you find particularly endearing from your own childhood and your spouse will learn something new about you as well.
Date Night Plan #6: Backyard Picnic
Sometimes just changing things up with new scenery to look at makes it feel special. So choose your meal for the night, but instead of eating at the dining room table or in front of the tube, dedicate an area out back where the two of you can eat.
Use a blanket, a picnic table, or really whatever you've got. You could even wait until the stars come out (especially helpful if your little ones don't go to sleep until it's dark). We find that just going outside on our back patio after putting our baby down gives us enough separation from him to feel like we're alone.
With a Twist, Please: Tent it up. Pitch your tent in the backyard and spend the night somewhere new! Got a baby? Set up some monitors so you can completely disconnect from the house but still have your ear out in case they need you.
Date Night Plan #7: Spouse Scattergories
Get to know your spouse better and have a few laughs with this free, printable Spouse Scattergories game. It's got tons of questions for you both to try out, plus printable letters so that you randomly choose one. All you'll need is a timer.
With a Twist, Please: Use the blank answer sheets to craft your own 12 questions for a personalized round. You can, *ahem*, come up with anything you're curious about or think would be hilarious.
Stay at Home Date Night Ideas for Married Couples: Choose a Food
Now, it's time to choose from one of these engaging foods below to pair with these at home date night ideas for married couples:
Come back to this list of cheap date nights for married couples and mix'n'match to keep things spicy + interesting. And please tell me about your own ideas below! We're always looking for new at home date nights for married couples to keep things interesting.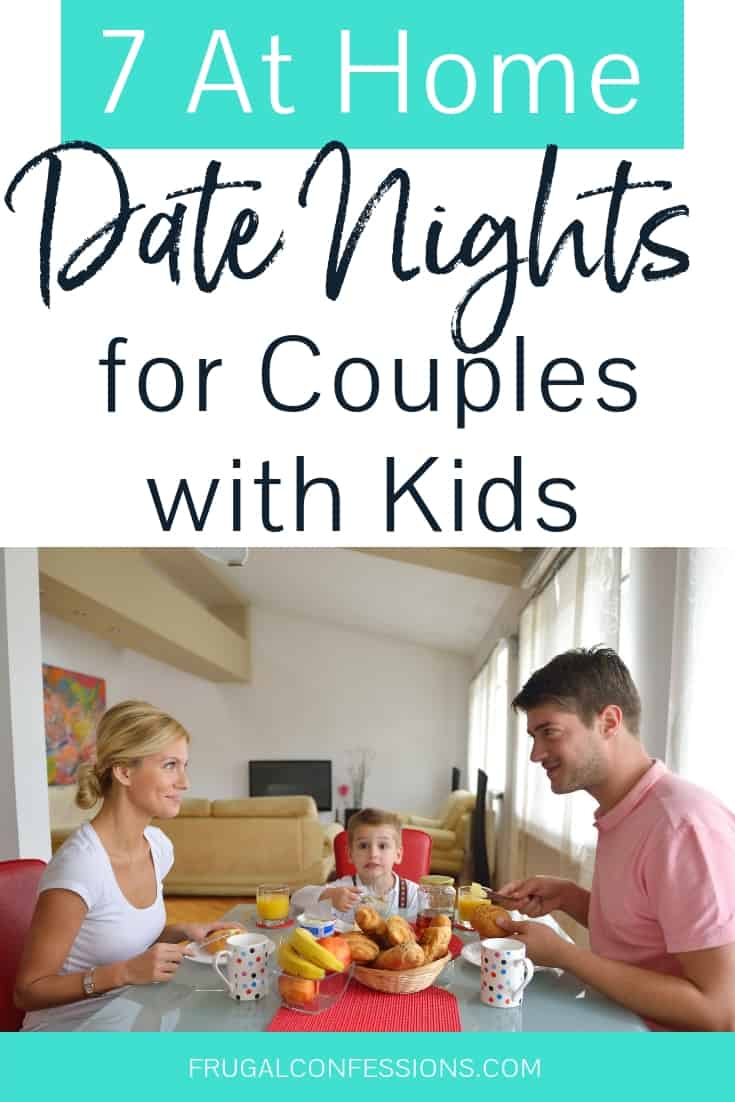 https://www.frugalconfessions.com/wp-content/uploads/2016/11/at-home-date-night-ideas-for-married-couples.jpg
1836
2750
Amanda L Grossman
https://www.frugalconfessions.com/wp-content/uploads/2019/02/frugal-confessions-logo-340.jpg
Amanda L Grossman
2016-11-28 05:00:58
2019-01-15 14:42:01
Pick and Choose from 7 At-Home Date Night Ideas for Married Couples {That Don't Include TV}