You can accomplish a lot with a 30 day no eating out challenge. Here are survival tips to make it survivable and profitable.
So, you're ready to take on a 30 day no eating out challenge – perhaps to cut down on spending, cut down on calories, and maybe even to establish a better family eating routine?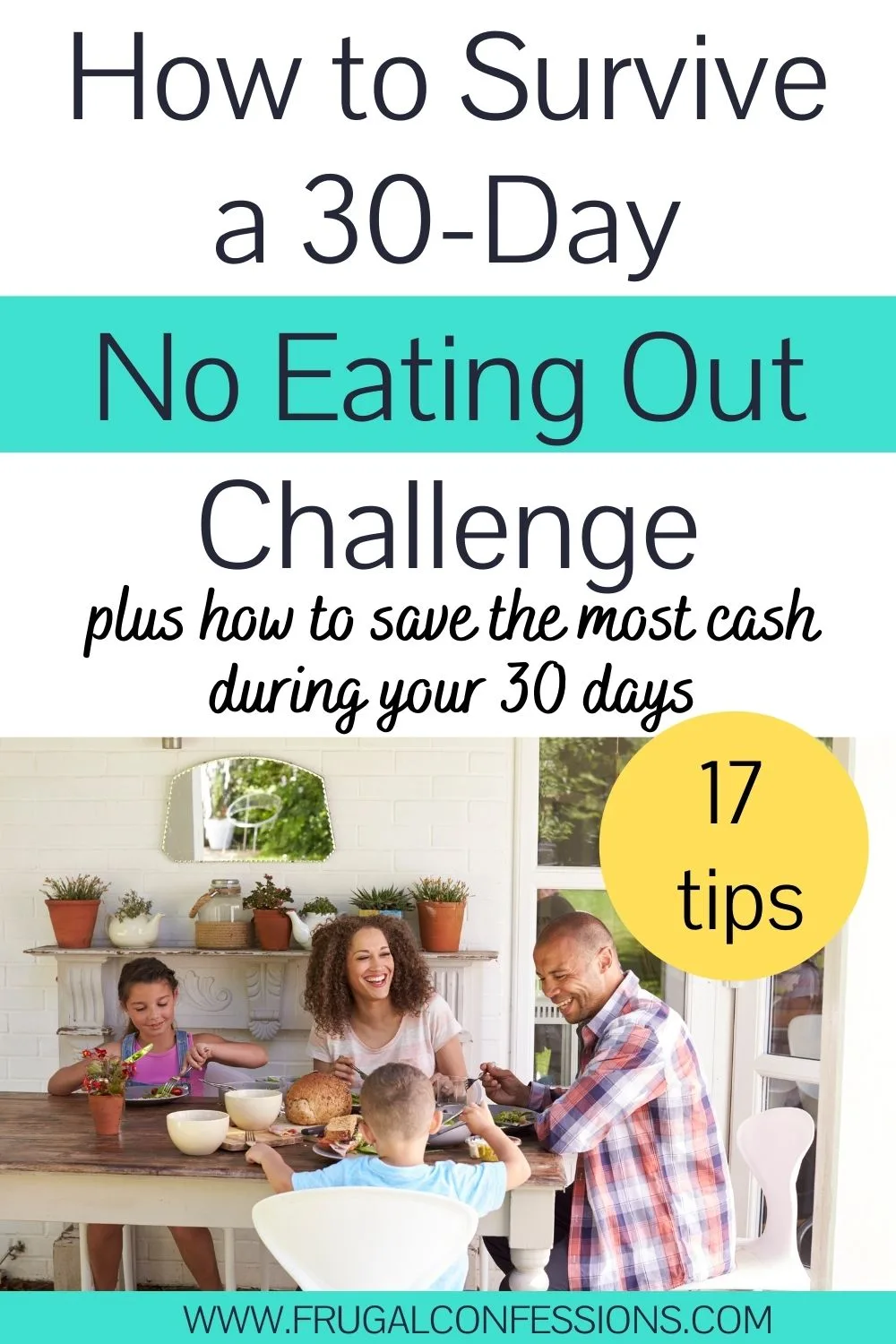 Awesome.
I'm here to help with some tips that will both help you survive the challenge, AND save as much money as possible on your food costs over the next 30 days.
Money you'll then be able to send to your current savings goal or debt payoff goal.
Ready to get started?
First, let's do a simple calculation to figure out how much you're currently spending on eating out (this'll help motivate you, plus know how much of a difference you made to your finances at the end of the 30 days!).
Create Your Baseline Restaurant Spending
You might want to stop eating out to lose weight – a really delicious side effect of eating at home. If so, then go ahead and skip this section.
But if you're in it to also save money? Keep reading.
At the end of the next 30 days, you want to know that you actually moved the needle – that your sacrifices reaped you some sweet savings. Right?
That's why you need to calculate how much your family typically spends on eating out each month.
Hint: do you have a budgeting app, like Empower (this is the free one I use), Mint, YNAB, etc.? Awesome – this will be even easier. Just go in, and get a snapshot of how much you spent in restaurants each month for the last three months. Then, take the average by adding up the three months, and dividing by 3. This will give you the average your family spends each month in restaurants.
Great – now, we do need to reallocate a bit of this money into our grocery spending. After all, you still need to eat the same number of meals over the next 30 days. You're just eating all of them from food you buy at the grocery store, and food you already have in your freezer, pantry, and fridge.
How to Add a Bit Extra to Your Grocery Budget
You already figured out how much you normally spend to eat out, or your baseline for tracking how much you save during this challenge.
Do you remember how many restaurant transactions there were? 10? 35?
That's the number of meals you'll need to cover from the grocery store and your home reserves. Home cooking is much less expensive than eating out, thankfully. So, you'll at least want to cut your restaurant baseline in half before adding that amount to your grocery budget.
And I challenge you to actually cut it to 1/3. Can you still cover all of your food costs in 30 days with just adding in 1/3 of what you spend at restaurants, into your grocery spending?
For example, if you typically spend $130 eating out each week, then 1/3 of that is about $43. Add in an extra $43 this next week to your grocery budget, and see if that gets you through.
Don't worry – we'll talk lots more about how to save money on your grocery bill this month, below.
Psst: you'll definitely want to check out these tips for how to save money on groceries without coupons. And if you're traveling during your 30-day no-eating out challenge? Then definitely check out these 14 easy vacation lunches, make ahead summer meals for a crowd, and 21 easy vacation meals for a group.
30 Day No Eating Out Challenge Survival Tips
Now, let's really dive into making your 30-day, no-eating-out challenge survivable, enjoyable, and repeatable…so that you can do this again and again this next year to save money towards your goals, or to pay down some debt.
1. Plan for a Change of Scenery
Sometimes, eating out is all about just wanting to do something different – to look at different surroundings.
Not to worry. You can plan to eat somewhere "different" once a week, to keep things interesting.
Places like:
Tiki torches + outdoor picnic
On the breakfast bar (instead of at the dining room table)
At the dining room table with "real" plates (instead of in the living room)
In front of the TV, instead of at a table
On a picnic blanket on the living room floor
Take the kitchen table outside, onto the patio (here's some great inspiration for outdoor lunches at home: easy vacation lunches)
Just do something that is completely different from whatever has become the routine area for you and your family to eat. One of the best tips for how to stop eating out so much.
Psst: find more ideas like this in my staycation ideas article.
2. Add 1-2 "Cheat" Items to Your Grocery Cart
Let's face it…we all need a few "cheats" that aren't really cheats, but that will make the 30 days of no-eating-out a bit easier to do.
And since you added in a little extra you can spend this month on groceries from your restaurant baseline spending?
Well, I'm giving you permission to stash a few convenience food items in your grocery cart this month. This could be a frozen pizza from the frozen pizza aisle, a frozen meal for your lunch one day, or a Rotisserie chicken, where all you have to do is create a side dish or salad to go with it.
3. Get Down Your 15-Minute Meal
Forget the 30-minute meal…let's face it: some days, facing down the barrel of spending 30 minutes in the kitchen is enough to send us packing the kids up to go through the drive-thru.
That's why it's important to get down 1-3, 15-minute meals you can pull out of your pocket on crazy nights when you'd rather not cook.
Some of my faves:
4. Get Your Family on Board (with a Family Goal)
Sometimes…we pick these challenges and either know that our family's won't really take part, or just kind of hope that they don't notice.
Well, this time, you can try something complete different to get your family really onboard and behind you: set a family savings goal where the money you've saved from not eating out over the next 30 days, goes.
Things like:
Saturday night movies family date (with candy!!)
Day trip to a water park this summer
New gaming console the whole family will enjoy
Etc.
I've written an entire article on setting financial goals for families, so go check that out if you're interested!
5. Come Up with Restaurant-Free Ways to Hang Out with Friends
Sometimes, restaurants are the only place we can think of to meet up with friends and family friends. Which means, we'll be eating out.
But not you! I've got 74 things to do with friends without spending money…and you better believe there's not one single restaurant on that list.
Psst: here are more no spend challenge ideas, a no spend challenge guide, and 21 cheap summer activities for adults.
6. Batch Lunch Preps Ahead of Time
You'll have to make at least 30 lunches over the next 30 days of your no-eating-out challenge…and likely more if you have a family.
That's why it's critical to get into the habit to batch your lunches ahead of time, whenever possible.
If you're already in the kitchen making dinner, or cleaning up from dinner, then that's a great time to also make some lunches.
7. Use 4-ingredient Meals
It's no surprise that the reason why many of us eat out is simply out of convenience.
One way to make cooking at home a bit easier to do? Is to have several 3-ingredient meals you can cook.
I mean, 4 ingredients sound doable, right?
Here are a few to check out:
This is one of my favorite frugal cooking tips.
8. Keep Motivated with a No-Eating-Out Tracker
What happens when you stop eating takeout? Well, you not only start to lose a little bit of weight, but you also spend less money.
We recently found this out when doing the Daniel Fast (here's our Daniel Fast menu and tips).
That's great motivation…but sometimes it takes a bit more to see progress.
Use one of these free no-spend printable trackers so that you can cross off each day, over the next 30 days, that you eat every meal from home.
Seeing those "x's" will make you proud, plus give you motivation to keep the 30 day no-eating-out challenge going!
9. Print Out a Free Two-Week Meal Plan
In case I don't feel like or can't find the energy, time, to meal plan for two weeks because of time crunch and baby. I just print this meal plan for two weeks on a budget off, hubby adds anything special he'd like above the normal, and I know we'll have two weeks' worth of delicious and nutritious meals.
It's great because you simply look through your freezer, pantry, and fridge on the way out to the grocery store and cross off what you DON'T need, not add-in what you do need.
10. Batch a Few Freezer Meals
I'll never forget the first time I did a batch freezer session – I was 9 months pregnant, and figured it was now or never.
Those meals that I created while waddling around our kitchen and sitting as much as possible with a bar stool I pulled up to our counter? Got us through many a pinches over the coming months with our newborn.
And they can get you through pinches with your 30-day, no eating out challenge!
Steal my free printable of cheap freezer meals with shopping list, here.
11. Make a Rule to Pack Lunches the Night Before
If the morning time is a hot mess for you, then make a rule to pack lunches before you go to sleep each night (and, preferably, while you're in the kitchen making dinner/putting dinner leftovers away).
This will keep your mornings tidy, and take away the temptation to have kids, you, or your partner eat out.
12. Keep a Running List of "Why"
Why is it hard to not eat out? Why is being frugal good? Because of habits and subconscious motivations to do so. Part of what you want to do in your 30-day challenge is to change your spending habits moving forward. Meaning, to spend less eating out naturally, even when the challenge is over.
SO, I encourage you to keep a running list on your fridge (just like the grocery shopping list we keep). Each time you feel the urge to eat out, I want you to write down exactly why.
Is it because you:
Don't feel like cooking?
Didn't plan anything, so now feel crunched and stuck?
Didn't get to the grocery store yet this week, and have no idea what to make with the remaining, random ingredients?
Feel bored?
Are craving a certain type of food?
Get to the bottom of your particular reasons for getting the urge to eat out. Once you become aware of them, you can start to change them by fulfilling those needs and desires with food made (or made ahead of time) at home, and by changing up your meal planning and meal shopping process.
13. Chain-Link Some Meals
Chain-linking meals means that part of one meal becomes a part of your next meal, cutting down on wasted food costs and prep time.
I do this all the time.
For example, you have tons of leftover sauce from dinner. Freeze it, label it, and then make that same dish later in your 30 days so that you don't have to make the sauce for it (or buy new ingredients). Keep a little of it unfrozen, then use it in a lunch recipe.
Maybe your side dish from one night can become an ingredient in the main dish, OR, you can make two portions of the same side dish and serve it two different nights of the week.
For example, if I make a corn side dish of some sort (like a corn feta salad, or elote dish), then I always have leftovers. I then can use those in a chicken bowl/buddha bowl the next day for lunch (or for dinner), or to make nachos for lunch the next day, etc.
Extra meat from last night's meal can easily become part of your partner's lunch or your own the next day.
This works super-duper well with a rotisserie chicken. We hardly ever buy one, but once every six months or so I'll buy one as a convenience item, and we end up using the meat for:
Main dish in the dinner for the first night (so, chicken with a side of salad or other veggie)
Part of next day's lunch, such as chicken nachos, Tex-Mex chicken wraps, or even a BBQ chicken bowl
Part of the next night's dinner by shredding some chicken and making BBQ chicken-stuffed sweet potatoes
Part of another dinner, in a different way
I should mention – there's only two of us who eat this (my little guy is extremely picky about food right now).
14. Create a Bulk-Buy Hit List
Make a list of food items you use the most of (these free kitchen inventory printable sheets will help). Try to come up with at least 5.
This is going to be what you want to buy in larger quantities, to spend less overall for the product.
The reason why we're creating a list of them is twofold:
So that you know what to buy in bulk the next trip you take to the grocery store, Costco, or shop online on Amazon.
So that if you can only afford to buy one item in bulk per grocery shopping trip (since they cost more upfront), then you'll know which one to buy. Cross it off as you go, and get the next one on your list, next shopping trip, until you're all "bulked-up".
15. Use a Free Ingredient-Use-Up App
Sometimes, the only reason why people end up eating out is because they have no idea what to cook. I get that! While I am a planner, I by no means always know what I'm cooking by 5:00 at night.
Here are a few cool apps where you can input the ingredients you have on hand, and it'll give you meal ideas:
16. Do a Pantry Challenge
If you want to go really hardcore over the next 30 days, then don't just stop eating out at restaurants…but take a pantry challenge (here are my best pantry challenge tips).
That means, challenge yourself and your family to eat as much from your pantry, fridge, and freezer staples as possible and to only shop for specific ingredients after figuring out meals from what you've already got.
I took part in one of these this past year, and had so much fun doing it (I know, I know – I'm such a frugal money nerd). We shaved a whopping $250 off of our typical monthly grocery spending.
This woman documented what she and her family ate each day in her 30-day pantry challenge, in case you're looking for inspiration.
You'll also definitely want to check out Jordan's Shelf Cooking website, which hosts a free pantry challenge each September (called Shelftember), and offers lots of recipes for pantry eating.
Hint: here's how to start a saving money challenge, plus 9 savings challenge ideas you can use to rock your next one.
17. Take a Kitchen Inventory
I thought it was a crazy idea to take a kitchen inventory. Like, don't I have better things to do with my time then to write down all of the food that I have?
BUT, it turns out, this is like a weapon in your frugal arsenal. When you know what's in the back of your pantry/fridge/freezer, you can reorganize stuff about-to-be-expired in the front so that you eat it before eating something else. AND, you find out what you've already got that you keep buying duplicates of (guilty), or what you can use in your meals this week. It's priceless!
What do you think – do you have your 30 day no eating challenge in the bag with all of the tips I just shared? I sure hope so. And remember – don't be afraid if you mess up here and there. Don't throw the whole thing out, just do better the next day. After 30 days of attempting to not eat out, you'll be a lot further along, financially, then if you never tried at all.
The following two tabs change content below.
Amanda L. Grossman is a writer and Certified Financial Education Instructor, Plutus Foundation Grant Recipient, and founder of Frugal Confessions. Over the last 13 years, her money work has helped people with how to save money and how to manage money. She's been featured in the Wall Street Journal, Kiplinger, Washington Post, U.S. News & World Report, Business Insider, LifeHacker, Real Simple Magazine, Woman's World, Woman's Day, ABC 13 Houston, Keybank, and more.
Read more here
.
Latest posts by Amanda L Grossman (see all)