Attempting a 21-day Daniel Fast? I'm sharing our best Daniel Fast tips and Daniel fast menu plan from our own experience.
Are you looking for Daniel Fast menu ideas to plan an upcoming fasting period? Or, maybe you're knee-deep in your Daniel fast and you're hungry searching for more recipes.
I totally get you.
My husband and I signed onto a 21-day Daniel Fast with a small group at our church just last month.
After following the 21-Day Daniel Fast menu I'm about to share below, we saw so many results – financial results, physical results, mental results…heck, our relationship with each other and with couples at church even got stronger.
But you know what? It was hard. Challenging. Difficult.
And at various times, we each wanted to give up.
We're so glad we didn't – the results we got were just awesome (be sure to check those out in the Results section).
Just because you're doing the Daniel Fast doesn't mean you have to sit around hungry all the time (though, to be honest, you'll feel hungry much more for the next few weeks).
First up, let's talk about what foods you can eat on the Daniel Fast, AND, what products I found in the grocery stores and on Amazon that were Daniel Fast-compliant (you definitely don't want to miss these).
Then, we'll dive into our 21-day Daniel Fast menu.
Hint: just in case you think this is an expensive thing to do? Well, wait until you hear how much money we saved off our regular grocery spending for the month.
What Foods Can Be Eaten on the Daniel Fast?
This is probably the biggest question most of us have before starting this diet, AND, the thing that we kept googling throughout the 21 days (especially in the beginning, when you don't know your way around yet – at least that was true for us).
That's why I'm including a list of what foods can be eaten on the Daniel Fast, with a few notes for foods that are "questionable" if they're allowed or not.
Fruits:
Apples, apricots, avocados, bananas, berries, breadfruit, cantaloupe, cherries, coconuts, cranberries, dates, figs, grapefruit, grapes, grenadine, guava, honeydew, kiwi, lemons, limes, mangoes, melons, mulberries, nectarines, olives, oranges, papayas, peaches, pears, pineapples, plums, raisins, raspberries, strawberries, tangerines, watermelon
Legumes:
Beans, green beans, lentils, lupins, peas, tofu/soy products
Seeds:
All nuts, almond butter, sprouts, ground flaxseed, peanuts, peanut butter (where the only ingredients are peanuts and salt)
Vegetables:
Artichokes, asparagus, beets, broccoli, brussel sprouts, cabbage, carrots, cauliflower, celery, chili peppers, collard greens, cucumbers, eggplant, garlic, ginger root, kale, lettuce, mushrooms, mustard greens, okra, onions, parsley, peppers, potatoes (including sweet potatoes), radishes, rutabagas, scallions, spinach, sprouts, squashes, tomatoes, turnips, watercress, yams, zucchini
Whole Grains:
Barley, brown rice, corn, oats, popcorn, quinoa, whole wheat
Liquids:
Water, natural fruit juices (with nothing else added), smoothies (with only fruit), almond milk/soy milk/plant-based milk (hard to find varieties with no extras in them), natural vegetable juices (with nothing else added), vegetable oil, olive oil, avocado oil, coconut oil, peanut oil, vinegars (with no added ingredients), vanilla extract*
*controversial, as it technically contains alcohol, but we decided to use it
Compliant Products We Found – Store-Bought Snacks for Daniel Fast
I can't tell you how many labels I read, or how much longer my grocery shopping trips were due to reading labels during the Daniel Fast.
That's why I want to pass along these products and store-bought snacks that are Daniel Fast safe (or, 99% there). It'll save you time!
Note: I've included Amazon links where available.
Just Date Date Syrup: Date syrup is a sweetener made from only dates. Some people say date syrup is okay, some people say it's not. We chose to use it, though sparingly. I found this organic Date Syrup where the only ingredients were date and water, at Whole Foods. You can also make your own.
Kikkoman Soy Sauce: I needed soy sauce for poke bowls and a recipe, and was delighted when I found this one, which has only water, soybeans, wheat, and salt.
Organic Tahini: Again, Whole Foods came through with this tahini, which only has organic toasted sesame seeds and salt in it.
Wholly Guacamole To-Go's: Boy was I happy to find these to-go guacamole packs, which I could put in Paul's lunches and grab for a quick snack. They contain avocados, distilled vinegar, water, jalapeño peppers, salt, dehydrated onion, and dehydrated garlic.
St Dalfour Red Raspberry Fruit Spread: The last week of our fast, I finally scored a suitable jam. It was heaven. This one has just red raspberries, fruit juice concentrates (grape and date), and fruit pectin.
Smucker's Natural Peanut Butter: This has only peanuts and salt in it. The first time you open it, you'll want to stir it up to reincorporate everything (like for 5 minutes) – then stick it in the fridge. It'll harden up enough that you don't need to re-stir it again.
La Primera Tortilla Factory Traditional Corn Tortillas: These were a mainstay for us, as I baked homemade tortilla chips using them over, over, and over again. They have whole white corn, water, calcium propionate (I looked this up, and it's a "naturally occurring organic salt"), and lime in them. I found them in our Walmart.
True Made Veggie Ketchup: The second week, I scored this ketchup! It's got tomato puree, apple, vegetable puree (carrots, butternut squash, spinach) vinegar, salt, onion powder, and allspice.
Pecan Pie Larabar: Dates, pecans, and almonds – those are seriously the only ingredients in these things.
Banana Bread Larabar: Almonds, dates, unsweetened bananas. Again, the only ingredients in these.
Planter's Lightly Salted Mixed Nuts: You can eat nuts, and these are just nuts, peanut oil, and salt.
Next up are those recipes I keep talking about (aka, what the heck we ate for 21 days).
Daniel Fast Menu
Need a Daniel Fast menu example, or just would rather swipe someone else's plan? Cool – I kept track of exactly what we ate during our 21-Day Daniel Fast, and I'm sharing it below.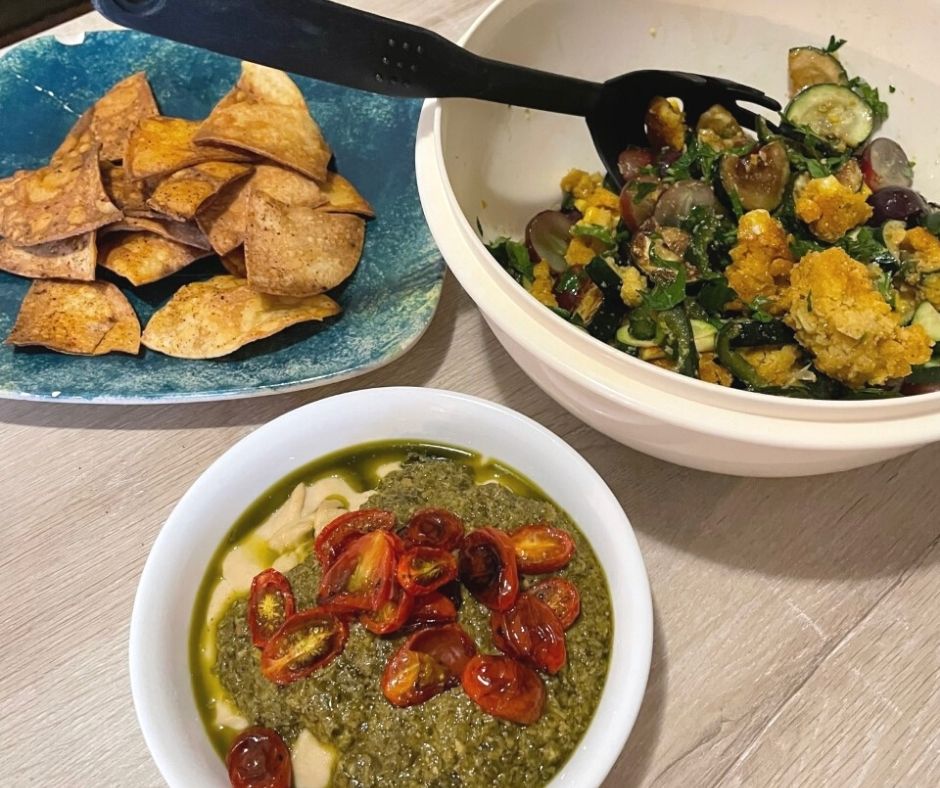 Feel free to use this for your own Daniel Fast (whether that's a 7-day Daniel Fast, 10-day, or the full 21 days).
Note: the first time I mention the recipe, I'll write in any way that we changed it up. After that, assume we've made the same alterations to it each time it was made (because we did).
Daniel Fast Daily Menu
Day
Breakfast
Lunch
Snacks
Lunch
1
Blueberry Oat Muffins
Mexican Quinoa Salad (we omitted the honey in the dressing)
Tortilla Soup with homemade baked tortilla strips (omitted the chicken, cheese, and used vegetable broth instead of chicken broth
2
Blueberry Oat Muffins
Leftover Mexican quinoa salad, strawberries & blackberries
Hot herbal tea, bananas & strawberries
Thai Quinoa Salad (adapted from this recipe, but instead I put everything on top of a base of quinoa inside a homemade baked tortilla cup), Chimichurri smashed potatoes
3
Fruit (blueberries, strawberries, banana)
leftover Chimichurri smashed potatoes, leftover Thai Quinoa Salad
Taro Terra Chips (about halfway through, I looked it up and realized that while the ingredients on these are fine for the Daniel Fast, they are actually fried – I thought they were baked. Whoops.)
Taco Dip (I made homemade refried beans as the bottom layer, sprinkled with this homemade ranch seasoning without the buttermilk, then topped that with homemade guacamole, then added spinach, tomatoes, onions, and) + Homemade Baked Tortilla Chips (took corn tortillas, and quartered them, then brushed on vegetable oil and seasoned with salt + chili powder, repeat on the other side, then bake at 350° Fahrenheit for 15-20 minutes – flip halfway through)
4
Blueberry Oat Muffins
salted nuts, Banana Larabar, leftover taco dip with homemade tortilla chips
watermelon, bananas
Leftover Tortilla soup + Homemade baked tortilla chips & fruit
5
Blueberry Oat Muffins
Leftover Thai Quinoa Salad
Smoothie from Smoothie King (on our couple's date night) off their vegan menu
Leftover tortilla soup, watermelon
6
Oat Peanut Butter Banana Cookies (we added cinnamon to these – ½ tsp. to 1 tsp.) and fruit
Mexican Quinoa Salad (we omitted the honey)
Oat peanut butter cookies, salted nuts
Get together with the group – I made Chimichurri smashed potatoes, we had fruit, lentil dishes, roasted veggies, and a dessert Daniel Banana bread
7
Oat Peanut Butter Banana Cookies
Mexican quinoa salad, watermelon, homemade baked French fries sprinkled with garlic powder and salt
Portobella Fajitas with homemade guacamole, Daniel Fast banana bread
8
Strawberries & blackberries, and Daniel Fast banana bread
Leftover Portobello Fajitas with guacamole, and homemade baked French fries with garlic powder + salt
Fruit salad, apples with almond butter (I had one of these packets, then realized during that it has an egg white in it…whoops. Can't get it right 100% of the time!)
Vegetable soup, Daniel Fast banana bread

Note: We were reallllllyyyy feeling discouraged today. Both of us – wondering if we should continue to do this. Feeling hungry and unsatiated for most of the day. Letting the crankies and hangriness through.
9
Oatmeal Peanut Butter Banana Cookies
Nuts, Oat Peanut Butter Banana Cookies, strawberries & blackberries, Taro chips; pureed vegetable soup (took the soup from the night before, and pureed it – delicious!)
Indian Slow Cooker Book: Black Lentils, cucumbers and red onion, and brown rice; peach cobbler for dessert (frozen peaches, cinnamon, oats, and date syrup, baked until bubbly/peaches are soft)
10
Smoothie
Leftover Indian curry over rice
Vegan Sausages (was ecstatic to find these at Walmart – and they tasted pretty good! However, they do have yeast in them), garlic homemade baked French fries, veggie ketchup (another great find from my second Daniel Fast grocery shopping trip!)
11
Blueberry Vanilla Chia Pudding (omitted the honey)
Leftover vegetable soup
Chai Popcorn with Date Syrup (this recipe, drizzled with date syrup), Green Smoothie
Leftover Indian curry over rice, cornbread muffins
12
Pecan pie Larabar
Salad at the bowling alley (Paul had an employee outing); Leftover Indian curry over rice, smoothie; poke bowl (from a poke restaurant)
Chunky Monkey Overnight Oats, salted nuts
Salsa Verde Panzanella salad (we used this Blue Apron recipe, and omitted the pork, and added leftover corn muffin chunks), White bean hummus (added pesto and roasted cherry tomatoes in olive oil on top), baked tortilla chips, Chai Popcorn for dessert
13
Watermelon and strawberries
Leftover white bean hummus with roasted cherry tomatoes, pesto + homemade tortilla chips, leftover Poke bowl
Chunky Monkey Overnight Oats
Daniel Fast Gathering – we took Indian curry over brown rice with cucumbers and onions (scratch that – our little guy came home with a 100.7 fever); instead, we had leftover Indian curry on rice, leftover salsa verde salad, and Strawberry Ice-Cream
14
Smoothies
I skipped (and I can't remember what Paul l ate)
Poke bowls with tofu, veggies, fruits, and brown rice
15
Strawberries, pineapple, leftover white bean hummus with homemade, baked tortilla chips
Leftover poke bowl
Tacos – Paul's recipe with poblano and red peppers, avocado, summer squash, and a cilantro lime dressing (omitted the honey/maple syrup), with roasted potatoes (which also had the cilantro lime dressing on it)
16
Apple
Leftover tacos over rice, with potatoes, pack of nuts and cranberries
Sweet potato vegan burgers from a local restaurant (takeout), plus homemade, baked sweet potato fries (we didn't plan for sweet potato on sweet potato…but we had no regular potatoes left)
17
Leftover Indian curry over brown rice, mixed nuts; homemade guacamole with leftover black beans, and homemade baked tortilla chips
hot tea
Portobello fajitas with guacamole
18
Blueberries and a banana
guacamole + homemade baked tortilla chips, salted nuts, banana, blueberries
strawberries, homemade baked garlic fries
broccoli soup (recipe from my 20s, and I can't seem to find it to link to) with chimichurri potatoes
19
Strawberries
Red Raspberry Jam (without added sugars – I finally found a brand!!) and Peanut Butter (literally just peanuts and salt) on Ezekiel Bread (we gave in on the bread…note, Ezekiel bread has yeast in it, and you're not supposed to have yeast on this diet), strawberries
Smoothie King smoothie (from vegan menu)
We splurged with takeout from a Vegan restaurant, Juicery Plus, for our at-home date night ("eggs" Benedict, and stuffed Poblanos)
20
Salted nuts
Blueberries, peanut butter and jelly sandwich, chickpea vegan chip thingies
Chunky Monkey Banana oats
Poke bowls
21
Oat Peanut Butter Banana Cookies
Mexican Quinoa Salad
Chunky Monkey Banana oats
Leftover poke bowls
Daniel Fast Tips (from Experience)
After being on the Daniel Fast for 21 days, I have quite a few tips and tricks that I'd like to pass onto you.
Ones we used ourselves (or learned from doing things the hard way).
Tip #1: Meal Prep like Crazy
One of the only ways to survive this challenge is to meal plan and prep ahead of time. I'm very serious about this – because you're going to be a) extra hungry, and b) staring down all the leftover yummy foods in your fridge, pantry, and freezer that you can't eat on this challenge, while having no clue what to make. While your belly's growling. Daily.
The 3 hours I put into our meal plan a week before our challenge even started was not only worth it, but critical to our success.
By Day 8, we were both getting tired of some of these foods. And some of the same flavors (like bananas). SO, I worked a bit extra hard again to find some NEW ideas for the second and third weeks. I knew it was our best chance for us continuing past the 10 days (you can choose to do this Fast for 10 days or 21 days; at Day 8, we were questioning if perhaps we should go with the 10).
Bonus Tip: Buy a big bunch of bananas one week out so that they have time to really ripen/brown (ripe bananas are a critical base for some great Danial Fast desserts, like the strawberry ice-cream and oats peanut butter banana cookies)
Tip #2: Do this in a Group (or at least with One Other Person)
We were lucky enough to do this not only together, but in a group of church couples.
We got together three times during the fast – each Friday night – and I can't tell you how wonderful it was to be able to go "out" and have all "safe" foods to eat.
Each of us brought a Daniel-Fast compliant dish. We had a couple lead the group, and we also worked through a workbook to help us with our relationship to God.
What a wonderful way to get to know others in your church. Not only that, but to take your biblical studies even deeper.
Bonus tip: we all used the free Band Group app to set up a group where we could leave messages to one another on a wall (sort of like Facebook), and then comment on those messages. This was really helpful in encouraging one another, keeping track of upcoming get togethers, staying on the track with the plan, etc.
Tip #3: Find the Vegan Restaurant
One person's friend in our group told them about a Vegan restaurant, and the word spread like rapid-fire through our group.
Suddenly, everyone was super-duper excited to go try out this place and get a break from cooking every. single. little. thing. from scratch. Including us.
It also helps you to keep to the Fast even when it might go over important holidays — for us, it was Mother's Day, and our three weekly date nights.
Tip #4: Prep a Baseline Meal
Get your baseline meal down or your baseline prep ingredient for the first week. For us, that was cooking 4 cups of Quinoa on Day #1.
This really helped us more quickly make meals throughout the week, such as the Mexican Quinoa Salad and the Thai Peanut Quinoa Salad.
You could also get your baseline meal done that you can always fall back to for 4-5 days when things get busy in your life – like our Indian Curry over Brown Rice the second week. That lasted forever!
Bonus tip: get a mini food processor, if you don't already have one. The one I bought in my early 20s got used at least once, and sometimes twice, a day.
Tip #5: Omit Things from "Normal" Recipes
Don't be afraid to use "normal" recipes and just omit a few ingredients to make them Daniel Fast-compliant. Like taking the honey out from a salad dressing recipe. Or omitting sugar from an otherwise healthy muffin recipe.
I did, and it worked out beautifully (you'll see these recipes and the notes for what to omit, above).
Tip #6: Focus on What You CAN Eat, Not What You Can't
One of the biggest things that got us through this was to look at the list of what we COULD eat, and not sit around thinking about what we COULD'NT eat, or what we were missing out on. It worked a good bit of the time.
Though, of course, our brains would wander…
Tip #7: Rethink Your Kitchen, Pantry, and Food Areas
It's a great time to focus on your household's food situation – how you prepare food, how you store it, what food you have (here are 7 free kitchen inventory printables), etc.
For example, I took the time to get rid of expired seasonings/spices in our cupboards, and to clean out the bottom of our pantry (we had half a trash bag of expired foods! How embarrassing).
We also needed to use our Tupperware and plastic bags constantly for leftovers and half-used cucumbers, so I took the time to resituate our leftovers system and upgrade a few pieces.
Hint: here's my article on how to reuse leftovers.
Our Daniel Fast Results
So, what happened as a result of us doing the 21-days? What changed in our lives?
Well, it turns out, quite a lot.
Let me share.
#1: We Saved Money
I noticed that some people are searching for how to do the Daniel Fast on a Budget. Well, I'm here to tell you that we managed to do this while spending an estimated $250 less per month on groceries than we normally do.
And that's in the desert – where fruits and vegetables are more expensive and a little harder to come by.
Psst: we decided to donate any money saved during our Fast to an organization that helps to fight hunger. So, that's $250 we got to send their way! Here's how to save money on groceries without coupons.
#2: We Reset Our Taste Buds
Sugary foods tasted way too sugary after our 21-day Daniel Fast. Which means…we successfully reset our taste buds!
#3: We Dropped Some Bad Eating Habits
I had this awful habit of snacking through my afternoon. The morning was fine – I eat a yummy breakfast, and then don't feel hungry again until about noon.
But as soon as I eat lunch? I want to snack, snack, and snack my way through until my workout time (about 5:00 p.m.).
Well, I've officially busted through my bad afternoon snacking habit. Just having one snack in the afternoon is enough to keep me full until dinner.
#4: Vegetables and Fruits Have Taken Over (in a Good Way)
Vegetables and fruits stopped being an afterthought to our dinners, and took center stage throughout our day.
Here's our favorite fruit and veggie-ful meals:
Not only did these recipes keep us going throughout the Fast, but they've continued to be a regular in our normal meal rotation.
#5: We Lost Weight (and Inches)
We don't own a scale, so I can't tell you how much we lost. But trust me – we slimmed down. If I had to guess? I'd say I lost 5 lbs. (I went down a whole belt buckle hole!) and my husband lost at least 15 lbs.
Of course, this wasn't our sole or even primary reason for doing this.
Psst: but it sure was a nice side effect.
#6: We're Going Meatless…Twice a Week
We discussed several times how we were going to handle "after" the Daniel Fast.
What was it going to look like?
We both agreed we didn't want to go back to eating how we were before. But that we certainly didn't want to remain living under these extremes.
We decided to start with two meatless dinners/week, on Mondays and Tuesdays. And we've stuck with this pretty well.
#7: Found Out I Can't Do Sunflower Oil
I found out Sunflower oil does not mesh with my body. At all. And guess what sunflower oil is in? Tons of "healthy" foods (even at Whole Foods).
I quickly realized this because the small amount of prepared foods we were buying only had like 3-4 ingredients. I noticed a pattern of reacting to the foods that had sunflower oil in it (because I knew the other 3 or so ingredients were totally fine for me).
#8: We Became Grateful for Our Food
I became ridiculously thankful that I don't have to sit around and think about my next meal all the time, like I was doing for those several weeks during the Fast.
Food became a big portion of our mental thoughts during those 21 days – the prepping of it, figuring out what to eat, finding the ingredients, reading the labels, daydreaming about what we really wanted, etc.
When you don't have enough to eat, it takes up an enormous amount of mental energy and space, and I now understand this a bit better.
#9: We Had Far Less Trash
We had far less trash during those three weeks. I mean, like 1/3 of our normal trash going out to the trash man. That was shocking to see.
Let me tell you, this has been quite the 21 days in our household. I hope so much I've not only shared great recipes for your own Daniel Fast menu plan, but that I also shared more of why we did this, why anyone should do this, and what you might hope to get out of it. Of course, it'll be a bit different for everyone! That's why I'd love you to share your own Daniel Fast recipes and experiences in the comments below. Let's help one another out.
The following two tabs change content below.
Amanda L. Grossman is a writer and Certified Financial Education Instructor, Plutus Foundation Grant Recipient, and founder of Frugal Confessions. Over the last 13 years, her money work has helped people with how to save money and how to manage money. She's been featured in the Wall Street Journal, Kiplinger, Washington Post, U.S. News & World Report, Business Insider, LifeHacker, Real Simple Magazine, Woman's World, Woman's Day, ABC 13 Houston, Keybank, and more.
Read more here
.
Latest posts by Amanda L Grossman (see all)