Is SaverLife a legit way to increase your savings account? A SaverLife review that details how to get your savings incentivized, for free.
You're looking for a SaverLife Review which means, at the end of the day, you want to know: is SaverLife a legit way to increase your savings?
Yes, it is.
While I'll go into lots of details about my personal SaverLife review, plus how to use the platform – you should know right off the bat that members more than triple their savings rate within six months of joining SaverLife.
So, the incentives work!
Let's dive in.
What is SaverLife?
SaverLife is a 501(c)(3) nonprofit dedicated to helping people reach their savings goals through education and incentivizing savings behaviors.
And they're 100% free to use!
To sign up for a SaverLife.org account, you simply need to:
be at least 18 (note that you need to be at least 19 in both Alabama and Nebraska, and at least 21 in Mississippi – the "age of majority")
have a valid email account
link your savings account*
*While you can earn points and possibly win cash without linking a savings account, the site works best when you connect your savings account. Not only that, but I like that they're not a bank, and you just link accounts — that means you can continue earning in a high-interest savings account, while using their program, too. Win-Win!
How Does SaverLife Work?
Once you sign up for an account, you can then start earning points. Each 250 points that you earn can be redeemed for a Scratch & Save card – use this to potentially win $5.
Not only that, but you can sign up for savings challenges and win more money (such as the Race to $100 challenge, with the chance of winning $100).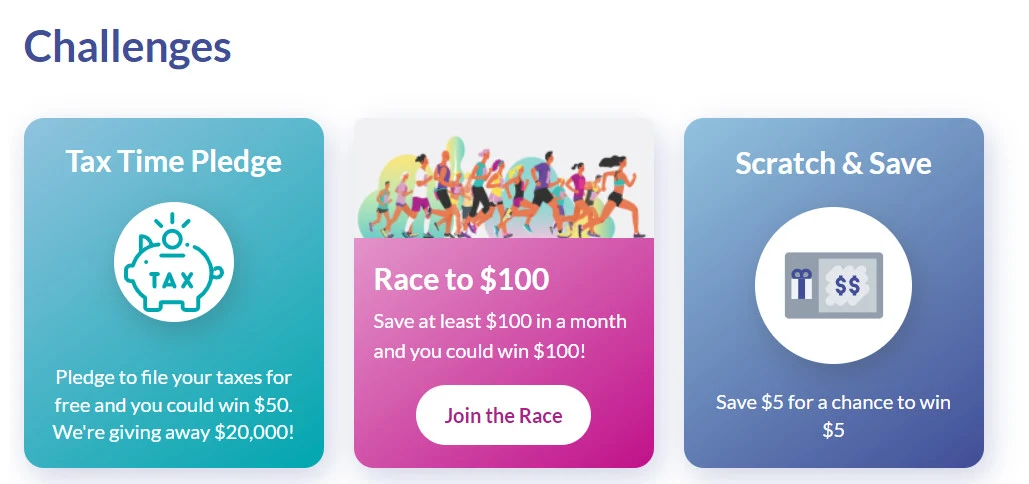 Types of accounts you can link (from over 11,000 financial institutions):
savings
checking
PayPal account
prepaid debit card where you save
To get started with linking your account, you simply choose from over 11,000 financial institutions, and login with your credentials. This is done through Plaid, which allows people to securely connect their financial accounts to the apps they want to use.
In fact, they're used with so many apps, that they have a portal where you can sign into Plaid itself, and manage your connections.
Check out the next two sections for more information about how to get rewarded.
How to Earn Points with SaverLife
There are many ways to earn points with SaverLife.
For example, saving at least $5/week will allow you to earn enough points (250) to possibly win $5. You should know, that they take the "net" amount that you deposit. Meaning, if you deposit $15 into your savings account, but then withdraw $20, you do not receive the 250 points.
You automatically get 250 points when you link your bank account.
You can go to the Activities tab, and see what personal finance articles you can read or other activities you can do to earn between 25 and 300 points.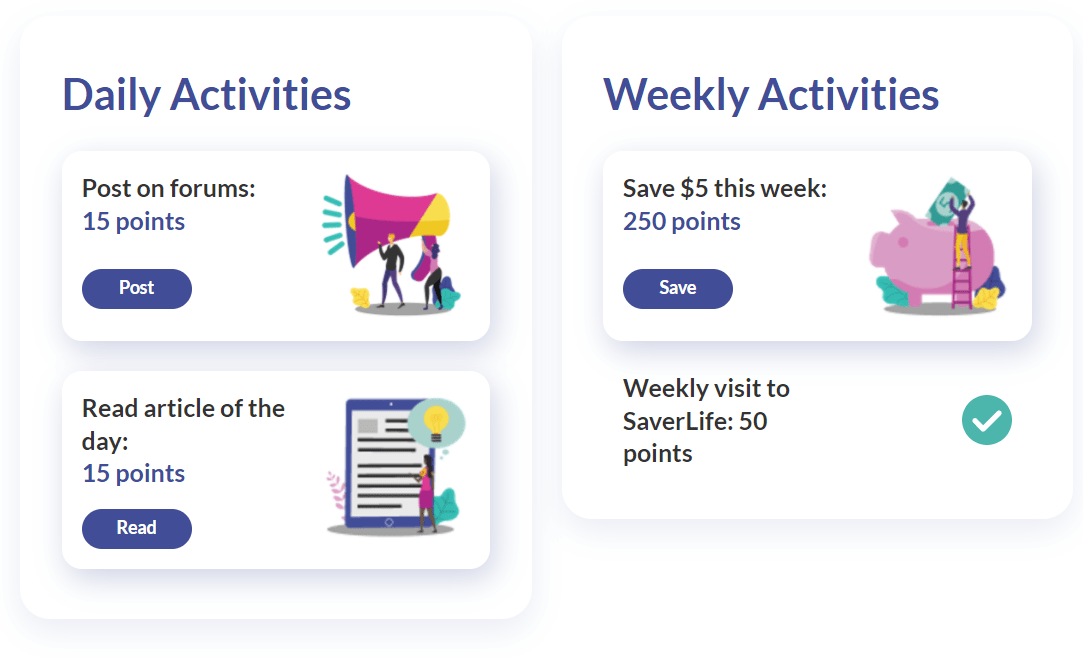 There are three different categories to choose from:
Family finances
Tax time
Savings
You can also earn points by taking surveys (right now, there are two surveys under my dashboard – both for 300 points).
Here are the results from a quiz I took:
Just logging into your account at least once a week earns you 50 points, and so does recording your weekly budget.
Does SaverLife Give You Money? How to Earn Cash with SaverLife
When you set up a savings challenge, you can win money by saving money.
You can also redeem points to try and earn cash prizes through the Scratch & Save cards.
Scratch & Save gives members the opportunity to win prizes each week, based on savings behaviors and actions you take. Each 250 points you earn gets you one Scratch & Save card, and you could win $5. You're allowed to do up to 3 Scratch & Save cards per week.
Once you connect a bank account, you can then take part in savings challenges. The app will automatically track your deposits and withdrawals from this account, so cash rewards are automatically applied.
Hint: you'll want to set up your payment method under "My Account", then "Payout Info", so that you'll receive any cash winnings. Payment methods are either through Venmo, PayPal, or ACH Transfer.
Why You Want to Link Your Savings Account
You can still earn points if you don't link your savings account – through reading articles and taking surveys.
However, there are two reasons why you would want to link up:
Participate in challenges where you can win money for saving (such as the Race to $100)
Unlock new activities to build your savings and earn points
Is SaverLife emergency fund legit? Yes. But they've run out of funds. During the last several years, SaverLife was able to choose 5,000 people to receive emergency fund grants to help with paying bills – the people were chosen by income volatility automatically calculated from their linked savings accounts.
Is SaverLife Legit
Yes, SaverLife is legit. According to CharityNavigator.org, they have a current rating of 96.30 out of 100. That's excellent!
Some people have questioned whether they're legit due to the amount of time it took for their accounts to get rewarded points. You should know that it may take between 3 and 5 days for your savings activity to show up on your dashboard (this depends on your financial institution), and points may take a day to show up – both of these reasons are why some people have questioned whether or not SaverLife is legit. You'll just need a little patience to use it.
For example, I took a survey for 300 points. It acknowledged right away that I earned the points with a banner at the top of the page, and it showed up right away under my "Points Summary", but my new points weren't reflected in my Point Store area for a bit.
I logged back in the next morning (so, about 12 hours), and they were available for me to use in the Points Store:
Rest assured SaverLife will never touch your money (though they will send you some, if you're lucky!). That's because they are not a bank. They monitor your activity, but they can't touch your money.
Tips to Use SaverLife
Just a few tips here to help find your way around.
Under "My Dashboard", you'll find your:
Activities – here's where you'll find activities you can do to earn points (like reading articles from money experts).
Points Store – here is where you can redeem points, typically for Scratch & Save cards.
Points Summary – you can track your earned points here.
What about a SaverLife app?
While there is no app, the website is mobile-friendly. You can make a shortcut for their website for your iPhone home screen by clicking the "share" button on the iPhone, scrolling down, then clicking "Add to Home Screen".
Also, use the SaverLife app with this article on how to start a money saving challenge.
Overall, I'm very pleased with SaverLife. I feel they're a totally legit way to earn a little extra cash towards your savings – while there is no guarantee of this, their forums are filled with people who have earned $5 here and there – and they really help incentivize saving money all around.
The following two tabs change content below.
Amanda L. Grossman is a writer and Certified Financial Education Instructor, Plutus Foundation Grant Recipient, and founder of Frugal Confessions. Over the last 13 years, her money work has helped people with how to save money and how to manage money. She's been featured in the Wall Street Journal, Kiplinger, Washington Post, U.S. News & World Report, Business Insider, LifeHacker, Real Simple Magazine, Woman's World, Woman's Day, ABC 13 Houston, Keybank, and more.
Read more here
.
Latest posts by Amanda L Grossman (see all)