No need to call an expensive catering company just to enjoy your party – check out these make ahead summer meals for a crowd.
Hosting a crowd this summer and you'd rather be mingling over mocktails than slaving over a hot stove for the day?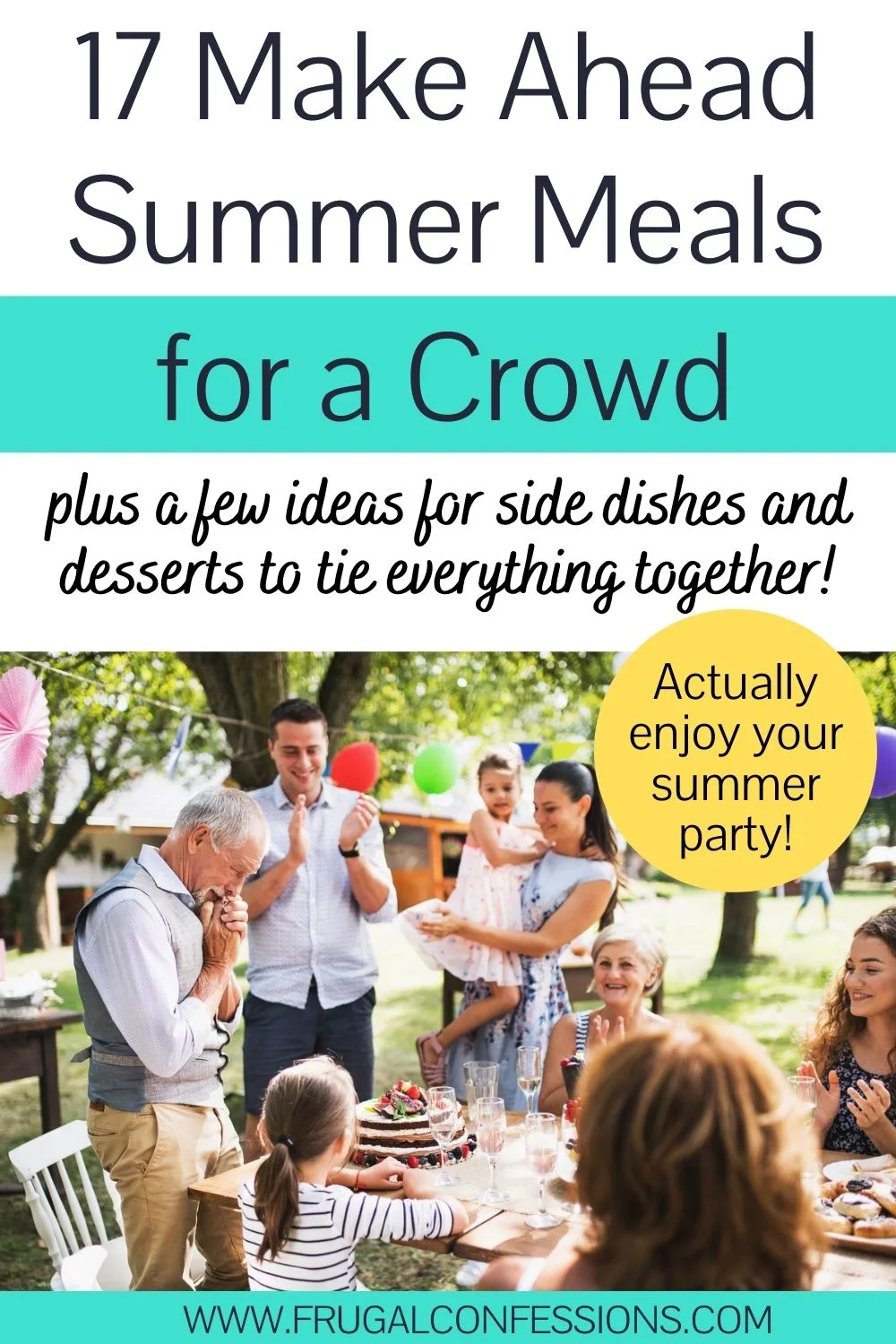 I hear you.
That's why I've created this awesome list of make ahead summer meals for a crowd.
Hint: most of them are healthy, too!
Make Ahead Summer Meals for a Crowd
Go through this list of make-ahead, easy summer meal ideas for large groups, and print out the recipes that you'll use to cook for your guests before the day of the gathering.
Then, make sure you get your own drink ready – the one in your hand while you casually mingle around the patio. Because your party is about to run itself (well…mostly)!
Serves: 16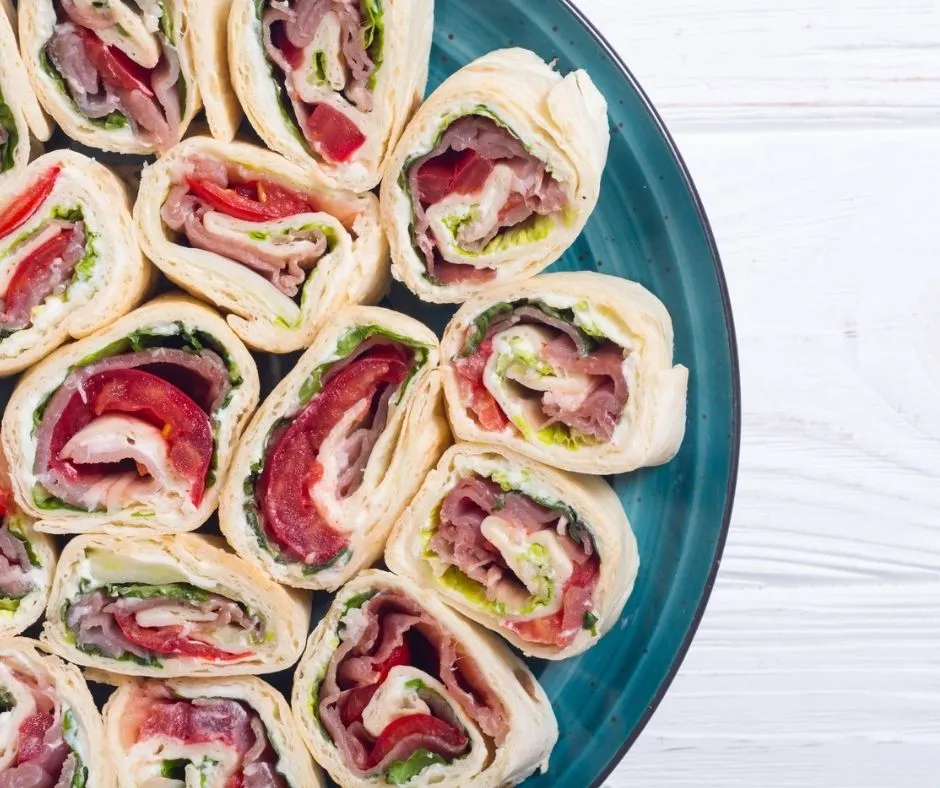 I absolutely love the cranberry-cream cheese that goes into these turkey sandwiches.
And the fact that you can make them ahead of time and simply put them out on the day of your gathering?
Perfecto.
Serves: 8
Picture this: your guests nibbling on meats, cheese, fruits, dips, and all kinds of other things…WITH you (instead of you rushing back and forth between the oven and crockpot in the kitchen).
Well, that could be your party experience if you make 2-3 summer-themed charcuterie boards in the days leading up to your party.
A few more summer charcuterie boards to pick from:
Serves: 24
Here's a meaty, make-ahead pasta that can sit in the fridge for 3-4 days.
Serves: (doesn't say – use your best judgment)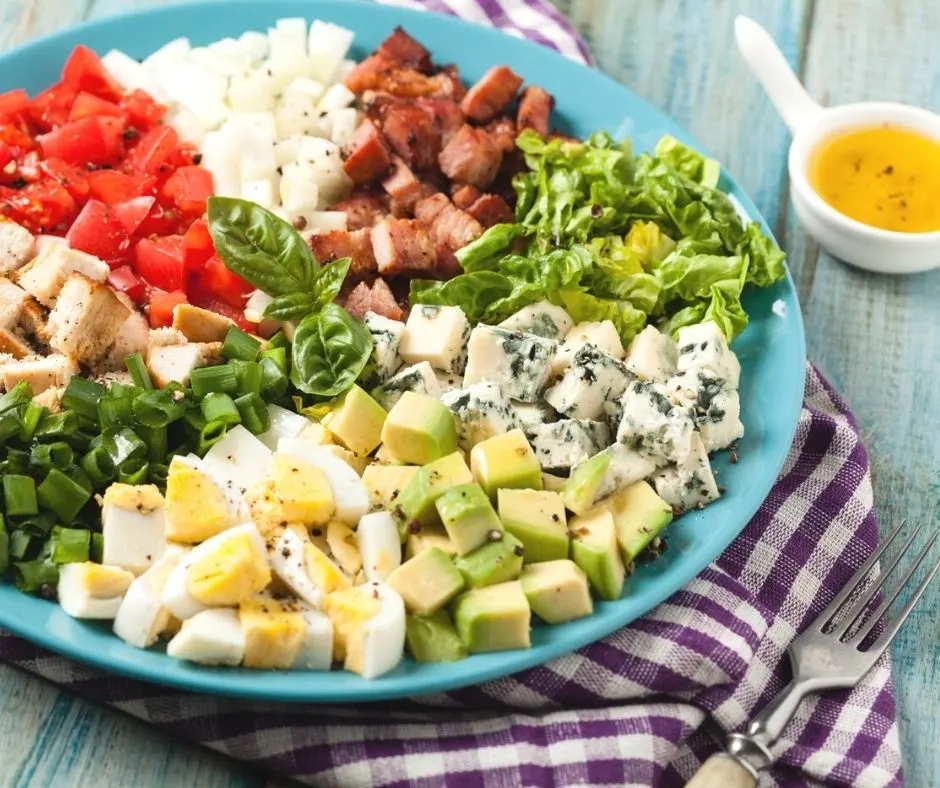 This cobb salad platter looks ah-mazing. In fact, I think I'm going to make something similar (though much smaller) for my own family tonight…
I also love this because your guests can easily customize their plate from it. And you make it the day before! Just perfect.
Serves: 8
Ever heard of Hawaiian Haystacks? They're actually pretty healthy.
You can prep all of the toppings in cute bowls ahead of time, and even cook the chicken in gravy. The day of, you'll just want to cook some rice, and reheat the chicken gravy.
Serves: 9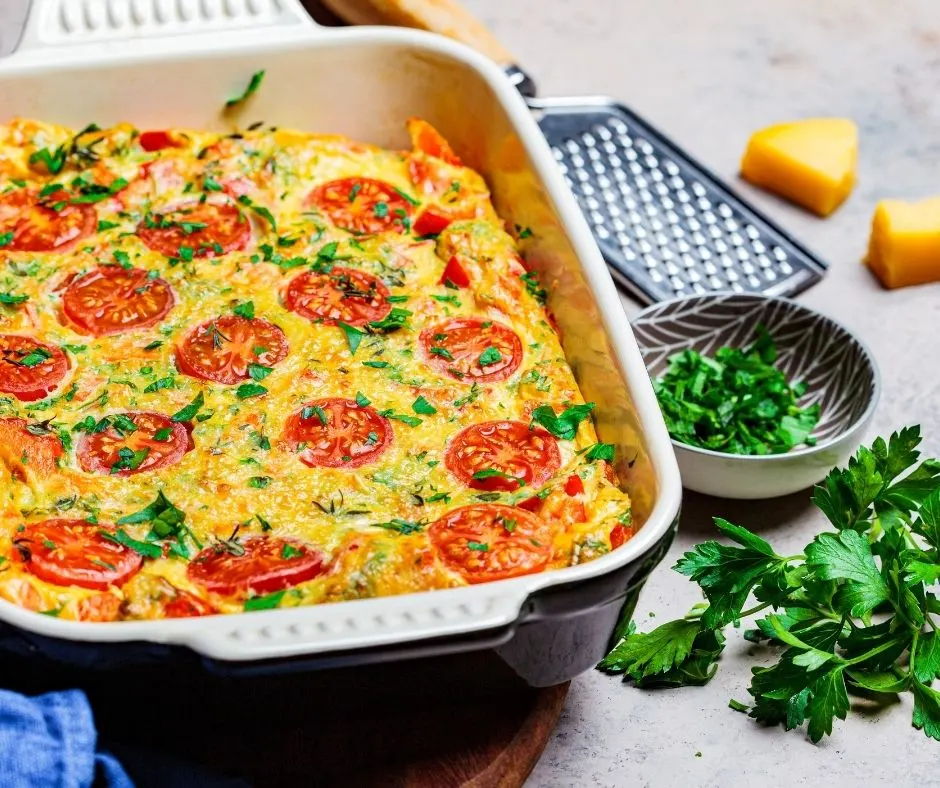 How do you feed a large group cheaply? One way is to make a main dish made of eggs (and to buy those eggs in bulk from Costco or Sam's Club).
You can make this and store it in the fridge for up to a week – just think of all the other party details you could get done in that time.
Serves: 8-10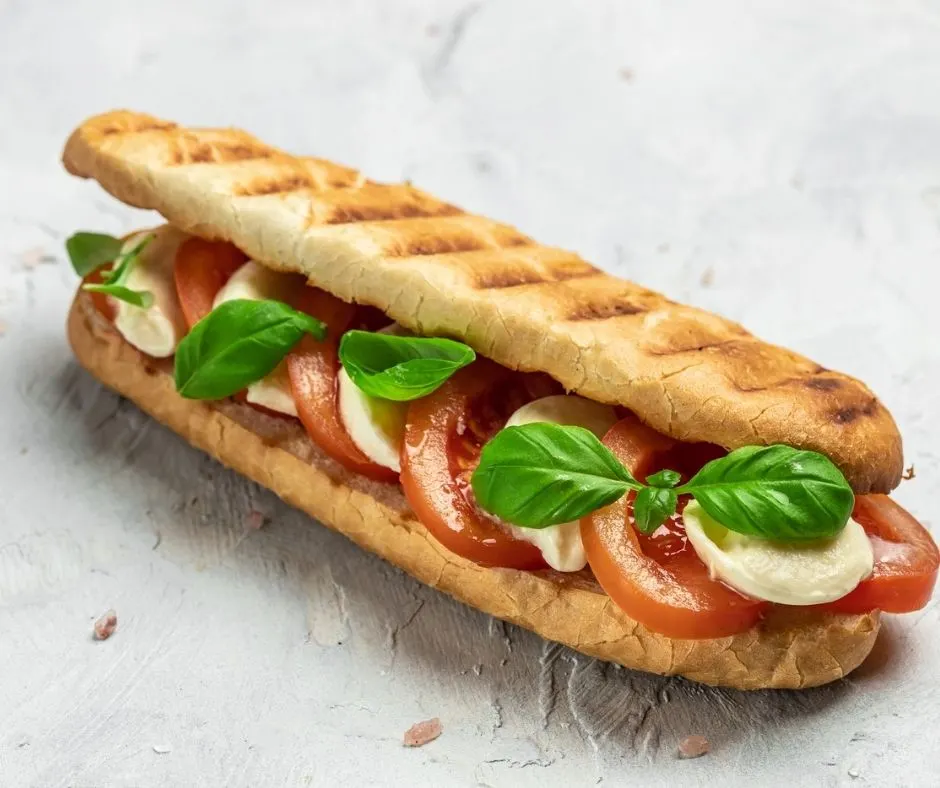 Ripe tomatoes, pesto, crusty bread, mozzarella cheese…all ingredients that remind me of a yummy, lazy summer day. And you can make this ahead of time, for a crowd!
Serves: Makes 18 (you'll need to estimate how many skewers per person)
While these aren't as easy to make as some of the other recipes, you can certainly make them ahead of your big day.
Which means, you can control how busy and not busy you are on the day of your party!
Serves: 12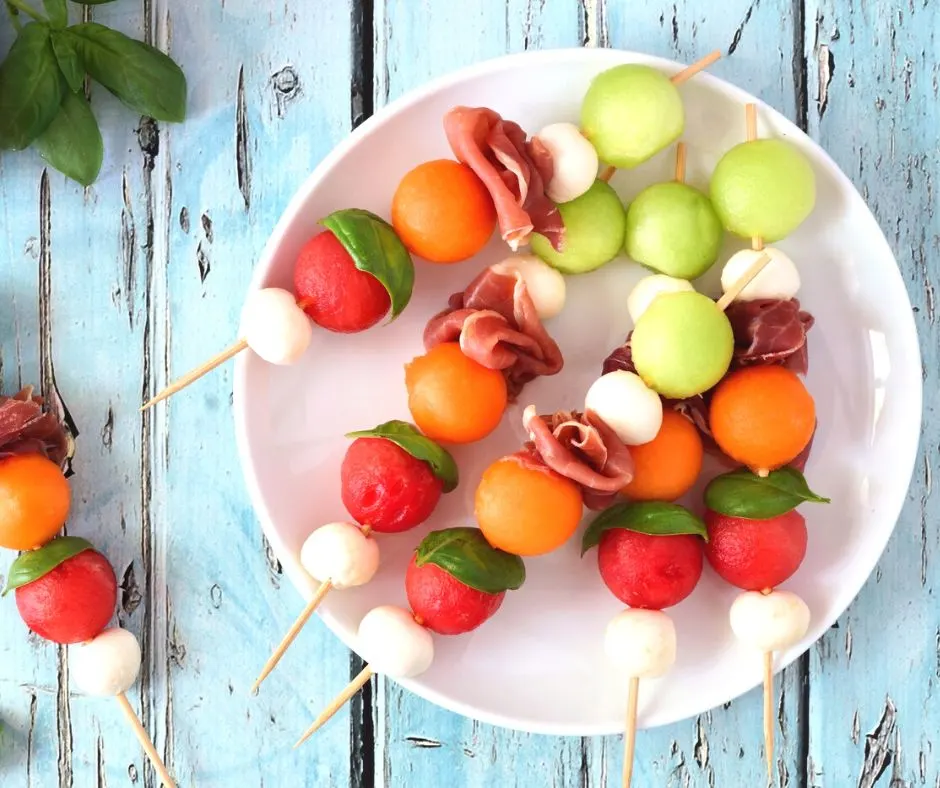 Here's a fresh way to serve a main summer dish: skewer this cantaloupe, prosciutto, basil, and mozzarella balls up ahead of time.
Serves: 18-20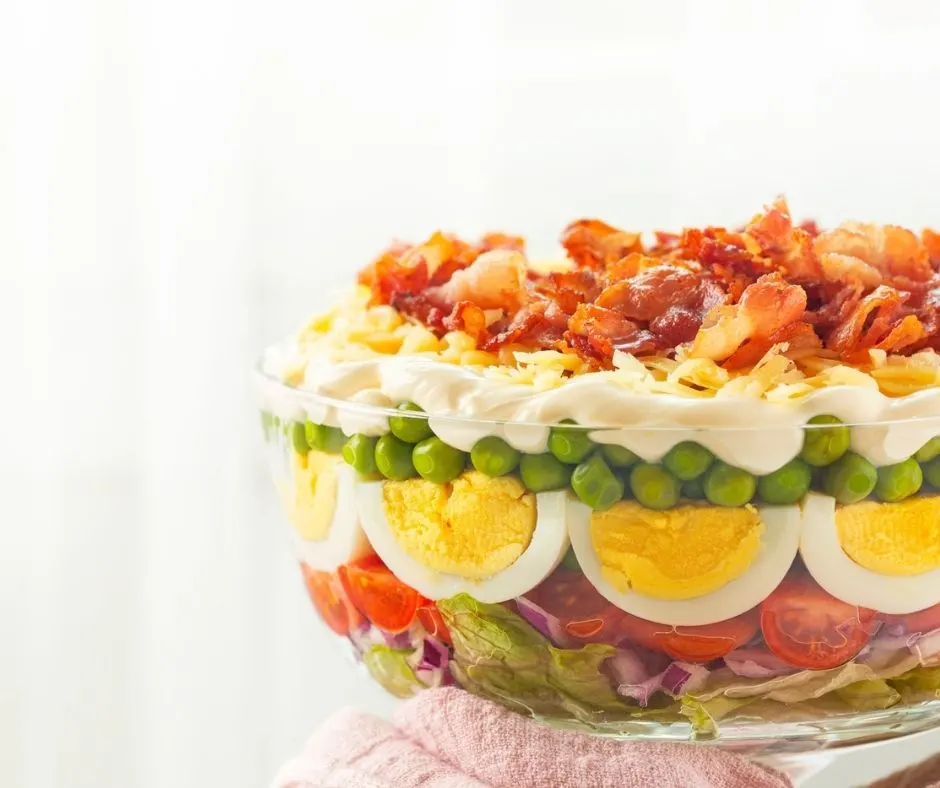 This is just like my Mom's make-ahead 7-layer salad. And we enjoyed it for many a family summer gathering in my childhood.
Psst: trying to feed a crowd of 20? Here are 13 easy meals for 20 people.
Serves: 50 (I think they mean it yields 50 pieces?)
I happen to love Italian subs, so I'm glad to see an option to not only make a bunch of them for a crowd, but to do it ahead of time.
Hint: you'll also want to check out my article on 21 easy vacation meals for a group.
Serves: Makes 50-60 (you'll need to estimate how many shrimp per person)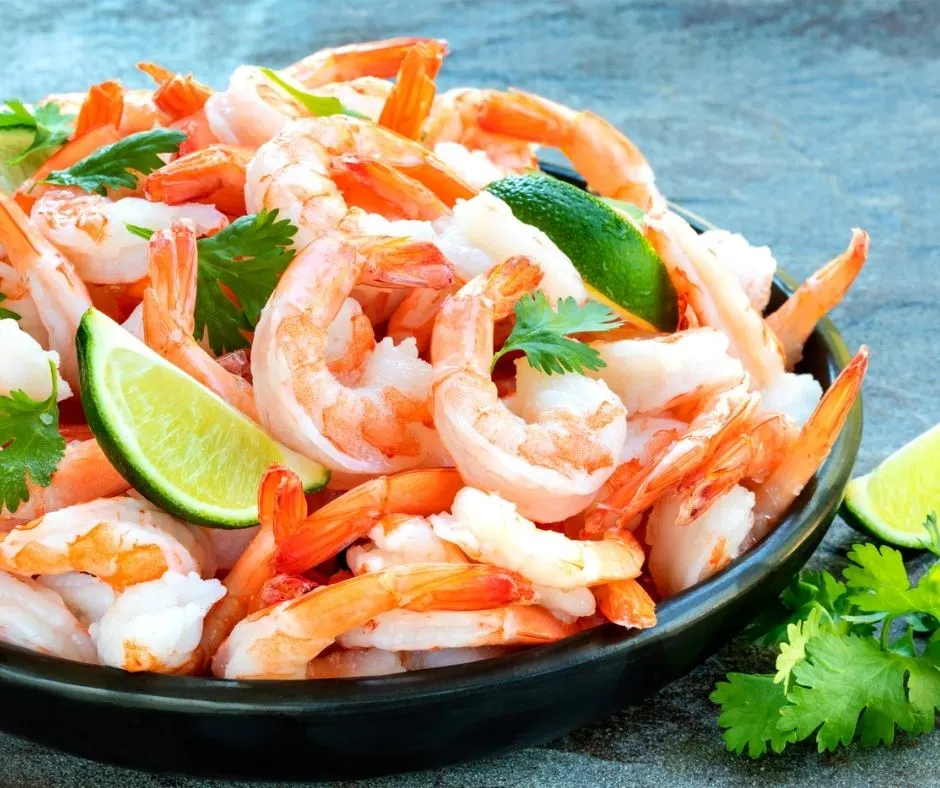 Here's a more expensive option, but one that is:
Easy
Make-ahead
Refreshing for summer
Remember to think ahead about how to keep your platter on ice, and how long the shrimp should stay outside for safety reasons.
Serves: 12
What if you can prep the main dish ahead of time…and all you would need to do the day of is grill some hot dogs?
That's what this hot dog charcuterie board can do for you.
Serves: 12
And why not mention this awesome hamburger board? Yet again – you can do everything ahead of time, and then just give someone the task of grilling the burgers the day of.
Servings: 18
In case you've got guests who are vegan or vegetarian, here's a meatless main dish that serves a lot of people at once.
Servings: 10-12
What I love about this make-ahead salad – besides it being one of the most inexpensive ways to feed a large group – is that it can serve as a main dish, since it has two proteins in it (ham and hard-boiled eggs).
Servings: 10
What I love about these sandwiches (other than the taste)? Is that they taste ay better when they've set overnight.
Perfect for cooking a summer meal for a crowd!
Hint: You'll need to make two loaves to serve 10, FYI.
Bonus: Side Dishes and Desserts for Your Crowd
I didn't want to leave you with just main dishes, so here's a few make-ahead side dishes and make-ahead desserts to pair with your meal above.
Hint: you'll also want to check out my article on 17 easy side dishes for family reunions.
Make Ahead Side Dishes for a Crowd
Servings: 12
Here's a wonderful corn-and-potato based summer salad to go along with one of your make-ahead meals.
And don't worry – this side dish can be made ahead of time, too!
Serves: 8-10
This wild rice salad looks simply awesome. Fresh fruits, nuts, wild rice, and much more. Yum-o.
Serves: 16
Don't forget the little bowl of honey, some butter, and whatever other condiments you'd like to pair with this cornbread.
Make-Ahead Desserts for a Crowd
I hope I've shown you a way to both enjoy your summer party or gathering AND feed your guests some really yummy foods. All thanks to these lovely, make ahead summer meals for a crowd. Now if you don't mind, I'm about to plan my own summer party with a large group!
The following two tabs change content below.
Amanda L. Grossman is a writer and Certified Financial Education Instructor, Plutus Foundation Grant Recipient, and founder of Frugal Confessions. Over the last 13 years, her money work has helped people with how to save money and how to manage money. She's been featured in the Wall Street Journal, Kiplinger, Washington Post, U.S. News & World Report, Business Insider, LifeHacker, Real Simple Magazine, Woman's World, Woman's Day, ABC 13 Houston, Keybank, and more.
Read more here
.
Latest posts by Amanda L Grossman (see all)