Easy vacation lunches so that you can both save money on food while traveling, and not be tied to the kitchen at your rental.
Easy vacation lunches are your ticket for both cutting down on food costs while traveling, and making sure you're not tethered to the kitchen.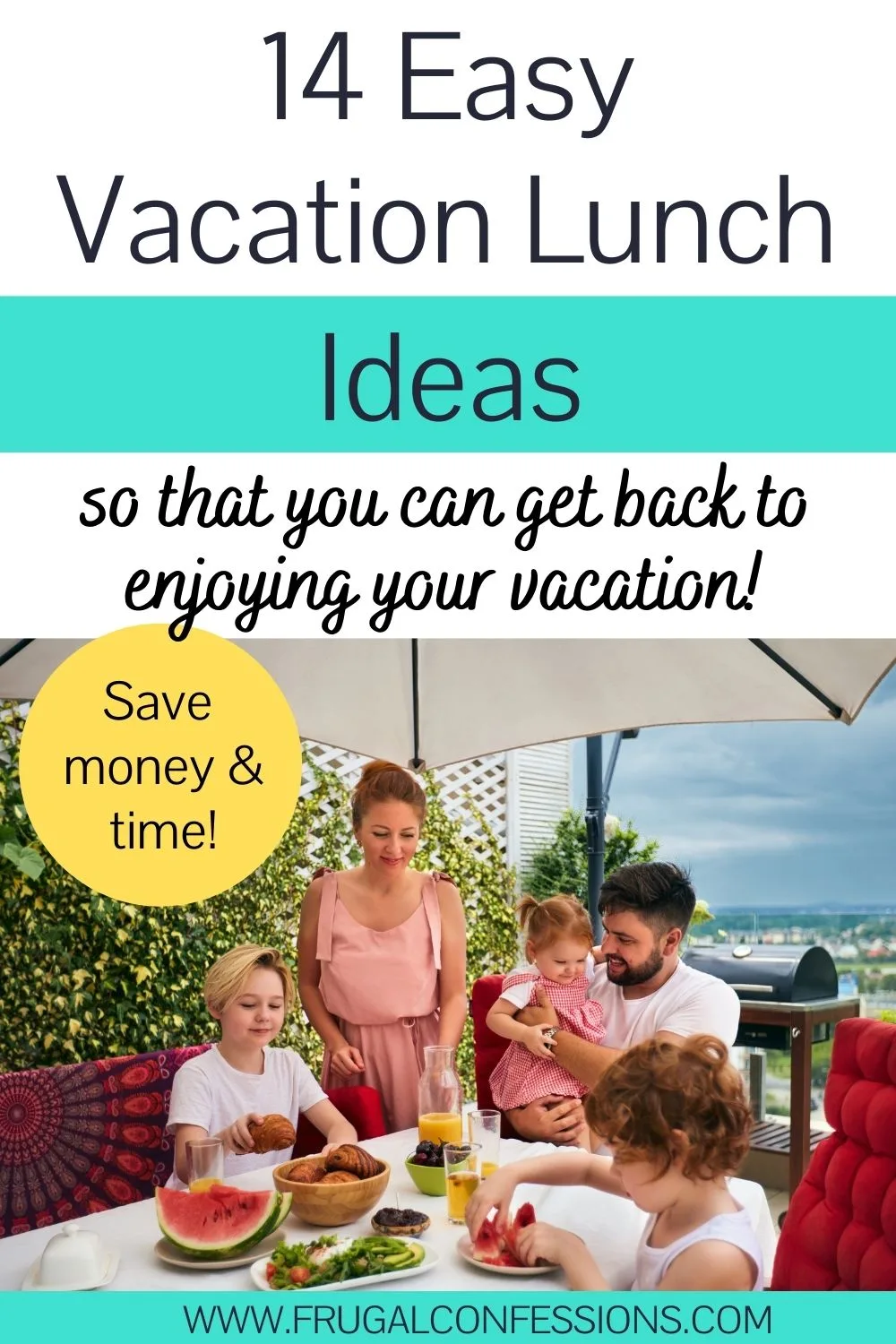 What does that even look like?
Any of these makes for an easy vacation lunch:
Can be made ahead of time, or partially prepped ahead
Can be transported easily, so that you're not tied to the rental
Is customizable by the eaters enough that everyone can find something to make them happy (but without you cooking extra things)
Ready to get started?
Make Ahead Vacation Lunches
Make ahead lunches are one of the easiest ways to get the most out of your time on vacation, without spending a fortune.
Plus, I've got tips scattered here and there to make these make-ahead lunches even more convenient.
1. Charcuterie Board Lunch
How nice would it be to come up off the beach into your beach rental…and simply get out some plates and a pre-made charcuterie board (wooden board filled with food everyone grazes from) for your family to feast on?
It can't get simpler than that.
Hint: this is especially good for families with younger AND older kids – everyone gets to customize and help themselves. Worried that your kids will not get healthy foods in them? You can make a rule that everyone has to have something green and something (fill in the blank color for fruits you chose) on their plates.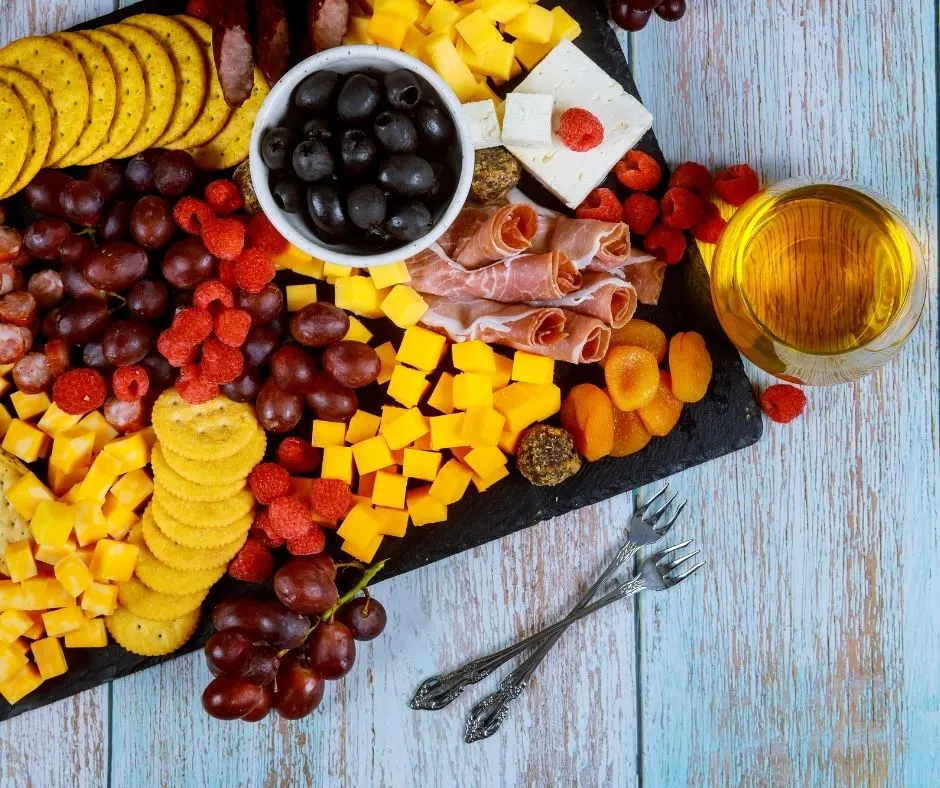 What you'll need from the store:
Selection of cheeses
Selection of pre-cooked meats
Crackers (keep these off the tray until you pull it out of the fridge)
Fruits
Dips, such as hummus, pesto, fruit jam, etc.
Hint: to make this one even easier, go ahead and scout out pre-chopped veggies/fruits/etc. from the produce section of the local grocery store wherever you're staying. You might even score discounted ones that need to be eaten in a day or so!
Here are a few, specific, charcuterie boards you can put together:
2. Pancake Sandwiches
Choose one morning to make pancakes for everyone, and make lots of extras to use for lunch – either that day's, or the next day's lunch.
Psst: this is one of my favorite frugal cooking tips!
After breakfast (and before heading out for your day's exciting adventures), make the following pancake sandwiches and store them in the fridge for when you all get home:
Nutella & Banana Pancake Sandwiches
3. Pizza Pasta Salad
Does your family love pizza?
This is a pasta salad served cold, which means you can whip it up in the morning (or night before), then bring it out of the fridge at lunchtime.
4. Slow Cooker Turkey Chili Bowls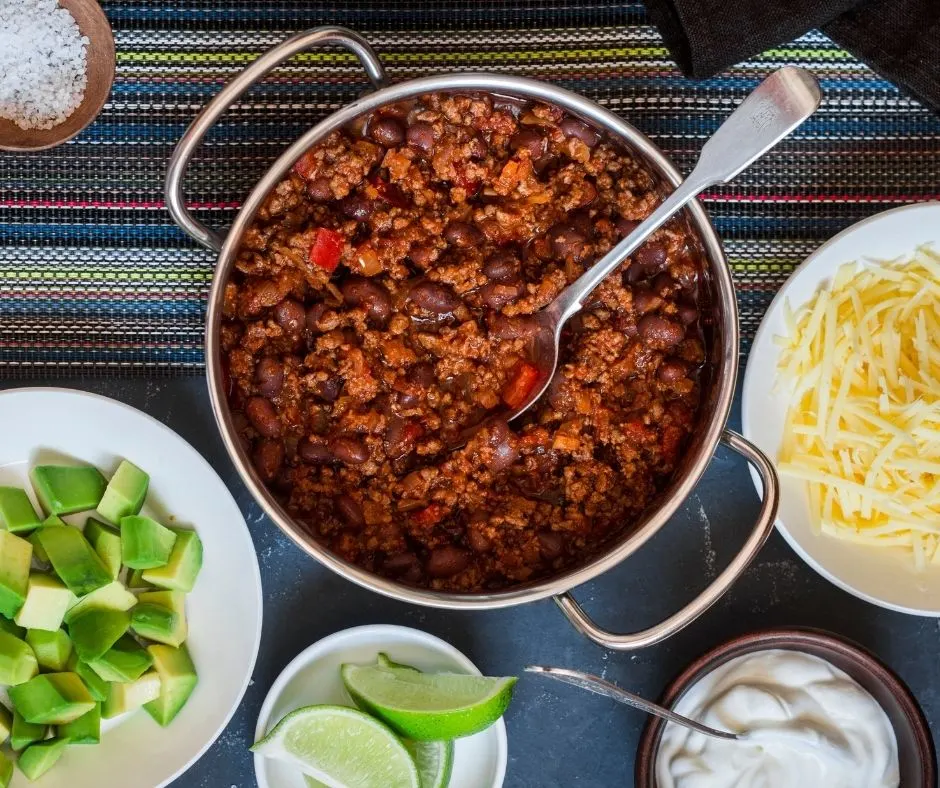 In the morning, put together all of the ingredients in a slow cooker.
When you come home for lunch in either four or six hours, set out the toppings so that everyone can create their own chili bowls:
Fritos
Avocado cubes
Cheddar cheese
Onions
Hint: you can also chop up the fixin's ahead of time, put them on a plate, and wrap them up in the fridge.
5. Hot Panini Sandwiches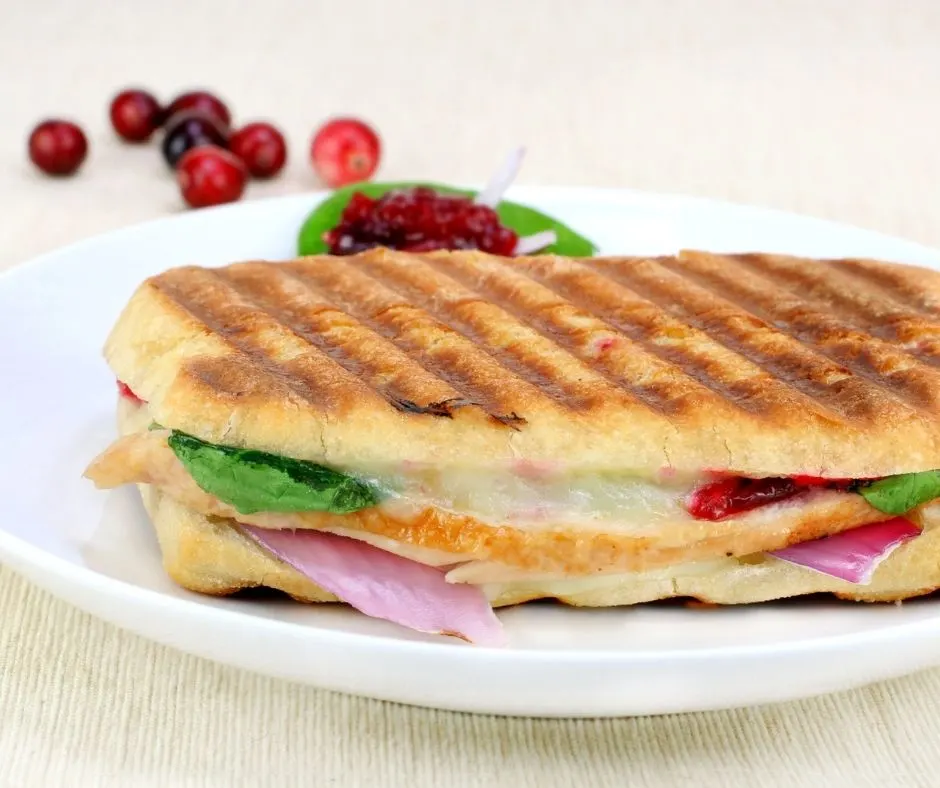 You can assemble your panini sandwiches ahead of time, then pop them into a Tupperware container.
At lunch, simply heat them up in grill pan, a Foreman grill, or a frying pan (by pressing down the top of each using a heavier pan or your spatula on top).
Here are some panini sandwich recipes:
6. Chicken, Apple, and Pecan Salads to Go
You can use mason jars, or bento boxes/Tupperware containers to make this salad for each person in your family.
Store them in the fridge for lunchtime, or stash them in an insulated lunch cooler to take with you. Don't forget the forks!
7. Pinwheel Sandwiches
Here are lots of different combinations for pinwheel sandwiches to make for everyone. Make them ahead of time, and slice them up – the work will be done before your kids have time to tell you how hungry they are!
Psst: Check out these 17 other make ahead summer meals for a crowd.
8. Egg Muffins
Whip up a batch of these egg muffins the day before, and eat them for lunch (and quick snacks) for the next day. Great way to cover both protein and veggies.
These also travel really well! Just keep them cold in an insulated bag.
9. Overnight Layered Salad
How about creating a layered salad the night before – in just 20 minutes – and then enjoying that for lunch the next day?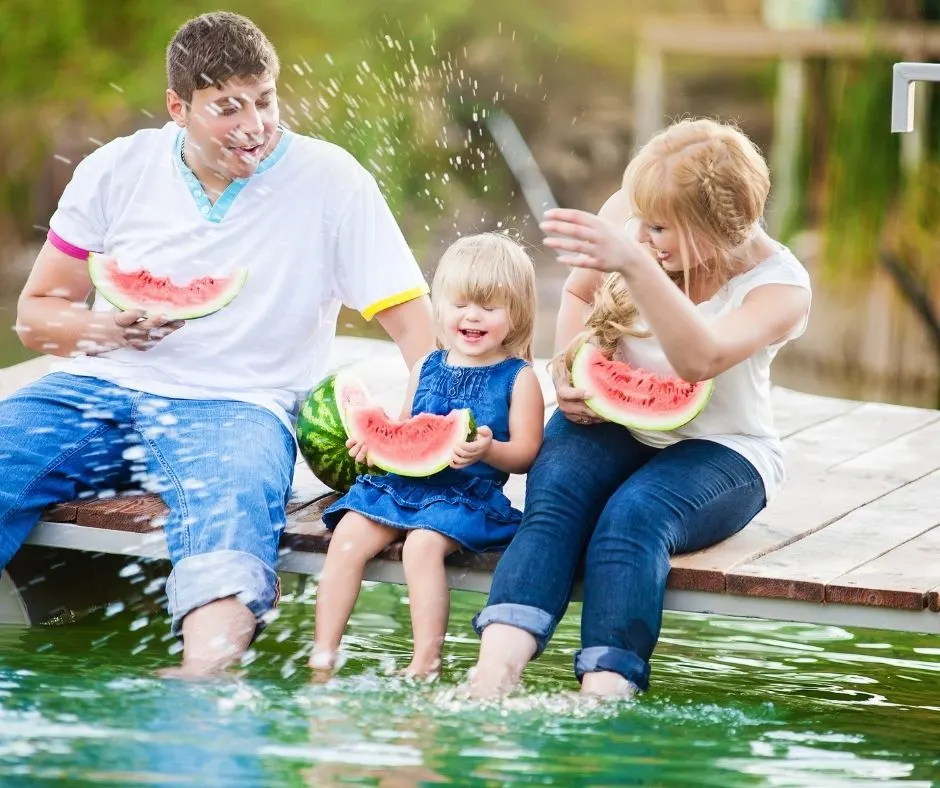 15-Minute Vacation Lunches
Got 15 minutes?
Great – these 15-minute, easy vacation lunches are for you.
1. Make-Your-Own-Sandwich Board
You're just come in from mini-golfing, or swimming, or any number of wonderful vacation activities with the fam.
And…everyone's "starving".
No worries – because you're going to whip this one up in just 10 minutes.
What you'll need from the store (ahead of time):
Condiments (mustard, mayo, pesto, Italian dressing, etc.)
Green stuff (we find romaine lettuce, or raw spinach make great sandwich greens)
Fun bread (while we normally eat "regular", square bread at home, when on vacation, we step things up with either croissant rolls or Hawaiian rolls)
Cheese
Meats
Something crunchy and salty (pretzel sticks and hummus, chips, trail mix, granola bars, etc.)
Something crunchy and healthy (carrot sticks, chopped bell peppers, watermelon slices, etc.)
Get out some plates, and let everyone make their own sandwiches (oversight, as needed, depending on the age of your kiddos!).
2. 15-Minute Tex-Mex Wraps
These are one of my favorite, go-to lunches during the week.
You can use any chicken you've got – leftover from a meal, frozen chicken tenders you can microwave/put in the oven, etc.
And you can eat these cold.
Go ahead and assemble the wraps ahead of time, and then make the quick sauce that goes with it. When you're ready to eat, just open up the tortillas and put the sauce inside, then reclose.
Lunch, done.
3. BBQ Chicken Stuffed Sweet Potatoes
I cannot talk ENOUGH about how yummy this recipe is. My husband and I eat these probably every other week!
The way to make them 10 minutes or less? Is to get a Rotisserie chicken (or, leftover BBQ chicken you make for dinner while on vacation), and to cook the sweet potatoes in a crockpot while you're out and about.
When you're ready to eat lunch, you'll literally just slice the sweet potatoes open, smash around a nice base to put chopped red onions, the chicken, BBQ sauce of choice, and cheese onto. Then, you put them in the oven for 15 minutes at 425. Done!
4. Pita Bread Pizzas
Forget about kneading pizza dough and letting it rise. Instead, serve your crew pipin' hot pita pizzas, in just 15 minutes!
5. Ham and Cheese French Bread Pizza
I just love being able to pick up a few of those $1.00 loaves of French bread at the grocery store, and making a quick, hot meal out of it for lunch. Here's a ham and cheese French bread pizza recipe – lots more you could do with this, too!
I am so excited for all of the time and money you're about to save by using these easy vacation lunches. Just remember to make your grocery shopping list ahead of time, after picking out the ones that work best for you and your family. We do this, then as soon as we get to our rental, one of us grocery shops for the long weekend/week. After that, it's relaxation and fun family time!
Psst: still in the planning phase of your vacation? Here's 7 free vacation budget worksheet printables to help you.
The following two tabs change content below.
Amanda L. Grossman is a writer and Certified Financial Education Instructor, Plutus Foundation Grant Recipient, and founder of Frugal Confessions. Over the last 13 years, her money work has helped people with how to save money and how to manage money. She's been featured in the Wall Street Journal, Kiplinger, Washington Post, U.S. News & World Report, Business Insider, LifeHacker, Real Simple Magazine, Woman's World, Woman's Day, ABC 13 Houston, Keybank, and more.
Read more here
.
Latest posts by Amanda L Grossman (see all)