Use these free printable kitchen inventory sheets to make your kitchen more efficient, and save money on your grocery bill.
Trying to cut down on how much you spend at the grocery store? Then you might want to use one of these free printable kitchen inventory sheets to inventory your food.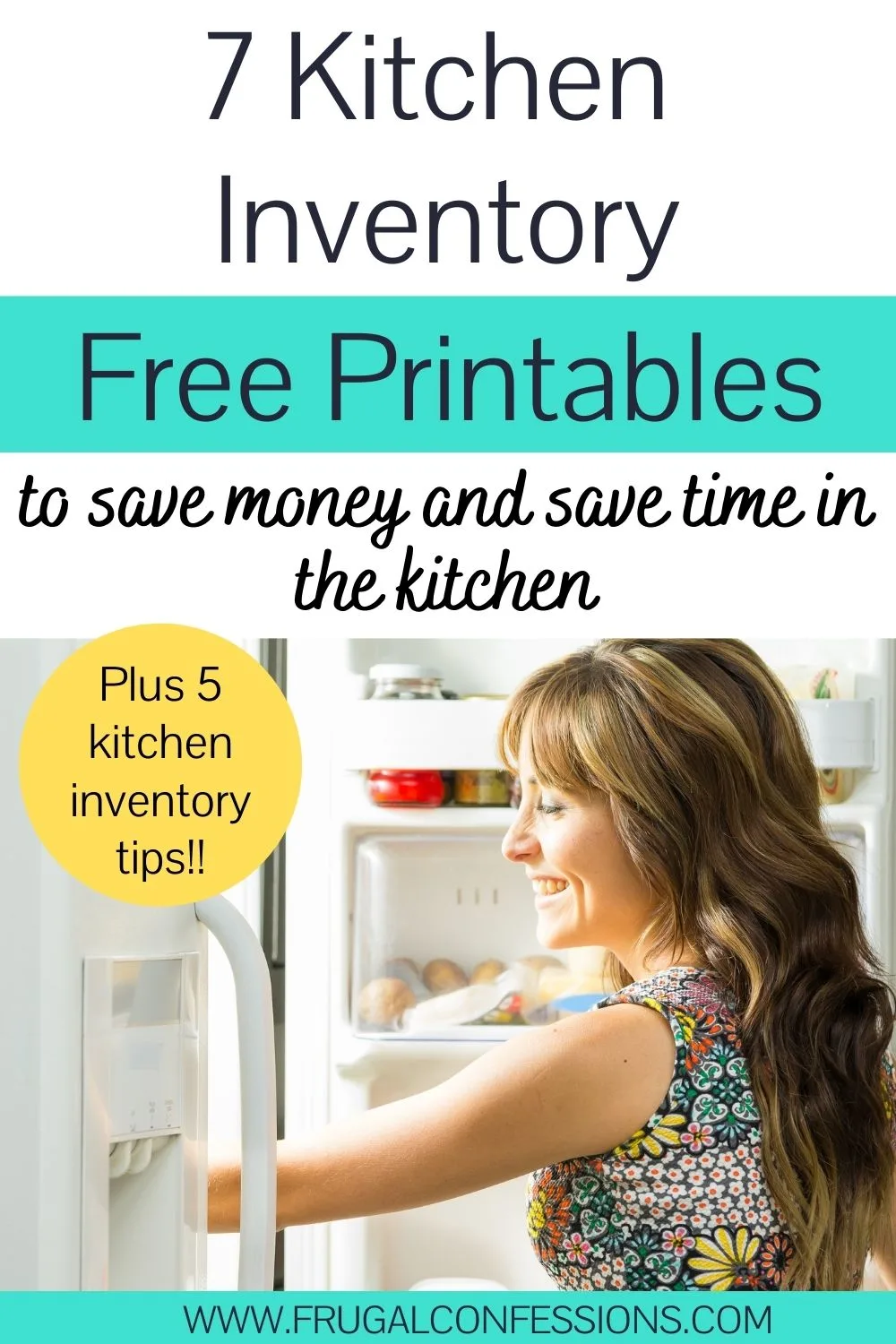 I recently took part in a fun challenge called Shelftember, and one of the things I learned was that I am NO GOOD at keeping track of all the foods in my freezer, pantry, and even the back of our fridge.
This has led to duplicate buying of certain food items, and expiring foods that I only have found after the fact (like, 3 months after the fact).
That's not only food waste, but wallet waste!
Before we get into the free sheets for how to keep track of food inventory at home, I'll give you a few more reasons why you might want to inventory your food.
Hint: do you need to track ALL of your food going forward? Absolutely not. I find it useful to inventory our food when I haven't done so in a long time, or to just inventory the stuff in the back of our fridge/freezer/pantry that needs to get used up. Also, it can be helpful to just inventory batch-cooked freezer meals, so that you know what you can make in a pinch. Here's a free challenge which guides you through creating six, 5-ingredient freezer meals to get you started.
Why Would You Want to Inventory Your Food?
There are lots of reasons why you might want to inventory your food.
Including:
To be able to meal plan + create your grocery list without having to go shuffle through your pantry/fridge/freezer to figure out what you already have (is that just me?)
To rock your next pantry food challenge (here are 9 pantry challenge tips)
To keep track of all the freezer batch-cooked meals you already have to eat (here's my favorite cheap freezer meals with shopping list, and how to organize recipes in a binder)
To avoid food expiring before you can use it
To be good stewards of your food and resources (here's how to reuse leftover food)
To create a DO NOT BUY list (because you found lots of several things)
To track how much + what types of food you have in emergency food stores
To clean your storage areas out (it's a good idea to take everything out, inventory it, wipe it all down, then put things back in according to the order you'd like or need to use them)
Let's move on to those free printable inventory sheets.
Free Printable Kitchen Inventory Sheets
Do you feel a bit more motivated to get this done?
Okay – here's where I list out some of the best, free kitchen inventory sheets available.
Psst: be sure to check out my favorite frugal cooking tips, my Dollar Tree Meal Plan, and these Dollar Tree lunch ideas for more savings.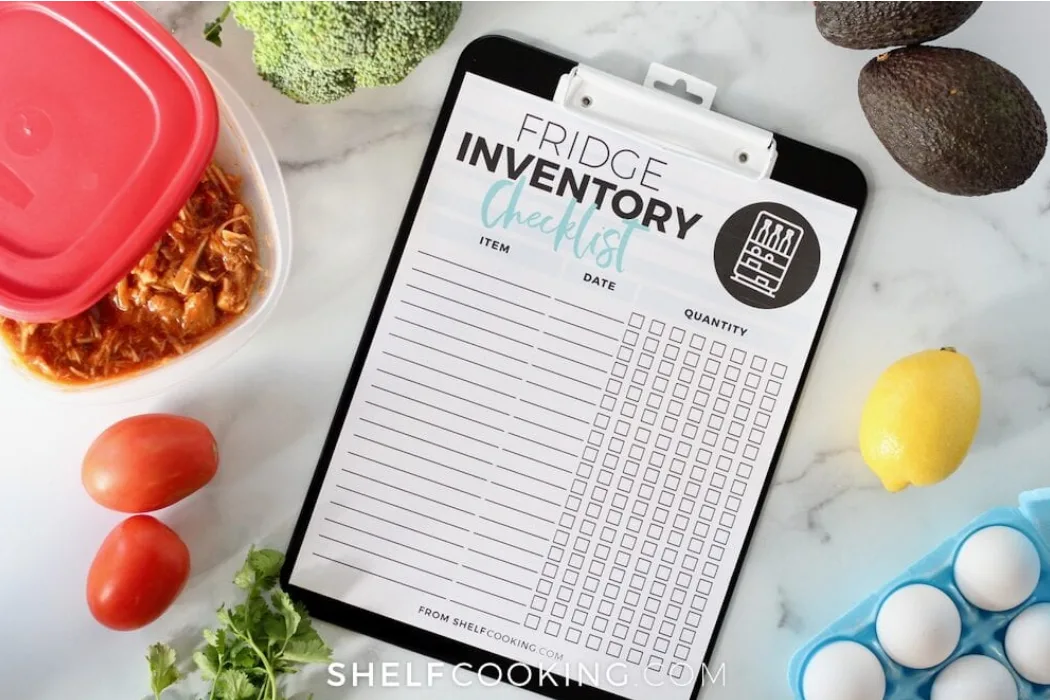 This is the one I started with – it's got spaces for the item, the date which you put an item into your fridge, and then you color in the quantity squares.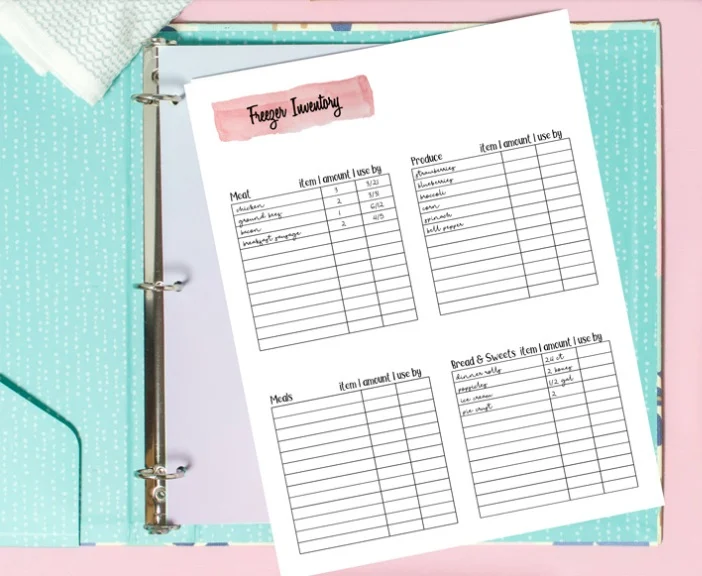 I love the design of this one, and that it's already organized by categories of food (such as meats, produce, breads/sweets, etc.).
Note: this one is only for the freezer.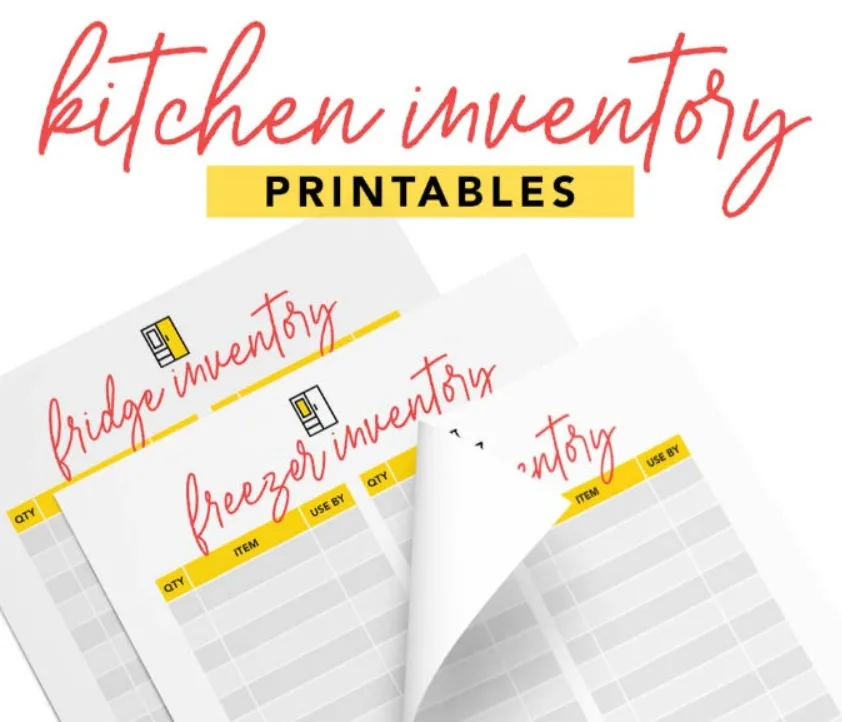 These are very simple sheets for your fridge, freezer, and pantry that you can use to fill in the item you have, the quantity of it, and when it needs to be used by. One and done.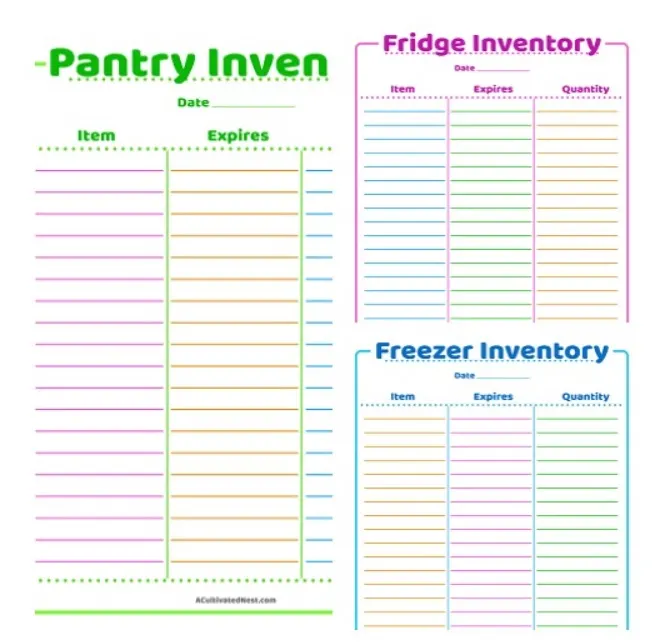 Look at how colorful these are!
Again, there are slots for the item, the quantity you have, and the expiration date.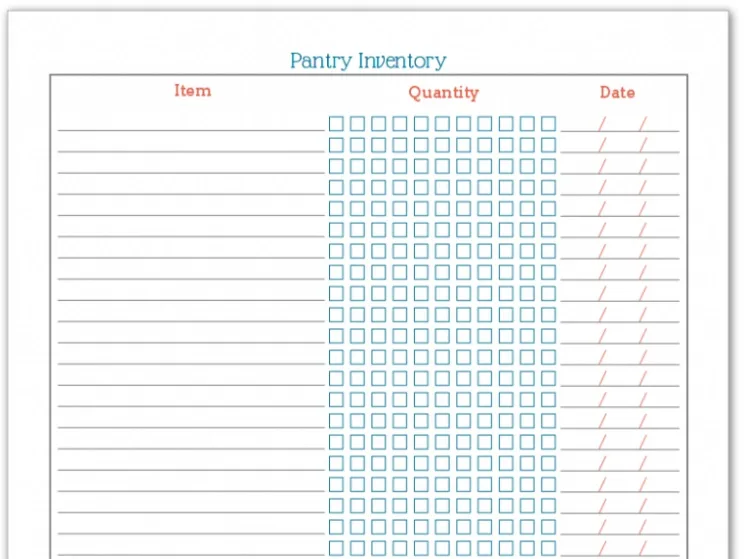 I love her idea to put a slash "/" through each box to indicate how much you have of something, then to put a slash in the opposite direction "\" through it when you've used it up, to make an "X". Good system!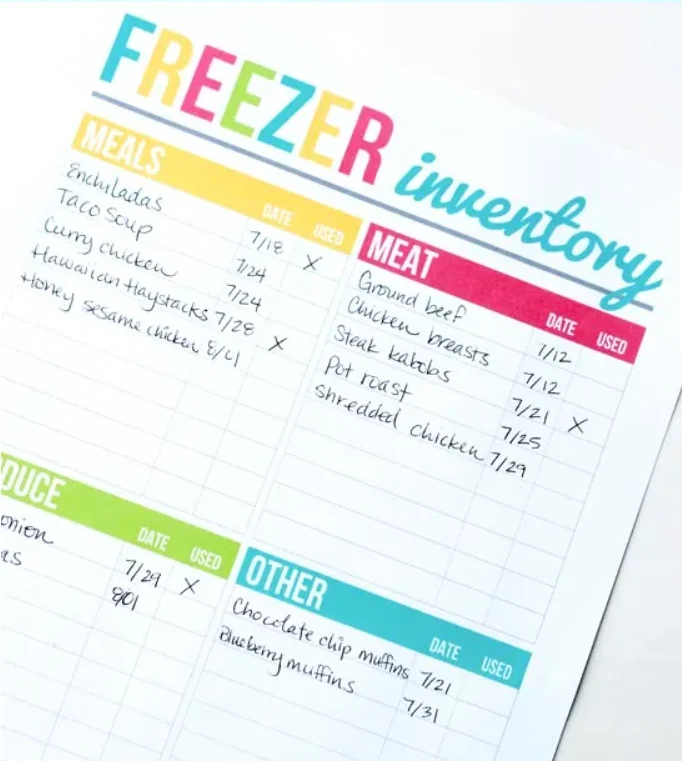 Look at how beautiful this freezer inventory sheet is! It'll be really useful if you batch-cook freezer meals.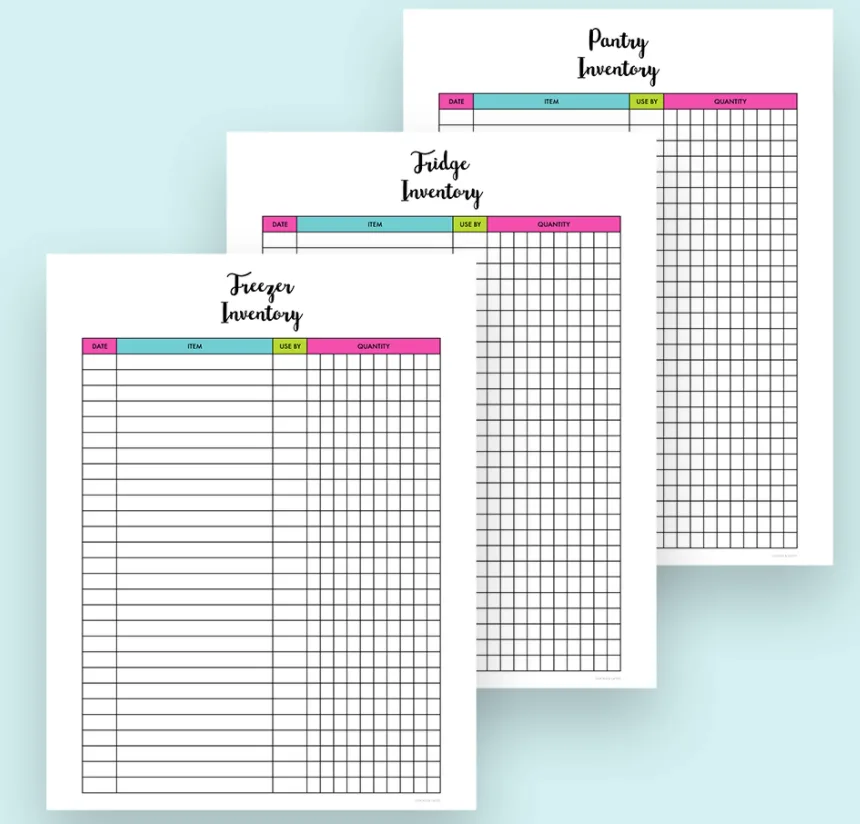 What I like about this set is how many rows there are to fit everything on. Because let's face it – most of our kitchen food spaces runneth over with food blessings!
Food Inventory Categories
What kinds of food categories should you use when taking stock of what you have?
Here are the ones I found useful:
Pastas/grains (there is where I found a lot of duplicates…like, 5 boxes of spaghetti)
Frozen Veggies/frozen fruits
Baking supplies
Canned goods
Condiments
Snacks
Breakfast stuff (cereal, granola bars, etc.)
Spices/seasonings (I personally don't keep an inventory of these; however, I found it extremely useful to go through and organize these/toss out expired ones from 5 years ago during my inventory)
Breads
Sweets
Meats
Tips for After You've Inventoried Your Food
Since I recently did this, I wanted to offer a few tips for what to do to build on the work you already did with one of those free printable kitchen inventory sheets.
Tip #1: Start Using "Use-it-Up" Bins
You've now inventoried your fridge, pantry, and freezer, you've likely uncovered some food items in danger of expiring quite soon.
Something I figured out to do a few years ago is to keep a small bin or basket in the front of each of these food storage areas (even the freezer), and to fill it with the stuff that needs to be eaten soon.
Hint: clear bins for the fridge and freezer are best, so that you, your partner, and kids can quickly see what's inside of them.
You can't imagine how many food items have been saved, and fewer items purchased from the grocery store, by having these bins!
In fact, I like to consult them before I go grocery shopping. I take a few minutes to see what's in the back of whatever food storage area I'm in, and then move an item or two up into the bin so that I'll remember to take from it throughout the week.
You can also put a "Use it Up" sign on the outside, so that your family knows to eat from there, first.
Tip #2: Create a "Do Not Buy" List
You can add certain items as "do not buy" list in the bottom of your grocery list app/grocery list, specifically if you found copies and copies of them from doing the inventory!
For example, I ended up putting snacks, butter (we had so much in the freezer!), and cans of tomato sauce on our Do Not Buy list because of the inventory.
Tip #3: Follow Along with Shelftember
Shelftember is a free pantry challenge that takes place each September. You commit to spending no more than $25 each week, because you are going to eat almost everything for the whole month from your pantry, fridge, and freezer.
Spoiler alert: I found $25/week to be way too strict. And I still saved us over $250 from our normal grocery month spending!
You will learn so much about using the ingredients you have, plus engage in some friendly competition (very friendly – the Facebook group is filled with tons of wonderful women doing this alongside you) by taking part in the next Shelftember.
In fact, I'm taking part in the next one, too! I created this article with 17 non-perishable food recipes that will help you during the challenge.
Tip #4: Get Help Using Up Random Ingredients
You're going to have some random ingredients to use up, before they expire. And you might wonder what the heck to use them for.
Check out these three free sites, where you can input ingredients and it helps you meal plan around them:
Which of these free printable kitchen inventory sheets is going to make its way into your own kitchen? Remember, you don't need to inventory everything. Just inventory when it makes sense for you, and the items that make sense for you. It's a pretty fast way to feel more organized, and to spend less on your next month's grocery bills.
The following two tabs change content below.
Amanda L. Grossman is a writer and Certified Financial Education Instructor, Plutus Foundation Grant Recipient, and founder of Frugal Confessions. Over the last 13 years, her money work has helped people with how to save money and how to manage money. She's been featured in the Wall Street Journal, Kiplinger, Washington Post, U.S. News & World Report, Business Insider, LifeHacker, Real Simple Magazine, Woman's World, Woman's Day, ABC 13 Houston, Keybank, and more.
Read more here
.
Latest posts by Amanda L Grossman (see all)