Steal my tips + strategies for how to save money on groceries. Whether you want to coupon, or not, your food bill is about to drop!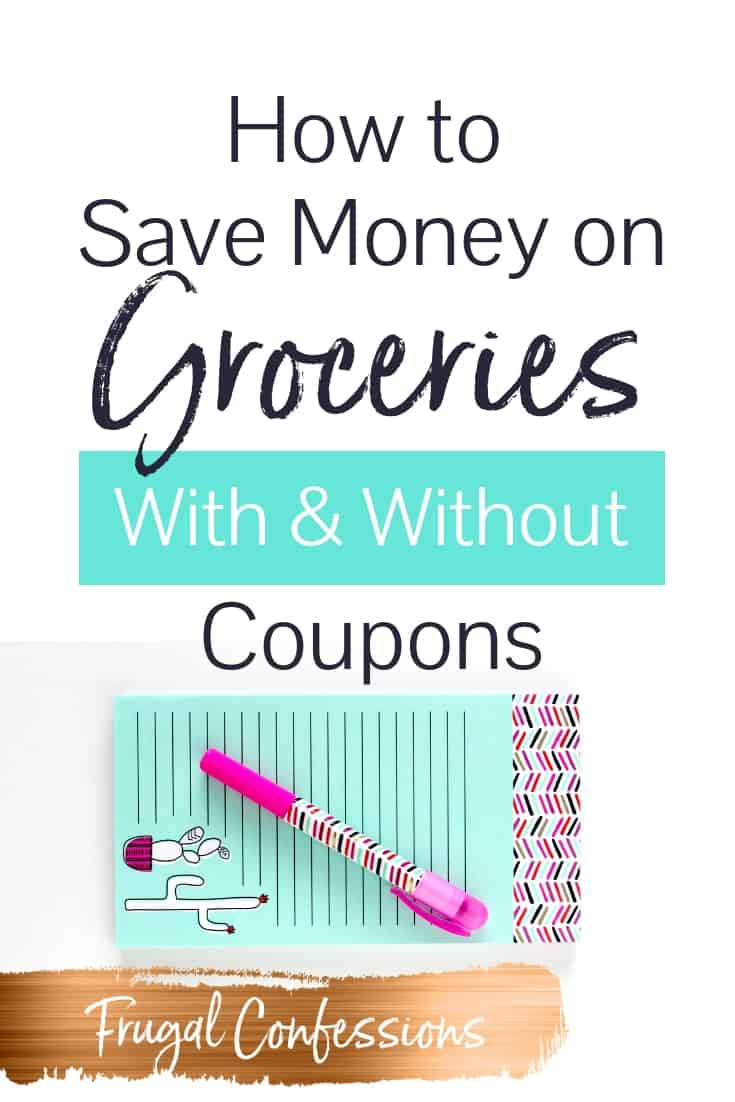 Have you ever wrestled over how to save money on groceries?
Many people I've worked with cite the food/groceries category as the number one way they're overspending each month.
How do you know if you're "overspending" (besides a gut feeling)? The USDA keeps a tally of what Americans spend on groceries each week and month. What they found is that the average family of four spends $713.10 to $1278.30 per month on food.
Whether or not you end up at the lower end or the higher end of that scale depends, according to them, on the age of your children and if you are on the "thrifty" plan or the "liberal" plan when you grocery shop.
How would you feel if we could get you much closer to the "thrifty" side of things?
Let's get started.
How to Save Money on Groceries WITHOUT Coupons
"But Amanda…I don't WANT to use coupons."
I hear you.
That's why this section is dedicated entirely to how to save money on groceries without coupons!
FYI: these will work both if you're using coupons or if you don't use coupons:
Strategy #1: Take the "Eat from Your Pantry Challenge"
Money Saving Mom started talking about this wayyyy back in the blogging day, and people are still taking the challenge (because it really works!).
The idea is to eat only (mostly) through the food items you have in your pantry, freezer, and cupboard foods instead of going to a grocery store for an entire month!
That might sound extreme to you, so you can try it out for half a month or so to start. Just remember that the key to doing one of these challenges is that instead of rushing out to the store for specific ingredients, you find substitutes within your own stockpiles of food.
This woman took the challenge a few years ago, and was able to make it a whole month with a family of four, spending less than $200 in grocery stores. YEAH!
Pssst: this is especially a great idea for your family if you're getting ready for a move. Think of all the food you won't have to pack!
Strategy #2: Grocery Shop Every Other Week
If I had to pin just ONE strategy that was the end-all-be-all for us to save money on our groceries, then this is the one.
Years ago, I got the idea to take our weekly grocery shopping to a bi-weekly affair. And it's made quite the difference.
After starting this strategy, we calculated savings of approximately $100-$160 a month (and that was when there were just the two of us!).
Why does grocery shopping every other week work as a money-saving strategy?
Well, I'll give you three reasons:
Staying Out of Stores: There's less opportunity and temptation to spend money.
Making a Commitment to Stay Out of the Stores: If you make a conscious effort to make sure you stick to our every-other-week schedule – meaning you plan out your meals (we'll discuss more), and instead creatively substituting ingredients with what you've got at home, then you're going to save money.
Skeptical that you can pull this off?
When I first shared this with my readers all those years ago, I had a very good question as to how we can grocery shop every other week but still have plenty of fruits and vegetables for both of those weeks.
Since some of you may be interested in doing this pantry challenge, or at least in trying to scale back the number of grocery store trips you make, let's take a minute to discuss this.
After getting that question, I spent a few months watching our vegetable/fruits intake like a hawk. And you know what? It turns out, we've got a fairly good system in place for making these food groups last in between our grocery store visits.
I chose an example from September of last year (mainly because I saved the receipt from this particular trip to the market), and this should give you an idea of how to have fresh fruits and vegetables for both weeks in between your grocery trips.
During this shopping trip, we bought the following fruits and veggies: 1 cantaloupe, 5 lemons, 2 avocados, 1 red onion, 3 large potatoes, several small red potatoes, 3 tomatoes, 1 Romaine Lettuce bunch, 1 bag of spinach, cilantro, green chives, 4 peaches, 2 bananas, 1 mango,1 eggplant, 2 quarts of strawberries, 1 lb. red grapes, 1 red bell pepper, 3 green bell peppers, two heads of broccoli, 1 bag of carrots, 1 butternut squash, two apples, and 1 nectarine.
In the first few days we gobbled down the fruits that spoil the quickest: bananas, peaches, and strawberries. Then we began to use up the green peppers, made some eggplant parmesan, used some of the cilantro and chives in cooking, and took the red grapes to lunch.
We made a salad with the romaine lettuce and spinach in equal parts to make the romaine lettuce last longer (plus spinach is just so healthy for you – did I mention that the spinach in boxes always seems to last twice as long as the mixed salad varieties?).
For the next week, I made guacamole because the avocados were ripe and the red onion and cilantro were still good. Paul made his chive smashed potatoes and rosemary roasted red potatoes for side dishes to meals, we used the lemons in our iced tea as well as in a lemon-parmesan chicken dish, we had two side salads of romaine lettuce and spinach with olive oil and apple cider vinegar, and I tried the nectarine (it's true; I had managed to live 27 years without trying a nectarine). We used the red bell pepper in fajitas, and made scalloped carrots and chives and carrots as side dishes to meals.
Then I took the butternut squash and made butternut squash mac'n'cheese. I chopped the rest of it, roasted it, and then put it in the freezer for the next time I want to make butternut squash risotto.
Finally, we chopped up the cantaloupe which was still good, and took that in lunches along with the last of the red grapes (though some had gone sour by the second week). We were also able to slice up the apples and pair them with peanut butter for lunches.
For a Friday night meal, I made a homemade pizza crust with tomato sauce, garlic, tomato slices, red bell pepper slices, broccoli, and lots of cheese.
At the end of these two weeks, we were still left with a few potatoes, carrots, a lemon, cilantro/chives, a tomato, and some onions.
The mango spoiled before we were able to use it (doh!).
As you can see, some fruits and vegetables need to be eaten right away, while others can last two weeks, (and some can last longer than that).
Here's a chart showing which vegetables and fruits, from our experience, need to be eaten in week one versus which can last until week two:
| | | |
| --- | --- | --- |
| Item | Week One | Week Two |
| Cantaloupe (purchase slightly ripe) | X | X |
| Lemons | X | X |
| Avocados (purchase slightly ripe) | X | X |
| Red onion | X | X |
| Potatoes | X | X |
| Red potatoes | X | X |
| Tomatoes | X | X |
| Romaine lettuce | X | X |
| Spinach | X | X |
| Cilantro | X | X |
| Green chives | X | X |
| Peaches | X | |
| Banana | X | |
| Mango | X | |
| Eggplant | X | X |
| Strawberries | X | |
| Red grapes | X | X |
| Red/green bell peppers | X | X |
| Carrots | X | X |
| Butternut Squash | X | X |
| Apples | X | X |
| Nectarine | X | |
| Broccoli | X | X |
Strategy #3: Shop Clearance FIRST, Not Last
You might think it sounds funny that grocery stores would have a clearance section. But almost every grocery store I've ever shopped in does!
My favorite clearance section? Is at the butcher's. In fact, the clearance section in the meat department is the reason why our family started eating about 60% of organic meat instead of non-organic.
When I hit the meat department, I go straight to the clearance section. I typically find organic chicken, sometimes grass-fed beef, and occasionally salmon fillets (oooohhhh – salmon is my favorite!).
I stock up with what I can, then when I'm home I portion the meats out to what we need per meal, and freezer them right away (the reason why these meats are on clearance is because they will spoil within a week and the managers would rather sell them at some price then at a complete loss).
Our freezer is stocked, and we're eating healthier than we did before using this strategy!
Strategy #4: Buy Bulk on Sale of Products You Use Most
There are certain products that we all use more of. For Paul and me, it's Coca-Cola, mustard and Ziploc bags (we buy bulk meats to freeze, and also we both pack lunches everyday). For you it may be batteries and mayonnaise.
Whatever your frequent products are, the next time they are on sale somewhere, buy many of them.
Coca-Cola refrigerator packs run anywhere from $4.45 when they are at their peak in price, to $2.00 when I can find them at their best price. So I purchase 6-8 packs of them at the $2.00 price and then I won't have to buy them again until the next great sale. That right there is a passive savings of $14.70-$19.60. Because of the amount of cokes we go through in a year, we're talking a yearly savings of over $100. (Ah yes…an even greater savings would be to stop consuming them!)
Strategy #5: Use Warren Buffett's Advice…Well Sort of
Purchase when everyone else is not buying, and don't buy when everyone else is buying. This is a good rule of thumb. Plan a trip or a wedding in the off season. Buy homes in the wintertime, when sales are down. Buy clothes out of season. Buy decorations after major holidays when they are reduced by 75%-90%.
Strategy #6: Make Two Transactions
Thrown off by the Drugstore Game? Here's how you can easily get in on the action. Every week drug stores offer free products for store credit. At CVS, you receive the product price in ExtraCare bucks, at Rite Aid you receive rebates after purchase, and at Walgreens you receive Register Rewards good to use on your next purchase.
This means that when you need to purchase something from a drugstore — such as makeup, cold medicine, feminine products, etc. — pick up the weekly sales ad and first purchase the free product (or close-to-free).
This way you will get a shampoo, conditioner, toothpaste, or whatever else for free because you then immediately spend that reward on your next transaction, which is the purchase you were going to make anyway.
No coupons involved.
Here is an example from a real weekly CVS ad:
Buy the Blade 5 razor system for $6.99, and get $6.99 in ExtraCare Bucks (register rewards). Use these right away to purchase whatever else you need. Or Walgreen's ad (good through Saturday, May 22): Buy a Gillette Body Wash (10-18 oz) for $4.49, and receive $4.49 in register rewards (store credit). Use this right away to purchase whatever else you need.
How to Save Money on Groceries with Coupons
So, couponing is your thang and you want to make sure you keep your edge…or maybe you haven't started couponing but are wanting to add this to your grocery savings strategies.
You're in the right place!
There are two ways that you can use coupons to save on your groceries. Both will save you money, but one will save you tons more than the other.
Coupon Strategy #1: Clip coupons on Sundays/before your next grocery trip
This this strategy, you buy yourself a newspaper (or have a discounted newspaper delivered to your house each Sunday), and either clip coupons for the products your family uses on Sundays (or anytime before going grocery shopping).
Pair this with some store sales, and you could probably shave off $5-$20 per grocery trip.
Coupon Strategy #2: Play the Grocery Store Game
Have you ever heard of the Grocery Game? It's sort of like the Drugstore Game, though in my opinion, not as robust or complicated.
Here's the basic premise (most consumers are not aware of this, fyi): grocery stores typically operate on a 12-week sales pattern. That means that about every 12 weeks (shorter amount of time for certain products, like cereals), you can bet that a certain product will be on sale again.
Knowing this little bitty piece of information can save you a ton of money because you can just buy enough of the product to get you through 12 weeks, thus keeping you on the cycle of only buying it when it's at its lowest price.
Let me illustrate how much this information can help you save.
Before Paul and I knew about this, we were spending approximately $300 per month on groceries.
Not entirely unreasonable, but certainly a chunk of our money. Every week we would make a list based on what we wanted to cook, go to the grocery store together, "stock up", then haul it home.
Fast forward a year, and now we only need to grocery shop every other week (which not only saves money, but time and energy).
How can you make this work for you?
It's very simple. Each week starting with your next grocery trip, stock up on items that are on sale and that you typically use. If ketchup is on sale, buy two bottles. If meat is on sale, buy several packs and divide them up into individually-frozen packs proportioned to your family's size.
Do this for several weeks to build yourself a significant stock pile of products.
Because you will have this food on-hand, you will no longer buy it unless you see a sale (which you now know will occur typically 12 weeks from the time that you purchased the item).
This system will ensure that most of the products that you buy on your weekly shopping trips will be on sale. The savings will add up.
Pssst: If you want to do this, on steroids? Then you'll need a discounted newspaper subscription + Coupon Mom site. This lady pairs together all of the coupons to the sales every 12 weeks to give you a double whammy of savings!
In the beginning you may not see many savings from this, and perhaps you will spend a little bit more than normal because you are stocking up on sales items as well as other items you need to get you through until your next grocery trip.
But after you build your stock pile up, you will begin to see a big difference in your food bill (even with cooking whatever you want, when you want) because you will stop buying products that are not on sale.
You'll also want to check out the Save money groceries app for ways to get your hands (or phone) on digital coupons.
How to Save Money on Groceries and Eat Healthy
Saving money on groceries and eating healthy don't have to be mutually exclusive; you can have both.
I've got lots of ideas for how we've saved money in our own household, without skimping on quality, healthy ingredients.
(Also, check out the section, "How to save more money on groceries – Whether You Use Coupons or Not", for more ideas).
Cook from Scratch: First up, you want to cook most, if not all, of your meals from scratch. Fortunately, my husband and I both love to cook from fresh, whole foods. You can purchase the majority of fresh, whole ingredients for much less than purchasing processed, pre-made, or frozen meals. Yes, you're putting in some sweat equity with it. But cooking can be fun! Especially when you can split the task with someone else and get refreshed before diving back into weeknight cooking.
Focus on Frozen Over Canned: Frozen vegetables and fruits stay longer (you won't experience all that food waste!), plus they're much healthier than canned vegetables and fruits. Buying frozen is an easy way to keep loads of fruits and veggies in your diet without paying lots of costs in the produce department.
Search Grocery Store Meat Clearance Section: In most of the grocery stores I've ever shopped in, there's been a butcher's clearance section in the meat department. This is where I go to, first, to see if I can find organic and grass-fed meats. It's helped our household go from no organic meats to 60%+ organic meats on a consistent basis. Buy several packs and divide them up into individually-frozen packs proportioned to your family's meal needs. Then make sure you freeze the portions shortly after getting home, and only defrost them on the day you'll be cooking them.
Save Money Groceries App – Coupons on Phone Without Printing
Most grocery stores have their own digital apps full of digital coupons for you to use on top of regular manufacturer coupons.
And you can get digital manufacturer coupons (coupons on phone, without printing) as well!
But those aren't the only kinds of save money groceries apps. You can also get cash back by scanning in your receipts, no matter what store those receipts are from.
Let's dig into all three of these options – you'll want to layer/stack as many together as possible (hint: you can stack multiples – great opportunity for your kids to get in on your household's personal finance management!).
Store Save Money Groceries Apps
Walmart Savings Catcher: If you shop at Walmart, then you'll want to use the Savings Catcher App. They've recently changed it, but the premise is the same – you scan/submit your receipts and anytime the price is higher than their competitor's advertised prices for that week, you get a reimbursement of the difference. My grandmother uses this, and she cashes in like $80+ at a time!
Target: Do you grocery shop at Target? Download their app for exclusive savings on anything in their store (including food). Here's the app for iPhone, and for Android.
Kroger: The Kroger app offers digital coupons (plus a whole lot of other things you can do).
Giant: Giant offers an app where you can get digital coupons to use at their store.
HEB: Get the HEB app for digital coupons.
Manufacturer Save Money groceries Apps
Coupons.om: You can save money three different ways using Coupons.com (by the way, they have an app) – by printing the coupons out, by loading digital manufacturer coupons to your loyalty store card, and by scanning your receipt to get cash back.
Apps that Give Cash Back for Scanning in Grocery Receipts
CoinOut: This is my new favorite way to earn cash back on grocery store receipts (and ANY receipt). You won't get rich, but you will earn between $0.01-$0.53/receipt that you scan.
ShopKick: This app has lots of ways to earn money towards gift cards beyond just shopping at grocery stores (such as scanning in products – you don't even need to buy them to get the points!). Still, you can just link your cards to this app, and when you make a qualifying purchase, you'll be given credit.
Ibotta: Using this app, you'll choose offers before you go shopping. Then, go shopping, and scan your receipt to get your rewards. You can also use Fetch (what is the difference between fetch and ibotta?).
Checkout 51: Download this free app, then every Thursday you're sent new offers. You can click the ones you want, then scan your grocery store receipts in after purchase to get rewarded.
SavingsStar: Again, you'll want to link your store loyalty cards to this app, and then click on the offers (called "rebates") you'd like. This app pays you cash via PayPal, or you can donate your rebates.
How to Avoid Common Supermarket Tricks
In this last section, I'd like to cover some sneaky, supermarket tricks that can get you to spend more money without you necessarily realizing it.
I'd like to just list out a summary of some of these; you can get much more detail about these in my article on supermarket tricks.
Buy 10 for $10 Promotions: Each product is being sold for $1.00, which seems like a steal! But be careful, as stores love to stick in products that normally sell for less than $1.00 to make up for the loss in money (like gum, cans of tuna, etc.).
Pricing Products so that You Overspend for the Sake of a Promotion: There are promotions where you need to spend $20 or so worth of products in order to get a free $10 catalina (coupon for $10 off your next visit). The way you can spend more than intended here is that they price the items in an odd way so that you normally have to buy one more to get over that $20 threshold (in other words, the items you want to buy comes to like $19.97, so you're forced to buy one more item because you need to spend $0.03 more).
That's 2 tricks…and I've got 9 more.
How to Save More Money on Groceries – Whether You Use Coupons or Not
Well, you've made it all the way to the end. Or perhaps you've skipped around, and just gotten the juicy tidbits that will work for your situation.
I hope that I've shown you that you can save money on groceries whether you use coupons or not.
By pairing some time-old wisdom about how to save money on groceries together with some modern tips, you'll be able to get on the lower end of that USDA grocery-spending range.
So, the next question is: what will you do with all that extra money each month?
The following two tabs change content below.
Amanda L. Grossman is a Certified Financial Education Instructor, Plutus Foundation Grant Recipient, and founder of Frugal Confessions. Over the last 10 years, her money work helping people with how to save money and how to manage money has been featured in Kiplinger, Washington Post, U.S. News & World Report, Business Insider, LifeHacker, Woman's World, Woman's Day, ABC 13 Houston, Keybank, and more.
Read more here
.
Latest posts by Amanda L Grossman (see all)