Best Christmas presents under $30, PLUS 23 of the best, cheap Christmas gifts under $10. You're going to be surprised with what you can buy for so little!
Need to get your hands on a list of the best Christmas presents under $30? I'll do you one better – I'm going to start off this gift buying guide with the best Christmas gifts under $10!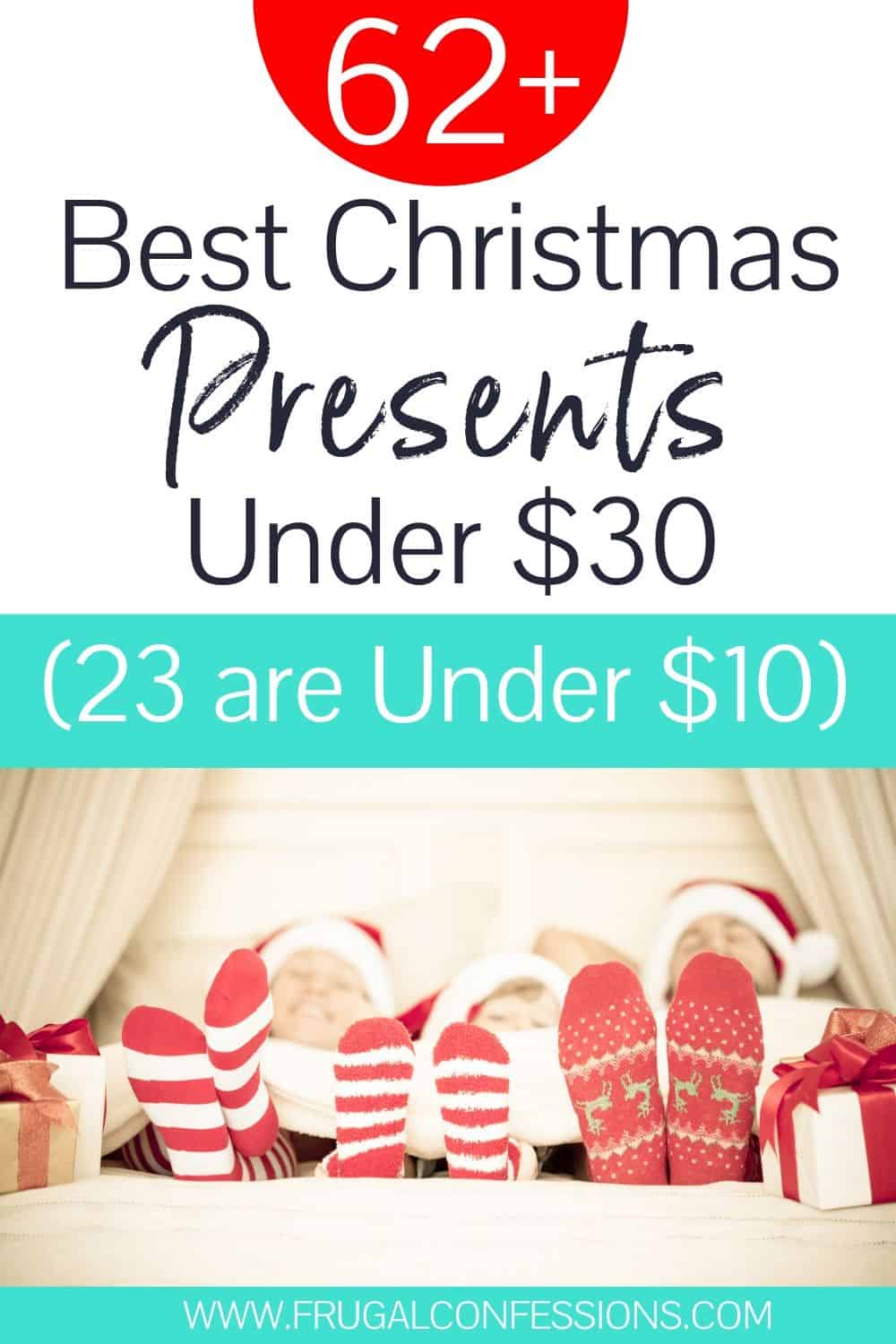 We'll work our way up from $10 presents, and then to gifts you can buy for under $30.
All gifts on this list are under $30 (many under $10) AND are available on Amazon Prime with 2-day free shipping (perfect, especially if you are a last-minute shopper!). Don't already have Amazon Prime? Grab a free 30-day trial just for the holidays. If you like it? Keep it. If not, well, you just got free, fast shipping all holiday season long.
Best, Cheap Christmas Gifts Under $10
Need to know what are not only cheap Christmas gifts, but ones that will amaze and inspire the person you're buying for?
Because, let's be honest – not all cheap Christmas gifts are created equal. Below, you'll find my personal list of goodies that will leave a sparkle in your recipient's eyes.
Psst: we all know Amazon and sellers love to change their prices. SO, these gifts all met the spending thresholds when I first picked them out, but may have changed by a few bucks in the meantime. 
Now it's time to move onto the kinds of gifts you want to get, all for $25 or less.
Cool Gifts for Under $25
Get ready to be added to the "cool list" with this hot set of gifts under $25.
Escape Room in a Box: Create a really fun date night for your couple friend with this Escape Room in a Box: The Werewolf Experiment. A mad scientist is on the loose, and you've got to solve 19 puzzles together or else…you turn into werewolves (that mad scientist sounds cranky! He probably just couldn't get his kids to sleep…). Did I mention, you have just one hour to accomplish this? No setup required! (If your friends have Alexa, they can sync it up and Alexa will actually host their game to make it feel like they're in a real Escape Room).
Conversation Starters for Couples: Help get their conversation rolling with TableTopics' Couples Conversation Starters.
Newlywed's Couple's Journal: Got any newlyweds in your life? A Year of Us: Couple's Journal makes a thoughtful gift.
Star Wars Mug: So, my husband is pretty much obsessed with Star Wars. He always has been! I'm thinking this mug would make him giggle like an 8-year old boy.
Bonsai Tree Starter Kit: I used to have a bonsai tree in college — it was awesome! Here's a cool bonsai tree starter kit.
Scratch-Off World Map: I'm a traveler (so's my husband) and we would just love this scratch-off travel map!
Oh Nuts! Honey Sticks: This is a holiday collection of honey sticks.
Numi Organic Tea by Mood: Here's a handy tea gift set with teas for them to drink, depending on what they want their mood to be (teas for focus, for balance, to energize, etc.).
Honey Gift set from Holy Lands: How neat — to send someone a gift set of honey, made from flowers in the Holy Lands (Jerusalem, the Galilee and the Negev Desert).
Tea Drops Gift Set: Tea Drops are a way for people to enjoy loose leaf tea (plus some sweetener), but without having to have one of those tea diffusers.
Pitcher-Sized Tea Infusers: How cool — these tea infusers are perfectly sized for a pitcher of iced tea. No measuring!
Handwarmer Mug: These Oregon-made mugs are designed to also warm your hands.
Hand-crafted Indian Kulhar Mugs: Hand crafted mugs from red Earth clay in the traditional Indian style.
Collapsible Trunk Organizer: I can't imagine how much more a person's trunk can get organized with this thing.
Artisan Bread in 5 Minutes a Day: I cannot RAVE about this book enough — I was given a copy as a gift several years ago (the original version), and my life has changed. I haven't tried their Artisan Pizza and Flatbread in 5 Minutes a Day yet, but here it is.

Giant Kinetic Desk Toy: Mesmerizing! Kind of even hypnotizing.
Genealogy Fan Wall Chart: Genealogy can get addictive, even if a person has never shown interest in it before. This wall chart makes a stylish gift that can engage them for years as they work through it.
TODO Family Edition Card Game: Here's a deck of cards with really fun and unique activities for families to do together that have NOTHING to do with a screen. Hallelujah!
Boogie Board Writing Table: Great for note taking, strategy for coaches, doodling, and really anything else you can think of that has to do with writing.
Flag Football Set: I don't know about you, but flag football day? Was always the BEST day in our gym class. Here's a 10-person flag football set that can create some serious fun in a household.
Melt Massage Oil: This massage oil is made from almonds…and nothing else! It comes with a travel bottle, and with a free massage tutorial for couples.
Cool Gifts Under 30 Dollars ($30 or Less)
We've now arrived to cool gifts that cost under $30, but more than $25.
Exotic Honey Set: I've never even heard of any of these exotic honey varieties! This set includes honey from Angico (Brazilian Acacia), Aroeira (Brazilian Pink Pepper), Marmeleiro (Brazilian Quince) and Silvestre (Brazilian Wildflower).
Jack Daniel's Tennessee Whiskey Coffee: These grounds come straight from Jack Daniel whiskey barrels.
Whiskey Barrel Aged Coffee: These are Sumatra coffee beans, aged in whiskey barrels!
Don Pablo Sampler: This is an Italian espresso coffee sampler.
Cold Brew Iced Coffee Maker: Do you love cold brew coffee and you want to pass your passion along? Snag this cold brew coffee maker for them.
Deluxe Gun Cleaning Kit: Wild Shot's gun cleaning kit is useful for gun owners.
Armor All Car Cleaning Kit: A cleaning kit for the car lover in your life.
Fire Roasting Kit: Here's a heavy-duty fire-roasting kit you can use for s'mores, hot dogs, and much more.
Great Gifts for Her Under $30
This is a special section dedicated for great gift ideas for all the ladies in your life, each under $30.
Deck of Empowerment Cards: This deck of Empower Questions therapy cards will help her learn so much more about themselves.

Car Vent Essential Oil Diffuser: Several people on my own list are getting this really cool essential oil diffuser for Christmas this year (pssst: I'm even ordering one for myself).
Tangle-Free Earbuds Holder: Especially great if the woman in your life likes to keep things organized (*raises hand*). Here's a blue colored one, and here's an Airpods holder.
Personal Safety Device: Carrying around a Mace Pepper Spray keychain can help keep them safe (not to mention, keep them FEELING safe). Here's another choice. And here's a personal safety alarm.
Rose Gold Cell Phone Stand: I've got a cell phone stand and I just love it for helping me to see updates without having to look down at my phone.
Rainbow Silverware Set: Wow are these iridescent set of utensils unique! I'd love to whip them out for a party.
Backpack for Work Laptop: I'd love to carry my laptop around with this sleek backpack (sure beats what I currently have…hint, hint, Paul!).

Console Car Trash Can with Lid: Give me one of these, please. Then, give me a toddler who will use it…

Styling Station: What a great way to organize a bathroom sink!
Well, what do you think? Which gifts under $30 are you most excited about giving (and which will you be buying TWO of so that you can gift one to yourself — I won't tell:))?
The following two tabs change content below.
Amanda L. Grossman is a Certified Financial Education Instructor, Plutus Foundation Grant Recipient, and founder of Frugal Confessions. Over the last 10 years, her money work helping people with how to save money and how to manage money has been featured in Kiplinger, Washington Post, U.S. News & World Report, Business Insider, LifeHacker, Woman's World, Woman's Day, ABC 13 Houston, Keybank, and more.
Read more here
.
Latest posts by Amanda L Grossman (see all)
https://www.frugalconfessions.com/wp-content/uploads/2019/09/cool-gifts-under-30-dollars.jpg
512
1024
Amanda L Grossman
https://www.frugalconfessions.com/wp-content/uploads/2019/02/frugal-confessions-logo-340.jpg
Amanda L Grossman
2019-07-28 05:00:36
2019-11-06 15:30:25
Best Christmas Presents Under $30 (23 Gifts Under $10)