How does spending under $10 for the guys on your list sound? Check out these awesome Dollar Tree gifts ideas for him.
What gifts do men like getting? That's the question I hope to answer for you with these Dollar Tree gift ideas for him.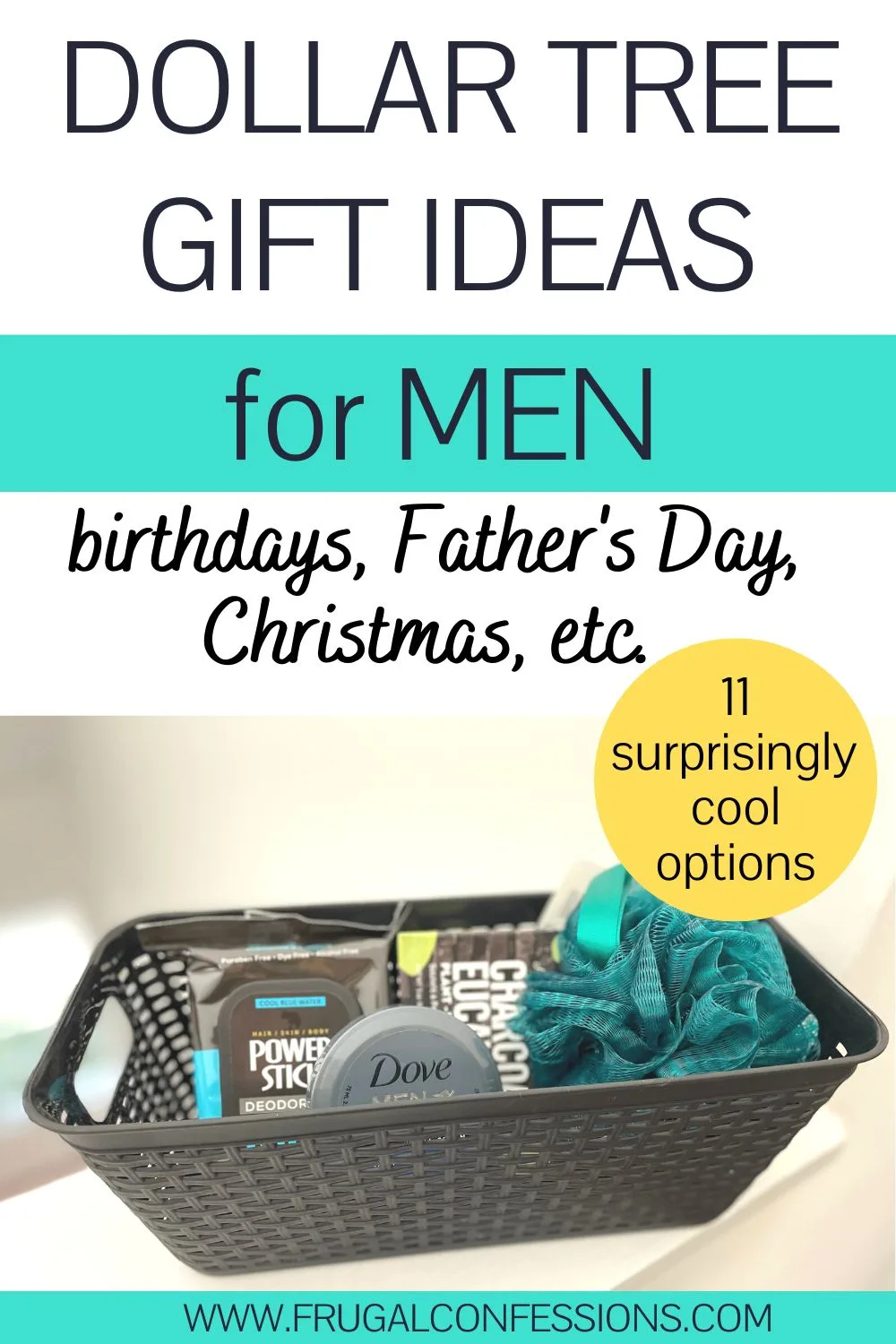 Not only will you get help figuring out what to buy, but instead of spending $40 – $80 on it for his birthday, Father's Day, Christmas, just-because Dad gifts, etc., you'll spend under $10 (without looking cheap).
Now that's a (gameday)win-win in my book.
Dollar Tree Gift Ideas for Him
Tired of spending gobs of money on the men in your life because you can't figure out what would really make them happy (or how to get it at a very good discount)?
That's what these Dollar Tree Gift ideas for him are for.
1. Game Day Bucket
Many Dollar Trees now sell an NFL-licensed bucket for an area's national football team.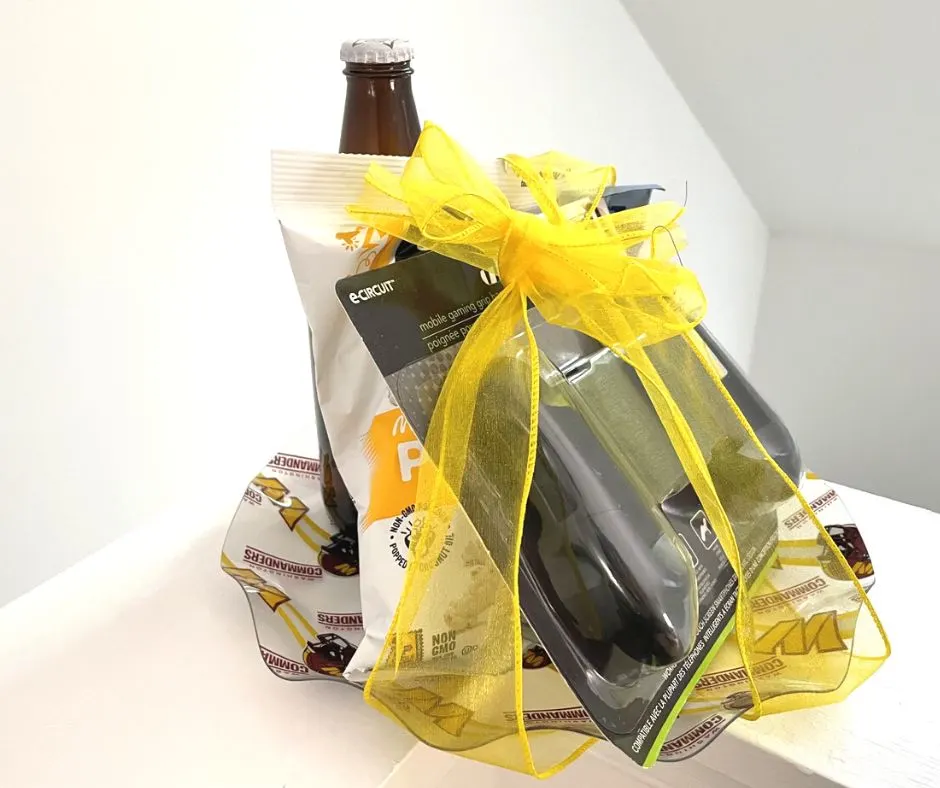 In our local one, I found a Washington Commanders tray and decided I could fill it with some fun things for my husband as a gift.
I was able to find:
1 bottle of spicy ginger craft soda
1 bag of gourmet popcorn
1 bag of soft baked Pillsbury cookies
Mobile gaming grip handle (is my husband the only one who likes to be on their phone playing a game…while watching the game?)
Then I wrapped it up with yellow ribbon I found in party section. Done, and done!
Total Cost: $6.25 (plus tax)
2. Dude Skincare Package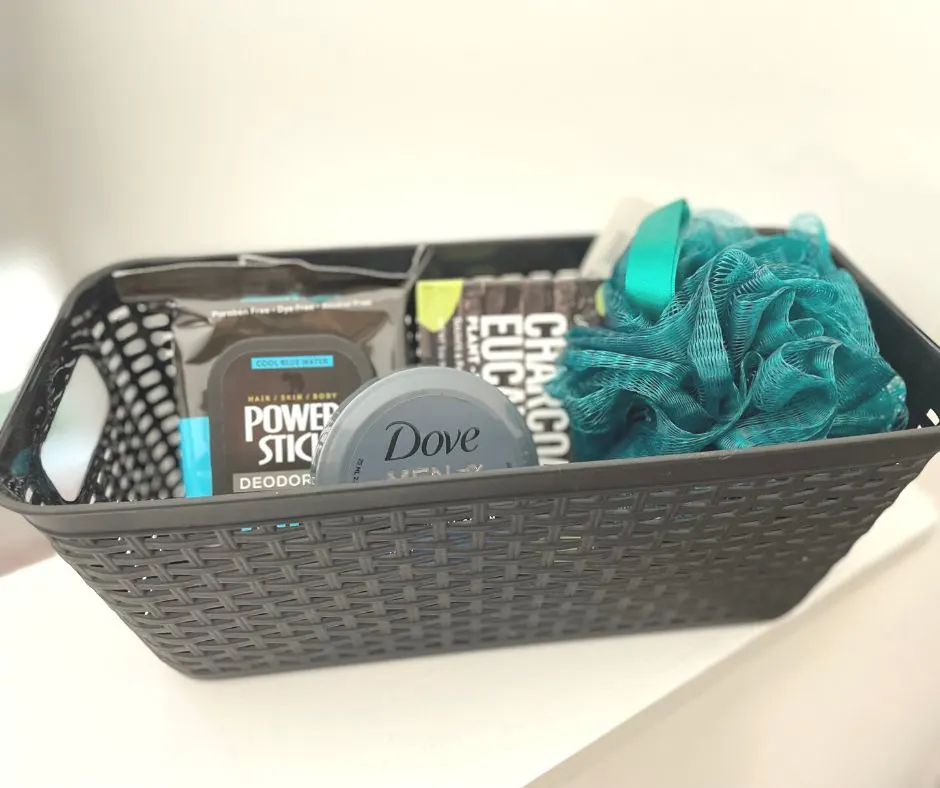 Not only is "dude" skincare and bath stuff trending right now, but the Dollar Tree has hopped on the train.
Which is good for you, when shopping for the men in your life!
I've included:
Total Cost: $6.25 (plus tax)
3. Jerky Coffee Sampler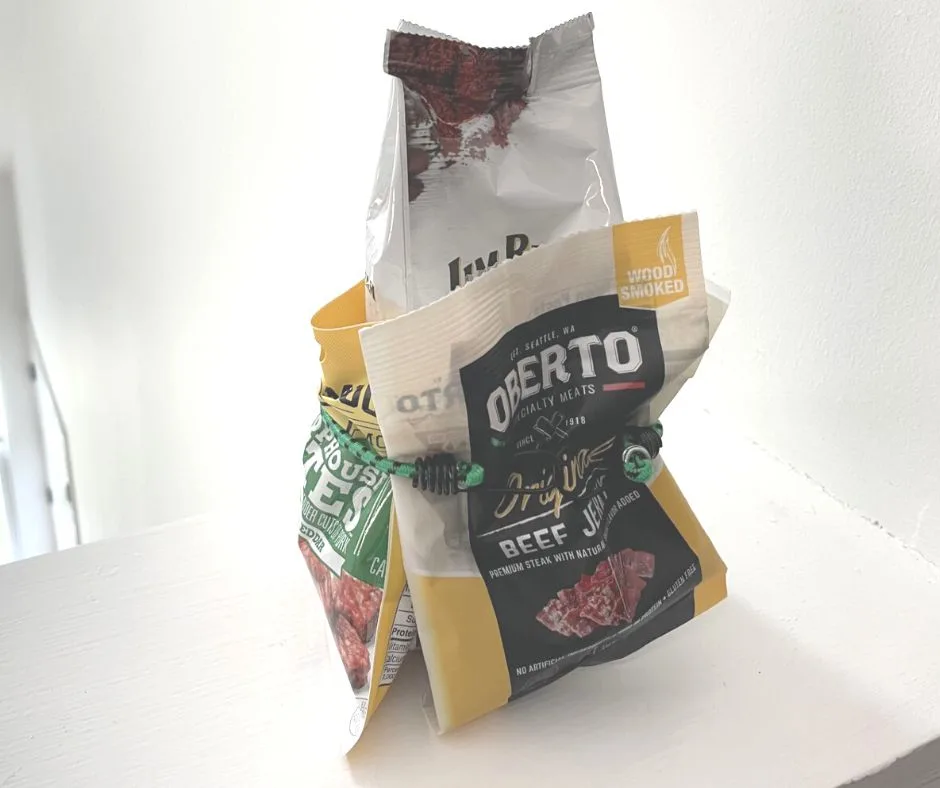 My husband loves jerky, and coffee…oh, and the other day he was literally telling me how we don't have enough of those bungee cords.
Well, I delivered. And this could work for the man in your life, too!
In this gift, you can include:
Sample size of gourmet/extra special coffee
Several beef jerkies from the wall of jerkies at Dollar Tree
Wrap the whole thing in bungee cords (found in the tools section), and you've got yourself a "gift basket" for him (I know, I know – there's no basket…maybe we'll call this one a gift pack?).
Total Cost: $6.25 (plus tax)
4. Nuts Gift Box Sampler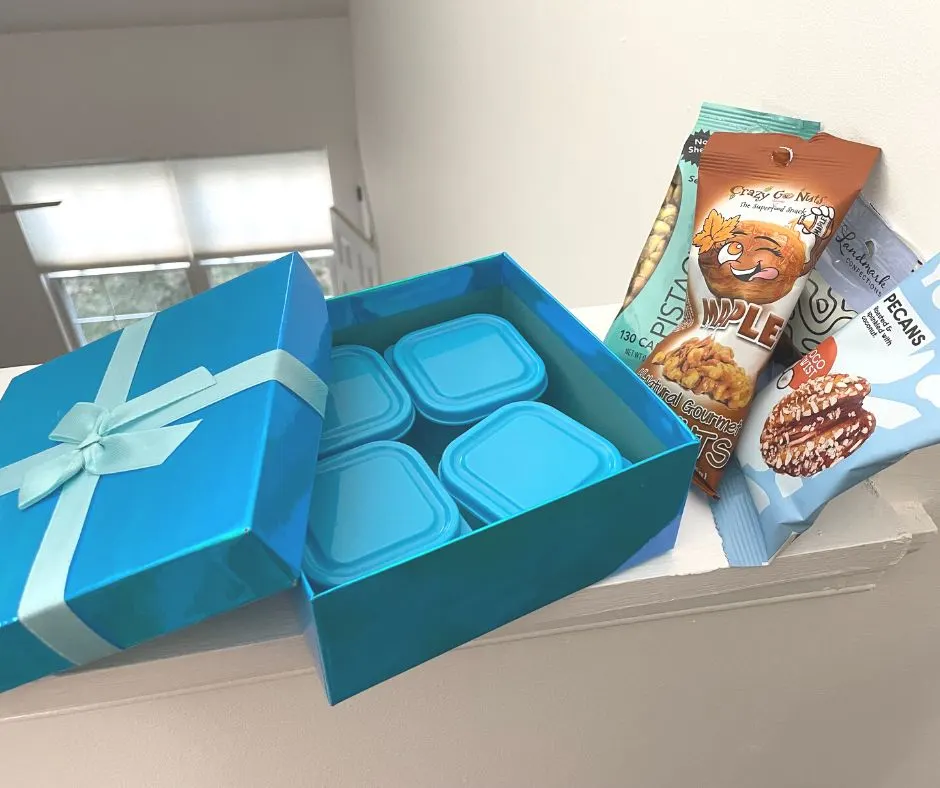 I usually end up getting one guy on my list a sample of nuts for a gift throughout the year.
Inevitably, I shop on Amazon, and pay an arm-and-a-leg for it (think $40+).
Instead, I decided to put together a nuts sampler gift this year and gift that, instead!
After all, the Dollar Tree has some pretty gourmet and interesting flavored nuts now.
To recreate, you'll need:
Maple walnuts (if you haven't tried these yet, then stop reading right now and get to your nearest Dollar Tree – they're that good)
Coco Twist Pecans
Chocolate covered almonds
Sea Salt & Vinegar Pistachios
Containers (food-grade containers I found in the craft section – clean first before filling up)
Gift box
You can either put one variety of nuts in each of the containers, OR, just keep them in their separate packages and put those into the gift box. Both look great.
Total Cost: $8.75 (plus tax)
5. B-Rated Horror Movie Date Night Pack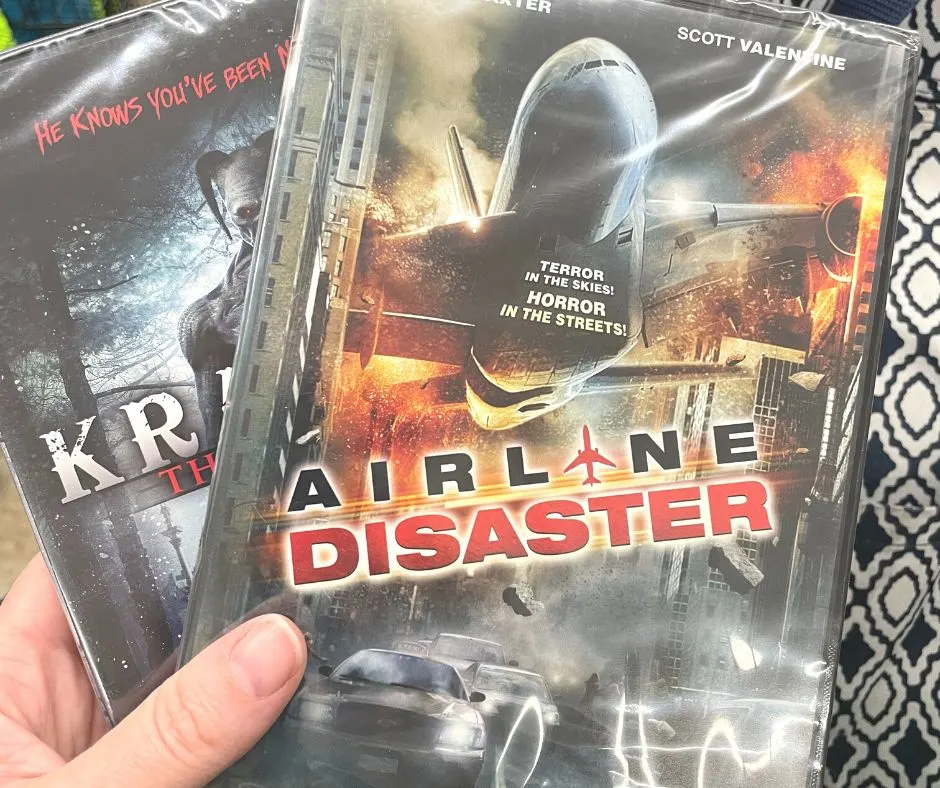 There's something utterly connecting about watching a seriously bad, b-rated horror movie with your partner.
I've done it several times with mine – often not knowing how bad it was going to be – and we've made huge memories.
And, you're in luck – the Dollar Tree has TONS of b-rated movies to choose from.
The key here, if you're giving this as a Dollar Tree Gift for him, is that you have to tell them it's a b-rated movie thing. You don't want them going into their movie night thinking they're getting an awesome cinematic experience (well, unless you want to prank them – which can be fun, too).
You're looking for horror films, anything shark-related (oh my gosh, these are always awful), maybe epic ones (like where a volcano explodes – the graphics, alone, lead to giggles), etc.
Pair the movie with:
A bag of gourmet popcorn
Some of his fave boxed candies
Sparkly water, soda, or some other drink they'd enjoy
Soft baked Pillsbury cookies (these are quite yummy)
Total Cost: $6.25 (plus tax)
6. Car Bucket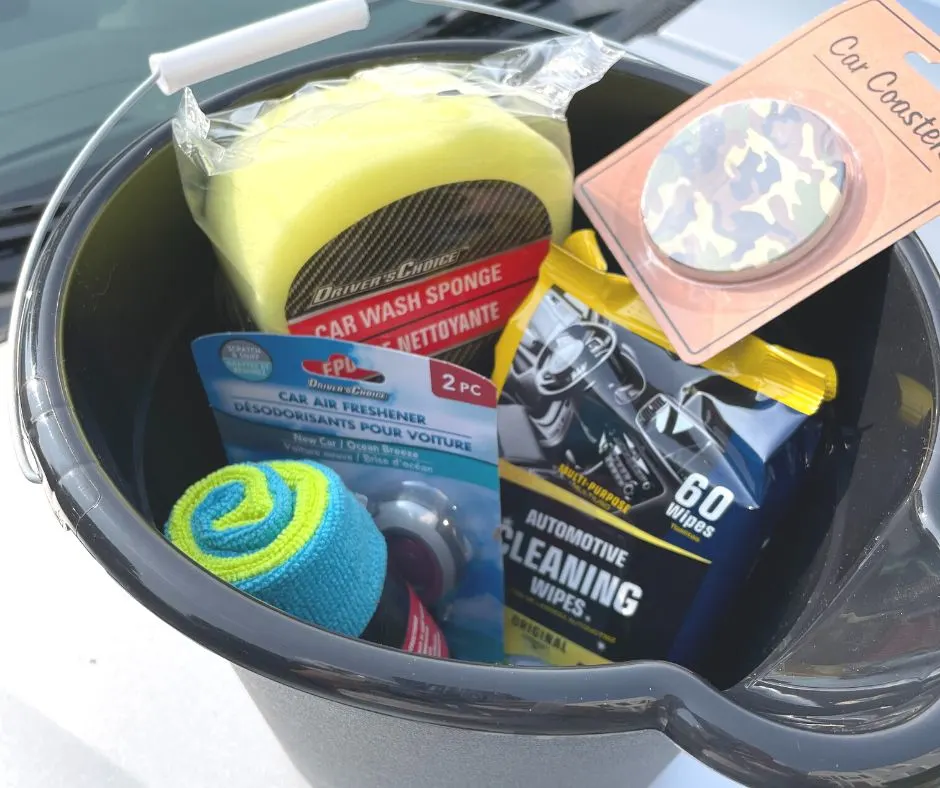 In the household cleaning section at the Dollar Tree, you'll find a wash bucket (ours had two colors: charcoal gray, and black).
Grab one, and fill it with some of these car supplies:
Big yellow sponge for cleaning
Car interior wipes
Microfiber car cleaning clothes
Car coaster insert
Car freshener for afterwards
Total Cost: $7.50 (plus tax)
7. Grilling Supplies Gift Set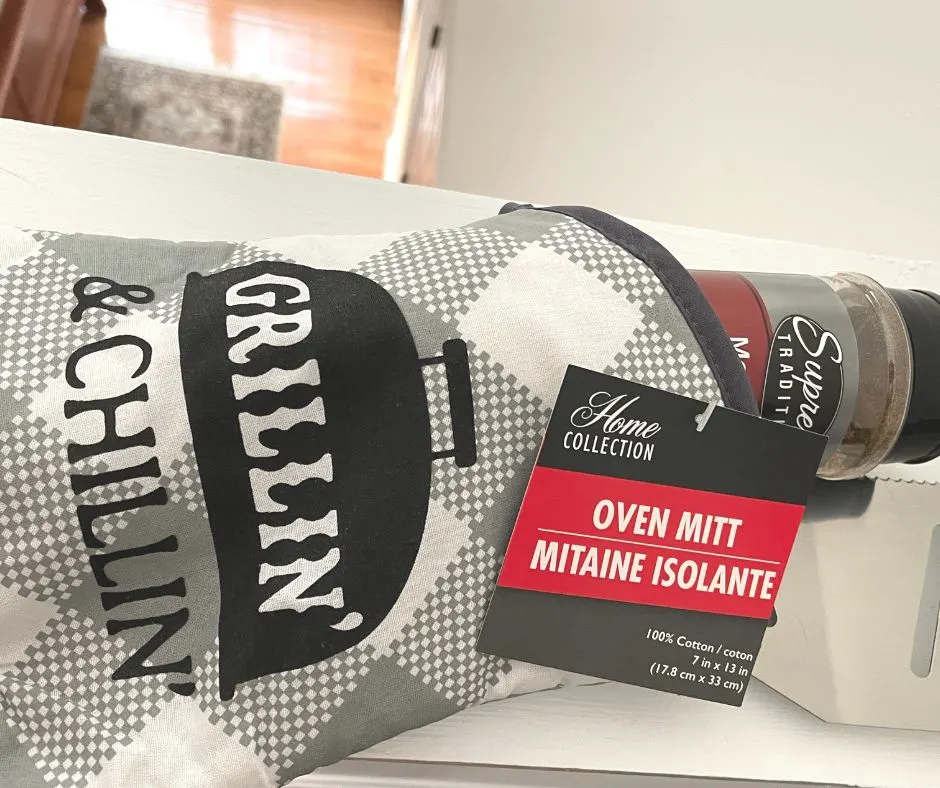 How cute – grab a Grillin' & Chillin' oven mitt, a grilling tool, and head to the spices section to pick out a large BBQ seasoning container.
Then, bundle them all together.
Total Cost: $3.75 (plus tax)
8. Spy + Political Thriller Novels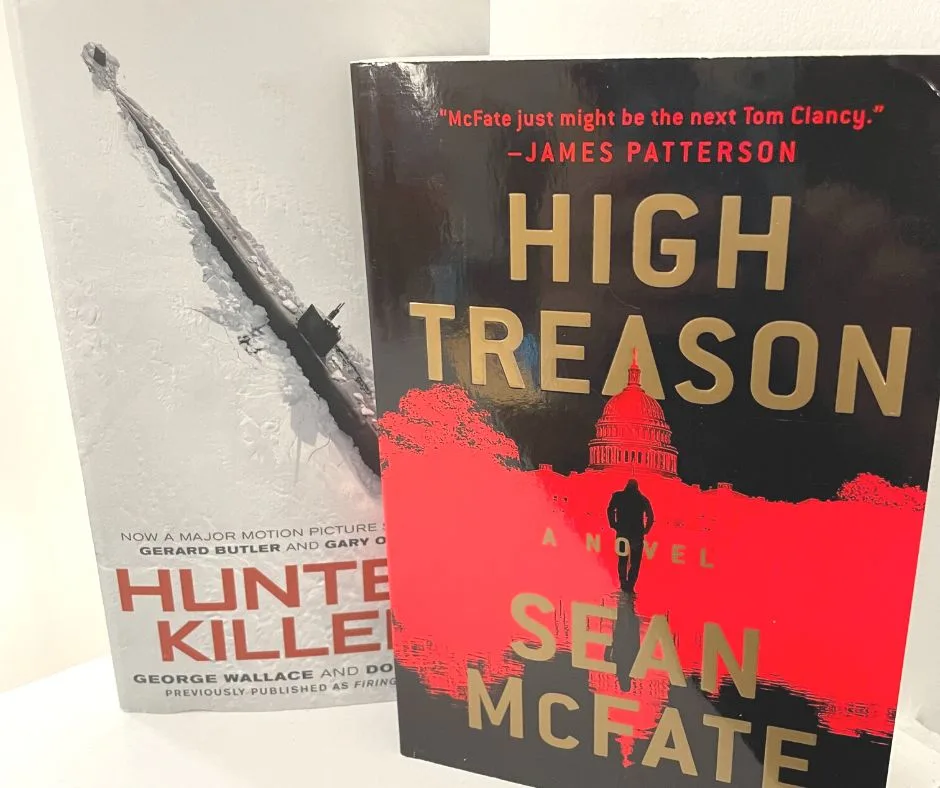 I can't have the only husband who loves a juicy spy book or political thriller, right?
I've found that you can find surprisingly good ones at the Dollar Tree. Just look at these I found over several months to give as a gift!
Total Cost: $2.50 (plus tax)
9. Grilling Spices Gift Set
There are actually several grilling spices you can find in the seasoning/spice section of most Dollar Trees.
Take a look for them, pick out three or so, and bundle them up for a "thinking of you" gift for him.
Total Cost: $3.75 (plus tax)
10. Jerky Sampler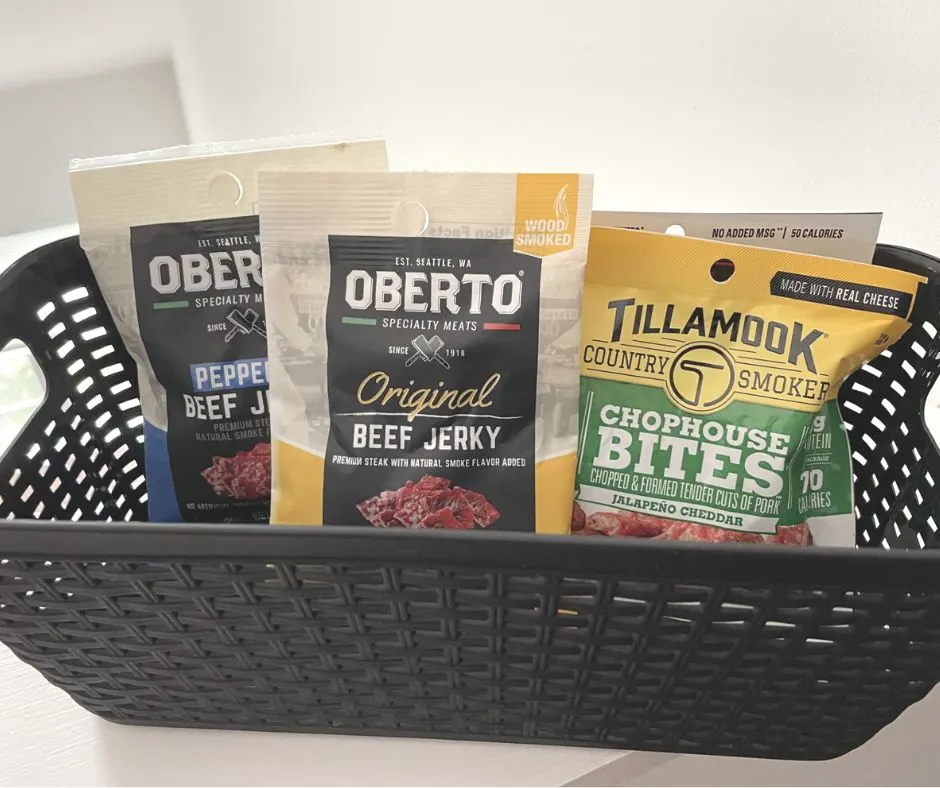 There's like a whole wall of jerkies at the Dollar Tree now. And not just the cheap-o ones.
You'll actually find some of the more gourmet varieties (just in smaller packs).
That's why I'm calling this gift a Jerky Sampler – gather lots of gourmet jerkies, package them up, and gift them to a man in your life.
For this set, I've included:
Black storage container
Oberto Original Beef Jerky
Oberto Peppered Beef Jerky
Tillamook Chophouse Bites Jalapeno Cheddar
Jack Link's Turkey Jerky
Total Cost: $6.25 (plus tax)
11. Runner's iPhone Armband
My guy runs several days a week, and used to keep his iPhone in his pocket.
That is, until I gifted him an armband to put his phone into! The Dollar Tree sells these, too (and for much less than what I paid – doh!).
Total Cost: $1.25 (plus tax)
These Dollar Tree gift ideas for him that I created are covering at least four different buying occasions in the next few months for a few of the guys in my life. Hurrah! I hope they cover you, as well.
The following two tabs change content below.
Amanda L. Grossman is a writer and Certified Financial Education Instructor, Plutus Foundation Grant Recipient, and founder of Frugal Confessions. Over the last 13 years, her money work has helped people with how to save money and how to manage money. She's been featured in the Wall Street Journal, Kiplinger, Washington Post, U.S. News & World Report, Business Insider, LifeHacker, Real Simple Magazine, Woman's World, Woman's Day, ABC 13 Houston, Keybank, and more.
Read more here
.
Latest posts by Amanda L Grossman (see all)