Tasked with buying Christmas presents and need some cheap ideas? Here are unique Dollar Tree gift ideas for Christmas to help.
How do you buy Christmas gifts on a tight budget? These Dollar Tree gift ideas for Christmas will help you make a lot of people on your list happy this year…without spending much.
Seriously – most of these are under $10, and many of them are around $5.00.
But, you wouldn't think so with how much your gift recipient is going to receive!
That's the beauty of the Dollar Tree.
Let's get started.
Dollar Tree Gift Ideas for Christmas
I am SO excited about these Dollar tree gift ideas for Christmas, that we're just going to jump right in.
1. Sourdough Starter Set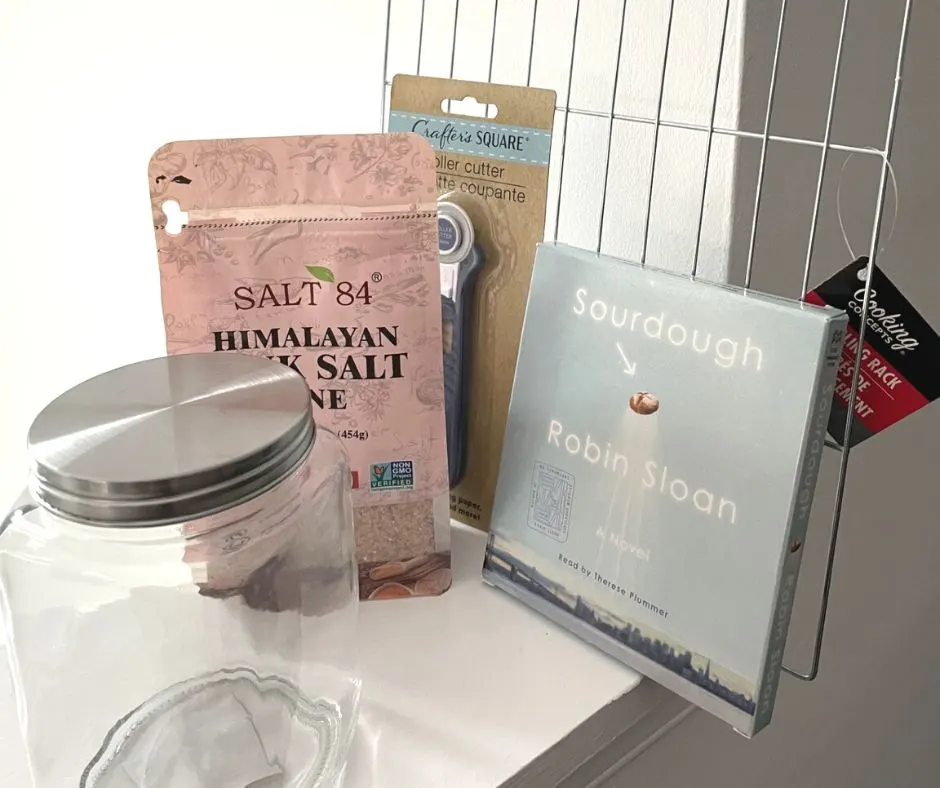 My sister dried some of her sourdough starter, then gifted it to me last year with instructions for what to do.
I finally brought it back to life after moving last month, and it's been such a fun and rewarding journey!
You could gift someone else some of your sourdough starter, plus the items below that they'll need (OR, just the items below if you don't make sourdough yourself).
You'll need:
Cooling rack
Glass jar with lid
Roller cutter (something to score the top of the dough with – I found this one in the crafting section)
Unrefined salt (this pink Himalayan salt sells for much more at your local grocery store, in the same size)
You might want to print out one of the free sourdough guides (like this one-page sourdough guide, or this more in-depth sourdough guide) available on the internet as well, roll it up, and tie it with a bow!
Bonus: I found a really cool fiction audiobook for just $1.25 about someone making Sourdough. That could make a nice addition! You can also look in their magazines/book area for any sourdough starter niche guides. You never know.
Total Cost: $5.00 (plus tax)
2. Yoga Mat Cleaning Spray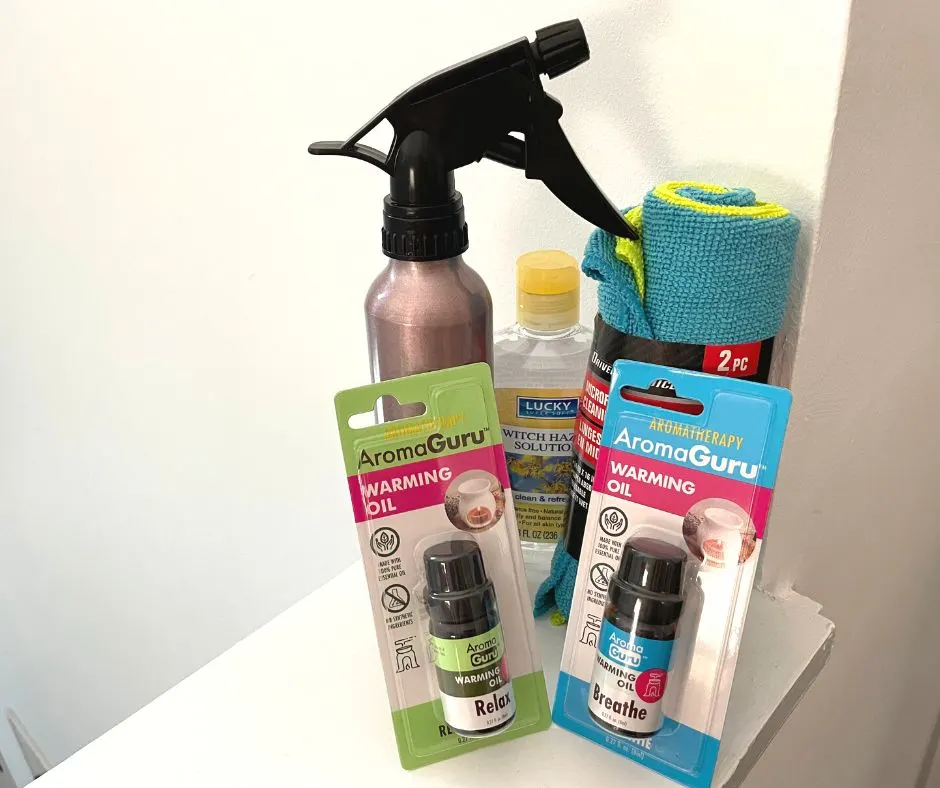 Did you know you can get 100% pure essential oils at the Dollar Tree?
I sure didn't, until I got a bit curious and found them near the candles section.
Aroma Guru Essential Oils are actually sold on Amazon for about three times the price of what you'll find at the dollar store.
There are lots of different yoga mat spray recipes using essential oils.
You'll need:
distilled water
witch hazel
a blend of essential oils with cleaning properties (like eucalyptus, tea tree, lavender, peppermint, etc.)
Microfiber cloths
You can either make it ahead of time and give them the bottle with a chalk tag saying "Yoga Mat Cleaner" as the gift, OR, give them all that's needed plus write a recipe on the chalkboard tag (if you're using the chalkboard tags, then don't forget the chalkboard pen or a metallic pen – Dollar Tree has that, too!).
Total Cost: $8.75 (plus tax – this cost includes the chalkboard tags and pen, that you can use with other gifts as well)
Hint: you can also put the spray bottle with cleaner in it, and microfiber cloths in a tin, and gift it like that for a little yoga mat cleaning station.
3. Homemade Doggie Treats Gift Set + Scoop
For the doggie owner and doggie lover in your life, why not make homemade treats and package them in a cute way?
Here's my recipe:
3 cups coconut flour
1 cup applesauce
1 ¼ cup pumpkin puree
Preheat the oven to 350°F. Mix everything together until combined (when you squeeze a bunch in your hand, it should stick together). Scoop into small mounds on a baking sheet lined with parchment paper. Bake for 16 minutes. Allow to cool before packaging them up.
These can be stored in the fridge for about 5 days, or kept in the freezer for longer.
You'll find the doggie treat container in the pet section, and the scoop from the party section, FYI (the twine is in the craft section).
Total Cost: $8.75 (plus tax – cost includes the twine, scoop, and container)
4. Dollar Tree Trail Mix Gift + Scoop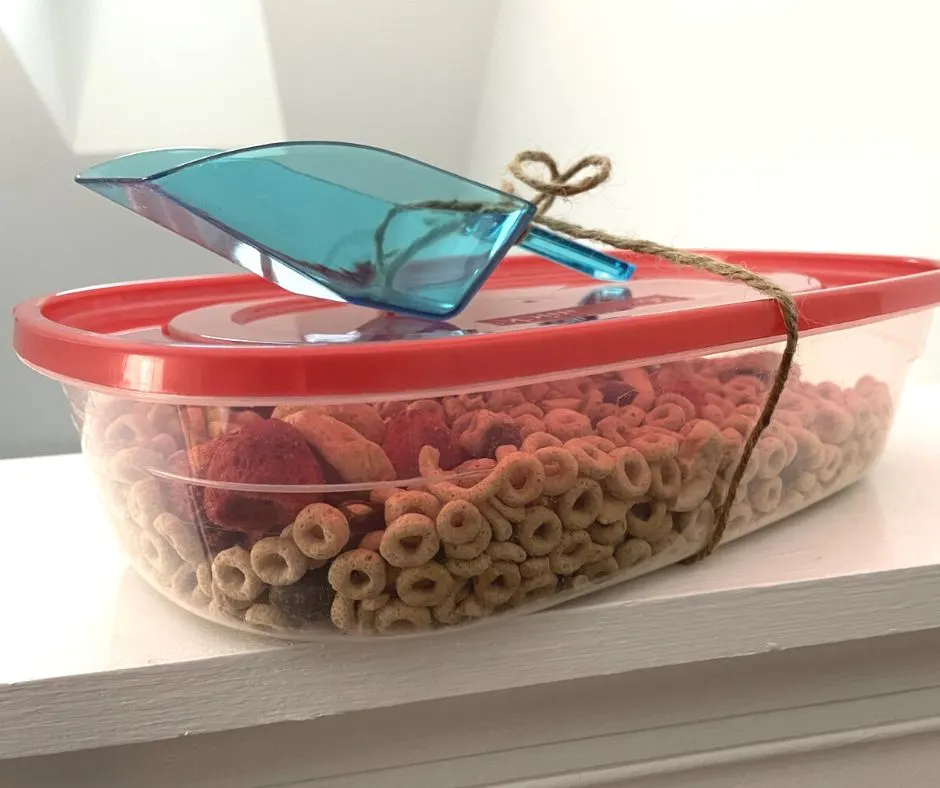 Got $11.25 (plus tax)?
That's all you'll need to make a cute Trail Mix set from the Dollar Tree.
You'll want to buy:
1 scoop (in the party section)
1 plastic container
Hint: don't forget to wash and dry the container out before putting food in it.
Mix all that together, put it in the container. Then cut a piece of twine big enough to wrap around the scoop a few times (to secure it in place), and wrap around the whole container. Tie it in a bow.
Total cost: $11.25 (plus tax)
5. Hot Chocolate Gift Set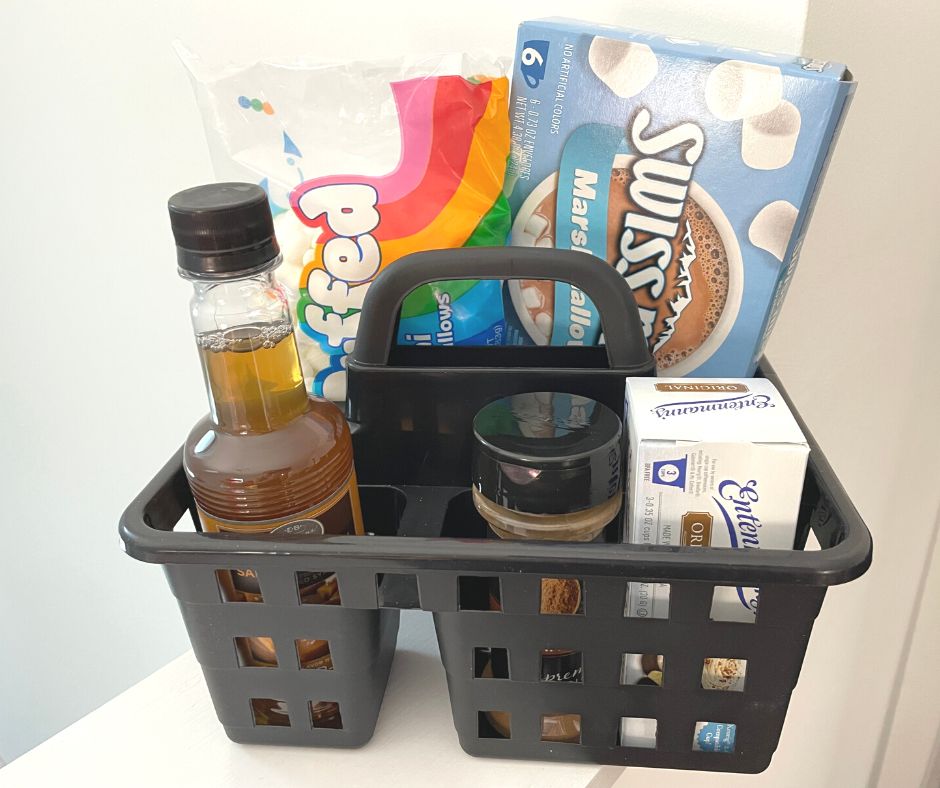 If you show up at my door with this? I would just get the biggest smile on my face.
And that's my wish for whoever you make this for!
You'll want to grab:
Mini marshmallows
Swiss Miss chocolate packets
Entenmann's hot chocolate Keurig cups
Gourmet flavored syrup (I chose salted caramel)
Ground cinnamon (or other spice, like pumpkin pie spice)
Shower caddy to package it up
Total cost: $7.50 (plus tax)
6. Movie Night Popcorn Basket
Did you know Dollar Trees have a movie section? I've found some really bad ones, and…some really cool ones.
Each is only $1.25.
I made this movie night family gift from the Dollar Tree – all for just $13.75 (plus tax).
The Dollar Tree Gift Basket includes:
Large popcorn bin + 2 smaller ones (so each person gets their own)
2 movies (I chose Masterminds and Time & Eric's Billion Dollar Movie)
3 movie-sized bags/boxes of candy (Reese's pieces, Twix, and Kit-Kat bites)
1 Box of 3 Act II Kettle Corn Popcorn
2 boxes of drink mix (Skittles and Starburst)
Total cost: $13.75 (plus tax)
7. Sensory Bin
The Dollar Tree has a surprising number of sensory toys and products now.
You could make a bin for someone in your family with a child who loves these types of things, for a teacher, for a Sunday School teacher…lots of options here.
Just grab a bin or container of your choice, and then add some of the following:
Several Squishy Palz (forget the kids…I loooovvvve keeping one of these at my desk)
Nubby ball (you have to inflate them with some sort of needle-nose air inflator, FYI)
Shampoo brush
Sensory Bubbleezz
Silly Scents Dough (I got banana, which my own child likes – but if someone has a smell sensory issue, then try for a scent-free regular dough to play with)
Brain teaser puzzle (kids love to fiddle with things! Helps with anxiety, as well)
I also thought the packages of Crayola Model Magic are just perfect…but they will dry in air – I love squishing them around in their original package.
Total Cost: $8.75 (plus tax)
8. Jams & Spreads Snow Globe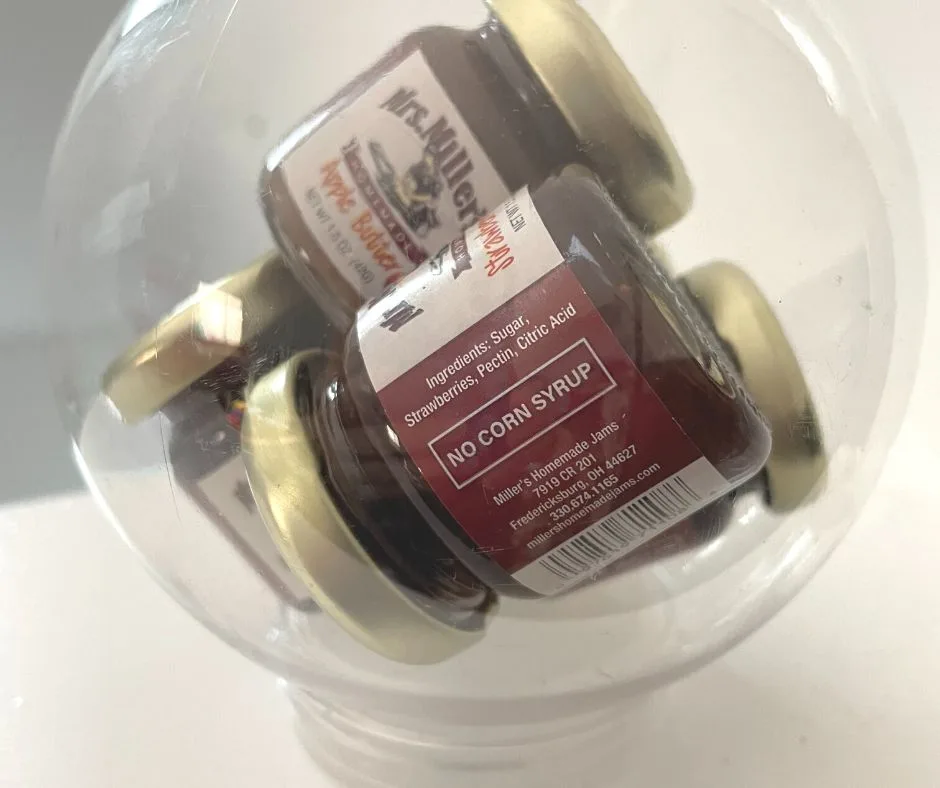 Well, this is a bit fun…how about taking a bunch of the sample-sized, gourmet jams & spreads offered at the Dollar Tree, and putting them inside a snow globe (from their crafts section) for your gift?
I've got the following in there:
Apple Butter
Strawberry Jam
Seedless Blackberry Jam
Bacon Spread
Seedless Red Raspberry Jam
You can include some red tissue paper in it, or tie a pretty ribbon around it to make it more festive.
Total Cost: $7.50 (plus tax)
9. Snacklebox Popcorn Toppings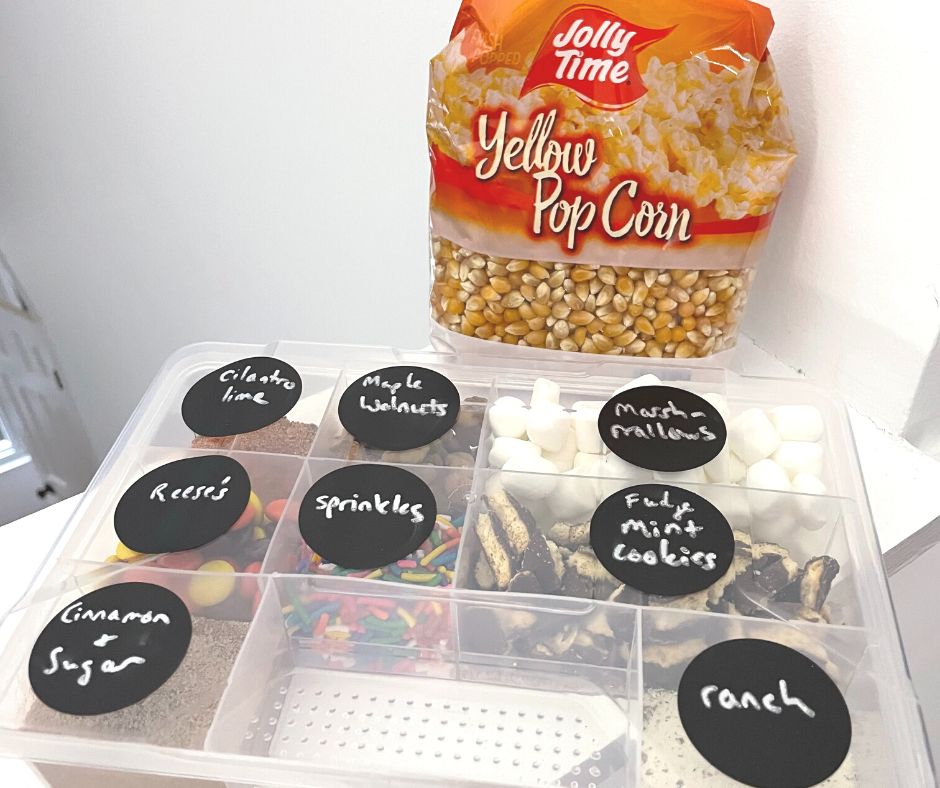 I am so, so excited about this one (and, would love to be on the receiving end, too!).
In the tools section, get a food grade snacklebox (this particular one in the photo has the number 5 on it).
In the crafts section, grab these classy black labels, plus a liquid chalk pen.
And of course, get some popcorn!
In the snacklebox, include popcorn toppings like:
Ranch seasoning
Crushed fudge mint cookies
Cinnamon/sugar mixture
M&Ms
Mini marshmallows
Rainbow sprinkles
Reese's Pieces
Maple Walnuts
Cilantro Lime Seasoning
You'll also want a cute, reusable spoon they spoon everything out with (and a bag of unpopped kernels!).
Hint: you'll have leftover of many of these ingredients, so you might want to grab a few more snackleboxes and labels so that you can make several of these to give out and cut your costs even more.
Total cost: $15.00 (plus tax, for 7-9 different topping options – you can always choose to just have 5 or so options, and repeat several)
10. Sports Night Concession Basket
For families with kids in sports, this can be a great gift because it's a put-together box of snacks (for a night when they're just barely having time to eat between sports).
Assemble the following:
2 Kneeling pads they can use on bleachers (go to the gardening section for these)
2 packages of jerkies (they can snack on)
Clipboard (for doing homework in the car while driving to practice, or for coaches)
2 Ice packs
Cooling package/container (you can put everything in here)
Total Cost: around $10 (depends on what you want to include, and how many)
11. Stroopwafels + Mugs All Around
Have you ever heard of Stroopwafels? They're this super yummy Danish cookie with caramel in the center.
You're supposed to put the cookie on top of a steaming mug of something, so that the caramel gets ooey-gooey and even more delicious.
Well, they're now at the Dollar Tree!
Go ahead and treat your recipient to a mug + Stroopwafel (one for each person in their family) to enjoy this holiday season.
Total Cost: $2.50+ (depends on how many people in a family you're buying for)
Wow – I hope you're as inspired as I am. I had so much fun putting these Dollar Tree gift ideas for Christmas together. Not only that…but I worked on my own Christmas list in the process! Score.
The following two tabs change content below.
Amanda L. Grossman is a writer and Certified Financial Education Instructor, Plutus Foundation Grant Recipient, and founder of Frugal Confessions. Over the last 13 years, her money work has helped people with how to save money and how to manage money. She's been featured in the Wall Street Journal, Kiplinger, Washington Post, U.S. News & World Report, Business Insider, LifeHacker, Real Simple Magazine, Woman's World, Woman's Day, ABC 13 Houston, Keybank, and more.
Read more here
.
Latest posts by Amanda L Grossman (see all)