Filling your partner's stocking with fun and cheap ideas is totally doable this year with these Dollar Store stocking stuffers for adults.
There's nothing better than getting to the end of a Christmas morning unwrapping session…and seeing your kid and partner's face light up when they realize there are also stockings to go through!
Let's keep things fun (and cheap) this year with these awesome Dollar Store stocking stuffers for adults.
Hint: I mainly shop at Dollar Tree when I want to go to a dollar store, because almost everything there is $1.25 (whereas there are many higher-costing products at other Dollar Stores). So, everything below is from the Dollar Tree.
Dollar Store Stocking Stuffers for Adults
Here are my top picks for Dollar Store stocking stuffers the adults on your list will love.
Hint: don't forget the woman in your life! That's why I've included both women and men stocking stuffers.
1. Oven Mitt + Grilling Tool + Grilling Seasoning
What if, instead of walking down Christmas morning and see the usual stockings hanging…one of them was a grilling mitt stuffed with a few grilling supplies?
That could be really fun for your husband (or wife) if they like to grill!
This one has:
A grillin'& chillin' oven mitt
Deluxe BBQ Spatula
Memphis Style BBQ Seasoning
2. Shower Fizzies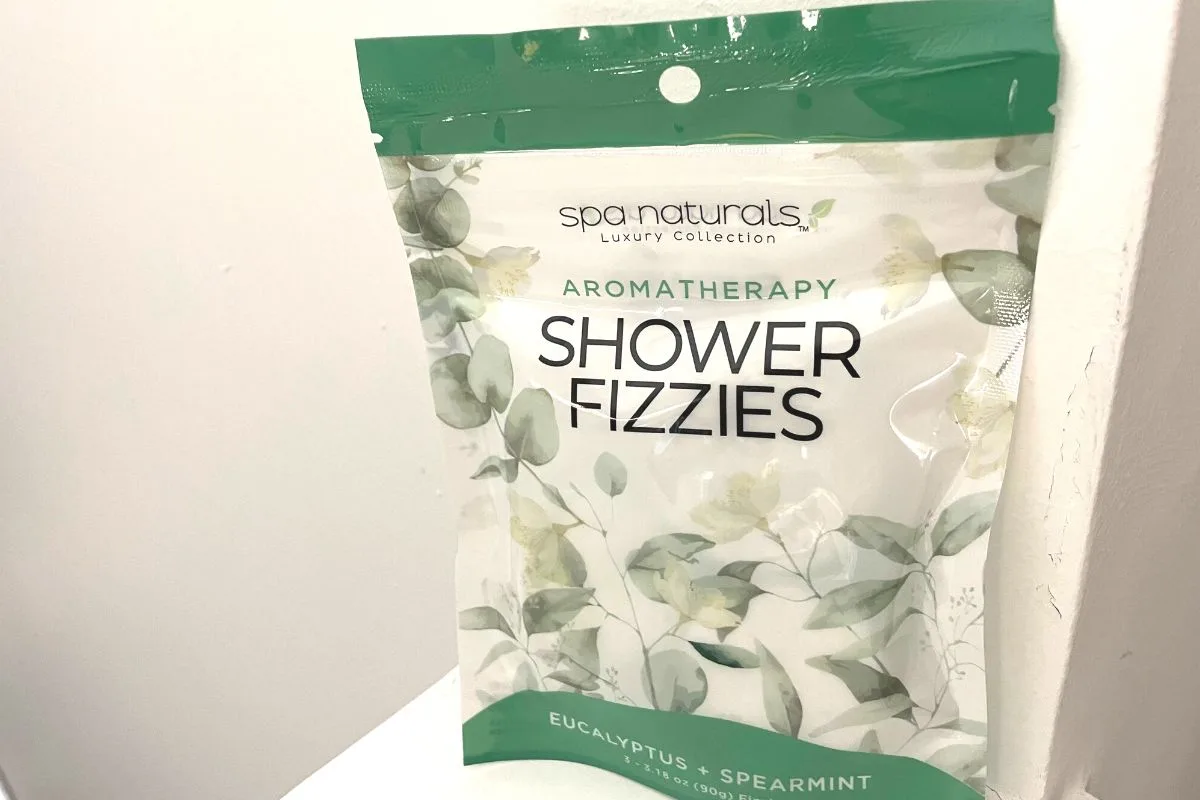 Is it just me, or are aromatherapy shower fizzies just super cool?
I found a package once on clearance for $2.00 at a Marshall's, and gave them a shot.
I seriously loved just throwing one of them in the back end of my shower before stepping in a few minutes later.
And the Dollar Tree sells these as well. I found this package of Eucalyptus + Spearmint ones that'll fit into a stocking.
3. Stroopwafels
These are like my favorite cookies…and I had no idea the Dollar Tree sold them until this past summer!
I would definitely squee in delight if someone put some Stroopwafels into my stocking this year…
4. Mobile Gaming Grip Holder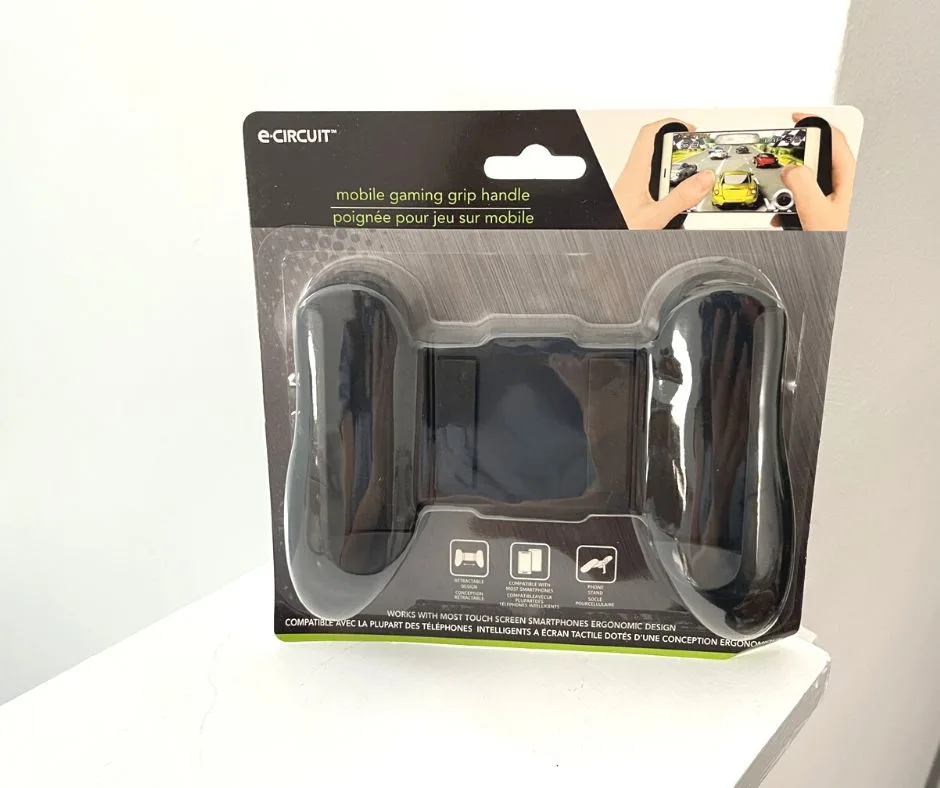 Wow – this thing kind of turns a smartphone into a gaming console.
Which is pretty cool for anyone who likes to play video games on their phone (ahem, *my husband*).
5. Entenmann's Hot Chocolate for Keurig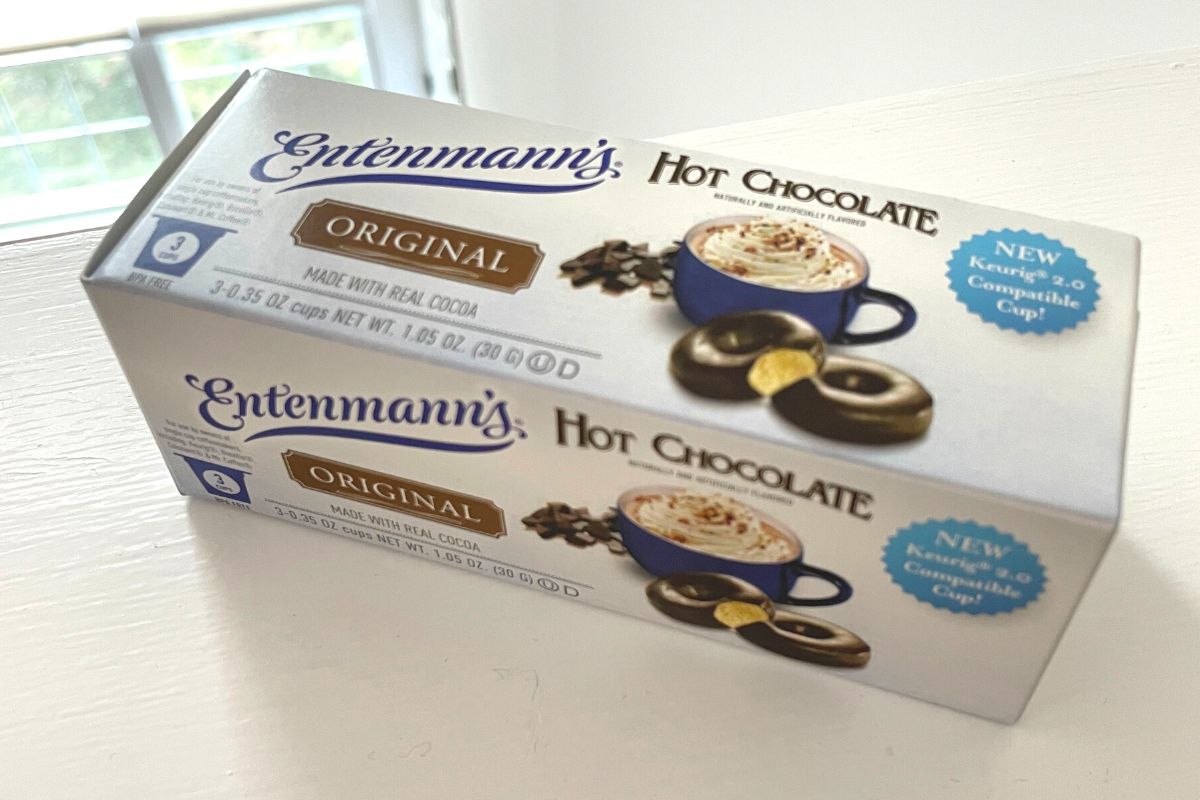 I found a three-pack of Entenmann's hot chocolate that's compatible with Keurig® 2.0. A fun little treat to put into someone's stocking!
Hint: it says it also works in Breville®, Cuisinart®, and Mr. Coffee® single cup coffeemakers.
6. Hand Warmers
Does your partner work outside in the winter – whether at a job, or to hang some Christmas lights?
You can lovingly slip a package of 2 hand warmers into their stocking this year for up to 10 hours of heat each.
Psst: stuffing men's stockings for cheap is sort of one of my superpowers – here's my wildly popular list of 151 men's stocking stuffer ideas for under $10.
7. Boxed Movie Theater Candy
I'm not gonna lie – you can actually get these same movie theater boxed candies at your local Walmart for about $0.12 cheaper.
BUT, if you're at the Dollar Tree shopping around for the best Dollar Tree Christmas gift ideas anyway…then why not pick one or two out to put into adult's stockings this year?
8. Reusable Straw Set + Cleaner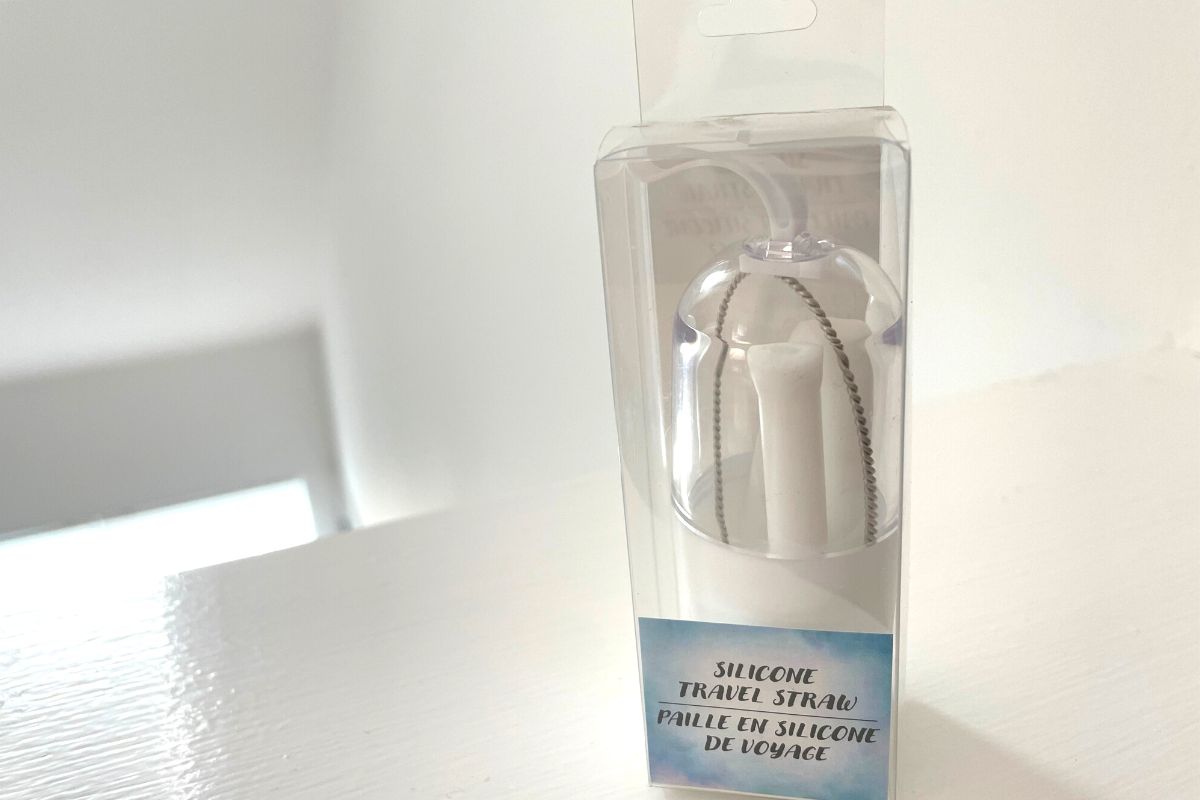 I love that this reusable travel straw also comes with the brush to clean it (which they can use to clean all some other things in the kitchen as well – such as their kid's thermos straw for school).
9. Overnight Moisturizing Socks
You can grab a pair of fuzzy socks from the sock aisle, and put a tube of therapeutic/healing lotion inside as a stocking stuffer for adults.
Mention to the recipient that they can put the lotion on their feet then put the socks on directly afterwards for softer feet, OR, they can put the lotion directly into the socks and slide their feet in.
10. Warming Oil Aromatherapy
You can find warming oil aromatherapy bottles made with 100% pure essential oils at the Dollar Tree (not the fragrance oils – you want to get the ones that say "warming oil").
These would make a great addition to a stocking for adults.
11. Charcoal Soap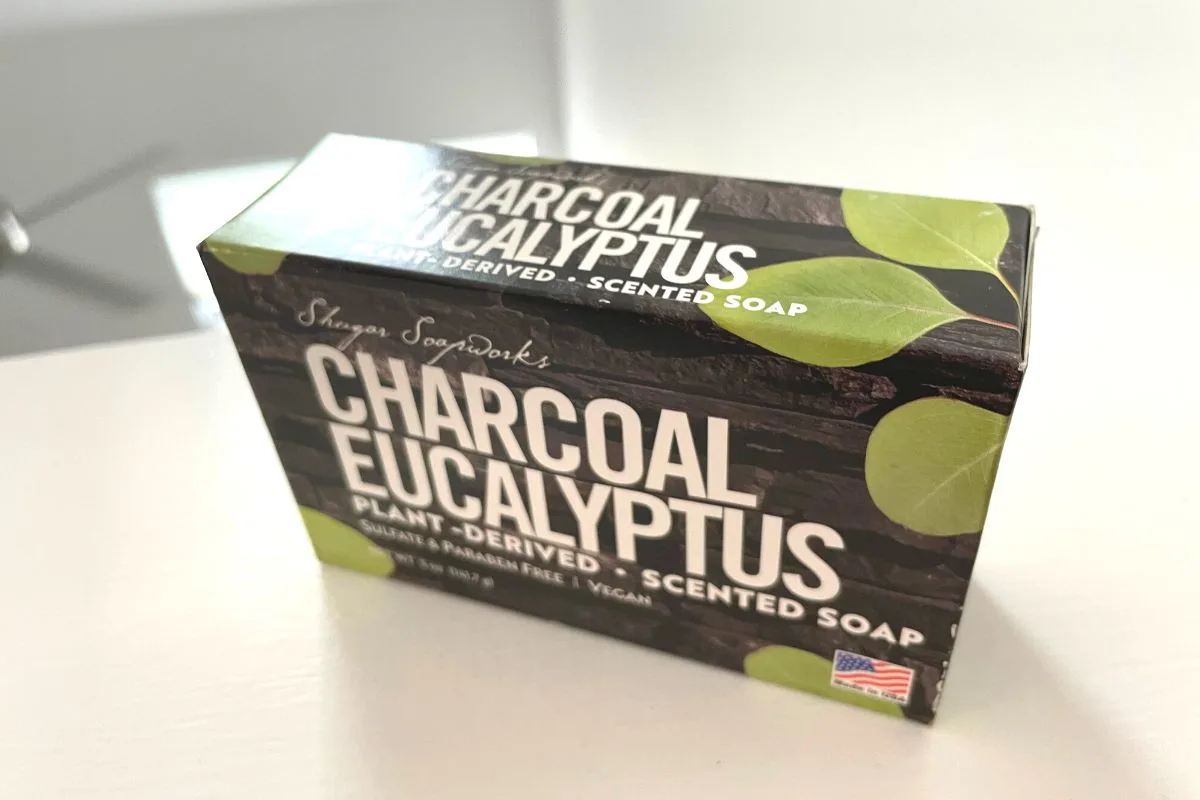 Charcoal soap is pretty trendy right now – so trendy, that it's at many Dollar Trees.
This particular one is plant-derived, and is sulfate and paraben-free (I like that!).
12. Great-Smelling Hand Sanitizers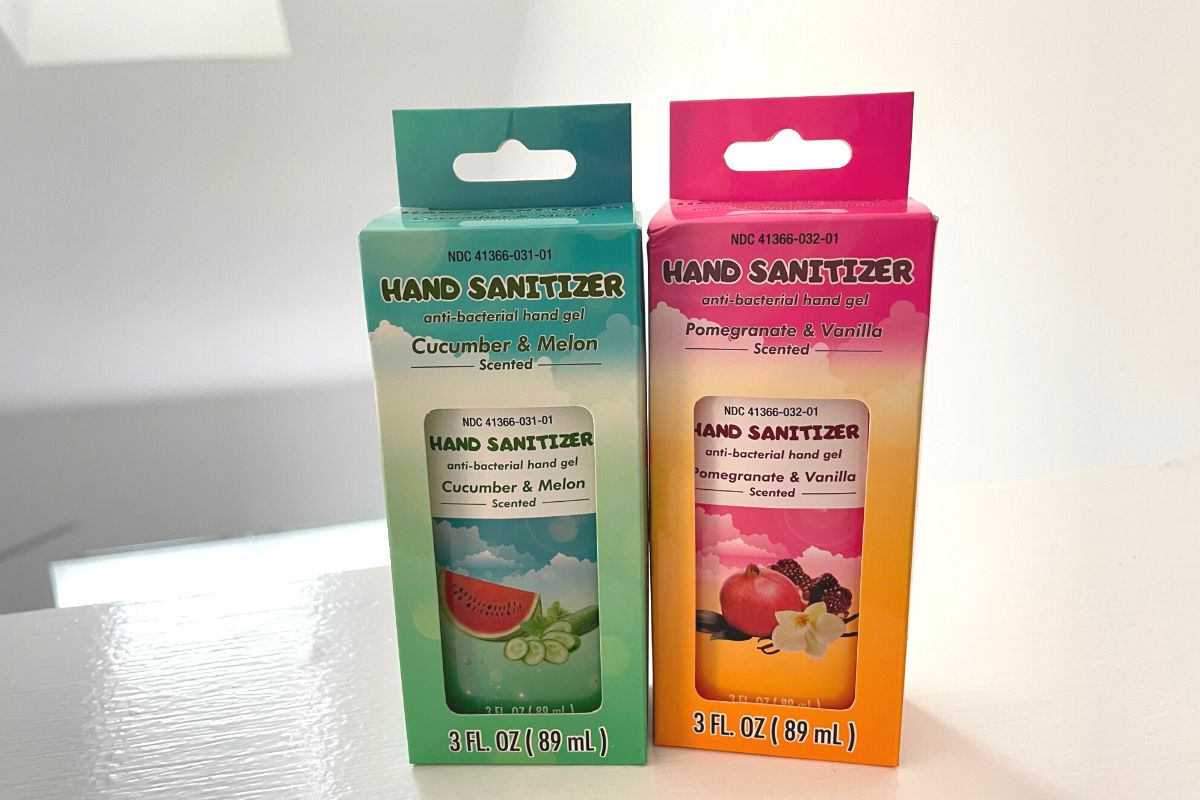 I am constantly wishing I had a hand sanitizer in my purse when I'm out and about and something happens (where it would be helpful).
Putting 1-2 of these yummy-smelling, purse-sized hand sanitizers into your partner's stocking would be a nice surprise for them!
13. Smartphone Screen Protector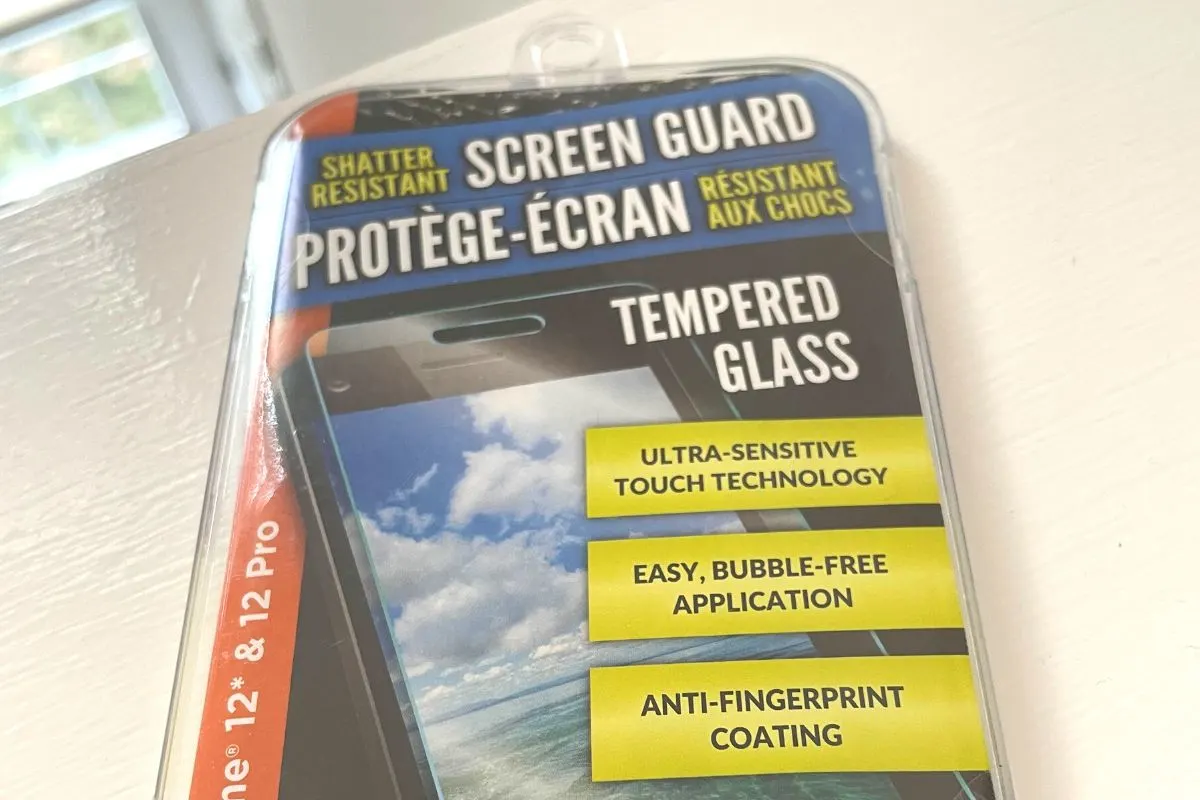 The Dollar Tree has an impressive selection of various tempered glass screen protectors, which make a great inexpensive stocking stuffer for adults.
Because the person you're buying for? Likely has a cracked screen protector (don't we all at some point?).
It would be so caring of you to find out what size/model their smartphone is, then stash a screen protector in their stocking for Christmas morning.
Hint: it comes with everything you need, for just $1.25 – tempered glass screen guard, cleaning cloth, cleaning wipes, and the applicator.
14. Oven Mitt + Kitchen Tool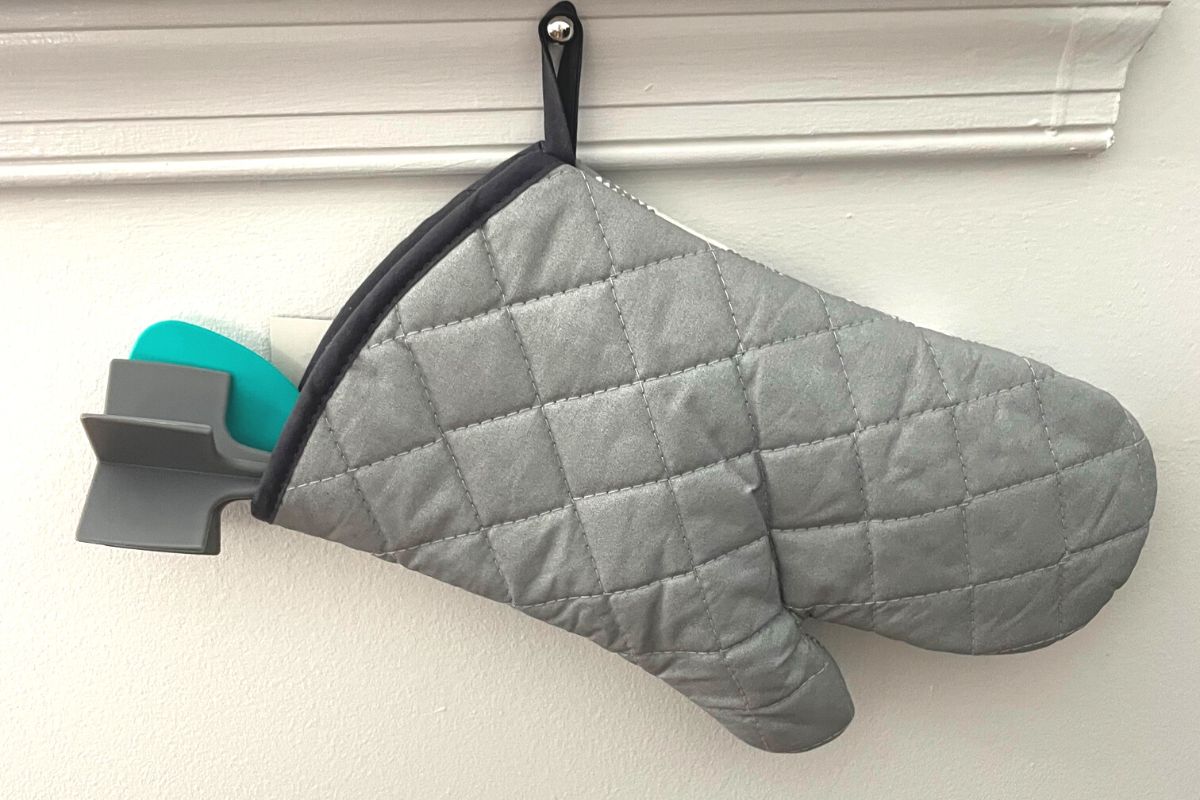 Grab an oven mitt, plus 2-3 kitchen tools from the kitchen section, and hang it up as its own stocking!
Psst: my two favorite kitchen tools at the Dollar Tree, that I have in my own kitchen? The teal spatula, which is a ninja at getting every last bit out of every jar, and the meat grinder. These have upped my kitchen game.
15. Over-the-Top Pen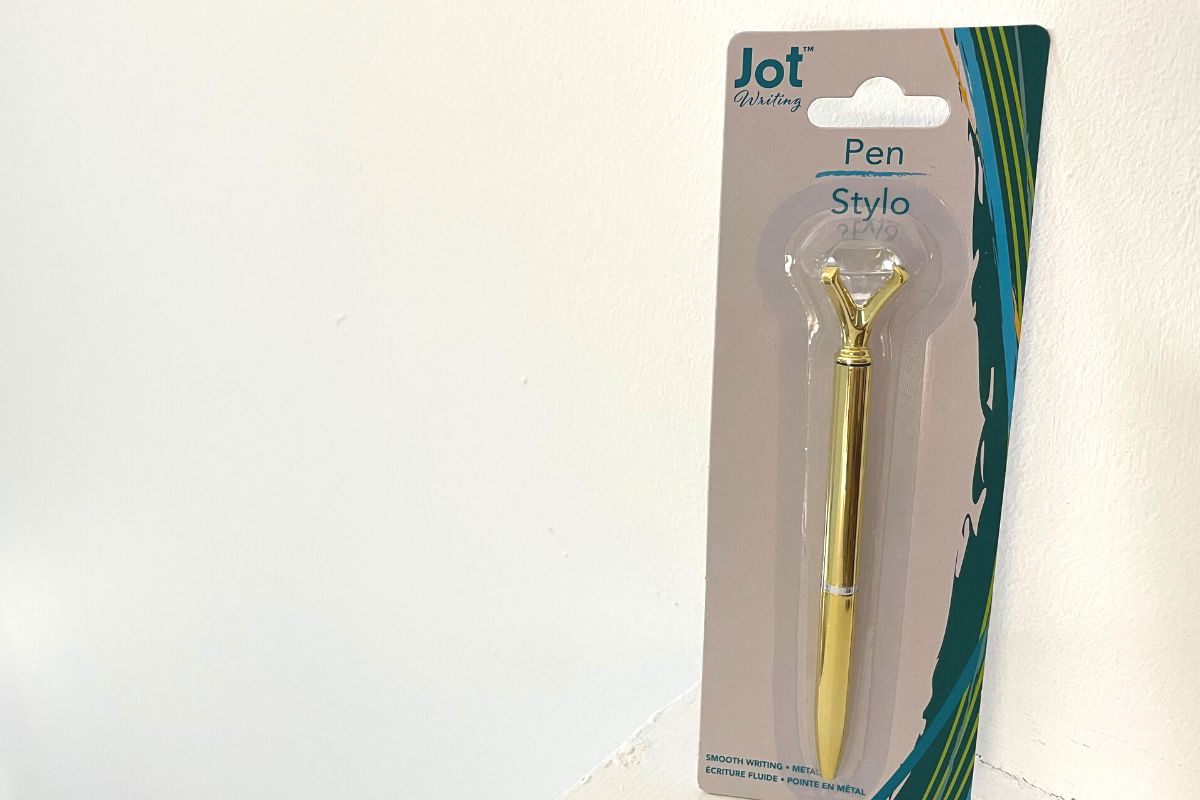 I'm an adult woman, and sometimes I just love using a silly, over-the-top pen.
I don't know…it makes me feel extra creative and special?
You can do that for someone in your life by picking out one of the fun pens at the Dollar Tree and putting it into their stocking.
16.Prayer Cards
There are these beautiful prayer cards that are modern and fresh and just $1.25 for a whole box.
I think they'd make a great addition to a stocking for adults.
Hint: they have prayer journals as well, which would also be awesome!
17. Absorbent Ceramic Car Coasters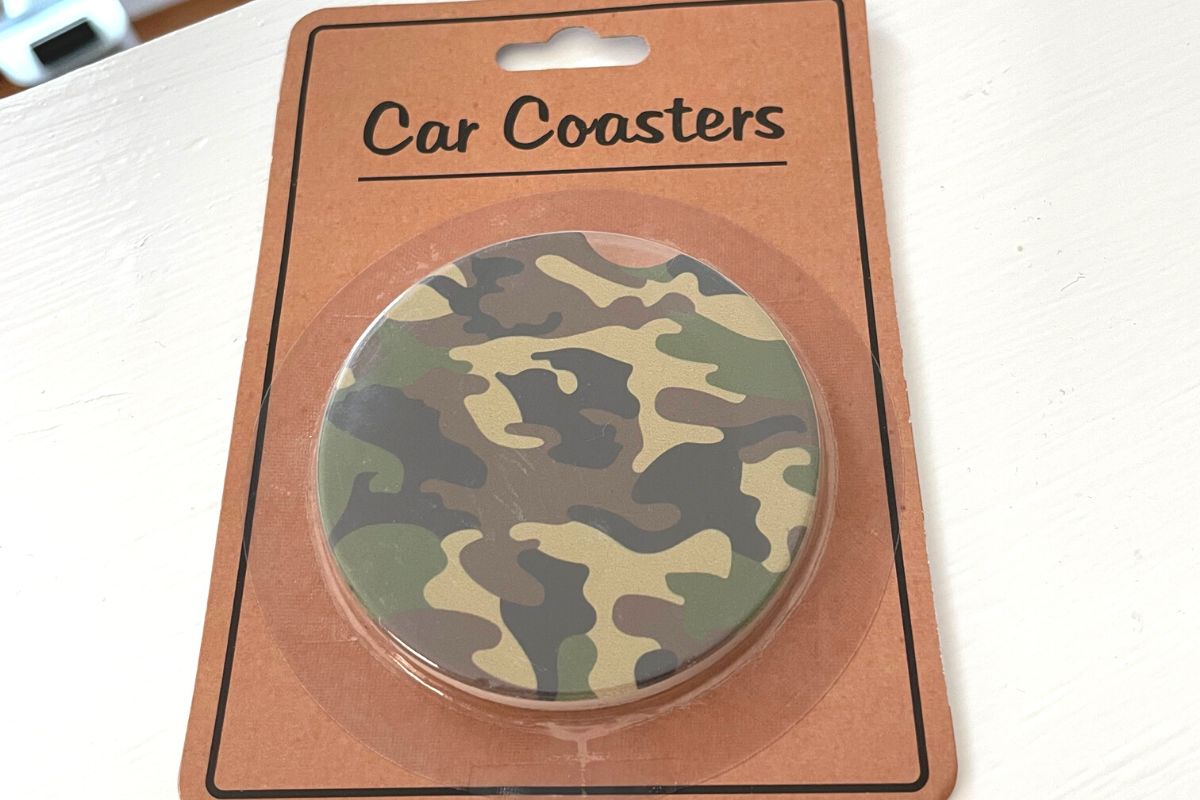 Grab a set of ceramic car coasters for your partner's vehicle. There are several different designs at my own local Dollar Tree, and they would all fit into a stocking for adults.
I'd be tickled to receive any of these dollar store stocking stuffers for adults (well…maybe no camo coasters in my car – but I'd love a different design!). I hope your partner loves your choices, too.
The following two tabs change content below.
Amanda L. Grossman is a writer and Certified Financial Education Instructor, Plutus Foundation Grant Recipient, and founder of Frugal Confessions. Over the last 13 years, her money work has helped people with how to save money and how to manage money. She's been featured in the Wall Street Journal, Kiplinger, Washington Post, U.S. News & World Report, Business Insider, LifeHacker, Real Simple Magazine, Woman's World, Woman's Day, ABC 13 Houston, Keybank, and more.
Read more here
.
Latest posts by Amanda L Grossman (see all)