My top picks for best gifts to make life easier for elderly in your life, starting with the ones I purchased for my own grandparents.
Do you get hung up on finding good gifts to make life easier for the elderly in your life?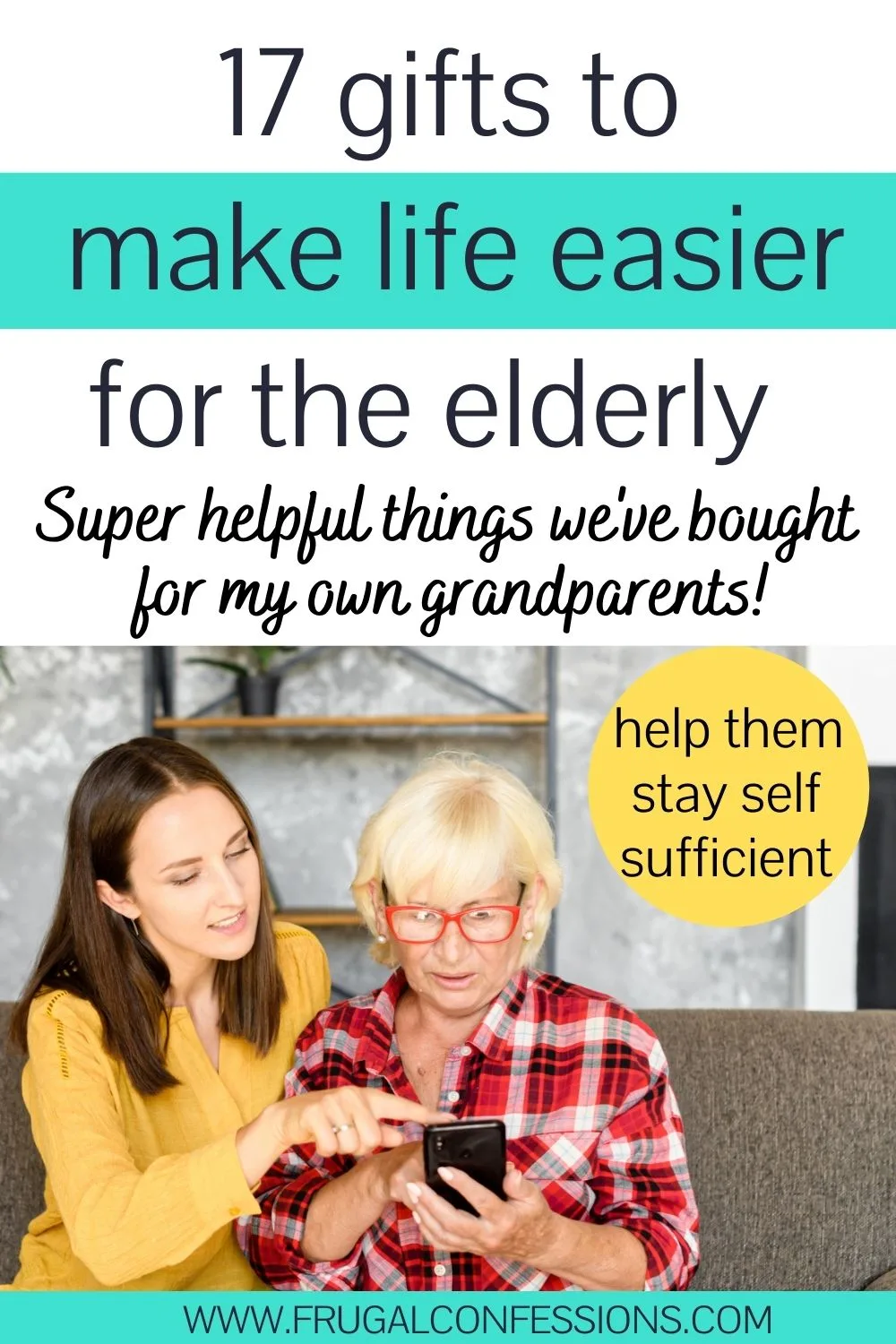 I've watched my grandparents and my husband's parents transition into retirement, and then from early retirement into their later years. And I've noticed how much has changed for them.
With aging, they've each faced physical limitations and health conditions they didn't have to deal with before. The world has changed around them, as well, and they haven't kept up with everything.
In other words, I've found some real opportunities to help make their lives better and easier and to adjust to their new needs (just like you want to do).
Which is why each time I have a buying occasion – like their birthdays or Christmas – I like to think of products and services that will help make their life easier in some way.
I'm going to share with you what makes a good gift for the elderly people and elderly family members in your life, and then lots of great ideas that have made my own loved ones' lives easier in some way.
What are Good Gifts for Elderly?
Gifts that make life easier for the elderly in your life help with one of the following:
Make it easier for them to get around/maintain mobility
Make it easier for them to see (books, television, at night, etc.)
Make it easier for them to communicate with others
Make it easier for them to experience something
Make it easier for them to do household chores and tasks
Accommodates memory loss, or eases the symptom
Translates their old treasures (like photos) and precious memories into modern forms they can use
Teaches them a new skill that allow them to participate in new technology
Makes them feel more comfortable
The easiest way to figure out what gift will make the most difference in their lives right now? Is to spend quality time with them and see where they're experiencing difficulties throughout their day.
Gifts to Make Life Easier for Elderly
Let's head into the good part – all the great ideas I've got for gifts to make life easier for the elderly. These aren't just thoughtful gifts, they're extremely practical gifts for older people.
This was the latest gift I purchased for my grandfather because he just loves being on Facebook on his phone.
Those screens can be tiny! Which can be an issue for older adults with vision problems (not to mention, it's just nicer to see something bigger).
With this one, you just slide your smartphone into the back area and then look through it through the magnifier.
Note: It doesn't magnify it to be the size of the full-screen or anything (like in the photo), but it definitely makes it larger. I even used it once for my at-home yoga practice and it helped.
That's a win in my book.
I bought this product for my grandmother, who has trouble bending completely down, so that she could easily suction it to the bottom of her shower and get her feet nice and clean.
An elderly person can just put it out of the way in the corner of their shower, squirt some body wash on it, and get their feet scrubbed!
Hint: Truth be told – it looks like it would be pretty fun for my feet, too!
My poor grandfather has no cartilage left in his shoulder, and my grandmother has a tough time getting around, too.
That's why I thought it was genius when I showed up at their home and saw them take their dirty clothes to the laundry area using one of these roller laundry hampers.
Do you know how many passwords my grandmother had to memorize back in 1950? Likely none (or one – to a bank box or something).
Do you know how many passwords she has now?
I would estimate 30+.
This large-format password book helps her to easily flip to what she needs the username/password for and then to plug it into her smartphone.
One and done.
How annoying is it to leave what you need down on the first floor, or in another room? Now, imagine doing that when you have trouble getting around.
An older person with a walker might really appreciate a walker bag to carry things around with them as they move from room-to-room, or go out and about.
One of the simplest inventions to help senior citizens? Is the armrest caddy.
My grandmother keeps the three TV remote controls plus her reading glasses in hers. You can also keep sudoku puzzles, small board games, adult coloring books, a mobile device, and more things for easy access.
My grandmother and I had a whole conversation once about how dark her home got, and how important adding extra lights in was to her daily routines.
She said that the older she gets, the darker everything seems.
She's added in night lights, under-cabinet lights, and touch lights for the closets in the hallway. Each has helped her immensely.
Lugging a pet to the vet by yourself is usually not an easy thing to do. And it can be even more difficult if you have a limp, or can't carry much weight.
These pet caddies with wheels can help an elderly person still get their cherished pets to the vet, without as much of the hassle.
It's hard for me to even remember the last word I read on a page when I open a book back up. For my grandmother? Could be nearly impossible (especially when she reads the bible – there are tons of words on each page!).
That's why I love this Last Word bookmark – it helps everyone know where to pick back up from.
Do they spend a good deal of time in bed?
This bed caddy is a great idea – it can hold drinks, remotes, and other things they might want to get to easily.
Psst: here's how to create a Bible Study caddy I created from the Dollar Tree. This would make a wonderful gift for my grandmother!
Oh, the pills.
Both of my grandparents have several pills to take each day, and at different times of day.
That's why I like this pill organizer – they can fit in a bunch of pills, and it's separated from ones they take in the morning, and ones they take in the evening.
Hint: you can find one in almost this exact style from the Dollar Tree for $1.25.
Psst: and if they travel? Here's a really stylish, Vera Bradley pill organizer.
Setting up movable stations filled with things the elderly can easily grab in any area of their home can be super helpful.
My grandfather has this three-tier roller cart right next to his lazy-boy chair in the living room.
It's where he keeps:
Medicines
Sudoku to play
Tissues
Pens/pencils
Firefighter scanner
Replacement batteries
Etc.
It's also got a tabletop, so it dubs as a side table where he can keep snacks and beverages.
Other places they could keep this include the bathroom, the laundry room, the kitchen, the craft room, etc. Really, anywhere where they need access to a bunch of things without walking around a lot.
Both of my grandparents have found a stylus pen very helpful to use with their iPhones.
These can be a lifesaver for keeping Grandma connected, especially if she has arthritis or dexterity issues.
14. Virtual Assistant
Whether it's Amazon's Alexa, Apple's Siri, or Google Assistant, your favorite senior could get a lot out of a device that easily connects them with a virtual assistant through simple commands.
The Amazon Echo Dot, for example, could help them by:
Automatically playing music they'd like to listen to
Telling them the weather for the day
Look up where else an actor in a show played (that they just KNOW they've seen before but can't put their finger on…)
Automatically turn on lights when they enter a room
Alert them of an upcoming appointment
etc.
You can even turn it into a medical alert system.
With arthritis, or any condition that results in a reduced ability to grip things, comes trouble using keys in doors.
These key turners help widen the grip for aging people.
Some studies show that light therapy can significantly increase the quality of life for aging people. Luckily, there are lots of great and pretty cheap light therapy lamps on the market.
​I've noticed my aging parents and grandparents are having trouble getting in and out of cars.
This holiday season, I'm going to give them this auto grab bar. What a great solution to give them some leverage!
Other Ways to Make Life Easier for Elderly
You can also give the gift of your time by helping the elderly in your life with various tasks that truly can bless them, or be what keeps them able to live independently.
Let me show you what I mean, with tasks I've helped my own grandparents with over the years.
1. Call Around for Lowest Prescription Prices
I've written an entire article about how to get prescriptions cheaper, including how to shop around for the lowest-costing pharmacy for each prescription (that's right – prescriptions cost different amounts at different pharmacies!).
Helping a senior citizen call around and find the lowest rates for their prescriptions could be huge for them. Think about what might change if they can open up some more cash flow (especially if they're on a fixed income!).
2. Edit their Smartphone Home Screen
Recently, while visiting my grandparents, I took the time to show my grandmother how to edit her home screen on her phone.
She had 5 different screens that she had to constantly swipe through to find what she was looking for.
SO, we spent about 30 minutes making her phone experience a whole lot less overwhelming. Now, all of the apps she uses daily are on her home screen, there's room to see the sweetheart picture of her and my grandfather as high-schoolers, and she knows how to delete apps she doesn't use.
3. Make their Phone More Accessible
Did you know there are tons of ways to make an iPhone more accessible? Things like changing the text size, adding closed captions, showing them how to use the speak screen, and much more.
Take the time to set their phone up so that it's custom fit to what they need.
When you put some thought and care into the gifts you give to the elderly in your life, you can really make a difference to them. These gifts to make life easier for the elderly are just the thing to create an easier daily life that will keep them self-sufficient for longer.
The following two tabs change content below.
Amanda L. Grossman is a writer and Certified Financial Education Instructor, Plutus Foundation Grant Recipient, and founder of Frugal Confessions. Over the last 13 years, her money work has helped people with how to save money and how to manage money. She's been featured in the Wall Street Journal, Kiplinger, Washington Post, U.S. News & World Report, Business Insider, LifeHacker, Real Simple Magazine, Woman's World, Woman's Day, ABC 13 Houston, Keybank, and more.
Read more here
.
Latest posts by Amanda L Grossman (see all)