97 awesome stocking stuffers for young ladies (ALL under $10). Cheap stocking stuffers ideas for her to love.
Having trouble figuring out the best (and cheapest) stocking stuffers for young ladies in your life?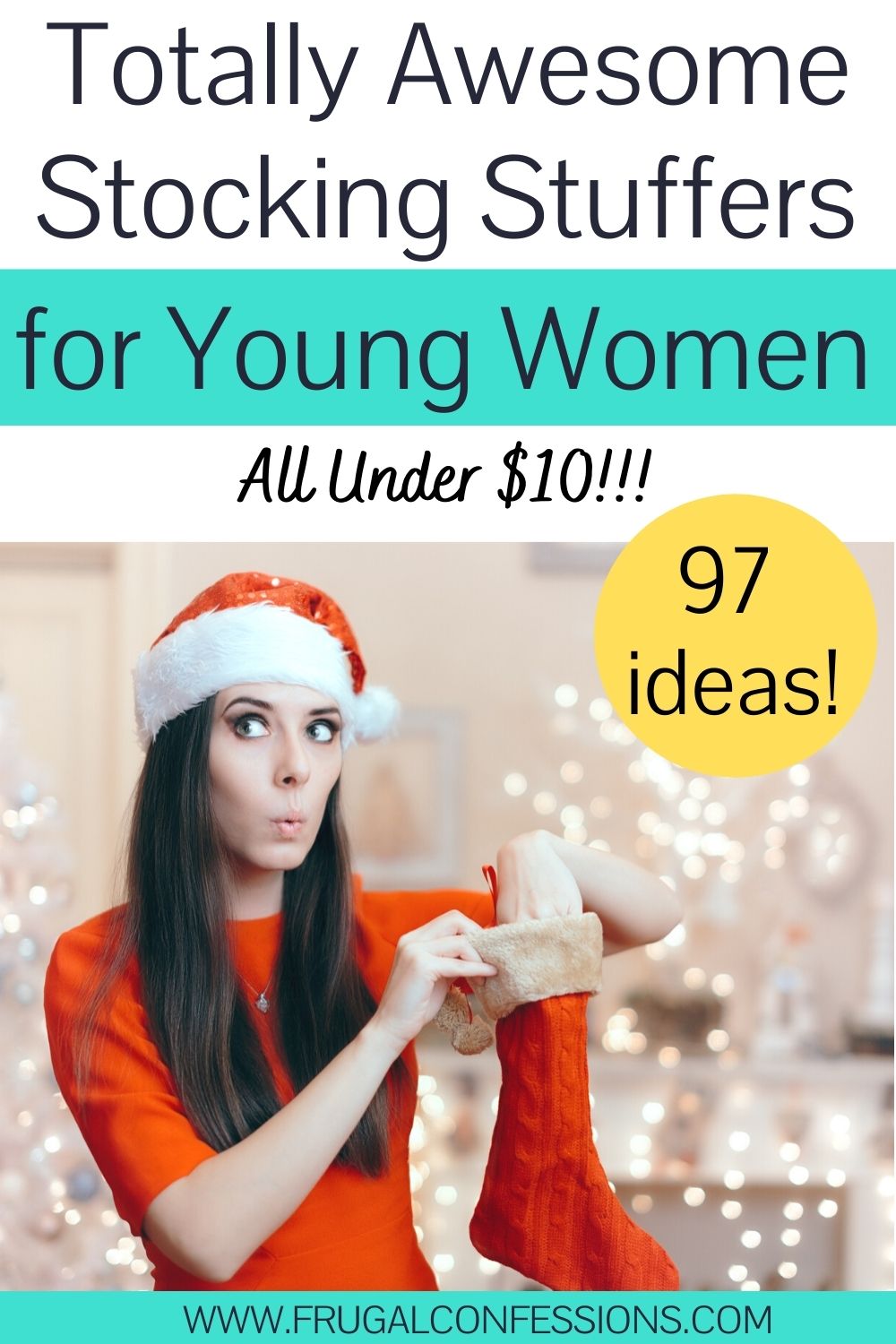 First of all – I think it's super cool you're looking into this. We women tend to do most of the stocking stuffin', if you know what I mean, so it's great that you're going to surprise the women in your life with their own gifts!
Secondly, I've got you covered.
In this list of 97 stocking stuffer gifts for the impossible woman, for the Moms, for the wives, etc., you're going to get very inspired.
Consider your shopping, done!
Are you ready for good stocking stuffers for women?
Psst: All gifts on this list are under $10 (at the time of writing this) AND are available on Amazon Prime with 2-day free shipping (perfect, especially if you are a last-minute shopper!). Don't already have Amazon Prime? Grab a free 30-day trial just for the holidays. If you like it? Keep it. If not, well, you just got free, fast shipping all holiday season long.
Cheap Stocking Stuffers for Young Ladies (Under $10)
Find cheap stocking stuffer ideas the young ladies in your life will love!
Let me tell you how a few people on my own list are getting this really cool essential oil diffuser for Christmas this year! I'm even ordering one for myself.
2. Luggage Tags with Black Privacy Cover
Help them easily identify their luggage with these. These have a privacy cover – I like that.
You can use these fine tip markers for bullet journaling, regular journaling…or even writing a grocery list.
This is by far my favorite lip balm. Love the tin!
Would the lady in your life want to attach her wallet to her phone? These marble phone pockets are really stylish.
Could be a great garbage bin for a truck, too:).
Here's a TSA-approved toiletry bag for men (or women)in case they travel a lot by air.
Jump on the agate trend by getting her a set of gorgeous (and absorbent) car agate coasters for less than $10.
I love this bookmark — especially good for when reading the bible and you need to know what verse you stop on!
My aunt absolutely loves dangly earrings…but I've never gotten into them. That is, until I saw this pair. I love that it's lightweight – one of the reasons why I've hesitated in the past.
Look at this adorable tea pot that comes as a weight with this tea mesh ball.
I had no idea wine glass markers even existed!
These socks look like sweaters – I just love that.
You can get a Peppermint essential oil roll-on, anxiety relief essential oil roll-on, and many others.
Coming from a woman who once purchased a pouch of Dead Sea mud (though I've yet to bust it out), I think your lady might like this Dead Sea Mud and Charcoal Bar.
What a cool bar of soap – love the image of the goat!
Customizable an endless number of times.
This is an easy and quick way to make just one serving of coffee (also great for camping and traveling).
Is your guy a frother? You know, he likes to make froth for his homemade lattes and such? Here's a frothing pitcher AND a frothing decorating pen.
You can get a cute socket for their smartphone.
You can help personalize your lady's phone with these home button stickers.
This is a universal, magnetic cell phone holder that goes into a vent.
This is pretty nifty, and can help them keep their documents and things organized in the glove box.
Cute, and functional passport holder.
25.
You could also include some nutmeg, or a lemon or something else that needs zesting with this zester!
This bible cover is made of a gray fabric, and has the fish symbol. Lots of colors available.
Here's a purple one (comes in many different colors).
Here is a deck of inspirational messages for the woman in your life, from other women. Here's another inspirational deck.
I love cats, and I just love these note cards. Here are some wildlife ones.
Does the woman in your life travel? Here's how she organizes all her cords. This one is super cute!
I actually have this exact one. Not only is it great for catching ideas, but it also is fun to send little love and inspirational notes back and forth between the two of you.
Does your lady complain about her feet? Snag a tube of this and stick it in her stocking.
For foot pain relief, try this compression copper arch sleeve. Here's also a NatureCare cold therapy wrap.
Check this one out.
These are especially great if the woman in your life likes to keep things organized (*raises hand*).
I just love messing with play doh throughout the day, so this would be perfect for me.
Spice up their workout routine with a set of fitness dice.
Check out all these exercise moves and postures on one poster!
Help them take their exercise routine to the next level with a set of resistance bands.
This is a great way for the woman in your life to stay cool (and get sun protection) this summer. Here's another one that's very versatile.
This eucalyptus, warming body rub could be just the thing to help with their sore muscles.
Increase their safety by giving them a Mace keychain to carry around.
These pumice stones for feet can come in handy (especially since I don't like to get pedicures very often).
Check out this terry-cloth, inflatable bath pillow.
51. Extra-Sized Favorite Candy Bar
In your grocery store's candy section, find a large-sized bar of their favorite chocolate candy.
Here's a reusable tote bag for grocery shopping or shopping at stores. Comes in lots of patterns.
We have one of these reusable snack bags. You might also want to get a set of reusable freezer bags. These have little holders on them (plus, I love the whales!).
This is just gorgeous! Here's one with a preserved pressed flower in it.
This lava rock oil diffuser bracelet is pretty cool.
You could get her a tin of Cinnamon Spice gourmet teas, or some Buckingham Palace Tea.
Water with fruit infusions taste so refreshing.
What woman wouldn't love chocolate truffles in her stocking?
Does she like to bake? This gold cake dusting will take her creations to a different level.
I have my own Himalayan salt grinder at home – it's so pretty! And I use it for almost anything that I'd use salt for (except baking).
Here's a natural and organic yoga mat cleaner (mine could use a good cleaning!).
I went years without a yoga mat strap…and now that I have one, I won't go back.
Here's a full Gaiam Yoga set with a strap and block.
Anyone who has ever taken a hot yoga class (*raises hand*) knows how important an absorbent towel is.
Because…why not? I have a pair that was gifted to me, and I use them probably once every few months.
While we're on the yoga kick…here's a pair of toe separators (in case you didn't know, stretcher toes out and separating them is a yoga practice).
Got a pool? Here's a fun bunch of flamingo floats.
Does she love popcorn? Try out this set of 4 popcorn seasoning samplers (Movie Theater Style, Creamy Ranch, Zesty Cheddar Cheese, and Buttery Jalapeno).
You should see the flavors they have, like this cinnamon peanut butter.
We now have access to all kinds of beautiful salts of the earth. Try out these Celtic Sea Salts, or this Scorpion Sea Salt, or this Himalayan Pink Salt.
I just moved to the desert, and had no idea how many hummingbirds are here – good thing I already owned a hummingbird feeder.
This soap has Patchouli essential oils in it, which is believed to have a calming and grounding effect.
How about a "colorful" adult coloring book (I'll just let you click through to see an image)?
Dessert sauces are great on ice-cream (or other things).
I'm from the North, and always love a good bottle of real, quality, maple syrup. You also might want to look for the kind with a cinnamon stick in it. Bonus points if you cook them some waffles to go with it!
Here's a set of two, nonstick baking mats (in case they like to bake).
The lady in your life can put their essential oils in this necklace diffuser. I think my favorite is this Lotus Lava Stone one!
These natural (plant-based) mosquito repellent bracelets are perfect for outdoorsy men, or men who work outside.
I think this soap with wine and spices looks interesting enough to try.
Office Stocking Stuffer Ideas for Women (Under $10)
Stocking Stuffers for Her – Stocking Stuffers (Under $5)
You've found the bonus section! Here's where I share stocking stuffers for women under $5. Great stocking stuffers for ladies!
This handy little thing makes pouring wine much easier (and less messy).
I, like lots of women, just love Burt's Bees products!
3. Bar of Gourmet Chocolate
You know the gourmet-chocolate-bar section of your grocery store? Check that out and actually buy an exotic-sounding one for the woman in your life.
I hope you've found some awesome and cheap stocking stuffers for young ladies in your life…or at least become very inspired with ideas and now you know exactly what you want to get.
The following two tabs change content below.
Amanda L. Grossman is a writer and Certified Financial Education Instructor, Plutus Foundation Grant Recipient, and founder of Frugal Confessions. Over the last 13 years, her money work has helped people with how to save money and how to manage money. She's been featured in the Wall Street Journal, Kiplinger, Washington Post, U.S. News & World Report, Business Insider, LifeHacker, Real Simple Magazine, Woman's World, Woman's Day, ABC 13 Houston, Keybank, and more.
Read more here
.
Latest posts by Amanda L Grossman (see all)