Spark some crazy-fun memories with these fun summer activities for couples to do together.
What are fun things to do in the summer with your boyfriend? Your spouse? Your girlfriend?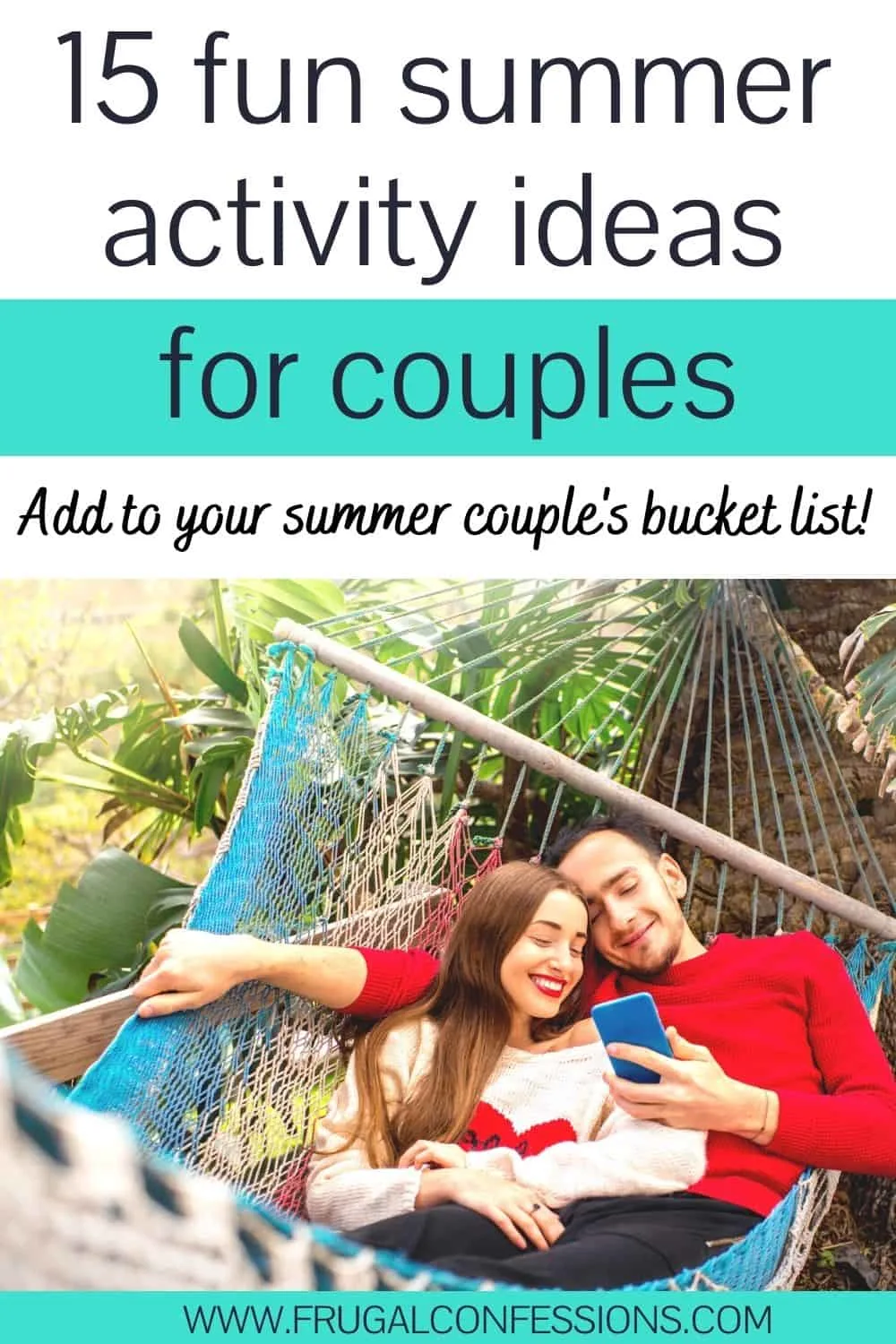 Not only are these fun summer activities for couples totally memorable, but they won't cost a fortune.
In fact, some are even free!
Fun Summer Activities for Couples
These couple's summer activities will help you squeeze every last drip of fun out of your time together.
1. Make and Drink Boozy Popsicles and Slushies in the Backyard
Whoever invented adult upgrades to popsicles and slushies? Should get a prize.
What a great idea!
Make one of the following boozy recipes, and enjoy them together in the backyard. Even better? While dipping your toes in water together (whether that's in a swimming pool…or the kiddie pool).
2. Enter an Amateur Cooking Contest
Work on a project together while keeping things fun. You'll want to first research the types of cooking competitions near you, such as:
Chili cook-offs
Taco competition
BBQ cook-off
Pie championship
Etc.
Hint: can't find one near you? Host a couple vs. couple or family vs. family competition at someone's house.
Next, research recipe ideas.
Then, brainstorm ways to improve upon the ideas and to make them your own.
The more you work together, the better!
Psst: not interested in an all-out competition with others? Then check out these free Iron Chef Couple's Date Night printables.
3. Beach-Stamp Your Way Along the Water's Edge
Will you be taking strolls along the beach this summer?
Get a few of these wooden circle cutouts and hot-glue them to the bottom of your sandals. You'll make cute beach stamps as you go!
4. Take a Pan-State Road Trip
Have you ever road-tripped from one side of your state to the other?
We happen to live in Texas, which is a ginormous state. And just this past Spring, we went from El Paso, TX (just 10 minutes from the border of New Mexico), all the way to Galveston (on the coast).
Along the way, we stopped at:
San Antonio's Riverwalk (1 night)
Houston (4 nights)
Galveston (2 nights)
Epic trip we'll always remember. Can you plan your own pan-state trip?
5. Play a Round of Sticky Note Rubdown
Get ready for a really fun, simple, game that will get the two of you physically touching each other in no time.
In fact, I played this with my husband just the other night and he thought it was HILARIOUS!
Put 5 sticky notes (like post-it notes) on each of you (on your clothes), set a timer for 2 minutes, and rub against each other to see who can get all of their sticky notes off, first.
Hint: Take this one out in the backyard…and keep your neighbors guessing. Prefer to keep things inside? Here's my article on 37 spicy at home date ideas for married couples.
6. Hop Yard Sales
Set a ridiculously small budget (like $3, or $5), and find the next yard sale in your neighborhood.
Give each other the task of finding something to buy for the other with that money.
The big reveal (if you can keep it a secret long enough) can be at your next date night.
Pssst: looking for cheaper or even free date ideas? Here's my list of 17 free summer date ideas for couples.
7. Host a Charcuterie Picnic
Set up a lounge area in the backyard, complete with lots of blankets and pillows. Then, pick a charcuterie board to make.
A few options I've been drooling over lately:
Add in some music, and maybe a tiki torch or two…and you've got a beautiful backdrop for romance.
8. Create a Seasonal Photo Wall Collage
Pick a wall, and start a summer photo collage.
Go crazy with this one – each time you guys get together and do something the least bit summer-y, take a picture, print it out, and post it on your wall.
Who knows how cool this will look by the end of summer.
Hint: here are 14 things for couples to do together besides watch TV.
9. Play Basketball in the Pool
Have you ever seen one of these cool pool basketball setups? It can be a lot of fun and a different way to use someone's pool. Great couple engagement!
Hint: don't have a pool? Whip out the kiddie pool, and have fun keeping score on who can hit a moving target while sitting on deck chairs a few feet away.
10. Build an Outdoor Fire Area Together
It would be perfect to do this at the beginning of summer – a couple's project to take on – so that you can come back and enjoy it all summer long.
Here are a few options for you, depending on your budget:
11. Find a Restaurant with a Fire Pit on their Patio
I just absolutely love sitting outside, next to a fire (you could probably tell, from suggestion above).
Something I've noticed recently is that there are a few restaurants with outdoor fire areas with really great atmospheres – like cushy seating around them, globe lighting, flowers, etc.
Find one in your area, and be sure to ask if you can reserve the outdoor fire pit. It makes a great hangout, even if just meeting up with your boyfriend or girlfriend for a drink and dessert!
12. Create a Secret Couple's Bucket List
Hit up each of the trails in a 50-mile distance. Eat each competing Philly's cheesesteak together over the course of a few weeks, then decide on which is best (we did this!). Visit each of the used book shops in your area.
Seriously – you'll be creating wonderful memories, working on a fun goal together, and have lots of things to talk about just by doing this one thing.
13. Volunteer on a Farm Together
I grew up on a dairy farm in PA, and can tell you that we were happy to have visitors and give little tours here and there.
Not only that, but I've found some farms even advertise that they're open for volunteers to work with them, such as this lavender farm in New Mexico.
Seek out a volunteer farming opportunity near your own community, and sign up together! A day of work can actually be fun, and definitely enlightening, for the two of you.
14. Collage Each Other's Portraits
Grab all the old magazines you can find, two pieces of semi-sturdy paper (regular paper works, too!), some glue, and scissors.
Face one another, and use the magazines to cut out eyes, cheeks, a nose, hair, etc. and glue it together on the paper into a collage portrait of your partner.
15. Get a Couple's Caricature Done
Do you have a boardwalk, artsy area, or other place nearby where you can get one of those cool caricatures drawn together?
Hint: if it's not possible to go somewhere in person to do this, you can order up one on Fiverr.com and type in "couple caricature" for a very good price.
Don't let the season go by without taking advantage of long summer days and warm, breezy summer nights together. Let me know which fun summer activity for couples you're most excited to do, below (and share some of your own ideas, too!).
The following two tabs change content below.
Amanda L. Grossman is a writer and Certified Financial Education Instructor, Plutus Foundation Grant Recipient, and founder of Frugal Confessions. Over the last 13 years, her money work has helped people with how to save money and how to manage money. She's been featured in the Wall Street Journal, Kiplinger, Washington Post, U.S. News & World Report, Business Insider, LifeHacker, Real Simple Magazine, Woman's World, Woman's Day, ABC 13 Houston, Keybank, and more.
Read more here
.
Latest posts by Amanda L Grossman (see all)