Free budget binder printables you can print off today, put into a cute binder, and use to sharpen those ninja budget skills.
Perhaps you checked out these cute monthly budget printables, or dabbled with one of these daily spending logs. And you've decided that a set of free budget binder printables is your next budgeting upgrade.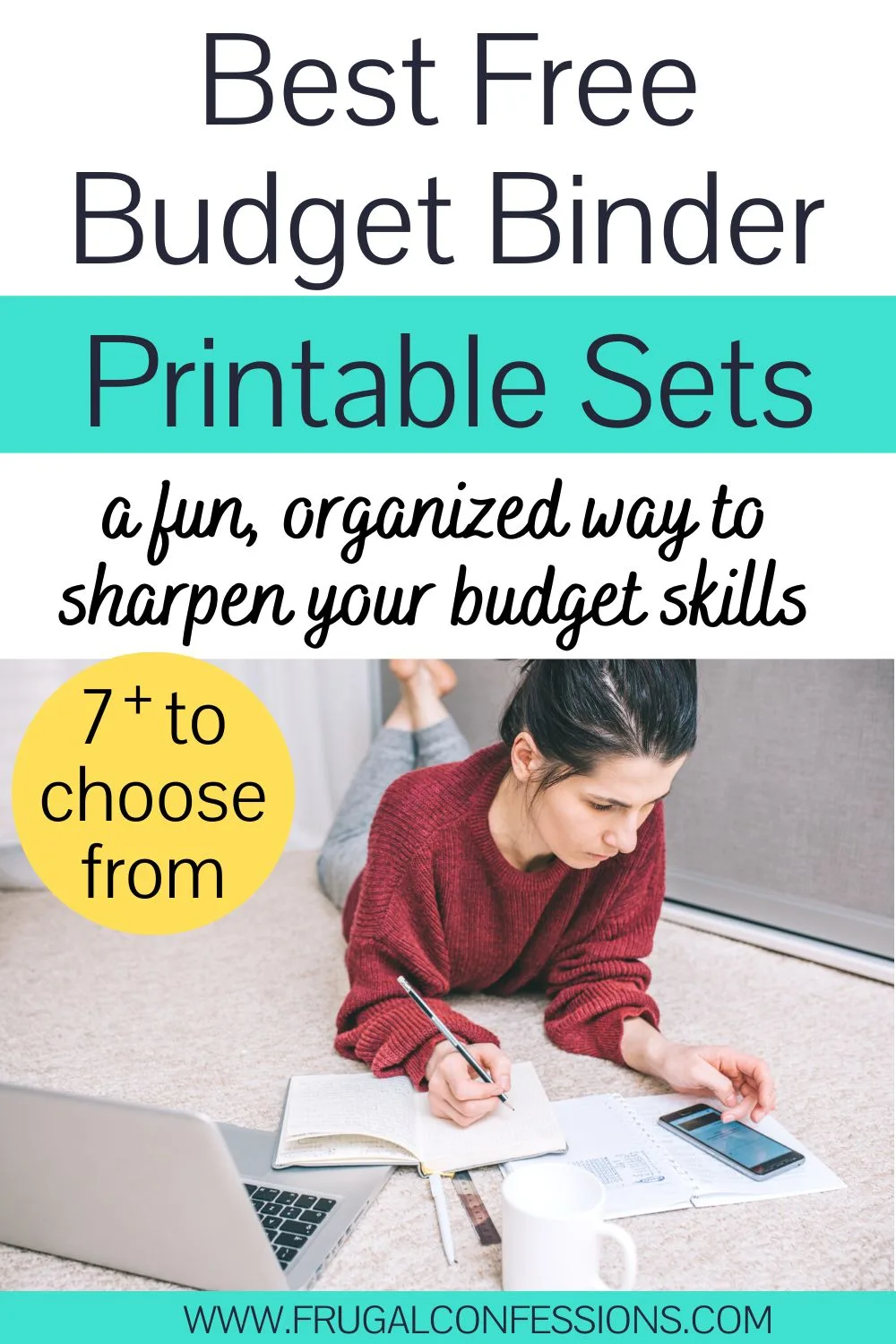 I hear you.
I'm a binder girl. Hands down.
There's something about having a dedicated, organized space for each of the big responsibility areas of my life – our home (when we owned one), my business plan, my fave recipes, and our budget – that makes managing it so much easier.
That's why I've pulled together the best free budget binder sets you can get!
Free Budget Binder Printables
What if you could keep the following tucked away in an oh-so-cute binder:
Bill pay tracker
Budget for the week
Budget for the month
Account tracker
Savings goal tracker
Debt payoff tracker
Well…you'd almost make paying down your debt, saving money, and managing your paychecks inevitable.
Not to mention, you'd stop having to search in random bins, folders, and the bottom-of-your-purse when you're trying to pay an almost-due bill.
Sounds like a win to me. Here we go!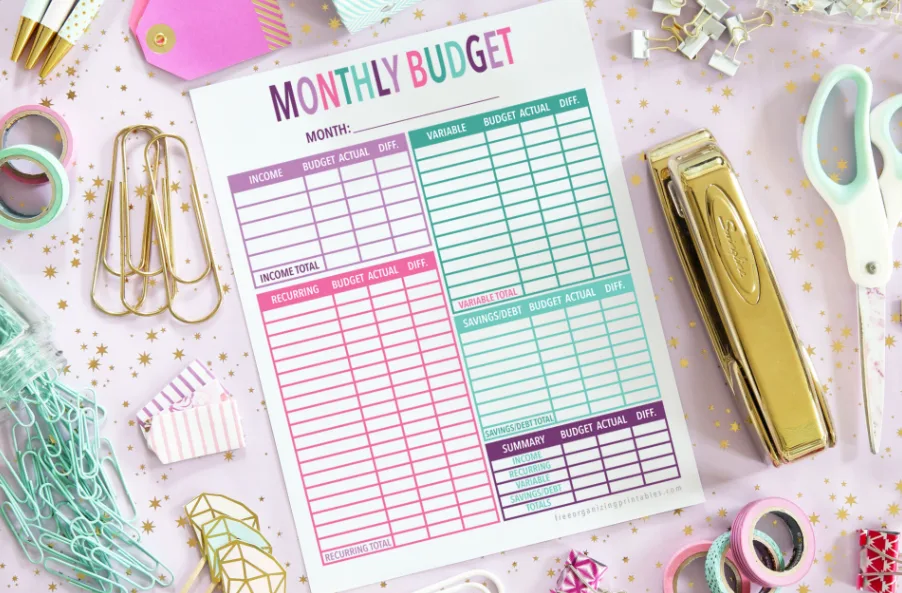 Do you use the cash envelope system (here's my roundup of free printable cash envelopes)?
Well, not only does this pretty set of printables include what you need for a proper budgeting binder…but it gives you a set of snazzy printable envelopes to use, too.
Did I mention there are really stylish section dividers and covers, too? .
Use these printables to:
Review your month
Set financial goals
Set your monthly budget
Track spending
Track recurring bill payments
Track expenses
Track charitable donations
Track savings goals
Track debt payoff
Manage financial accounts
Etc.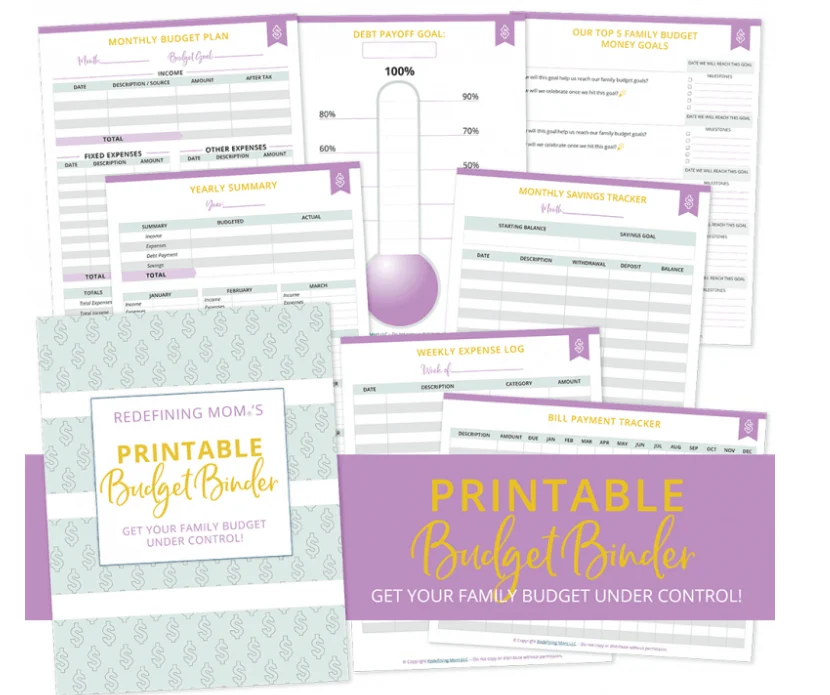 Imagine sitting down for a money date with your spouse, checking up on your five most important financial goals, filling out your monthly budget plan for next month, and seeing how far you've come with debt payoff since your last meeting together.
That's motivating!
Use Monica's super-cute budget printables, which include the following:
Weekly expense log
Bill payment tracker/Monthly bill payment log
Monthly budget plan
Yearly summary
Monthly savings tracker
Debt payoff tracker
…and more
There's also a front cover, and five different spine size options for the spine label.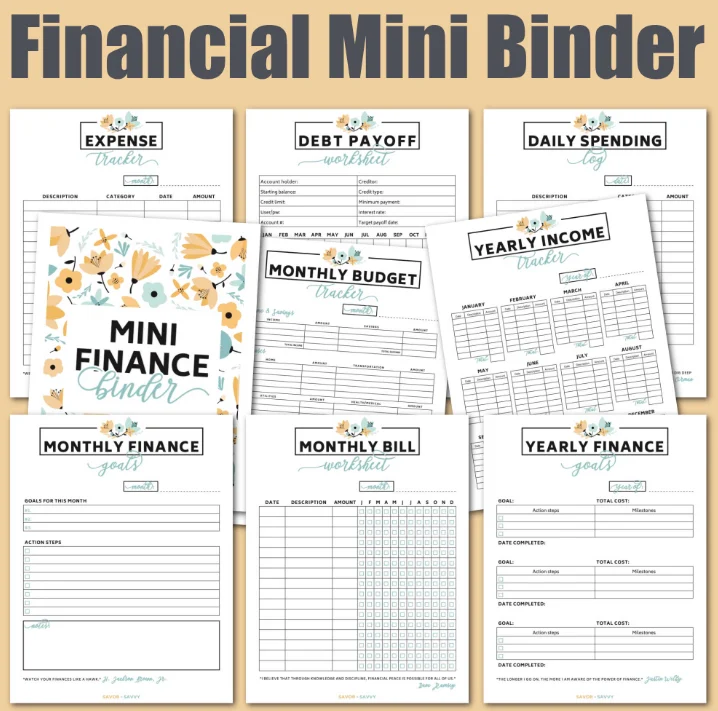 Keep your eye on both your annual financial stats, and your monthly ones with this 7-page free budget binder set.
You can print out one debt tracker for each of your debts (credit cards, student loans, store lines, car, house, etc.). I love how there are boxes on the debt sheet for each of the 12 months, so that you can manually fill in your ending balance each month and track your progress.
The monthly bills worksheet will help you track each bill as due, and as you pay them.
And there are sheets for both your yearly financial goals, and your monthly ones.
If you don't want to track all of your expenses, you can use the monthly and daily spending trackers to focus in on one category of spending at a time (example, food, or clothes) for a whole month so that you can become better aware of how much you're spending there.
This is what I suggest you do in the 12-month Frugal Year Challenge.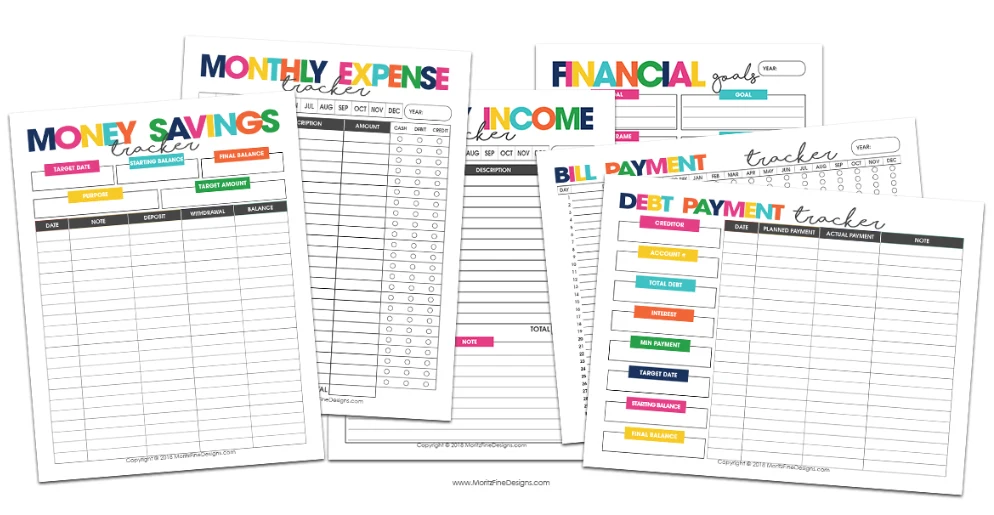 I just love Mortiz's design style, so I was stoked to find out she had a free budget binder set of printables I could share with you.
Her budget mini-binder printables will help you:
Set and track your annual financial goals
Track your monthly income (helpful for remembering all the extra money outside of salaries that come in, also if your income varies or if you're self-employed)
Track monthly expenses
Track bill payment (one year, all on one sheet, so that you can see changes/fluctuations in those variable bills)
Track your debts (print one sheet per debt)
Track monthly savings
Psst: why not make budgeting a family affair? Here's my free teen budget worksheet, and my Teen Budget Binder.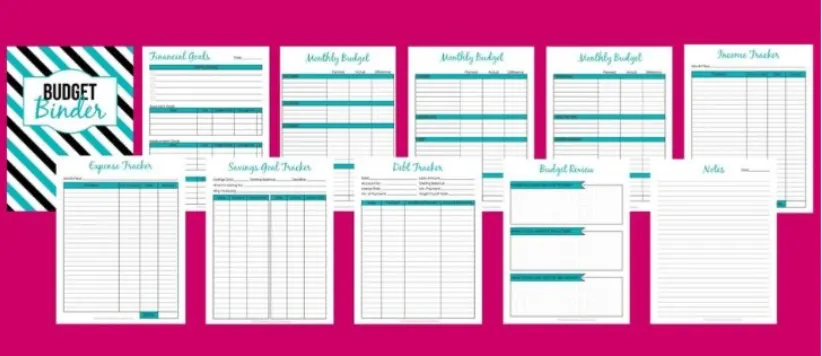 You can set short-term, medium-term, and long-term financial goals using the Financial Goals worksheet.
Use the other worksheets to track:
Income
Expenses
Savings Goals
Debt
And there is also a Notes page plus a Budget Review page where you can record what you did well, what you want to improve, and ideas for next month.
Do you like a little rainbow color in your life?
Perfect! I've got a cool set of free budget printables for you.
Carrie provides you with the following:
No Spend Tracker
Monthly Budget
Utility Bill Tracker
Yearly Summary
Total Debts Owed Tracker
Monthly and Yearly Recurring Expenses
Debt Payment Log
Debt Payoff Tracker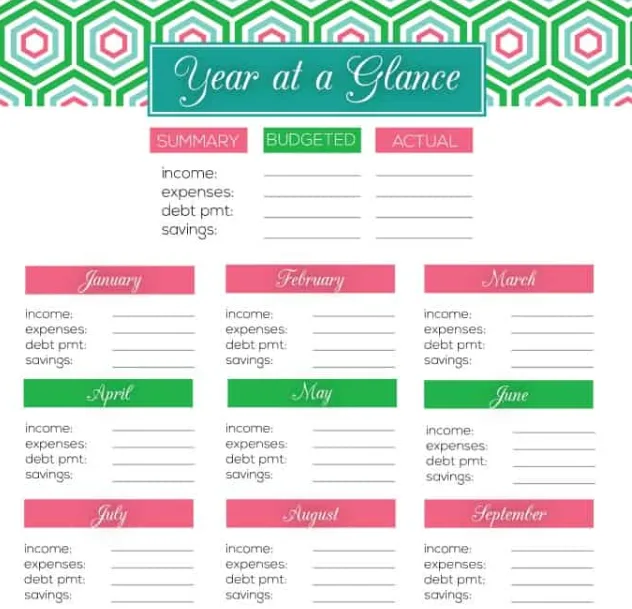 The reason why I chose this budget binder?
I think what makes it different is the Year-a-Glance Sheet.
Sure, it's got the usual sheets found everywhere else (monthly budget, debt payoff tracker, expense log, bill payment log, etc.).
But the Year-at-a-Glance sheet? That allows you to take a snapshot of each month of the year – income, expenses, debt payment, savings – and then sum it up for the whole year.
Seeing each month of the year at a glance, then summing things up for a whole year is going to give you a totally different perspective on your overall finances and financial health (especially if you pair this worksheet with these 3 financial wellness questions.
Remember that at the end of the day, you need a set of free budget binder printables that work for you. Feel free to pick and choose from the different systems above – taking a No Spend tracker from one set of free printables, and a Utility Bill Tracker from a second set, then adding that with a third set that mostly fits what you need. Then, print out everything you need for the next 12 months. That's right – a whole year. You'll be amazed at the changes you can see in that time, plus the new financial habits you'll pick up from the discipline of filling everything out.
The following two tabs change content below.
Amanda L. Grossman is a writer and Certified Financial Education Instructor, Plutus Foundation Grant Recipient, and founder of Frugal Confessions. Over the last 13 years, her money work has helped people with how to save money and how to manage money. She's been featured in the Wall Street Journal, Kiplinger, Washington Post, U.S. News & World Report, Business Insider, LifeHacker, Real Simple Magazine, Woman's World, Woman's Day, ABC 13 Houston, Keybank, and more.
Read more here
.
Latest posts by Amanda L Grossman (see all)