These saving goal examples and the strategies real-life people have used to meet them can inspire your own short and long-term goals.
Reading through other people's saving goals examples is so fun and inspiring.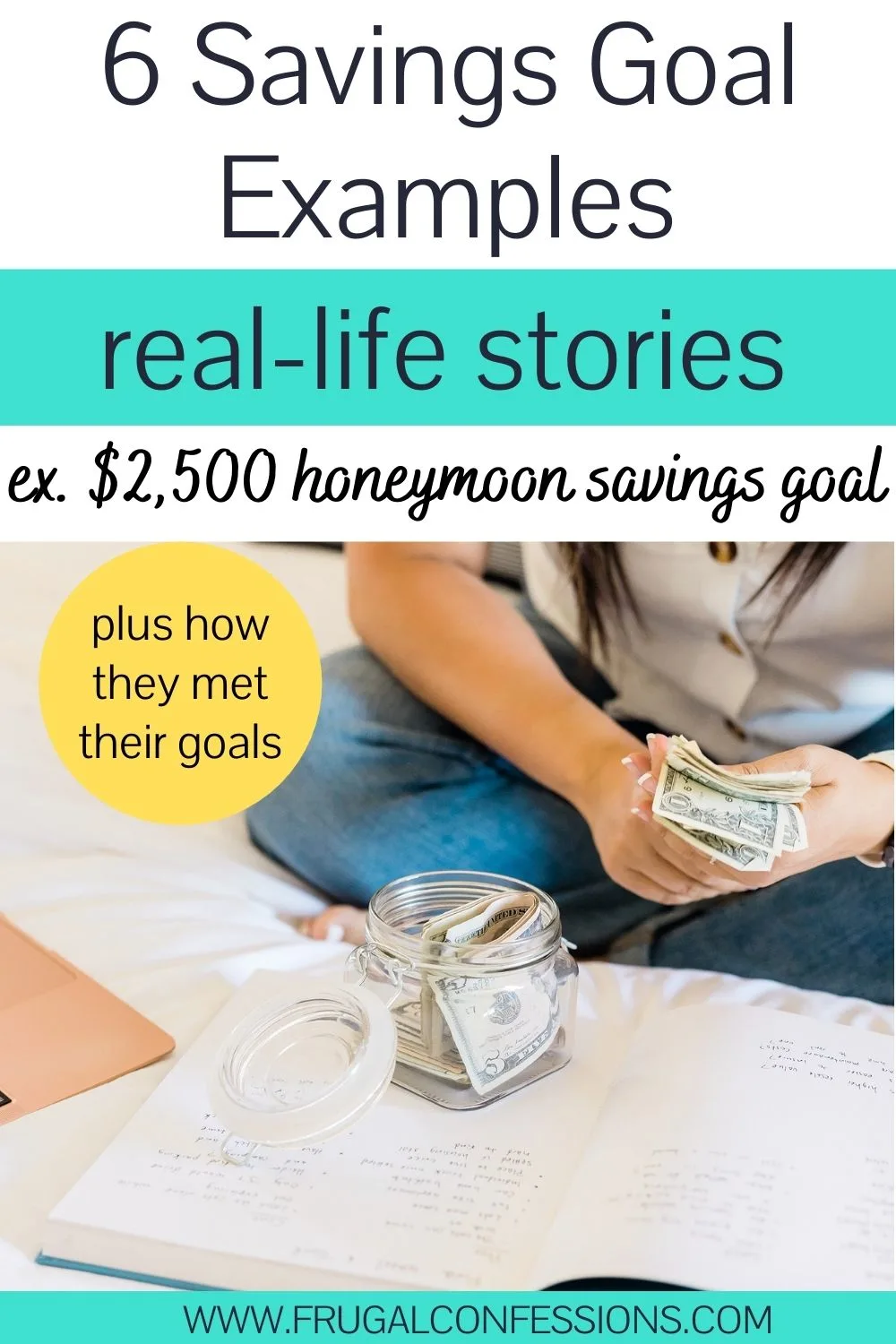 You get insight into their lives, into their priorities, as well as help clarifying what your own savings goals could be.
That's why I've gathered a collection of both short-term and long-term savings goals examples for you to read through.
These examples show that each person had:
Motivation to set the goal
A deadline to reach the goal
Ideas for how to get there
Time, energy, and money to dedicate to their goal
Before we dive into our first saving goal example (to set aside $2,500 towards our 11-day honeymoon to Austria), let's briefly discuss what makes a savings goal realistic.
What is a Realistic Savings Goal?
You might look at some of these saving goals below and think they're completely out of range for you to ever accomplish.
Others, you might think are laughable.
So, how can you know what a realistic savings goal is for you?
The first way to tell is the length of the goal: are you ready for a short-term savings goal, or a long-term savings goal?
Short-Term Savings Goal = Something you want to be, do, or have that will take you up to 5 years to save for.
Long-term Savings Goal = Something you want to be, do, or have that will take you more than 5 years to save for.
Whether or not something will take you less than 5 years, or more than 5 years to save up, and which type of financial goal you should go after really depends on:
Your income
The amount of your income you can dedicate to this goal (what I like to call your savings intensity level)
Your ability to delay gratification
Short-Term Savings Goal Examples
Grab your favorite drink, and dig into these short-term saving goals examples.
Example #1: $2,500 Honeymoon Savings Goal
Goal Amount: $2,500
For What: 11-day honeymoon trip to Austria
How Long to Save: 8 months
Motivation: To not start our married life off in debt, but still take a really awesome, international honeymoon (we both share a passion for travel).
Picture this: it was 12 years ago, and my boyfriend had just proposed to me.
I said yes (we're still married, today!), and immediately we began making some pretty darn big plans.
We wanted to:
Make a down payment on a home
Pay for our wedding without going into debt
Pay off the remaining $25,000 of our debt before walking down the aisle
Go on an epic honeymoon to Austria
Oh, and did I mention…we also didn't want a long engagement?
We ended up making all of that happen not by the time we walked down the aisle…but only four months after (not too bad!).
Part of how we were able to do all of that? Was by setting a honeymoon savings goal.
I knew that the money we already had saved, plus our paychecks, were going to be taken up by a lot of other priorities. So, I decided to challenge ourselves to save $2,500 towards our honeymoon, without taking any money out of our paychecks to do so.
Wait, what?!?!
I know, I know. Seems impossible.
Instead, we got crafty. And it paid off, because just 8 months later, we had set aside $2,334.78 to pay for our honeymoon.
While you can read all about our honeymoon savings goal here, I'll give you the big details:
We used the $8,000 first-time homebuyer's credit (that you didn't have to pay back) we received from buying our home to pay off the remainder of his car loan
Freelance Writing Income: $760
Bank Account Opening Bonuses: $421
Wedding Shower Cash Gifts: $325
Rebates: $222.49
Sold Stuff on Craigslist: $141.29
Carpooling (gas savings): $104
Research Study: $75
eHow Income: $54
Online Surveys: $27
Miscellaneous: $5
Psst: you might also want to check out my article on how to achieve savings goals, 5 money saving challenges for couples, and how to start a money saving challenge.
Example #2: Stand-Up Paddleboard
Goal Amount: $550
For What: Stand-up paddleboard
How Long to Save: 1 month
Motivation: To start a regular, self-care hobby
Kari felt transformed by being out on a river with her friend's paddleboard, and became determined to buy the equipment needed for more "nature therapy".
So, she set a goal to save $550. Then, she documented the whole thing.
What was her strategy?
To source the money from doing a no-spend challenge month.
Here's a few more details that helped:
She chose a month when her husband was away on military duties, since he wouldn't be enthusiastic about it.
Gathered up any gift cards she had, so that she could use them in a pinch for the month.
Dug through her freezer, and ate through forgotten freezer foods.
Etc.
What a cool thing to save up for!
Example #3: Buy an RV
Goal Amount: $15,000
For What: RV
How Long to Save: 1 year
Motivation: Loved being on the road to explore their surroundings
Jill and her husband set a 1-year savings goal of $15,000 so that they could buy an RV and continue exploring with their family.
Here's part of how they did this:
Dedicated a separate savings space (savings account) just for this goal, which motivated them even more.
Decided to set aside $850 each month ($10,200 over one year).
Meal planned in no-meat dinners.
Long-Term Savings Goal Examples
Now, let's move onto what would be considered long-term savings goals for many.
Example #1: Buy a Home Outright
Goal Amount: $100,000
For What: Pay for a home outright, with no loan
How Long to Save: 5 years (met the goal in 2.5 years)
Motivation: "…waiting and saving for a few years to buy a home debt-free will allow us to be in a much better position financially than if we were to take the money we have saved and put it as a big down-payment on a home."
Back in 2009, Crystal Paine and her husband of MoneySavingMom.com documented a remarkable savings goal: to save up $100,000 so that they could pay 100% cash for a home in Wichita, Kansas.
They decided to set a deadline of 5 years to meet this goal, and divided the $100,000 by 60 months to see that they'd need to save up $1,700 each month to make it.
If you read their story, you'll see a few things that stick out about how they were able to do this:
Crystal is a ninja couponer (her site has tons of great information about this)
They were a one-car family
Searched the internet using Swagbucks and used the free gift cards they earned to pay for non-necessities
They lived in a basement apartment
Their income increased dramatically towards the end of that 2.5-year period (both her blog and her husband's law practice)
Example #2: Long-Term Travel Around the World
Goal Amount: $25,000
For What: Travel long-term (2 years)
How Long to Save: 5 years
Motivation: To see the world
Juliff set a savings goal of $25,000 so that she could travel around the world for two years.
Not only did she save this up as a full-time student, but she made an entire business out of it – she blogs about her travels at Never Ending Footsteps.
Here's some of her strategies:
Worked two part-time jobs (on top of being a full-time student)
Decided she was only taking a backpack with her, so she sold off almost everything else
Packed her lunches, used blankets in the winter instead of turning on the heat
Etc.
Example #3: To Become a Stay-at-Home Mom for One Year
Goal Amount: $30,000
For What: To be their son and daughter's primary caregiver
How Long to Save: 7 months
Motivation: To spend time with her child, and cut down on daycare costs
Glen Craig and his wife decided to save up enough money for her to stay home with their son and daughter for one year.
They were a two-income family, and so decided that the best way to both transition to one-income as well as to save up money as a cushion was to bank her paycheck.
By doing this (plus the following), they were able to save $30,000:
Glen decreased his 401(k) contributions to enough for a full-employer match, but not more like he had been doing.
Got rid of cable tv
Lowered their contributions to their 529 college savings plan
Are you motivated to save money and reach your own goals by these saving goals examples? I hope so! In fact, I think it's time my husband and I set a new goal to save for in our lives. So many options to pick from…
The following two tabs change content below.
Amanda L. Grossman is a writer and Certified Financial Education Instructor, Plutus Foundation Grant Recipient, and founder of Frugal Confessions. Over the last 13 years, her money work has helped people with how to save money and how to manage money. She's been featured in the Wall Street Journal, Kiplinger, Washington Post, U.S. News & World Report, Business Insider, LifeHacker, Real Simple Magazine, Woman's World, Woman's Day, ABC 13 Houston, Keybank, and more.
Read more here
.
Latest posts by Amanda L Grossman (see all)