Tired of saving up for only responsible things? I'm listing out 47 different COOL things to save up for. Look forward to these fun things to save up for.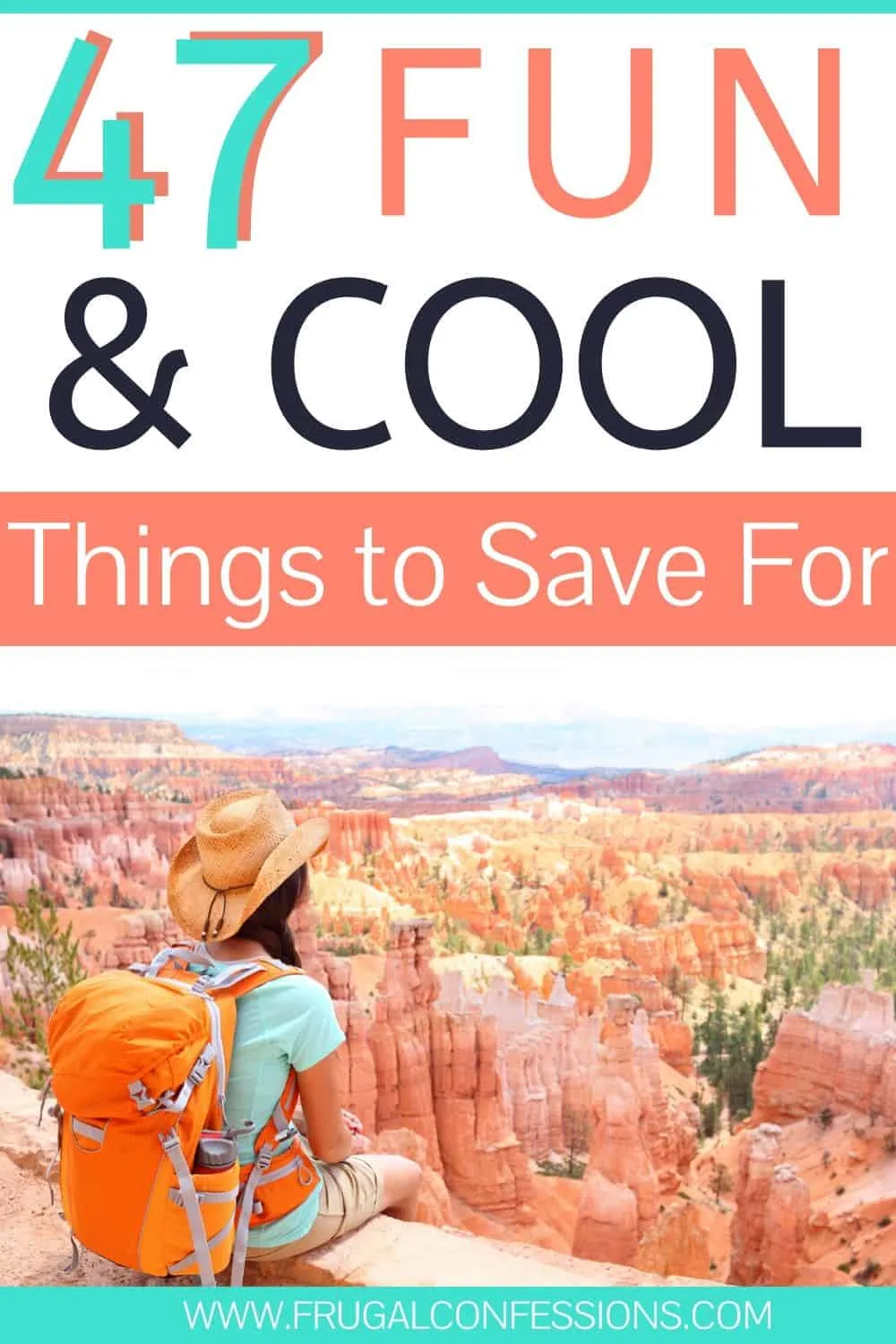 So many times when we talk about saving money, we talk about saving it for some of the more responsible (but sometimes…boring) things in life, like for a solid retirement, for sending our kids to college, or to replace the tires on our car.
And ALL of those things are extremely important – so please, keep saving for them.
In fact, I've dedicated numerous articles on how to save up for each of those types of things.
But today? I want to talk about the COOL things to save up for. What are fun things to save up for? What are other people saving up for that could make your life more fun?
Let's have some fun with this.
Cool Things to Save Up For
What makes something "cool" is different for each of us.
Still, I've really put my thoughts together (and talked to some friends and family) to bring you some of the coolest things you can save up for.
Feel free to steal these ideas as you make your savings goals, or even as a savings bucket list for later!
1. Set of Family Bikes
I've had a history of getting my bikes stolen. One stolen in Chestertown, one stolen in Houston…and I haven't bought a new one. But you know what? I LOVE to ride bicycles. I want to save up to buy all three of us bikes so that we can go on biking trips together!
2. Matching Team Jerseys
Team jerseys are expensive, amiright? Saving up for a matching set of them with your partner or family members would be cool for many.
3. Lasik Eye Surgery
Are you sick of wearing glasses? I've been wearing mine since 5th While I might be too chicken to get the surgery, it's definitely a cool thing to save up for.
4. National Parks Annual Family Pass
These are actually quite affordable, and they make financial sense if you're going to be visiting more than one park, with a car full of people. For just $80, you can get entrance for you plus a car full of passengers into over 2,000 national parks, nationwide, for a whole year.
5. Couple's Massage Session
How cool would it be to get a couple's massage with your special someone? Same room, at the same time.
6. Decked Out Home for the Holidays
National Lampoon's Christmas Vacation is a movie watched by millions of people every year.
If you want to deck your own home out like they do, save up for massive amounts of lighting and Christmas decorations. (Hint: you will want to purchase all those lights and decorations in the clearance holiday sales right after the previous Christmas – you'll get to your savings goal even faster this way!).
7. Build an Outdoor Dinner Area
One of the things I've wanted to save up for since going to Cozumel for our 5th wedding anniversary has been an outdoor patio dining area. We ate outside every single meal in Mexico – and it added so much to our enjoyment as a couple.
Since I'm in Texas, most of the year we'd be able to eat outside as well! But…not without some mosquito help, perhaps a fire pit, a table/somewhere to sit, and one of those cool restaurant outdoor heaters for the cooler temperatures.
8. Big Birthday Photo Shoot
For your 20th, 30th, 40th, 50th, or whichever birthday you choose…go ahead and shell out some money for a photo shoot. Think of how cool it will be to look back on professional photos of you!
9. Buy Your Next Home in Cash
Do you know that there are people out there who save up money over a few years (or a few decades) to eventually buy their home completely in cash?
Imagine the freedom of not having to take out a mortgage the next time you purchase a home.
10. Bee-Keeping Equipment
Do you have a desire to get outside more, take up a new hobby, and even help save the honeybees that are disappearing around the U.S.? Grab yourself a Bee Hive Kit (after saving up for it, of course). What a cool thing to save up for — you can get the whole family involved!
11. Professional Photography Session
You can save up to get your own photography session done, business brand images, some sassy ones for your partner, family session, etc.
12. Pay a Genealogist to Track Down Your Family History
How cool would it be to finally, once and for all, learn the facts about where your family came from (and which family myths are actually real)? You can hire a genealogist or a genealogy company to help with this.
13. Camera Equipment
Save up to treat you and your family to a high-quality camera that you can use to capture those family moments!
We're now going to move on from cool things to buy, to fun experiences to save up for.
A few savings printables to help you reach your goal:
Fun Things to Save Up For
Looking for really FUN things to save up for so that you can experience them?
Consider this section your Fun Savings Bucket List.
Feel free to steal any savings goal ideas you just can't resist!
1. Couple's Weekend Getaway
Ooohhh do my husband and I want to do this. It's been 5 years since our last one, which is when we were pregnant! Check out these 16 cheap weekend getaway ideas I put together to help you make this one a reality sooner rather than later.
2. 5-Year Anniversary Trip
For ours, we went to Cozumel, Mexico. It was an awesome 6 days and 5 nights!
3. Grand Canyon Backpacking or Mule Trip
Did you know you can actually trek the Grand Canyon? My cousins and uncles have trekked it, rim-to-rim. What a cool thing to save up for!
4. 10-Year Anniversary Trip
We're coming up on our 10-year anniversary this year, and would love to take a trip together. We have a 4-year-old now…so our options look a little different. Where would you like to go for your 10-year anniversary?
5. Trip to See Your Team Play
Save up money for airfare, hotel, tickets, and food costs to go see your favorite team play out of state!
6. Take a "Family Roots" Trip
After doing some genealogy research on one or both sides of your families, save up to take a trip back to where it all started. Was that Europe? Africa? Do you possibly still have relatives there?
7. Tickets to the Olympics
How cool (and fun) would it be to be apart of the next Olympic games? Since they only come every 2 or 4 years, you've got time to plan this one out.
8. Going on a Friendmoon
My childhood friend and I, who haven't lived in the same state for 14 years now, are thinking about meeting up somewhere halfway between the two of us and making a Friendmoon out of it. Boy would that be a fun weekend!
9. Yoga Retreat
My husband sent me on a weekend yoga retreat to the hill country of Texas…and it was divine. You're probably looking at around $300-$500 to save up for one of these (and, of course, there are week-long ones as well!).
10. Family River Tubing Trip
Find a campground that has access to a river (as well as a tubing company to rent from), and either stay in a cabin or pitch some tents.
11. Sail on a Catamaran
A few years ago, our family all rented a catamaran (with a captain), and sailed on Lake Michigan. What an awesome memory.
12. Salmon Fishing Trip
Each year, my stepfather heads to upstate New York for the salmon run. He has an awesome several days fishing with his guy friends, out in nature.
13. Go to a Broadway Show in New York City
I'm from the Northeast, and so was fortunate enough to see a few Broadway shows as field trips in high school. But I haven't been back since, and I think saving up for a weekend trip to hit up a Broadway show would be a lot of fun.
14. Hosting a Family Christmas
Has it been a dream of yours to have tons of your family stay over for an extended Christmas time? You'll need to save up for things like lots of food, Christmas decorations, possibly renting a second car, etc.
15. Family Horse Lessons
Spending quality family time together, outdoors, is a goal of many. Something like horse lessons for a handful of people can get really expensive. Why not save up for 3-5 lessons for your entire family over next summer vacation?
16. Cross-Country Train Ride
It's one of our dreams to go on a cross-country train trip, complete with renting an overnight car. I know, I know – it'll likely be cramped. But at least there are food carts and areas to walk around in!
17. Witness the Ball Drop in NYC
You could actually make it to see the ball drop next New Year's Eve in Times Square.
18. Family Medieval Times Dinner Out
Have you ever been to a Medieval Times Dinner + Theater? I went to one in high school, and then surprised my husband with two tickets just recently. He absolutely loved it! There aren't many around the country, but they are definitely worth going to at least once.
19. Family tickets to Cirque du Soleil
These shows are absolutely amazing. I was fortunate enough to score free tickets for both my husband and I to see Amaluna, as well as to Kurios. It was thrilling, to say the least! They're not cheap, but it will be a night to remember.
20. Tickets to a Professional Conference
Conferences can be absolute game-changers, for both your business, your profession, or your life.
21. Whale Watching Trip
This is on my own savings goal list for someday!
22. Stay in a European Castle
While planning our honeymoon 10 years ago, my husband and I stumbled upon the fact that you can pay to spend the night in castles all throughout Europe! How amazing.
23. Racing Experience
You can save up to send a loved one (or yourself, if you're into it!) a NASCAR or Formula racing experience. My stepfather did this, and he LOVED actually getting to race a car around the track.
24. Broadway Musical Weekend Trip
Pick out a Broadway show you're dying to see, choose who you'd like to take with you, and save up for the cost of the tickets, hotel, flights/gas, etc.
25. Rim-to-Rim State Trip
Have you ever travelled the entire length of your state? We just about did this past spring, and WOW is Texas interesting and diverse! Save up to take a long road trip across your state, stay in some meaningful places, and take the time to see what people pay airfare to come to your state to experience.
26. Ice Castles Experience
Save up enough money to take you and your family or friends to one of the ice castles built around the U.S. in the dead of winter (this is one of the experiences that we're saving for!).
27. Rent a Group Beach House
You could get a group of adults together, or different families together (ooohhh – cool family reunion idea) and rent a luxury beach house right on the beach for a week or more.
28. Adult Summer Camp Experience
Have you ever heard of an adult summer camp? They're a trending way for adults to have some of that good ol' kid fun in the summertime. Ahhh, to escape your responsibilities for a week or two.
I've given you tons of ideas for cool things to save up for, and now I'd love to hear your own fun things to save for in the comments below. What's on your savings bucket list (you know, besides the more responsible-but-sometimes-boring things, like saving up to replace the water heater)?
The following two tabs change content below.
Amanda L. Grossman is a writer and Certified Financial Education Instructor, Plutus Foundation Grant Recipient, and founder of Frugal Confessions. Over the last 13 years, her money work has helped people with how to save money and how to manage money. She's been featured in the Wall Street Journal, Kiplinger, Washington Post, U.S. News & World Report, Business Insider, LifeHacker, Real Simple Magazine, Woman's World, Woman's Day, ABC 13 Houston, Keybank, and more.
Read more here
.
Latest posts by Amanda L Grossman (see all)