What is the difference between ibotta and Fetch cashback apps? I break it down (with screenshots), plus discuss using both at the same time.
I was soooo late to the game using cashback apps for grocery stores. I mean, between trying to figure out what is the difference between ibotta and Fetch and other apps, and actually setting them up?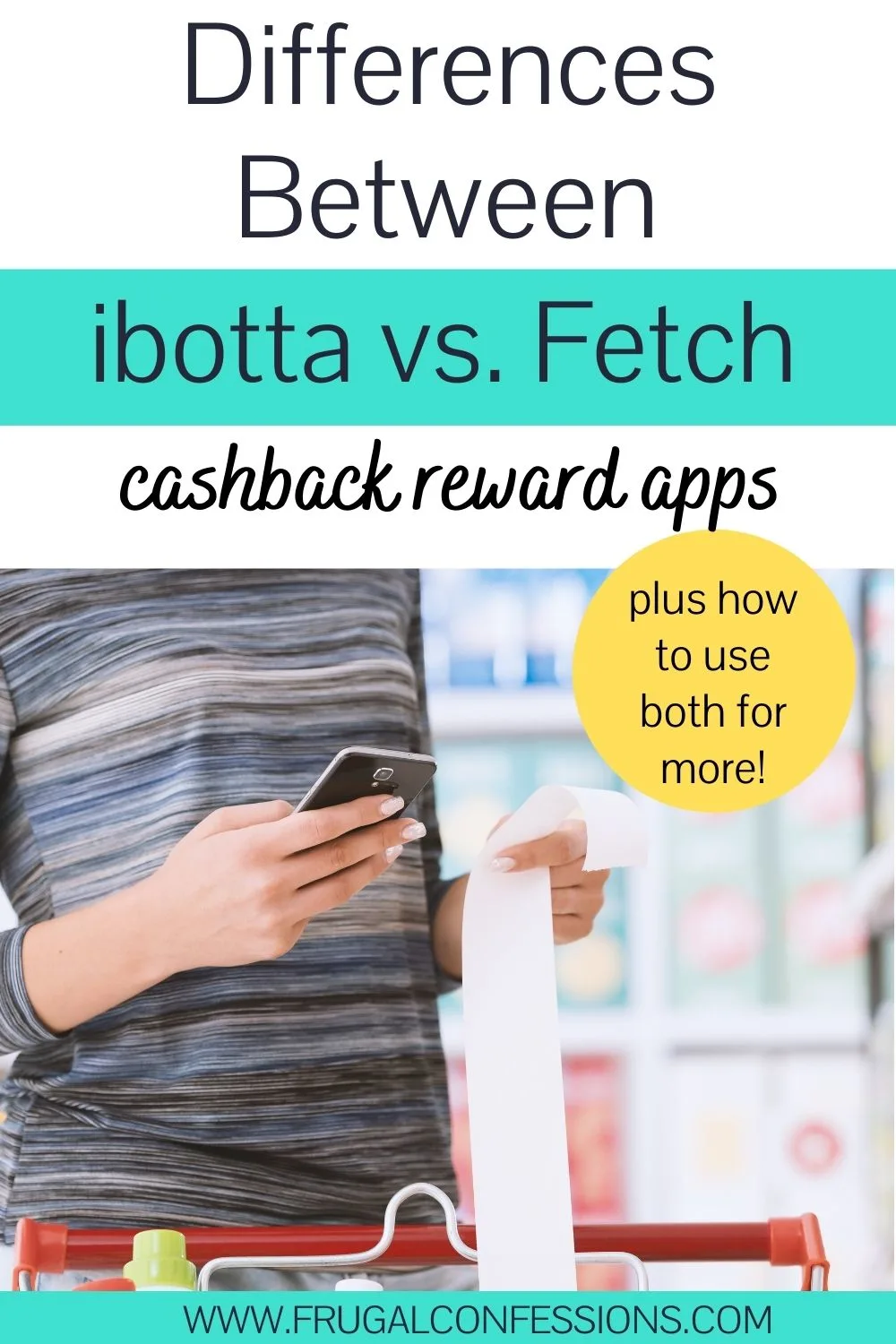 My head was spinning.
But when I jumped on the bandwagon 1.5 years ago, it was a GAME-CHANGER.
That's why I want to help you to decide for yourself which apps to sign up for, why you would want to use more than one (for the same receipt!), and the differences between ibotta and Fetch apps.
Let's get this cashback rodeo started!
Can I Use the Same Receipt for ibotta and Fetch?
We're starting off with a little known-secret: yes. You can 100% use the same receipt for both the ibotta and Fetch apps. You can even use the same receipt for a third cashback app I also use (ReceiptPal).
For example, here's the same grocery receipt from Walmart where I spent $117.12 on 9/14/2021. You can see that I earned $4.85 with ibotta, and 50 points from Fetch (roughly $0.50 towards gift cards).
Isn't that amazing? Talk about compounding your cashback.
What's the Difference Between ibotta and Fetch?
There are actually 9 specific differences between the ibotta and Fetch cashback apps.
And before we dive into those specifics, I'll answer a question most people have: is fetch or ibotta better?
Here's my quick response:
More Money: Ibotta will earn you more money back than Fetch (my lifetime earnings with ibotta is $242.80; with Fetch, it's 23,325 points or almost a $25 gift card. FYI: I started using ibotta just two months before Fetch).
Easier to Use: Fetch is more convenient to use and involves less time (you can scan in any receipt to get points, vs. having to choose offers with ibotta ahead of time).
Again, you can use both at the same time.
Now, let's dive into the differences.
Difference #1: Cash Vs. Reward Points
With ibotta, you see cashback each time you scan in a receipt that has qualifying offers on it. When you're ready to cash out, you can withdraw to a checking account, to a gift card, or even to PayPal.
With Fetch, you get reward points each time you scan in a receipt. You can then redeem those points for gift cards
Difference #2: How You Earn Cash and Reward Points
Here's the workflow for earning cashback with ibotta:
Open your app.
Choose the store(s) you'll be shopping at.
Scroll through the list and click on the cashback offers you want to add.
Shop like normal.
Scan in the barcode on your receipt afterwards, and see all the cashback you just earned.
Here's a screenshot of what these offers look like (click the plus sign to add one to your list):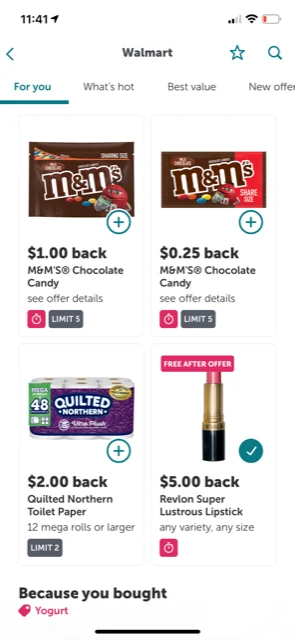 Here's the workflow with Fetch:
Complete your shopping.
Open your app.
Click the orange camera button at the bottom, then click "snap" (another orange camera button).
All qualifying offers will automatically ring up for you as points.
With Fetch, you can look at offers ahead of time if you want to up your game (to make sure you buy those items), but you don't have to. You can simply have the app automatically tally things at the end.
But with ibotta, some offers you can only get the cashback on if you actually click on them before you do your shopping. SO, you want to click through the offers ahead of time and have them primed in your account.
Make sense?
Difference #3: Points and Cashback Minimums
You will earn at least 25 points for any and all receipts you scan into the Fetch app, no matter where it's from (like even from that random apple orchard or laundromat you go to every so often).
With ibotta, you only receive cashback if there is an offer at a store that you've shopped at. If you do not have a need or want for a particular product with a live offer on their app? Then you will receive nothing.
Hint: I've been using the ibotta app for quite awhile now, and I can say that there has only been about one weekly grocery shopping trip where nothing on my list corresponded with their offers. Typically, I get back at least a few dollars per shopping trip.
Difference #4: You'll Earn More with ibotta
Even though you can input any receipt with Fetch rewards and receive at least 25 points, I can wholeheartedly say that you will earn more money by using the ibotta app.
I mean, just look at my own results:
I started using both apps at around the same time, and my lifetime earnings for ibotta are $242.80, and my lifetime earnings for Fetch are just 23,325 points (which roughly equates to a $25 gift card).
BIG difference.
Difference #5: Bonuses by Product vs. by Brand & Buying Thresholds
Each of these apps offers weekly bonuses you can earn on top of normal offers, which is awesome.
The difference is:
Ibotta bonuses: ibotta offers bonuses for buying a certain number of offers each week (such as a $5 bonus for buying 10 products that have offers). They also offer brand-specific bonuses, where you can earn more cash (like $0.50 or $1.00 extra) for buying a certain number of products with offers per brand. For example, right now there's a $0.50 Barilla pasta bonus when you redeem two pasta offers for that brand. There's a $1.00 barilla legume pasta offer with a limit of 5, so if you buy that twice, then you would get back $2.50 ($2.00 from the offer, and $0.50 brand bonus).
Fetch Bonuses: Fetch offers product specific bonuses, such as getting an extra 1000 points for buying select varieties of Finish Dishwasher detergent tabs.
Difference #6: Chrome Extension
Ibotta has a Chrome extension you can sign up for to automatically get cashback at online retailers as well! This syncs up with your phone app, too.
For example, if I were to shop at JCPenney online, I could click "activate" on the extension that pops up, and get 3% back on my purchase. Cha-ching!
Fetch does not offer this.
Difference #7: Referral Bonuses
If you refer your friends to these apps, then you will get paid as well.
However, ibotta gives you $10 per friend referral, and Fetch only gives you 2,000 points (roughly $2).
Difference #8: Sweepstakes
You can use your Fetch points to enter sweepstakes (such as the $1,000 Visa Reward Card giveaway I just entered – I got 1 entry for 100 points).
Ibotta does not offer sweepstakes.
Difference #9: How they Handle Online Transactions
While ibotta offers that Chrome extension where you activate offers that pop up on the righthand corner of your screen (as you shop from online retailers), Fetch offers the ability to scan your email and amazon accounts for eReceipts.
Ibotta does offer cashback on Amazon purchases. HOWEVER, you have to access Amazon through the ibotta app to get credit. In other words, they don't automatically scan your email or Amazon accounts for eReceipts to give you credit, like Fetch does.
What's the Same Between ibotta and Fetch?
Now that you've clearly seen the differences between these two apps, let me briefly talk about what's the same between them.
Earn You Something Back: They each offer you a way to earn money or gift cards on money you were going to spend anyway.
Weekly Bonus Offers: They each have bonus offers every week where you can earn more.
Receipt Scans are Easy: It's super simple to scan a receipt into either app. With ibotta, you scan the barcode of the receipt, and with Fetch, you take a picture of the entire receipt and click "submit".
Spending Tracking Help: One thing I love about having scanned in each of my receipts for the last 1.5 years with these apps? Is that they both offer a chart that shows my total spending, by month! It's just really helpful as I try to keep my grocery and consumable goods spending under control.
What is the difference between ibotta and fetch? Well, I hope I've shown you that while there are many, there are also some great similarities. Not only that, but that you should use both of these apps together, for the same receipts, to reap the most rewards. The only other question to ask yourself is: how will you use your cashback? (Oh, and that third app I use with these two? Is called ReceiptPal. Scanning in the same receipts for all three, I currently have enough points with that app to get a $10 Amazon gift card. Sweet.).
The following two tabs change content below.
Amanda L. Grossman is a writer and Certified Financial Education Instructor, Plutus Foundation Grant Recipient, and founder of Frugal Confessions. Over the last 13 years, her money work has helped people with how to save money and how to manage money. She's been featured in the Wall Street Journal, Kiplinger, Washington Post, U.S. News & World Report, Business Insider, LifeHacker, Real Simple Magazine, Woman's World, Woman's Day, ABC 13 Houston, Keybank, and more.
Read more here
.
Latest posts by Amanda L Grossman (see all)