Cheap pantry meals ideas on a budget – there are awesome canned food recipes for non-perishable pantry ingredients we have from stocking up.
Looking for easy and cheap pantry meals you can turn into dinner tonight?
The reason I'm writing an article about easy, throw-together meals from your pantry is three-fold.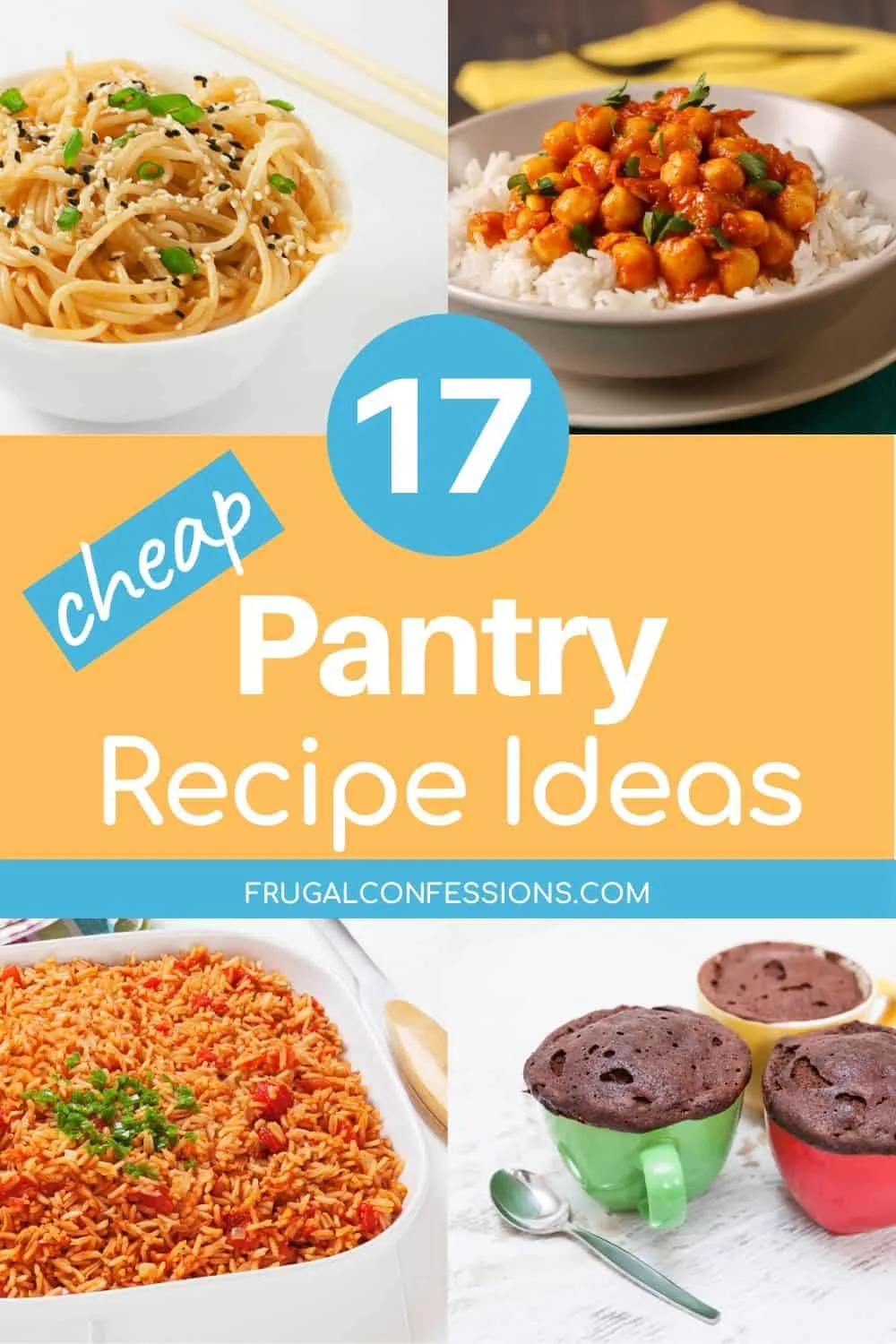 You'll need to eat your non-perishable stockpile supply if you can't get to the grocery store
Eventually, we'll all have lots of stockpiled pantry food to eat through before it expires (waste not, want not!)
I like helping people beat the national average spent on groceries by household
A Note: Get creative – if you're lacking a few ingredients, substitute something else, or leave it out altogether. Seriously! Substituting garlic powder for garlic, or almond milk for cream in a dinner meal can work in a pinch. One of the easiest frugal cooking tips out there.
Ingredients from Your Pantry – Non-Perishable Staples
I want to list out some common pantry ingredients used in the easy pantry recipes to follow.
You also might want to take this list with you the next time you go grocery shopping (or stock up on these items with online grocery shopping) so that you can have a variety of meals available to make at any given time.
Common Pantry Staple Items
Let's first talk about common, non-perishable pantry items you want to stock up on (or that you probably already have) to make the recipes below.
Hint: Keep track of what you've got, or take an inventory now, with these 7 free kitchen inventory printable sheets.
| | | |
| --- | --- | --- |
| Canned tuna | Canned beans | Jarred sauces (marinara, enchilada sauce, pizza sauce, etc.) |
| Rice | Flour | Sugar/Brown sugar |
| Lentils | Peanut butter | Jams/jellies |
| Canned veggies (artichoke hearts, corn, tomatoes, etc.) | Canned fruits (pineapple, pumpkin puree, mandarin oranges, etc.) | Dried pastas |
| Chickpeas (dried/canned) | Spices/seasonings | Canned/cubed broths (chicken, vegetable, beef) |
| Canned Tuna | Milks (coconut milk, sweetened condensed milk, evaporated milk) | Honey |
| Oatmeal | Chocolate chips/cocoa powder/chocolate baking squares | Breadcrumbs |
| Vinegars | Nuts | Oils (olive, canola, vegetable, sesame, coconut, etc.) |
| Polenta/corn meal | Canned soups | |
Alright! Now, let's move onto the actual recipes that you can make from these types of pantry ingredients.
Easy Pantry Recipes – Non-Perishable Food Recipes
I've put together a list of awesome and (sometimes) unique easy pantry recipes, using many of those common pantry staples from the list above.
Psst: want to follow along with MyFreezEasy's Erin as she takes you through a freezer batch cooking session centered around pantry ingredients (cans and non-perishables)? Here's a link to her free workshop + recipes/grocery list you can download.
Pantry Soup Recipes
One of my favorite ways to use up pantry staple items is by making soup.
#1: Tortilla Soup
Here's a base pantry Chicken Taco Soup. For the protein?
Substitute any of the following that you've got:
Canned black beans
Chicken/ground beef from the freezer
Canned chicken
#2: Creamy Pumpkin Soup
I used to make this recipe once a week in my 20s (then for some reason, I stopped). Now that I remember it, I'm going to make it again!
#3: Chicken Taco Soup
Again, except for the garnishes, this recipe uses ALL nonperishable items from your pantry!
#4: Pioneer Woman's 7-Can Soup
Have you ever heard of the Pioneer Woman's 7-can soup? If you can open cans and dump them into a pot, then this one is for you.
Talk about a great and easy way to use up lots of those canned items in your pantry.
Psst: she also uses Velveeta – which, word has it, can live in your pantry until your little one goes to college. Just kidding…maybe.
Pantry Dinner Meals – Non-Perishable Dinner Recipes
Psst: are you looking up pantry meal recipes because you're doing a pantry challenge? Here are 9 pantry challenge tips, plus my no-spend challenge guide.
#1: Chickpea Curry on Rice
Except for the onions and garlic, this is the Pioneer Woman's completely "pantry" recipe made from all nonperishable foods!
#2: Pantry Chicken Enchilada Skillet
Here's a recipe entirely from your pantry, right down to the canned chicken (except for the cheese!).
Psst: definitely check out these Dollar Tree Meal Plan and Dollar Tree Dinner Ideas article for more, cheap recipes.
#3: Tuna Rigatoni with Sundried Tomatoes
Bust out that tuna, pasta, and some sundried tomatoes – plus a few other staples – and you can serve up a nice meal.
#4: One-Pan Spanish Rice Skillet
If you have ground beef and also cheese, then you can make this hearty meal (the rest of the ingredients all come from your pantry!).
#5: Single-Serve Microwave Shakshuka
Do you have an egg? Then you can make this dish for one, using your microwave, and a bunch of pantry staple items.
Pssst: Trying to cook for a lot of people on a budget? Check out these 21 easy meals for groups on vacation, 17 cheap winter meals for a crowd, and 17 inexpensive meals for large groups.
Pantry Bread Recipe
Did you know that you can make bread with ALL pantry items (salt, flour, yeast, and water)?
How cool is that?
My absolutely favorite (and surprisingly easy) bread recipe is the master recipe for Artisan Bread in 5 Minutes a Day.
Someone gifted me the book (it's totally worth it!), but in a pinch, here's the free master recipe.
The book itself then shows you how to take the master recipe, and create all kinds of cool, dough-y, recipes from it, like cinnamon rolls, pretzels, bagels, and naan.
My own twists: I love to eat this bread with butter and a drizzle of honey. Another wonderful way to enjoy it is creating an olive oil dipping sauce (again, with ingredients from your pantry!).
Pantry Side Dishes as Part of Non-Perishable Meal Ideas
Here you'll find some awesome side dishes you can add to your dinner meal, from the pantry. You can also use these as lunches, or even snacks (in some cases).
Pantry Dessert Recipes
You didn't think I'd skip dessert, right?
Being a dessert girl, I know how important it is to find a way to satisfy your sweet tooth, even if you're just eating from the pantry.
#1: No-Bake Chocolate Chip Cookie Dough Bars
I used to make these once a week!
Got butter? Then you'll likely have all the other ingredients you need in your cupboard.
#2: Pantry Dessert Mug Recipes
#3: Homemade Granola Bars
I love how this one lists several different things you can use in the granola bars, making it truly a pantry recipe almost anyone can make.
Psst: Don't have brown rice syrup? I don't, either. Here's a list of substitutes for what to use instead.
#4: Rachel Ray's Cocoa-Cinnamon Sorbet
We absolutely love this sorbet, and it's even cooler that you can make it with ingredients you've already got.
Have I convinced you yet that cheap pantry meals don't have to be dull, unhealthy, or so-so in the taste department? Doing this is honestly one of my favorite frugal living tips with a big impact. Let me know in the comments below which recipe you're excited to make.
The following two tabs change content below.
Amanda L. Grossman is a writer and Certified Financial Education Instructor, Plutus Foundation Grant Recipient, and founder of Frugal Confessions. Over the last 13 years, her money work has helped people with how to save money and how to manage money. She's been featured in the Wall Street Journal, Kiplinger, Washington Post, U.S. News & World Report, Business Insider, LifeHacker, Real Simple Magazine, Woman's World, Woman's Day, ABC 13 Houston, Keybank, and more.
Read more here
.
Latest posts by Amanda L Grossman (see all)