Free tools and behavior changes for how to stop spending money online that you can easily start using today.
How to stop spending money online, when you can literally do it 24/7?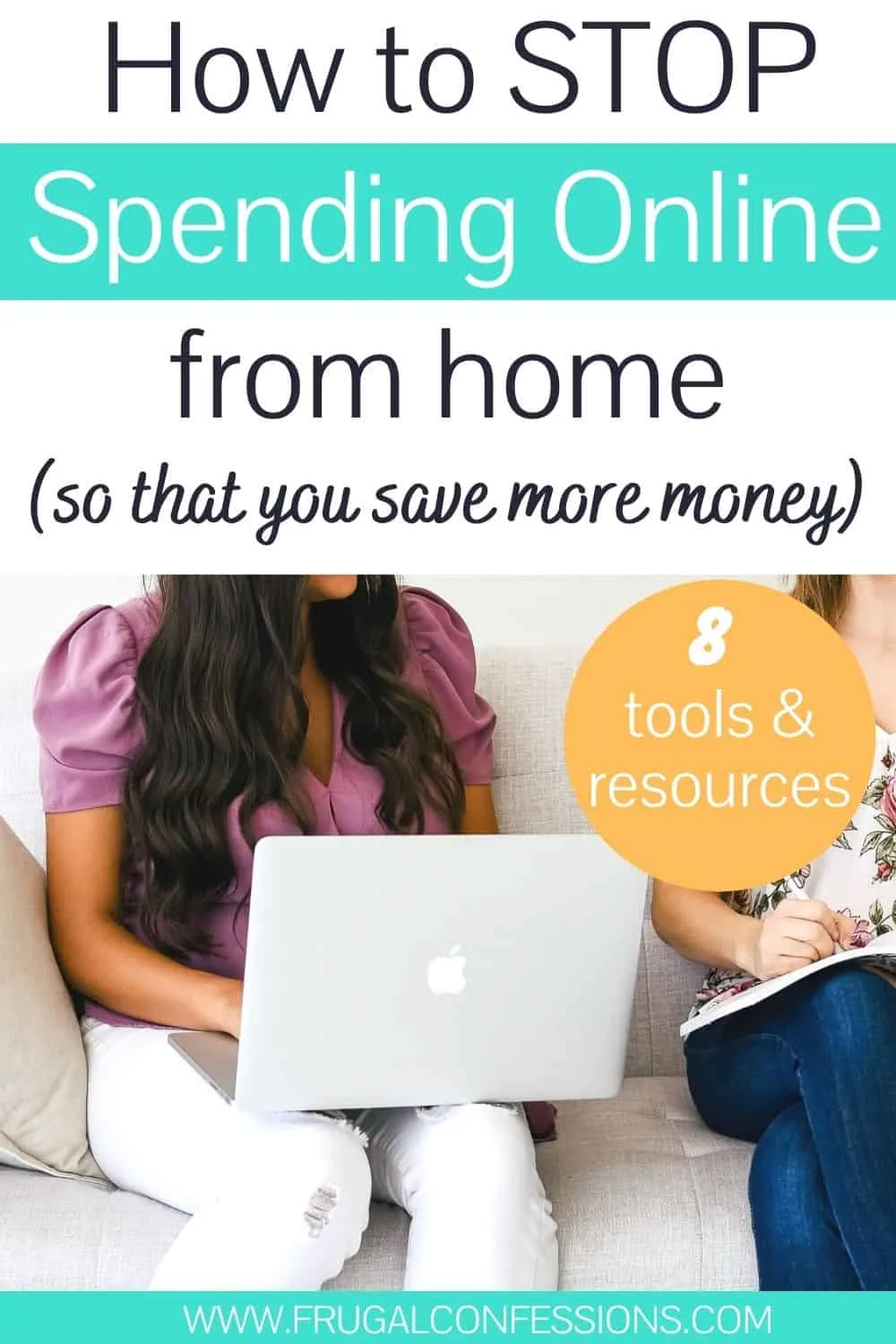 Being able to shop in the comfort of our own homes with little more than a computer and a credit card has been both a blessing and a curse.
Suddenly, every time you're bored, you can just check in on your favorite brands and latest fashion trends.
And adding just one more item (or three…) right before checkout?
Is wayyyy easier with a digital cart than if you had to physically add the item to your shopping cart at the grocery store.
Thanks to digital impulse buying, just the act of trying to purchase anything online can open yourself up for some serious cash leaks and buyer's remorse.
Not to worry.
I've got some killer tools and resources that will cut down the number of temptations to shop and buy online.
How to Stop Spending Money Online – Tools and Resources
Digital window shopping isn't like normal window shopping, thanks to a little something known as behavioral retargeting and third-party cookies.
In other words, when you window shop in person, the items delighting you that you decide not to purchase don't follow you around to every other store or venue you go into.
But with third-party ads? You'll oftentimes see advertisements for the exact same article showing up on each of the websites you visit.
Here's how to get that same physical barrier between you and that product online, just like if you left a physical store and drove away.
#1: Use an Internet Browser that Blocks Third Party Cookies
Do you know what third party cookies are? They're the code-thingys that enable an advertiser to "follow" you around the internet with marketing that's based on your user history.
For example, I once looked up a 6-ft bean bag chair on Amazon. The exact bean bag chair (size, color, pricing) began to follow me around the internet like a cyber bully. Any website I went to that had advertising, it showed up. And this went on for days.
It's because of third party cookies.
The coming trend is actually to do away with the third-party cookie. But in the meantime? You can choose to shop and search the internet with a browser that blocks third-party cookies.
These include:
Hint: Chrome will be getting rid of third-party cookies in 2021.
#2: Bookmark Alternative Online Boredom Busters
Many people turn to the internet when they're bored, and it's super easy to fill that boredom by shopping.
Instead, create a favorites folder with specific boredom busters you can do/work on/visit the next time you're bored-scrolling (that don't cost a dime).
For example, you could:
Psst: you'll also want to check out my 74 things to do with friends without spending money, and what to do when bored, broke, and alone for more ideas.
#3: Disable Targeted Facebook Ads
Do you ever stop to count the number of ads on your Facebook feed? You might want to, the next time you scroll (just to get an idea).
Here's a cool trick: you can opt out of targeted ads on Facebook!
Follow the instructions, here, which walk you through how to click "Not allowed" to stop Facebook from using your data to target ads to you.
Unfortunately, you can't opt out of all ads (and I get that – as they need to make money, too). BUT, if you see less targeted ads, then you'll likely be tempted to spend less money.
That's a win!
#4: Disable Targeted Instagram Ads
Are you on Instagram? Here's how to do the same thing – disable targeted ads – on your Instagram account.
#5: Use Instant Reminders to Think Before Buying
Instead of "buy now" buttons riddling your computer screen, why not have them remind you to not spend money by saying "put it on ice".
You can do this for free – turn all buy-now buttons into reminders to think about your purchases, first – with the free Icebox Chrome extension.
#6: Deep-Clean Your Inbox
How many times have you given into temptation by a "major sale" from one of your favorite brands?
Ever used a coupon to "save money", when really you hadn't meant to spend any money at all (so you didn't really "save" anything)?
Clear your inbox of temptations by plugging "unsubscribe" into your inbox search box, and then going through one-by-one through the emails to unsubscribe (just click the down arrow after each).
#7: Check in with Your Finances, Daily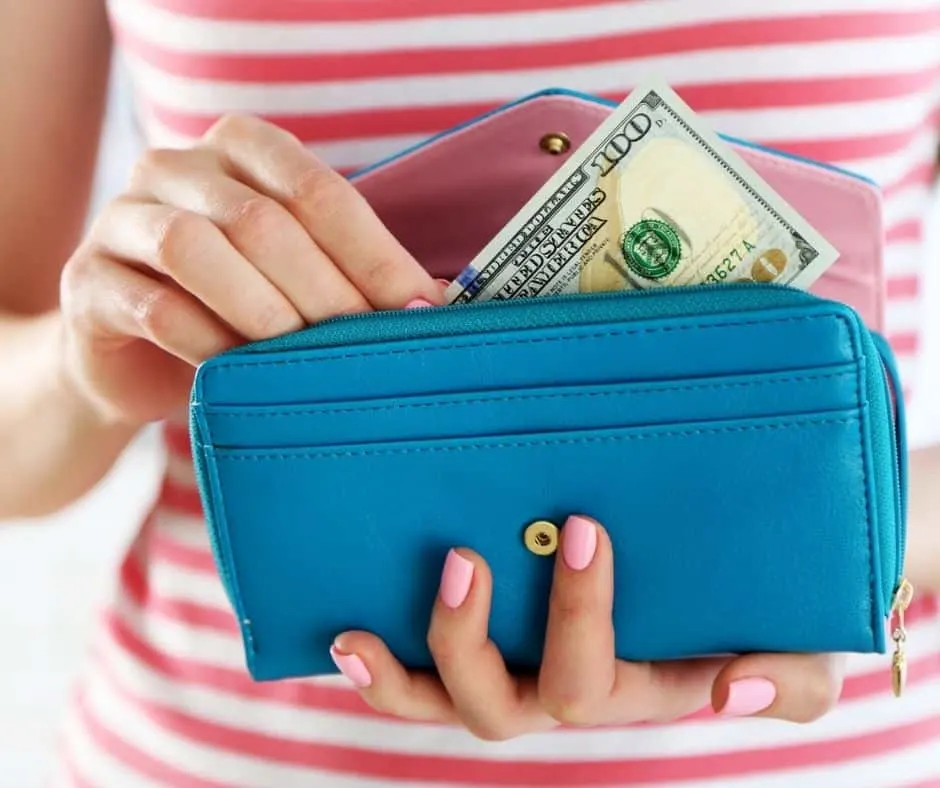 You likely want to stop spending money online because you don't like the dent to your finances.
SO, create a favorites folder with each of your financial account logins, and log into your accounts each day.
This will force you to watch your balances.
Which means you'll be aware of the situation, and you'll also hate watching the numbers go down after each online purchase (making that next purchase even harder to complete!).
Psst: here's how to hide money from yourself, making it harder to spend.
#8: Opt Out of Some Behavioral Targeting
Let's talk about behavioral targeting, and how you can opt out of it to cut purchase temptations online.
The thing is, people put a lot of time and effort into providing free content on the internet. I am one of them.
So, I completely understand the need for them to make money in ways other than by charging for content. Of course, not all content is free, but providing free content and hosting advertisements so that they get paid still is one of the most common internet business models.
In fact, you'll see ads on my blog as well (you probably already noticed!).
I am not ashamed about that, as I work hard to provide free content and am happy that it can be sponsored by ads instead of by my audience.
However, behavioral targeting – using consumer data and user information to better target advertising and other marketing methods – takes things to a whole different level that I am not all together comfortable with.
I am not an IT person, but have done some research as to how consumers can opt-out of behavioral targeting.
Clear Your Cookies: This wikiHow offers great instructions for how to clear your computer of cookies, one internet browser at a time. I make a habit of doing this once every few months, and would like to warn you that unless you specify which cookies to clear, you will lose the automatic fill-ins of data that make the internet more user-friendly (such as when your computer automatically fills in your address, website, password, username).
Block Analysis of Your Internet Habits: PrivacyChoice offers some tools to put a stop to behavioral targeting. Chrome Extension Ghostery both blocks ads and stops trackers.
Block Ads for Impulsive Shoppers: For someone who does not have a lot of discipline, behavioral targeting could become an enabler and crush your bottom line. It's like constantly being confronted with luscious slices of tiramisu and key lime pie when you are attempting to diet. There are services out there that allow you to block sidebars from your computer where many ads are hosted. You can also work through the browser you are using for InPrivate Ad Filtering Settings (it may be called something different on your browser).
Break Up with the Companies Connected to Your Browser: This free tool scans your browser and comes up with the number of companies who have enabled Online Behavioral ads on it. My scan revealed there were a total of 85 companies customizing ads for my browser. To get rid of this, you simply click on the companies you'd like to remove, or "select all" to get rid of all of them at once.
#9: Block Shopping Websites from Your Online Experience
Use the Free Chrome extension, Focus, to literally free your online experience from online stores.
You will have to add each online store/website URL you want blocked individually, FYI.
It's hard to shut out what you've decided you don't want to buy online, which can lead to a lot of impulse purchases. Fortunately, you've now got some seriously easy-to-use (and free) tools to help with how to stop spending money online.
How to Stop Spending Money Online for 30 Days
I've given you some great tools, so in this section, I want to talk about working on your spending habits around online shopping.
Because at the end of the day, those smart tools can only get you so far – you still have the ability to go online and shop.
Instead of cutting yourself off 100%, what I suggest you do is to set mini-goals around your online shopping habits and start to spend less money.
For example, your mini-goal could be:
No online shopping on the weekends
No online shopping during lunch at work
No online shopping for 15 days
No online shopping for 30 days
How do you track these sorts of no-spending goals? Check out some of these no spending money apps.
Stop Spending Money Habit Apps
While there aren't any specific stop spending money apps (I'll keep my eye out and update this section if/when I find one), there are still free apps to help you with this.
Habit apps can definitely help you to track your no-spending goals.
Here are a few to get you started:
#1: Strides App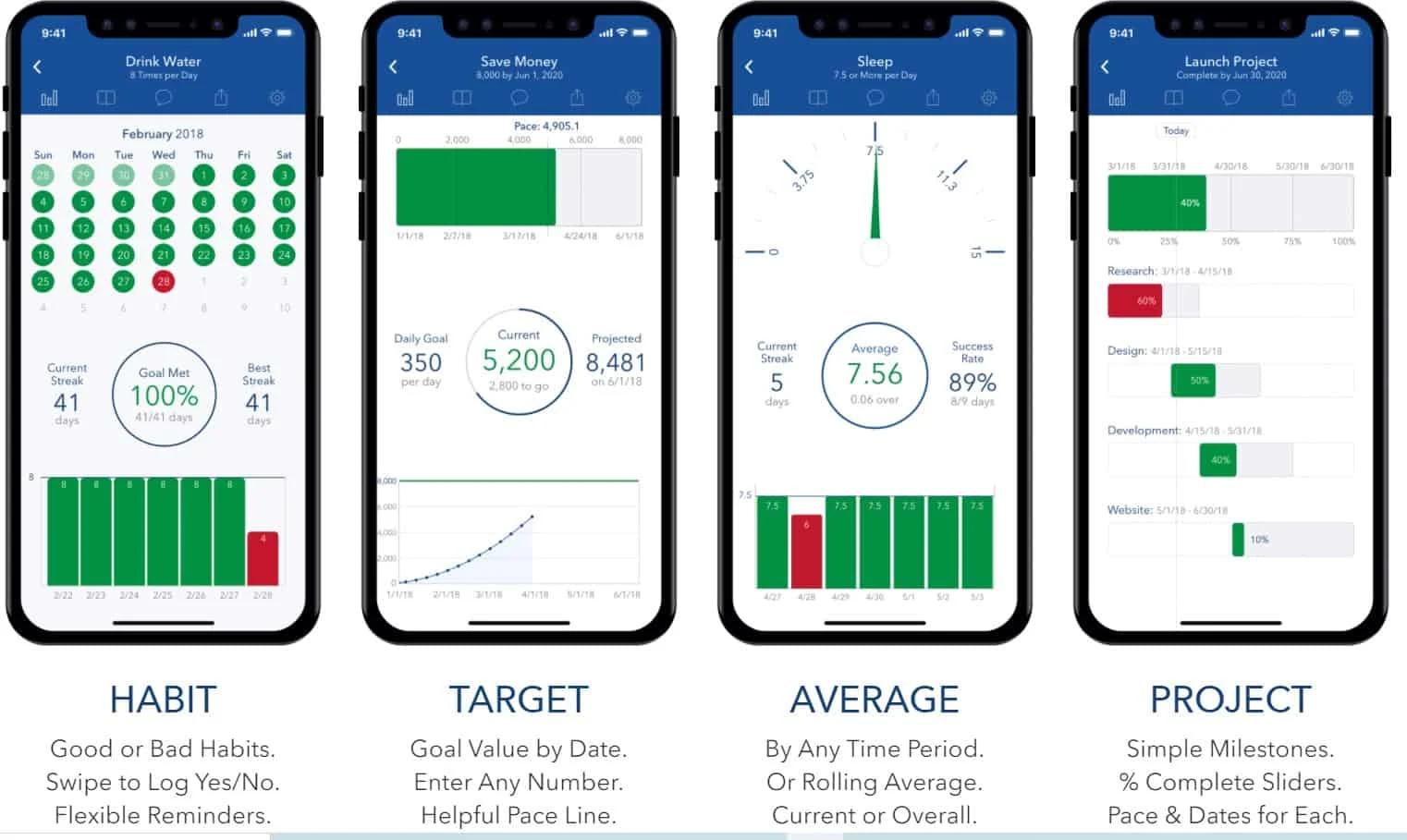 This is a simple habits tracker that allows you to track any new habit you want to do. The cool thing with this app is you can set quantity goals, meaning you can set a goal that you want to do a certain number of times (hello, no-spend, 30-day challenges!). It also offers "streaks", or tracking how many days you do something in a row without missing it (a streak!).
#2: Cleo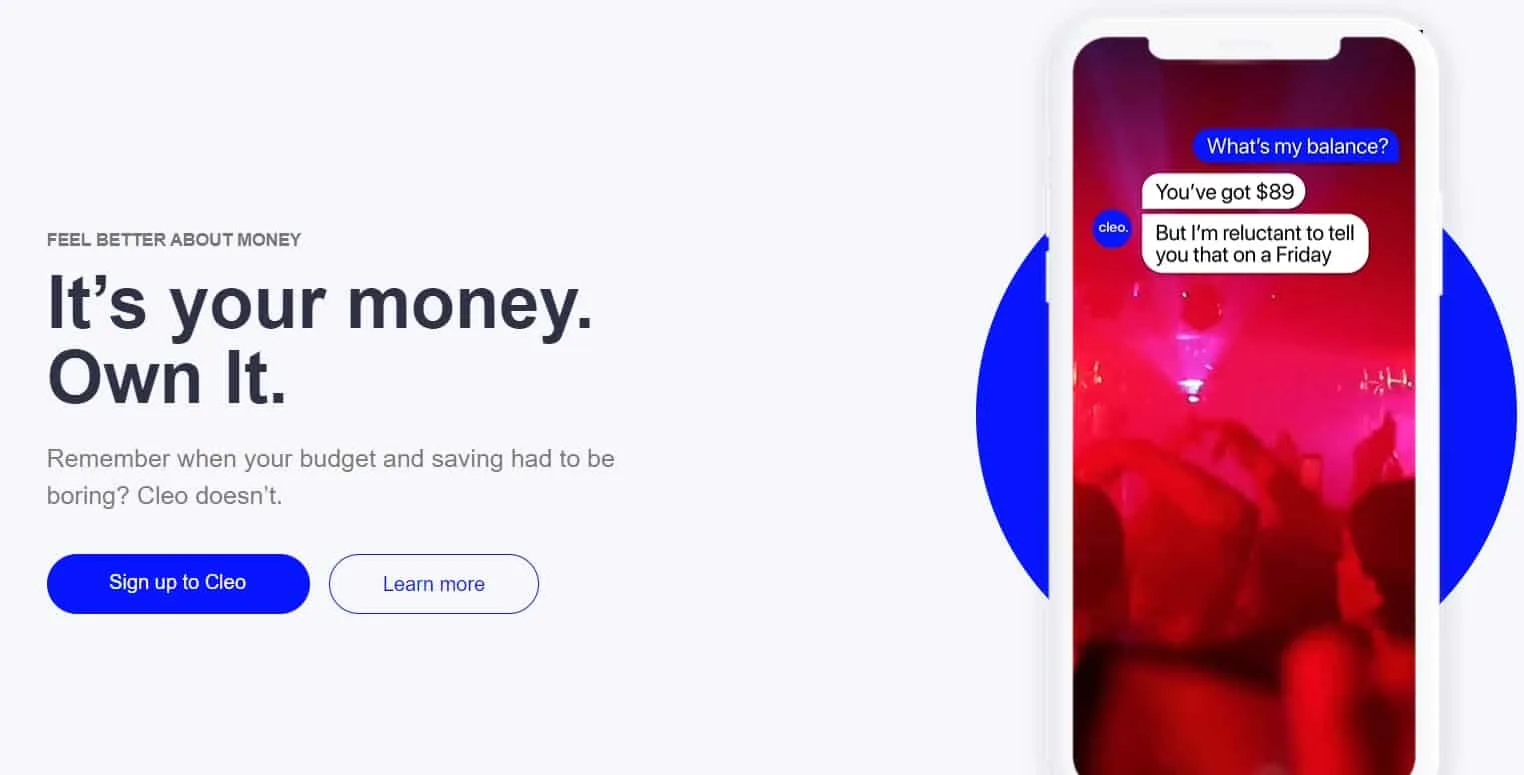 Did you want an app that yells at you for spending money? Haha – they actually exist now!
This app kinda talks back to you, depending on what your finances look like, how much spending you've done, and if you're actually saving any money. Buckle up, and enjoy the ride!
#3: Coach.me
The neat thing about this habit tracker app is that it offers a community whether you can get some accountability towards whatever habits you're working on, or working on breaking.
How to stop spending money online? Well, it's really a mixture of using some great tools to put some physical barriers between you and online carts, AND intentional behavior changes. Choose a mini-goal to meet, download a no spending money app tracker, and see how far you can go online without whipping out your wallet (or digi-credit card).
The following two tabs change content below.
Amanda L. Grossman is a writer and Certified Financial Education Instructor, Plutus Foundation Grant Recipient, and founder of Frugal Confessions. Over the last 13 years, her money work has helped people with how to save money and how to manage money. She's been featured in the Wall Street Journal, Kiplinger, Washington Post, U.S. News & World Report, Business Insider, LifeHacker, Real Simple Magazine, Woman's World, Woman's Day, ABC 13 Houston, Keybank, and more.
Read more here
.
Latest posts by Amanda L Grossman (see all)