Specific seasonal summer jobs in Alaska to apply for, and how to afford to live in Alaska (from people who have done it).
While in Alaska in 2012, we met Ira, a retired-lawyer-turned-tour-guide.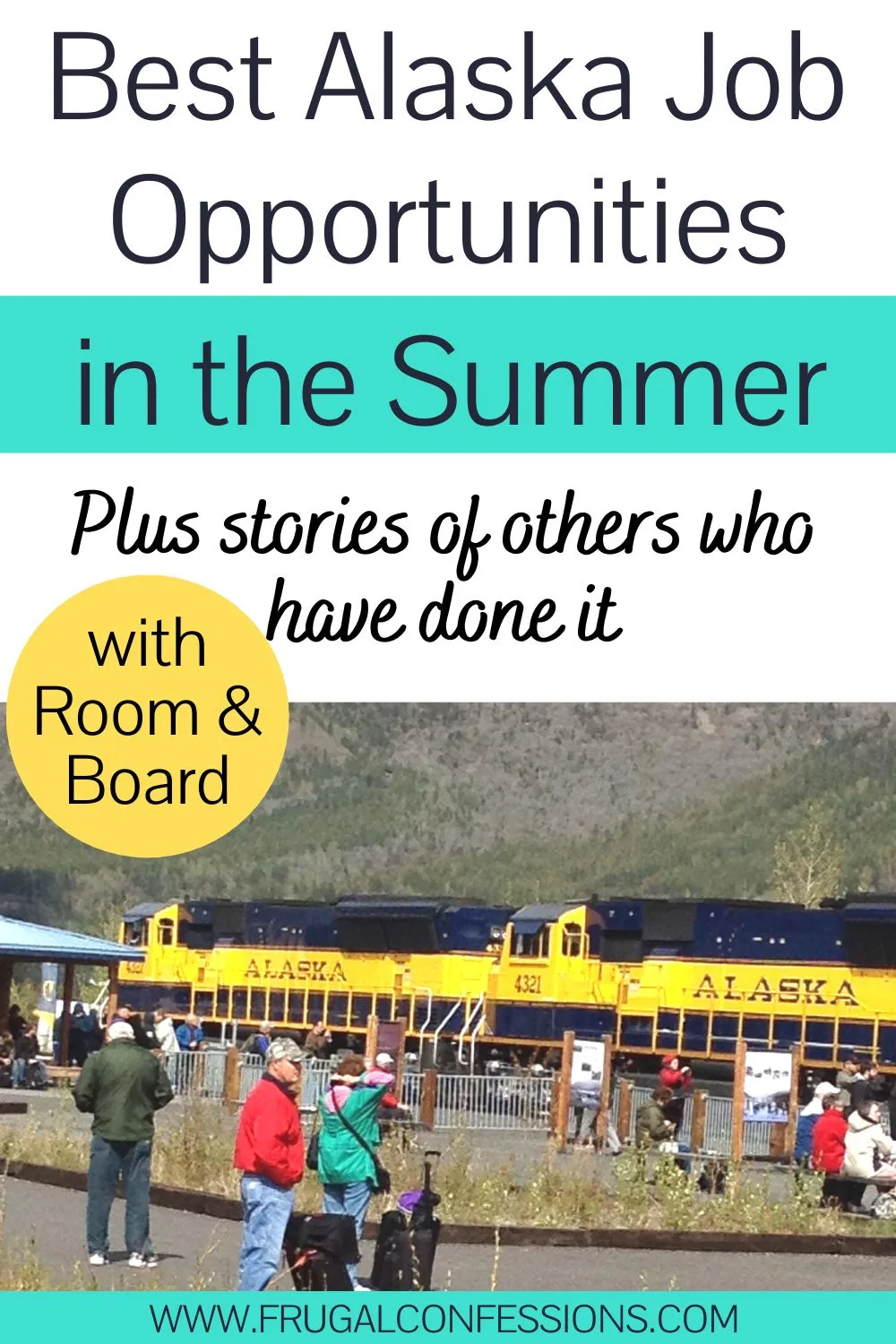 Ira stumbled upon his seasonal summer Alaska job probably how it often happens: as a newly retiree he traveled to Alaska and just fell in love with its beauty and majesty. He wanted to find a way to spend several months a year in Alaska, and so at the age of 64 he reinvented himself by becoming a seasonal worker.
You can bet I asked more questions − stick around to read his answers, plus learn about others' experiences, after we talk about those specific summer Alaska jobs.
Even though it's been several years, I'm still pretty fascinated with this idea for lifestyle design.
That's why I'm sharing both specific Alaska jobs with room and board that can help with your job search (the earlier you start applying, the better), AND info on how to survive, financially, in one of the most places on earth.
Alaska Summer Jobs with Housing (Hiring for 2024 Season)
The following sites contain over 47 Alaska summer jobs with housing that are hiring right now for the summer season (May – September):
It's worth mentioning that there are temporary or seasonal Alaska positions to be found on USAJobs.com. Search "Alaska" for the location, then click on "More Filters" in the box to the right, and scroll down to "Temporary". Click on that. Jobs that are not permanent will show up.
The following are some really great Alaska summer jobs with housing if you're an artist who wants to work on your career in peace (and in magnificent nature!):
Looking for adventurous Alaska seasonal work? Check out the following:
Hint: as you'll read from the experienced people below, sometimes housing costs are subtracted from your actual pay, and sometimes it's not. Be sure to get clarity about this during the hiring process.
What Can Seasonal Work Opportunities in Alaska Look Like?
Do a quick Google Swagbucks search for seasonal work in Alaska, and you'll find lots of Discovery-Channel-Worthy jobs, such as Fishing Boat Deckhand, and Fish & Wildlife Technician II.
Of course, you'll find some not-so-glamorous ones also, like a Seasonal Cemetery Assistant and Class B CDL Shuttle Bus Driver.
Psst: What else is lurking on that search results page? An Alaskan government-sponsored article warning against peachy-sounding seasonal work jobs.
I've spoken with three people now who have designed their lives one way or another through seasonal work in Alaska.
Aside from Ira's example above of being a seasonal tourist guide on the Mt. McKinley Explorer, there's Lindsay who worked as a dog handler, at botanical gardens, and at another tourist attraction, her friend who currently works as a glacier dog mushing guide in Juneau, and Fritz, from The Retirement Manifesto, who worked in Glacier Bay from early June – early Sept between his Junior and Senior years of college (1984).
Here are some details about the types of jobs these guys held:
Dog Handler Position (Year-Round): Lindsay says this involves a variety of dog-related chores like daily clean up of the dog yard, feeding dogs, caring for them while the musher is away, and helping out with any training.
Botanical Gardens Student Laborer: Making around $8.00/hour, Lindsay took on a gardener-type position. From May through September she, "pulled weeds in the research plots, assisted with construction projects, collected data on vegetable growth, and answered questions for garden visitors."
Gold Dredge No. 8: For $7.00/hour, Lindsay, "worked as a cashier, restocked things, kept the gift shop clean, and also weighed "real gold" that the tourists had panned outside the gift shop (spoiler alert: they seed the bags of dirt with a few gold particles and tell you it's really from the dredge operation – it's not)."
Research Assistant/Teaching Assistant (TA) at University of Alaska Fairbanks (UAF): Lindsay averaged about $26,000 a year working at her graduate school. During the school years she, "worked as a TA for four out of six semesters of grad school, and during the two summers of grad school." The other two semesters in school she was a Research Assistant.
Wildlife Technician for ADF&G: Between May and July at $15.00/hour, Lindsay, "got to canoe around Tetlin Wildlife Refuge near the AK/Canada border and look for Rusty Blackbirds. When we found a nesting pair we would catch them with mist nets and band them, and check on their chicks for a survival study. It was a ton of fun!"
Lodge's Restaurant Waiter in Glacier Bay National Park: Fritz benefitted from dormitory style, company housing that he shared with four other workers (think bunk beds) + a meal plan while a waiter at the Lodge. Fritz writes, "The cost of the housing/meals was subtracted from our pay, I don't recall the exact cost. By the end of the summer, I had "earned" about $800."
Tour Guide: Back to Ira, from the intro. Ira says May through September he and his wife have an apartment in Anchorage (5 months of the year). There is also employee housing/dorms/hotels for "stayovers" while he's away from his apartment fulfilling his tour duties. And what qualified him to become a tour guide? There was a 1-week orientation, he studied a lot about the history and culture of Alaska in a local Alaskan library, and he "prepared index cards to have something to say to tourists." Needless to say, he's in love with his part-time retirement gig!
So, not a terrible amount of money was being made by these guys. That could be okay…except isn't Alaska crazy expensive to live in?
What Does it Cost to Live in Alaska?
Bankrate's got a really neat cost-of-living comparison calculator where you can check out how much more it would cost for you to live in a specific Alaskan city versus where you live now.
But be prepared to be price-shocked. I put in our salary, our current city of Houston, then chose to move us to Anchorage to reveal that we would need to make roughly 34% more income to sustain our current standard of living.
Alaska is certainly not a cheap place to live, especially if you want to live in remote locations. Even living in Anchorage, the most populated city, you're facing a significant rise in living costs. Here's a calculator to show you how much more you'll pay for specific categories compared to the costs of those categories where you currently live.
Sure, a teeny part of this can be offset by the Permanent Fund Dividends that approximately 643,000 Alaskans receive each year (see here if you could qualify − this would obviously only be for seasonal workers who also live in Alaska year-round). But the amount you can receive varies each year depending partly on the supply and demand of oil. For example, in 2015 residents could count on $2,072 per family member, but in 2016 that number only came to $1,022.
In 2023, that number is just $1,321.
So how can seasonal workers like Ira, Lindsay, Fritz, and others afford to live?
Here's a few tips these experts shared:
"Free" Room (aka, Rent in Exchange for Work): Lindsay says, "I was looking for a room/board deal for me and my own sled dog team (I had 8 then) in exchange for being a dog handler. Most of the really competitive racing kennels employ handlers in exchange for room and board, year-round."
Take on Work During the Off-Season of Seasonal Work: Lindsay mentioned that in the summer there was less work for her to do, so it is possible that a she could get a full-time seasonal job on top of her dog duties.
Take on a Second Job: Lindsay juggled two jobs at once to make ends meet. While a dog handler (which paid for her room & board), she picked up work at Gold Dredge No. 8. Shaynee Traska, a professional dogsledder, finds her funds are depleted by the time summer comes around. So each year during the cruise-tourist time she travels from Two Rivers, Alaska to Juneau to work as a tour guide. This allows her to save up enough money to spend the winter in Alaska.
Don't Live in Alaska Year-Round: Some people work seasonally in Alaska, and then return to their homes the rest of the year (probably a lot warmer to do this!). Lindsay says, "When I worked at the Gold Dredge, there were a few retired folks who worked there. They were RVers, though – they drove their RV up each spring and lived in AK temporarily before heading back south once the Dredge closed. I think this would be about the only financially viable option." Also, "I did meet some cool gold miners out in the middle of nowhere while hunting one time (their names were "Curly" and "Foot" – if those aren't true gold miner names, I don't know what is). They explained to me that most gold miners work seasonally and take the winter off and go someplace south. Curly in particular had a fondness for Hawaii. They'd spend all summer digging up gold, cash it in, and head south. Rinse and repeat each summer. It seemed to me like they made a pretty good living off of it." Fritz adds, "Some of the "full-time seasonal workers" would leave Alaska for "winter seasonal work" in the Lower 48 (think "ski bums" working restaurant jobs in Aspen to allow them to ski in the winter!)."
Live like a College Student: Living in a high-cost-of-living place like Alaska means you will likely need to cut back on your lifestyle. Fritz writes, "I took the Alaska Ferry System up from Seattle, and loved the camaraderie of fellow "seasonal workers" sleeping on the top deck of the boat (hey, we were all poor college kids back then!). I was a waiter in the lodge's restaurant, 100 miles from the nearest road! Truly in "The Bush" of Alaska, and an adventure I'll never forget. I didn't make much money (I think I cleared $800 for the summer, after my travel expenses), but it's something I'll never regret." Shaynee didn't own a television, cut her own wood to heat their modest, rented cabin, and recently reveled in her $50 futon she could finally afford.
Don't Come with Debt to Pay: Lindsay worked her way through college with various jobs, and Fritz was, "…fortunate in having my parents pay for my college education." If either had student loan debts to pay, it's likely they might not have been able to afford to live in Alaska without defaulting. Unless, of course, they applied to some sort of student loan income-driven repayment plan or had their student loan debt paid for them).
Skip Vacations and Take Advantage of the Great Outdoors: One of the fantastic benefits to living in Alaska is that all the entertainment you'll ever need is right outside of your front door. Taking advantage of the Alaskan wilderness is also built into many of these seasonal jobs. Fritz writes, "We were able to ride the boats up into Glacier Bay for free on our "off" days, and could get "dropped off" in the remote interior of the National Park to hike and kayak."
All of this raises an important question: would you be willing to take a decent decrease in standard of living in order to live out the Alaskan dream?
Can You Sustain Yourself by Working a Few Months a Year?
I think my final question I had going into this article is whether or not you can work seasonally in Alaska and then live in Alaska off of what you earned for the rest of the year.
Is it a viable lifestyle design model?
Lindsay says,
"I think working seasonally in a tourism job would only be viable if someone already had a hefty chunk of money in savings to live off of. It's not really sustainable if you're just living off of the earnings from one seasonal job. Even if you've got a well-paid job (like a tour leader at a high-revenue operation), you'll probably only earn $20,000 in a tourist season, and most people earn $10,000 or less. With the high cost of living up there, that's not sustainable – that'll get you to about December."
In Lindsay's case, her heating bill came to around $3,000-$4,000 per year.
"Gas was also expensive, and the irony was never lost on my because we lived about 1/4 of a mile away from the Trans-Alaska pipeline. I can't remember the specific details of a lot of it because I wasn't financially-minded back then, and it seemed normal enough for me since I'd spent my entire adult life there. To visit any friends/family we'd have to shell out about $1,000 each for a plane ticket, so we didn't leave very often…"
And while you could get a lot of meat for free by hunting,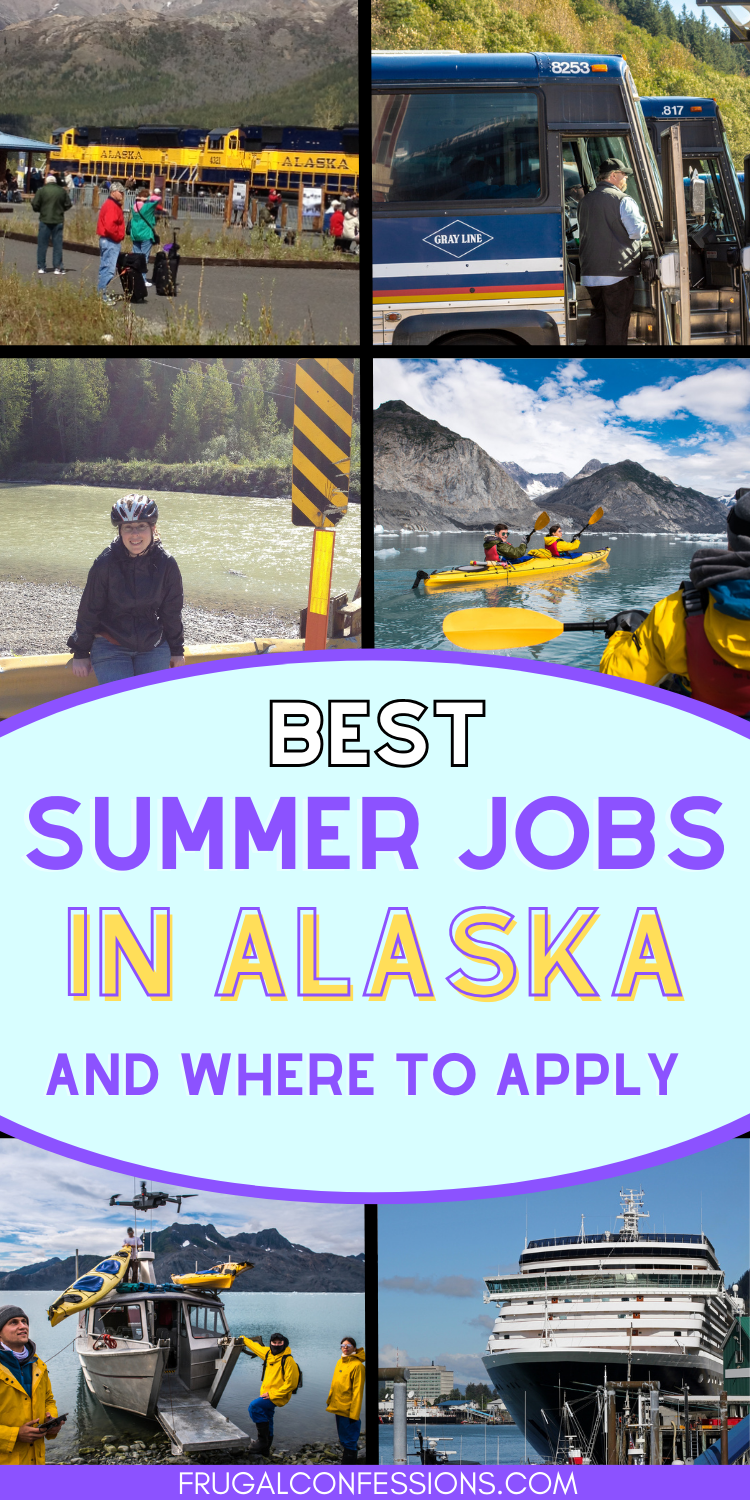 "by the time you pay for the gun, the license, enough ammo to be good at shooting and all the other accoutrements, it came out to be very expensive. It was also almost impossible to grow anything other than lettuce, potatoes, broccoli, and carrots there."
She cites auto repairs from the cold, heavy-duty winter, extension cords for your car, and snow tires as other expenses that will quickly eat into your cash stash.
As far as a retirement plan?
Fritz says, "We have talked to some retired seasonal workers while we've been on vacation in Alaska, but most seem to return to the Lower 48 for the winters." While Lindsay adds, "…Of course, there are retired people in Alaska year-round. You just either have to have enough money saved already, work a full-time year-round job, or be willing to live in a very cold shack for the rest of your life. :)… Alaska is a fantastic place, but working one seasonal job is not enough to sustain you year-round. It's totally possible to work in Alaska seasonally – a lot of people do it, but you'll need to have a supplementary plan of some sort and/or be willing to live like a pauper."
This seems to be the case with Ira and his wife as well, who only stay in Alaska from May until September.
Everyone I've spoken with for this article agrees that Alaska is a very worthy place to live. As long as you've got a solid financial plan, and are willing to cut out what others might consider luxuries (heck, even basic necessities, in some cases).
In fact, Fritz − who wants me to tell all of you to "seek adventure! Life's too short to not enjoy the journey − is considering this type of model as his early retirement plan. He'll be retiring at 55, which is early next summer. He says, "We expect our retirement will be a combination of long, slow RV travel, mixed in with periods of seasonal work, and 6-month stays "back home" in our cabin in the North Georgia mountains."
So what do you think? Would you ever consider this as part of your lifestyle design model? Do you know of anyone who currently is doing this? I'd love to hear more about your experience below.
The following two tabs change content below.
Amanda L. Grossman is a writer and Certified Financial Education Instructor, Plutus Foundation Grant Recipient, and founder of Frugal Confessions. Over the last 13 years, her money work has helped people with how to save money and how to manage money. She's been featured in the Wall Street Journal, Kiplinger, Washington Post, U.S. News & World Report, Business Insider, LifeHacker, Real Simple Magazine, Woman's World, Woman's Day, ABC 13 Houston, Keybank, and more.
Read more here
.
Latest posts by Amanda L Grossman (see all)