How are you supposed to keep track of your sinking funds? Sinking funds tracker free printables to help you stay on top of your money.
Got sinking funds, but no system to track them with?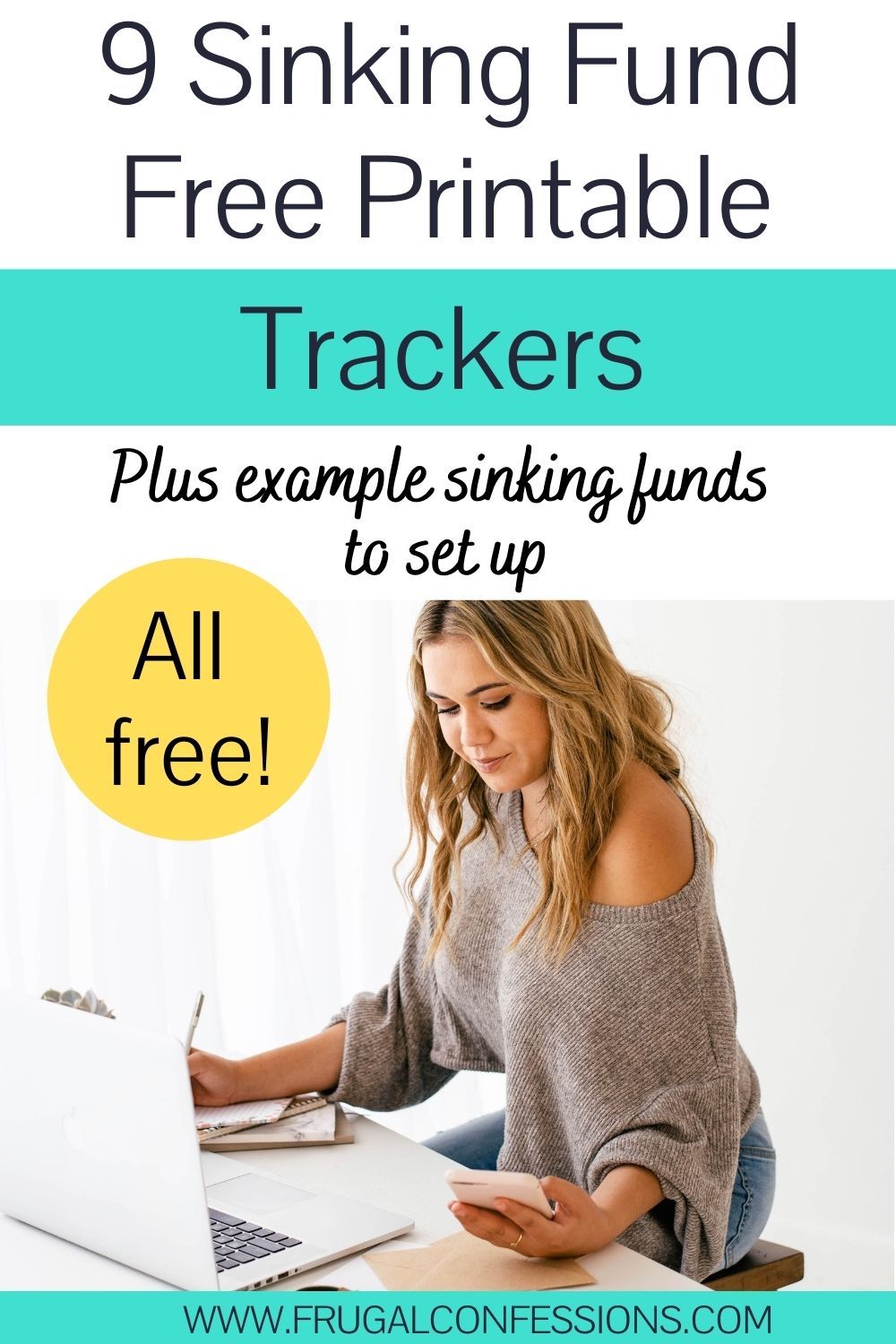 Sinking funds can help with planned, unwieldy bills that are more than what you can afford to cover in a normal budget.
Like a summer full of summer camps, planned dental work not covered by insurance, or a bi-annual auto insurance payment.
And a good way to keep track of them? Is through a free printable sinking fund tracker.
Before we get into all of the sinking funds tracker free printables you could possibly want, let's make sure we're all on the same page about what a sinking fund actually is.
What is a Sinking Fund?
If you're here looking for a free sinking fund tracker, then you likely already know what a sinking fund is.
BUT, just so we're all on the same page…
A sinking fund is a pot of money set aside for planned spending on a bill or need/want that costs above and beyond what your normal weekly, bi-weekly, or monthly budget can handle.
For example, you know your auto insurance bill ($656) is due once every six months. $656 would be a lot to cover in that month's budget, so you want to set aside some money each month to save for this planned expense.
Since you have 6 months to go until it's due, you would divide that six-month cost ($656) by 6, to find that you would need to set aside $109.33 each month in a sinking fund in order to be able to pay that auto insurance bill without touching your normal savings or emergency savings account (and without draining your whole budget for the particular month when that bill is due).
$109.33 each month (or about $27.33 per week) is a lot more doable, right?
This is great and all, but how are you supposed to track your sinking fund – both how much you need to set aside each week/month, and how much you've already got towards the purchase?
That's what this article is all about.
Sinking Funds Tracker Free Printables
Use one of these sinking funds trackers (they're all free!) to track each of your planned expenses.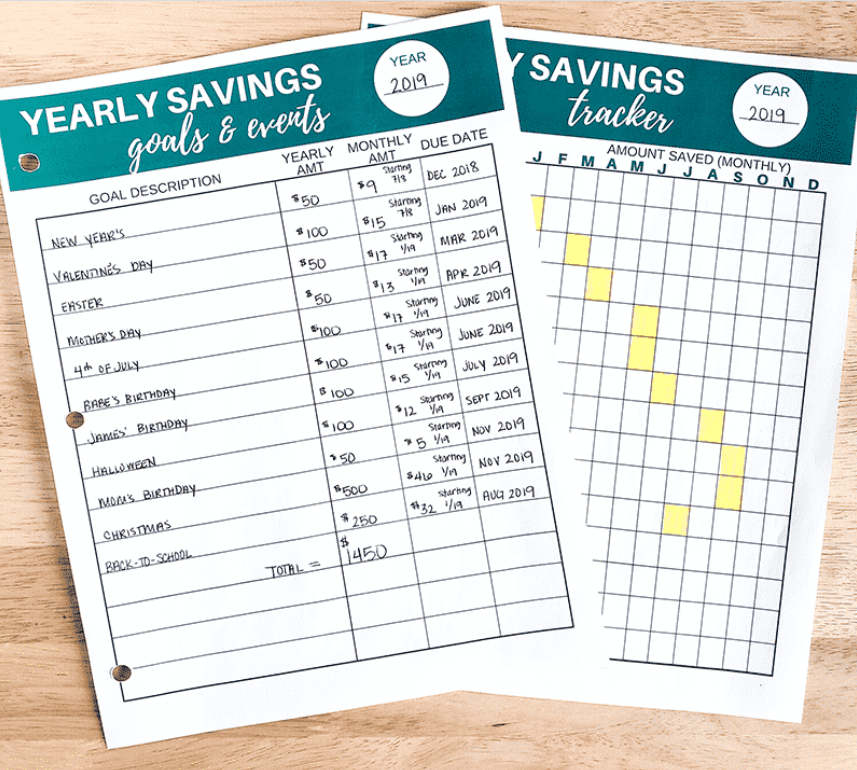 Getting started at the beginning of the year? This could be the printable for you.
Use it to track progress on multiple sinking funds over the course of an entire year.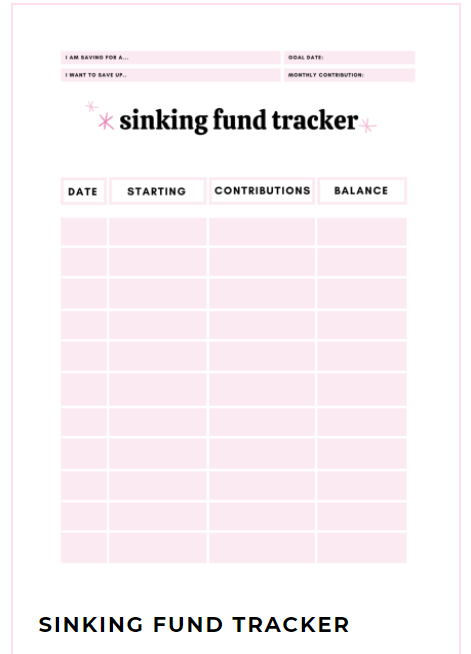 As far as sinking fund trackers go, this is probably the simplest you'll find. It's got a space in the beginning to put what you are saving for, the amount you want to save up, your monthly contribution goal towards that, and the date you need the money for in order to pay it out.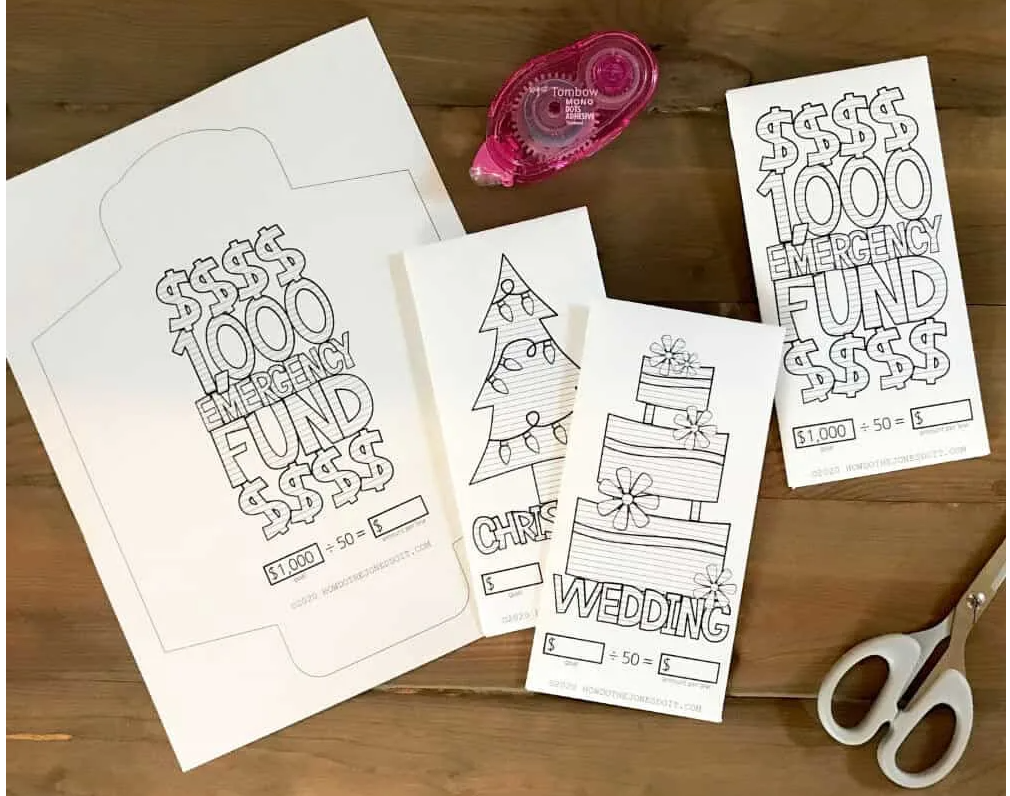 Do you use a cash envelope budgeting system (here are some free printable cash envelopes, and cute printable budget templates)?
What I love about this set of free envelopes is the sinking fund tracker itself is on the outside of the envelope.
Find a secure location to house them (check out these DIY diversion safe ideas), and then track how much cash you add to the envelope each week or month.
4. Sinking Fund Tracker for Multiple Goals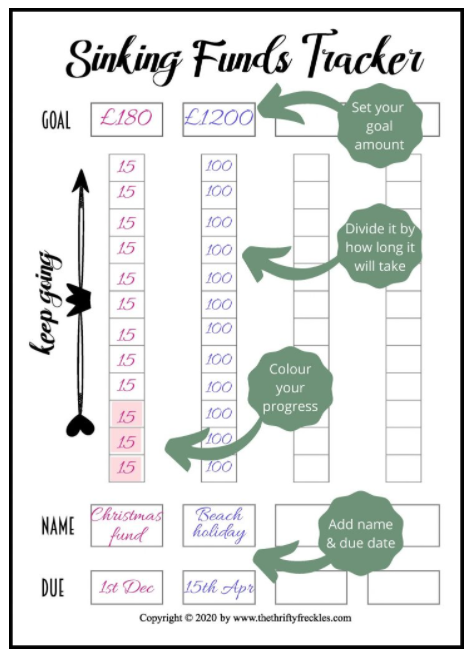 It's likely you have more than one sinking fund to set money aside for at the same time. What I like about this tracker is you can use it to track multiple sinking funds at the same time.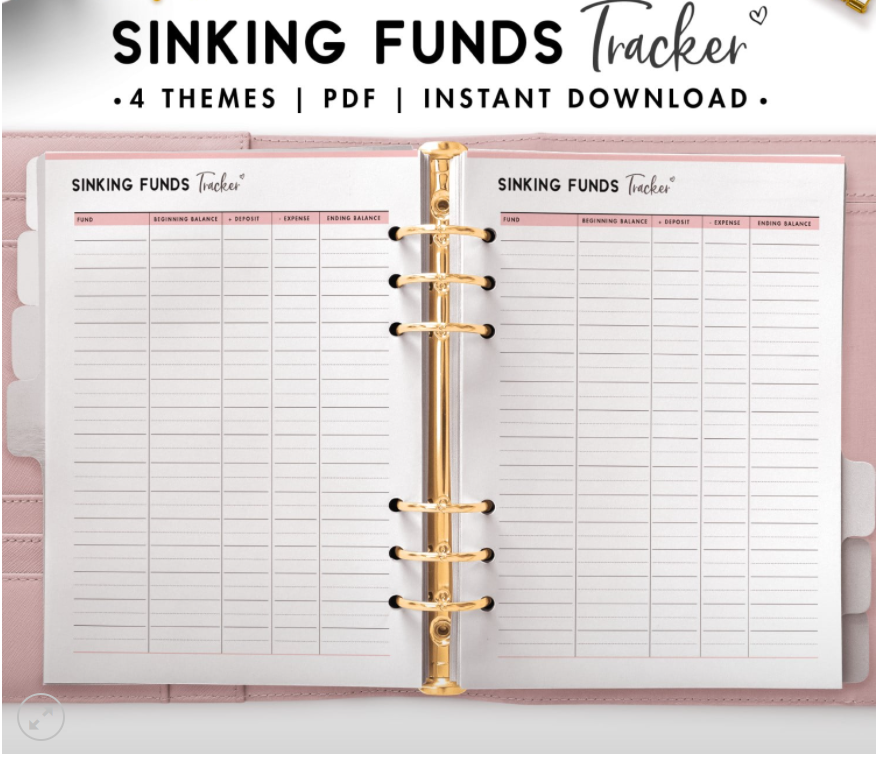 Here's a classy, minimalist-looking savings fund tracker that'll let you track any number of sinking funds at the same time.
Note: you'll need to use the provided coupon code to get this free (I tried it, and it works).
If you need your money ready for 12 months from now, then this 12-month tracker is perfect for you.
Track up to four different sinking funds at once.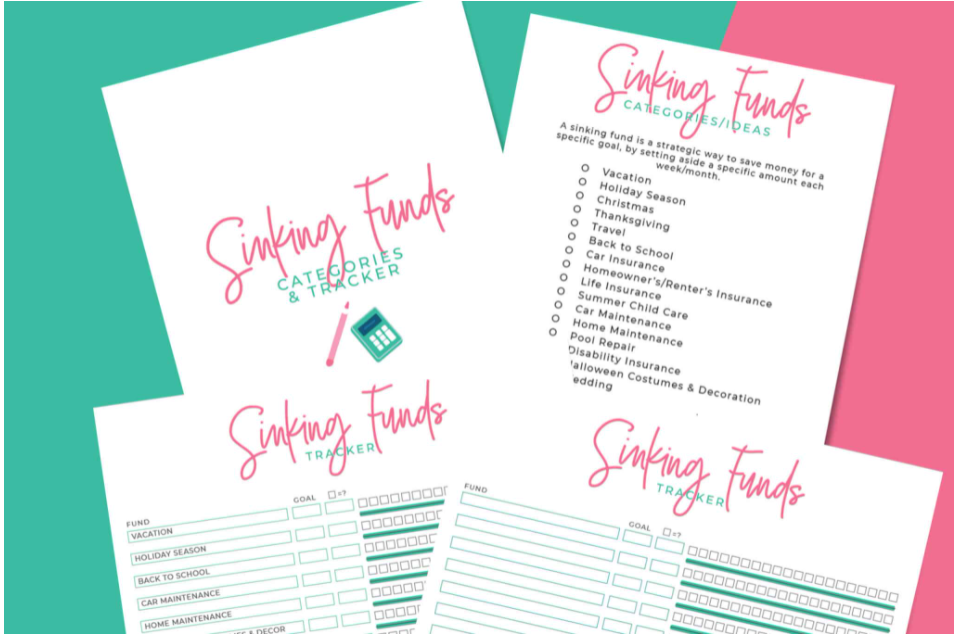 Here's a landscape-oriented sinking funds tracker that allows you to track many sinking funds at the same time.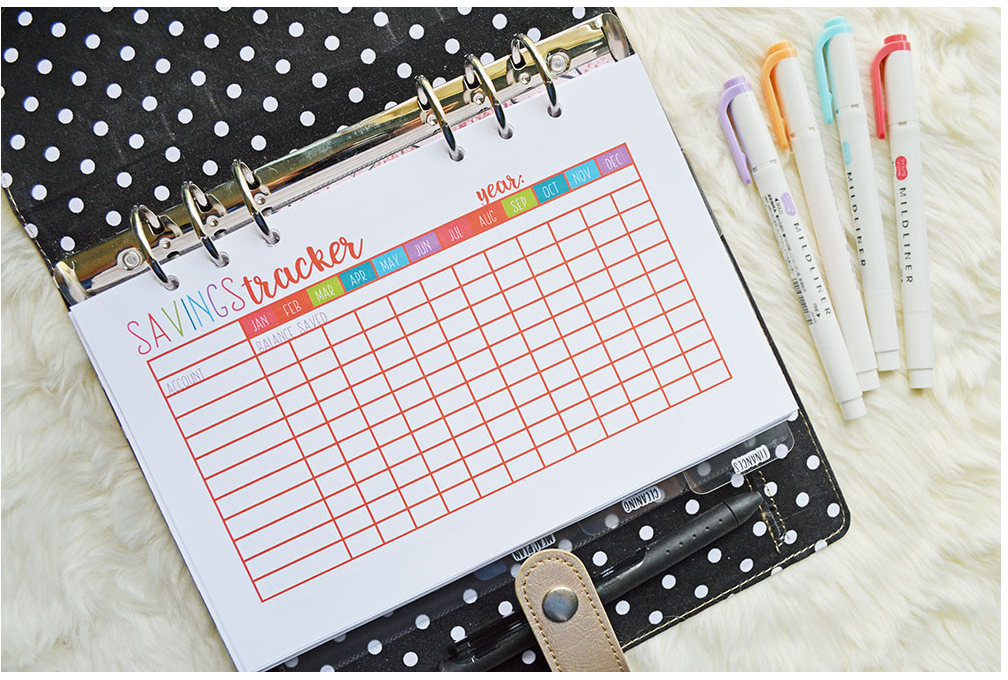 Do you use separate savings account for each of your sinking funds?
Great – this could be your tracker. It helps you to track each sinking fund by the savings account you're keeping it in.
Hint: you should name each of those savings account something fun that reminds you of the account's goal, like "Disney Escape" for a vacation sinking fund, or "New Car Smell" for a new car sinking fund. Get creative!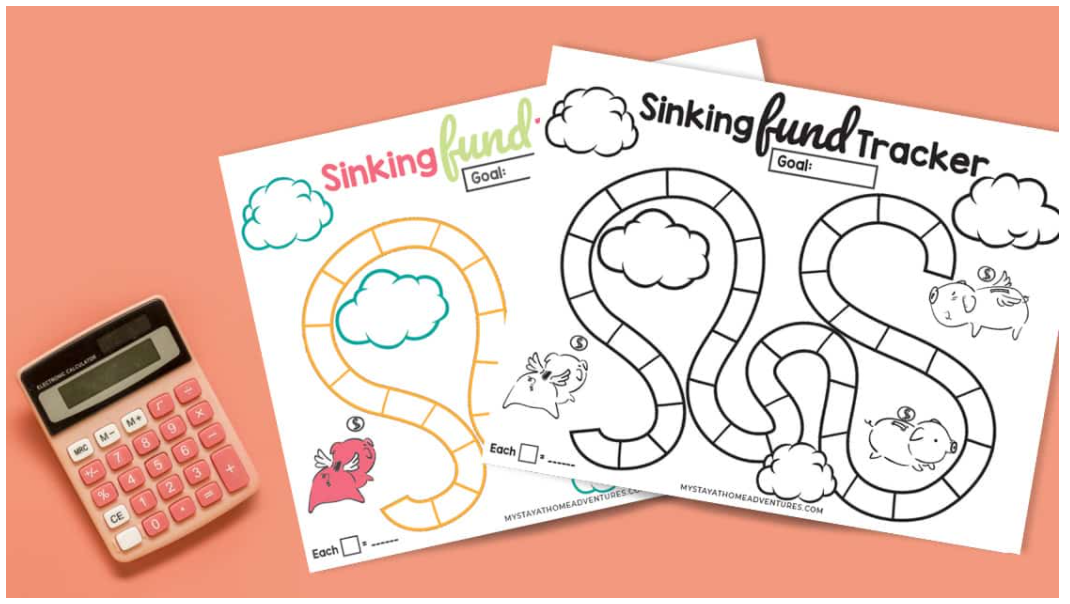 Here's a really fun, visual way to track your sinking funds. Print one out for each individual fund you have, then color in as you fill up your envelope or savings account for your planned spending.
Let's talk now about sinking fund examples that you can use with the free printable tracker above.
Examples of Sinking Funds
Just in case you need some sinking funds examples to use with these free printable sinking fund trackers, here you go:
Annually and bi-annually paid bills (such as property taxes, bi-annual auto insurance payments, etc.)
Birthdays/big anniversaries
Tuition payments
Rent deposit on new apartment
Wedding costs
Extra winter heating costs
Appliance replacement
Summer camps
Planned home repairs/renovations
Dental work not covered by insurance
Holiday spending (here are free Christmas budget printables)
New baby (I saved up $5,000 in anticipation of after-insurance hospital costs for our little guy)
HOA dues
Extra school costs (field trips, uniforms, class photos, etc.)
Back to school costs
Maintenance fees
Pick out the sinking funds tracker free printable that gets you MOST motivated, and makes you feel most inspired to set aside the money you need for those periodic, higher-costing bills. Then, make sure you use it!
The following two tabs change content below.
Amanda L. Grossman is a writer and Certified Financial Education Instructor, Plutus Foundation Grant Recipient, and founder of Frugal Confessions. Over the last 13 years, her money work has helped people with how to save money and how to manage money. She's been featured in the Wall Street Journal, Kiplinger, Washington Post, U.S. News & World Report, Business Insider, LifeHacker, Real Simple Magazine, Woman's World, Woman's Day, ABC 13 Houston, Keybank, and more.
Read more here
.
Latest posts by Amanda L Grossman (see all)