Opportunities to volunteer from home are growing big time. Here's 27 ways to touch someone's life as a virtual volunteer.
I was googling the other day "volunteer opportunities near me", and got to thinking…what if I could volunteer from HOME?
Wouldn't that be the nearest volunteer opportunity there is?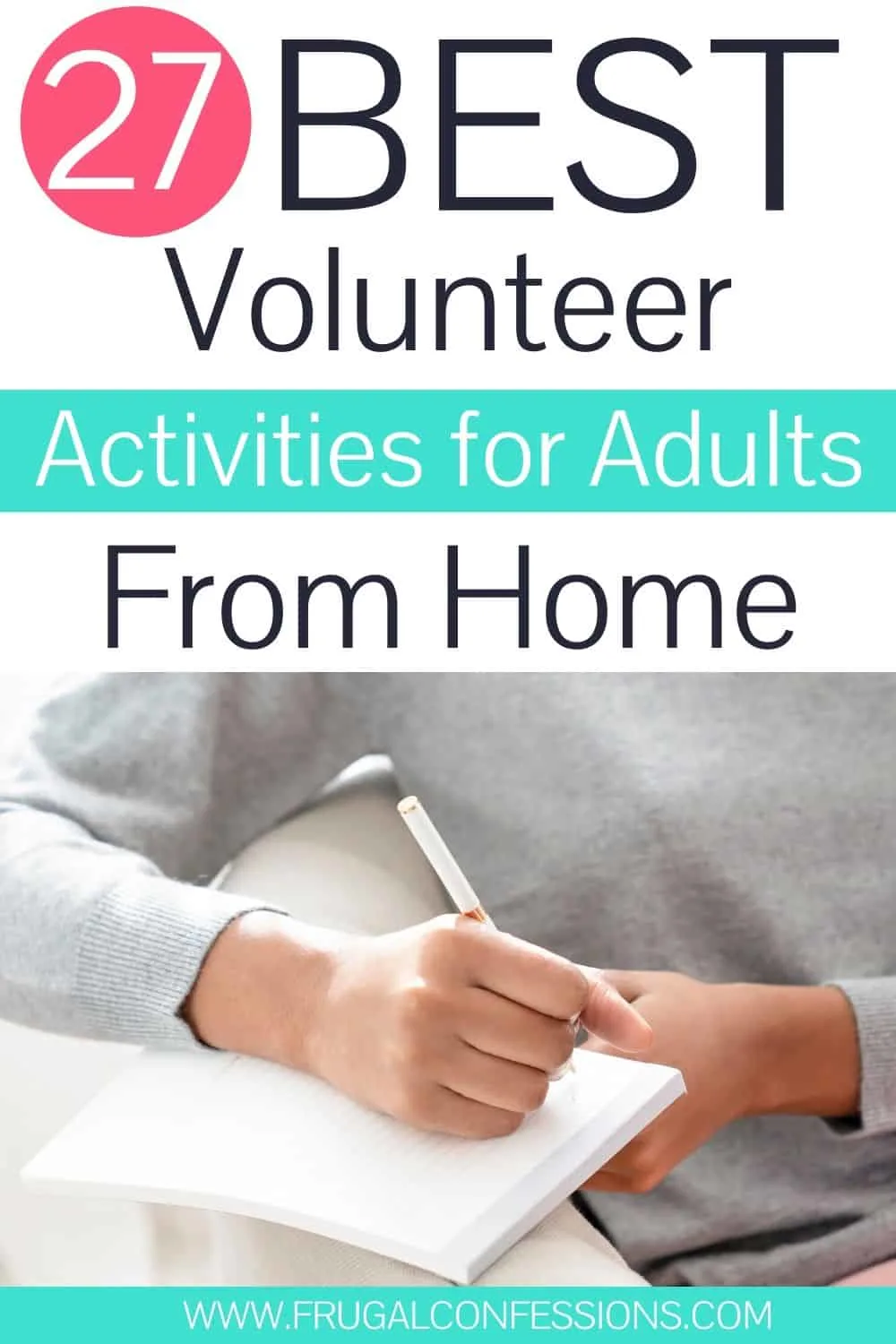 It turns out, there are tons of volunteer activities for adults that you can do from the comfort of your own home, including:
at-home service projects
volunteer data entry from home
virtual volunteering opportunities
writing letters to people
and more!
If you're looking for how to volunteer without leaving home, then you came to the right place. Here are 5 volunteer from home opportunities you can complete from the comfort of your couch.
How to Volunteer Without Leaving Home – At Home Service Projects
There are some really cool benefits to volunteering virtually.
For starters, anyone with an internet connection and a laptop or desktop can do it! That means if you can't leave your home, or if you don't want to leave your home, you can still make a difference in other people's lives.
And, of course, we now know that volunteering and helping others can make a difference in our OWN lives. Aside from that "feel-good" moment of giving to others, studies show that our physical health improves and we live longer when we give to others.
Project #1: Cook Neighbors Food through Lasagna Love
Have you ever heard of Lasagna Love?
It's an organization where willing lasagna chefs (that could be you!) are matched with people in need in their immediate community.
You then cook your lasagna, and deliver it.
Pretty simple, and impactful.
Project #2: Bring Cheer to People with Illnesses
I'm huge on letter-writing. I think it's an art that is going extinct. I mean, think about it: how exciting is it to receive an actual letter when you open your mailbox?
Super exciting.
Here's an opportunity to send smiles through snail mail:
Project #3: Contribute to People-Powered Research
Dying to semi-use that biology or environmental studies degree from college?
Zooniverse is an amazing platform for what's called People Powered Research (aka Citizen Scientists). Basically, there are a ton of environmental + animal projects scientists would love to collect data on and monitor throughout the world. But you know what? There just aren't enough resources to collect all the data, nor to do anything with the data once it's there.
Through many initiatives, you can both collect data from home, as well as help process it so that actions can be taken by the professionals.
At any point in time there are tons of projects (50+ at the moment) that you can take part in.
Some notable ones interesting to me are:
Eyes for Diabetes: Help doctors diagnose diabetes in patients by first getting trained (online) to look for red lesions in eye images, and then actually doing the marking.
Decoding the Civil War: Your mission is to digitize and transcribe the Union Army telegrams from The Thomas T. Eckert Papers to help bring this historical event alive.
WildCam Gorongosa: Decades of war have decimated Gorongosa National Park in Mozambique's biodiversity. They'd like help in identifying animals in trail camera photos in order to help conservation efforts.
You can also help track the migration of birds through ebird. Store your sound recordings, birding observations, and more, making this information available to scientists, researchers, and other birders! Half a billion sightings have been recorded.
Also, check out Cyclone Center, and help meteorologists decipher partners in real cyclones through infrared satellite images. This can help scientists predict future cyclone behavior!
Project #4: Champion Military Families by Clipping Expired Coupons
My husband was in the military (Navy, cryptologist), and so we are both very aware of the not-so-great pay. While military families have lots of services to help them, they still need help to juggle all their financial obligations.
One way you can help is by clipping coupons and even expired coupons to send to military bases around the world. That's because coupons expired by up to 6 months can still be used on base grocery stores.
You'll want to follow the instructions on this page when completing this project.
Project #5: Advance Human Development through the United Nations Volunteer Programme (UNV)
The United Nations needs YOU to volunteer from home…and honestly, isn't that pretty exciting? (Hint: one of my two majors in college was International Studies, and I would have DEFINITELY signed up for this had I known about it).
Online volunteers will work on all sorts of projects, using skills like:
Writing
Translating
Outreach and Advocacy
Project Development and Management
Research
Technology Development
etc.
And the jobs sound AMAZINGLY purposeful. I browsed current listings, and found positions like editing a report on EU externalities policy, translating the 2019 Burundi Humanitarian Needs report from French to English, and writing content for UNICEF's website.
You even get an electronic certificate of appreciation for your volunteerism!
Project #6: Touch People's Lives by Talking Face-to-Face, Online
The webcam, Skype, and other platforms have made reaching out to others face-to-face a reality, from the comfort of your own home. Here's organizations you can use to volunteer using this technology.
Project #7: Click to Donate
Next time you're vegging out in front of the tube, wishing you could volunteer from home (in PJs, no less) take out your smart phone and get to work donating to a cause of your choice (for free, I might add).
This works because advertisers pay to display their ads on the site, then you go to the site and click (the click has nothing to do with the advertiser, fyi).
Click to Donate Sites: There are tons of charities that get donations when you click on a button on their site, and here's a huge list of them. A couple of my favorites include The Hunger Site and the Rescue Animals site.
Clicanimaux: Your clicks donate food and protection to stray animals in France (you'll need to translate the site).
Even More Click to Donate Sites: You could bookmark this site and each day throughout 2012 click on the buttons to make a donation!
Other "free" ways to make donations that just take your time?
Donate Your Frequent Flyer Miles: With American Airlines AAdvantage program you can donate to Operation Hero Miles or Miles for Kids in Need. If you earn points through United, Delta, or US Airways, you can donate reward points here for free airline tickets for cancer patients who need treatment. It takes 25,000 miles to donate one roundtrip ticket. Check into your own frequent flyer program to find charities they have partnered with. The Make A Wish Foundation accepts donations of frequent flyer miles from various companies, as well as hotel points from Starwood or Hyatt.
Donate Credit Card Reward Points: Most credit cards that offer reward programs will also let you donate your points to charities. My personal credit card allows me to donate my reward points to the American Red Cross (International and Disaster Relief), as well as to purchase a particular gift card where I can donate to hundreds of different charities. The conversion rate for my credit card is about 10-15 points equals $1.
Donate While Shopping: I'm not talking about going shopping at designer stores and spending money you don't have to donate a percentage to an organization. Instead, I am talking about your weekly, bi-weekly, or monthly grocery shopping! For example, through The Kroger Community Rewards Program, you can print out a form that you take to your local Kroger's that will link a charity organization to your Kroger loyalty card, and that organization will get a percentage of money for one year just by you grocery shopping. There's also the Tom Thumb/Randalls Good Neighbor Program, and the Target Supports Education program. Online shopping aggregate sites such as we-care.com, Good Shop, and Earth Share allow you to shop at hundreds of places like Amazon.com and Barnes and Noble, but a percentage of your sales will now be donated to a charity of your choice.
Write What You Know: Do you know how to do something? Then write about it on Infobarrel and donate your ad proceeds to charity. You will need to sign up for an account with Infobarrel, as well as an account with Google Adsense (both are free). Next, link your google adsense unique ID to your Infobarrel site . Finally, write an article. To do this, click on the "create" tab, scroll down the page and choose a type of article to write. On the next page, click the "Charity" button. Now, 90% of your proceeds from this particular article will go towards a charity.
Project #8: Log your Walks
Okay, okay. I know I said "volunteer from home", but this one doesn't have to be further than a block away.
We go for tons of walks in our household. It's one of the best ways to make our 16-month old happy, plus introduce him to the great outdoors. And I only recently figured out that I could download an app, CharityMiles.org, and log my miles for donations to Wounded Warrior (among other charities you can choose from). I've been doing so every since (huge thanks to my husband, Paul, for setting it up for me in about three minutes! It's part of the way I've found to get paid to walk).
Here's a way to log your own miles for donation dollars to your favorite animal shelters:
WoofTrax: Volunteer from home by walking your dog! Download the Walk for a Dog app, then each time you walk your dog click the "start walking" button. Your miles are logged and turn into donations for animal shelters around the U.S. Available on both Android as well as iPhone.
ResqWalk: At the beginning of every month this site announces a new amount of cash available from their ResQsponsors they've got. If you want it for your fave organization, then download the app, select a ResQpartner and press start. Your walking, running or biking counts, "as long as the activity can be measured by GPS and involves a speed of less than 14 mph." By the end of the month the dough is divided proportionally to the charities based on the number of miles logged in their name. There are also bonus challenges throughout the month that result in donations of things like pet toys + treats.
Project #9: Tutor Kids in LA Online
Here's your chance to help kids who fell behind over the last few years , catchup.
Note that you can be from out of state, but it will take longer for your application to process.
Project #10: Bring a Smile to Someone's Face
Participate in Color a Smile's mission to give cheerful drawings to senior citizens and military service people stationed overseas.
Download the free printables, color them in, and mail them back in. You're done!
Project #11: Fill a Shoebox with Gifts for a Woman at a Shelter
I just recently came across this charity, and will definitely be participating this year. Because while lots of attention is turned towards homeless kids living at shelters at the holiday (and, thank the Lord that happens!), not much is given to the mothers and women there.
You take a shoebox, and fill it with $50 worth of gifts for a woman in a shelter. Not just need-to-have items, but gifts for this woman. Plus a message of inspiration.
Then you wrap the shoebox, and drop it off at one of the locations around the U.S. or Canada.
Volunteer Opportunities that You Can Do at Home – MicroVolunteer Parties
Who says you have to volunteer from home by yourself?
I recently came across a really fun volunteer opportunity for you to do from home – host a microvolunteer party with your friends, family, etc.
You can throw a Sole Hope shoe party with friends and family to prep fabric so that it can be sent to Uganda to be made into shoes.
No sewing or cobbler skills are required (whew!).
And do you know why getting Ugandans into shoes is important?
Turns out, Ugandans have a problem with jiggers getting into their bare feet, to the point where they can no longer walk. And there's a simple solution — to wear shoes.
That's where you can help.
Another Idea for Helping Others in Your Life
Maybe you haven't found the opportunity for you. Don't let the ideas above limit you when brainstorming ways to help from home.
How about the idea of being a good neighbor, a good family member, and a good friend?
Let me explain how my own family does this, through what I like to call my family's circle of savings.
You see — my family has this really cool thing going on where we all give to one another, according to the free or cheap resources we've individually gotten.
For example, when my family came to visit me for the day when I lived in Chestertown, MD, I was greeted with a five-pound plastic bag of raw chicken my mother happily slapped against my back as she hugged me (she is stellar at loading up her freezer during the annual chicken sale at the local Amish grocery market).
My grandmother rolled down the car window, and pushed a Tide stain remover pen into my hand before giving me a kiss on the cheek.
My sister had made cucumber and onion salad and asked that I return her container when I next came to PA.
Every year when I go home for Christmas, I am like a FedEx or UPS Woman going from household to household and moving things around. I start off at my mother's, who needs a pan returned to my grandmother's. She includes a plastic bag of leftover stuffed cabbage from a big batch of our family's Hungarian recipe.
When I reach mom-mom's house, she has several coupon inserts and a plant to give to my sister. Then I get to my sister's home, who has free samples and a DVD for my mother.
The cycle is never-ending, and even though I live so far away, I carry out my end of the bargain as well.
Since I play the drugstore game, I always have plenty of leftover goodies that I purchase very cheaply. I have taken it upon myself to personally stock up my grandparents with a lot of their toiletry needs once a year because they live on a fixed income. I either tote all of these things up in my suitcase around Christmastime, or I mail them using a flat rate box at the USPS.
Since my grandmother and mother have come down to visit in the fall every year for the last two years, I've even saved on shipping and stashed the goods in their suitcase (they fly Southwest, so no baggage fees). It's such a great feeling knowing that I am saving others money!
So, do you have your own family circle of savings you can start up to help others around you?
Do you love completing charity projects, but just not all that excited to leave your home to do so? I hope I've shown you we can all volunteer, even if we're stuck inside.
What charity project from above can you squeeze into your routine at home? I'd love to hear in the comments below the volunteer from home opportunity you're MOST excited about.
The following two tabs change content below.
Amanda L. Grossman is a writer and Certified Financial Education Instructor, Plutus Foundation Grant Recipient, and founder of Frugal Confessions. Over the last 13 years, her money work has helped people with how to save money and how to manage money. She's been featured in the Wall Street Journal, Kiplinger, Washington Post, U.S. News & World Report, Business Insider, LifeHacker, Real Simple Magazine, Woman's World, Woman's Day, ABC 13 Houston, Keybank, and more.
Read more here
.
Latest posts by Amanda L Grossman (see all)