Buyers remorse – what an icky feeling! How to use buyer's remorse law to your advantage, plus how to overcome buyer's remorse.
Have you ever tried to overcome buyer's remorse?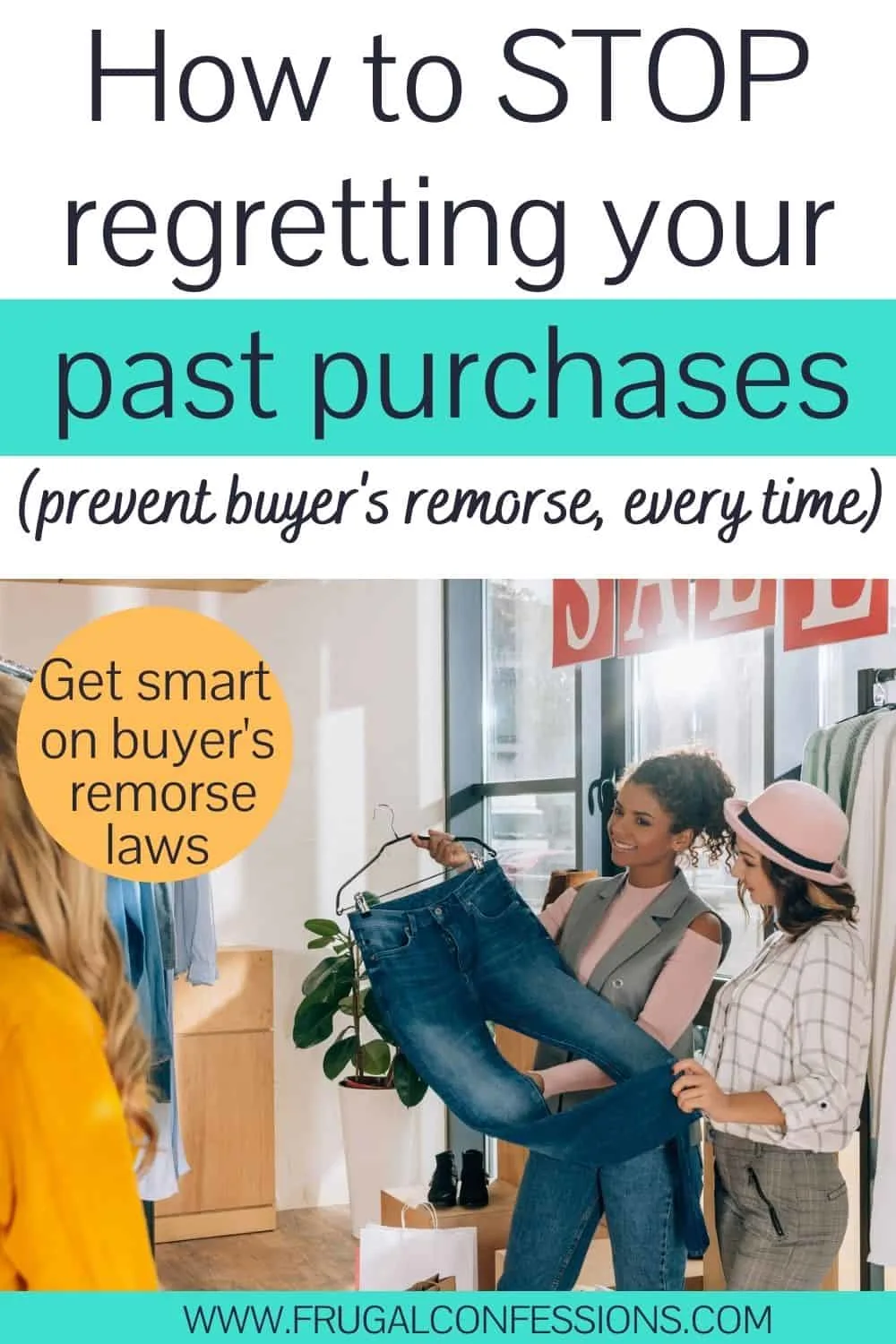 I like to live my life with no regrets — I'm a true believer that every moment, both good and bad, has been instrumental in getting me to where I am today (which is a good place).
But even I have found myself feeling bouts of Downton Abbey-style anguish over a purchase I've made.
There are many reasons why people feel buyer's remorse.
Buyer remorse examples include:
finding out that it wasn't a great deal (you overpaid)
not getting the kind of satisfaction you thought you would feel
purchasing on credit and realizing how long it will take to pay off
product is defective in some way
feeling jittery after making a large purchase (like a home), and wondering if you did the right thing
etc.
It's a struggle that just doesn't feel good.
SO, let's dive into what buyer's remorse IS, and then how to overcome buyer's remorse if you're stuck in it.
What is Buyer's Remorse?
If you've ever purchased something from the store — big, like a car, or small, like a new wallet — and gotten a sinking feeling in your stomach afterwards that you made the wrong choice…then you've experienced buyer's remorse.
Buyer's remorse is really any negative emotional response to having purchased something. It could be fear about the money you just spent , or anxiety about if you really made the right choice for you + your family, or feelings of depression over the purchase you just made, or any combination of these negative feelings.
In my own life's buyer's remorse examples, it's:
Buying our new home, and having our car quit one month afterwards…making me anxious about whether or not we made the right choice to become homeowners.
Spending $4.00+ to try a new drink at Starbucks, and then regretting not purchasing my normal Iced Grande Coconut Chai because I just wasted money on a drink I didn't like.
Spending money on the discounted pair of sheets instead of the ones I really want, then regretting the decision for years to come because I just really wanted to other set and should've spent slightly more.
There's all kinds of ways that people feel buyer's remorse.
Now for the good news: I'm going to show you tips + tricks for:
how to avoid feeling buyer's remorse
how to get over buyer's remorse (when you do feel it)
the buyer's remorse laws/protections in place to get you out of the purchases you no longer want
How to Avoid Buyer's Remorse
People who cannot find their living room floors, homes that have morphed into storage containers, and desks piled high with 5 years' worth of "gonna do's" all could benefit from one thing: spending decision filters.
And guess what? The rest of us could benefit from them as well.
Decision filters are amazing gatekeepers for what you allow to come in and out of your life. Instead of agonizing over whether or not you should purchase something, you employ a spending decision filter – a simple question that filters out anything coming into your life that does not reflect your values, money mindset, or that will not add to your future happiness.
Normally people employ these when the situation has grown dire, and stuff is already burying the litter box (with the most extreme examples coming from the show Hoarders).
But we don't want you on the "what needs to come out of your life" side of things. Instead, we want to stop both buyer's remorse as well as clutter in its tracks by focusing on filters at the point of purchase.
Here are the spending filters that need to become part of your strategy for both how to avoid buyer's remorse AND how to save money.
Seriously — these will change your life.
Examples of Spending Filters so that You Can Create Your Own
To make this happen, you need to come up with a question or questions to ask yourself each time you want to make a purchase.
Don't worry – I'm not asking you to talk to the melons at the grocery store, or get all philosophical about purchasing a stick of deodorant.
We're talking about a question that you can use each time you feel the need to make an impulse buy, or each time you are buying something moderately+ priced.
So what are some filters that you could adopt as your own?
Here are a few examples to get you started:
Martha Beck, Oprah Magazine Columnist, Asks: "Do I really NEED it?" If her answer is "Yes", she asks, "Do I really LOVE it"? You could switch the order of these around as well.
Denise Duffield-Thomas, Author of Get Rich, Lucky B*tch Asks: Is this coming on the journey with me? This type of question really forces you to see the item for what it is and what it is not because you are thinking of your future self and who you wish to become.
Elizabeth Gilbert, famed author of Eat, Pray, Love, Asks: "Does this object fill me with a sense of light and possibility?"
Develop or Tweak Your Spending Barometer: You could base your spending filter on an amount that you want to stay under. If you know you buy too many things, then come up with a low number. Each time a product is over that number, a mental cue will alert you that you need to really think through your purchase.
Measure its' Cost against a Goal or Dream of Yours: Ask yourself, "is this item worth not putting the amount I'm about to spend on it into my

fill-in-the-blank with your cool savings goal account

?"
The spending decision filter that you choose does not matter, so long as it speaks to you. It's great a way to help with how to spend less money.
How to Overcome Buyer's Remorse – How to Deal with Buyer's Remorse
Feeling the need to shop? Everyone gets the craving to shop.
While we are people first, we're also consumers (and I mean that in the most non-corporate sense of the word where we digest, ingest, use or otherwise consume items we need and want).
Heck, even I have a consumer pulse (though it's barely ticking). It's human nature to want to acquire items for our lives, and who can completely deny something that is embedded in our DNA?
Instead of writing another article about ways to get you to not spend money, I decided to focus this section on ways to decrease your spending when you feel the need to satisfy your craving to shop (did you expect me to completely jump to the other side of the spending bandwagon? Not in this lifetime).
This will help you with how to deal with buyer's remorse by preventing it in the first place.
Pssst: You'll also want to check out my articles on 49 ways to cut expenses to the bone, and 5 surprising ways to cut household costs.
Frugal Ways to Satisfy a Craving to Shop
Save Up Those Free Store Credit Coupons: Some stores, such as JCPenney's, periodically send out a $10/$10 coupon (I have received two since the new JCP design and marketing strategies). This means that you can get $10 worth of items completely for free. This is the perfect opportunity for you to satisfy a craving to shop by purchasing an item or two while hardly paying anything. In order to stretch your money as far as possible, try out clearance sections, children's clothing (often cheaper than adults'), and the kitchen utensil/hand towel sections. The best is when you can get together a mini-shopping spree with free store credit coupons from various stores. I once did this with a JCP $10/$10 coupon, a coupon from Victoria's Secret for a free item, and a free-beverage day at Starbuck's. Now we're talking!
Create a Birthday Freebies Bonanza: Lots of companies will offer you something for free in your birthday month in exchange for signing up for their newsletter. You could create a fun shopping blitz for very little out of pocket by taking an hour or so and signing onto as many of these free offers as possible. For example, two years ago in my birthday month I snagged a free $35 pair of cultured pearl earrings and $20 in free food (and not the kind where I had to order something else in order to get an item for free; these items were completely free to me).
Mystery Shop: I have mystery shopped a handful of times now, and am convinced that this is a great way for people to satisfy their need to shop for typically no money out of pocket. Two of these times have been oil changes (I know, that doesn't sound very glamorous), and the third time was a free date night at the race track including $60 in payment for my time on top of reimbursements! I've seen lots of shop assignments for fast food places, a few for golf courses, and a few for test-driving automobiles.
Shop at a Thrift Store: You might make donations to a thrift store, but why not shop at one? The proceeds oftentimes go towards charities, such as at the Goodwill where proceeds help fund training programs and career services. The Salvation Army funds its Adult Rehabilitation Centers 100% from sales in its stores. You will likely not find better value for your money spent, and since you have to sift through racks of goods to find some treasures you will get the need to shop out of your system.
Procure to Sell: As long as you have the discipline to truly sell items that you purchase with the intent to sell, then this could be a great hobby for you. Aside from protecting your own wallet from a shopping habit, you could turn your hobby into a money-maker! Madison pulled in an extra $10,000 last year from doing this on Amazon.com, and one of her readers pulled in $12,000!
What are ways you have found to frugally satisfy your need to shop?
Buyer's Remorse Law
This section is dedicated not only to understanding the Buyer's Remorse law, but also in understanding how you can get some of your money back (without getting the law involved).
First up, what is buyer's remorse law?
It's actually not a single law, but a collection of laws for various purchase types or loan types.
Such as:
Rescission Periods/Cooling Off Periods and Other Ways Out of Contracts
The FTC has a Cooling Off Rule that allows a buyer a few days to think about what they just purchased, as well as get out of it, in certain cases.
Get Someone Else to Assume Your Contract
Did you know that even if you're stuck in a contract (because you can't use a buyer's remorse law to get out of it), you may still be able to legally get out of it?
Get someone else to assume the contract for you — this can be used for things like cell phone contracts, or car leases.
Heck, I even had someone assume the rest of my 6-month apartment lease for me so that I could move to another state (I talked directly to my landlord to work this out).
Cell Phone Contracts: For cell phone contracts, check out websites where another person assumes your contract. Start with CelltradeUSA.com for cell phone plans.
Car Lease Contracts: Got buyer's remorse from your car purchase? Car lease swaps can be done on sites like Swapalease.com and Leasetrader.com.
Refund Policies to Watch Out for
Returning a defective item or an unwanted item in brand new condition can usually occur from between the moment you purchase the item up to potentially 90 days later. Remember that if you paid with a debit or credit card, you will typically need the card in addition to the receipt in order to be credited for the purchase.
But there are some surprising return policies out there that you should know about.
Beware Return Procrastinators: I guess it makes sense in the speedy digitalized age that returns are as fast-paced as the market moves. The refund policy for Android Apps is less than 48 hours.
Beware Serial Returners: On the back of a Children's Place receipt you will find the following, "…We will accept your receipted return if it is your 4th or earlier return in the last 60 days. We will accept your return without a receipt if it is your 2nd or earlier return in the last 60 days and you have not been denied or warned a return in the past 60 days. The Limited clothing store allows for a total of $300 in returns in any 90-day period for items without a receipt. This will only give you a merchandise exchange or a merchandise credit. They actually refer you to a site where you can track your in-store return history called The Retail Exchange (the link on their website is broken). You can also call this number: 1-800-652-2331.
Beware Returners Who Expect a Full Refund: Certain stores charge a restocking fee for returning a product, so you will not be issued a full refund. While this is largely seen from electronics retailers, I found the following policy on Home Depot's website,
"Special Order returns or cancellations may be subject to a 15% restocking fee and must be returned to the same store where the purchase was made".
It should be noted that typically products can be returned to Home Depot for a full refund without a restocking fee. Sleeping Giant offers a comfort guarantee where you can return the mattress for a one-time exchange for another mattress of equal or lesser value between 30 and 60 days from date of purchase.
However, there is a 30% restocking fee to do so. Bloomingdale's has a generous 365-day comfort guarantee on mattresses; however, there is a reselection fee of between 15%-50%.
NewEgg.com (a popular electronics online store) has a 15% restocking fee because they want
"…to encourage customers to purchase products they intend to keep."
A restocking fee is especially hefty for purchasing wireless devices and services. Verizon Wireless allows returns of purchases for wireless devices and services within 14 days; however, there is a hefty $50 restocking fee.
Furthermore,
"If you return your merchandise, even by mistake, after the return period, you will not receive a refund and the merchandise you returned will not be returned to you."
Sprint has a $35 restocking fee of between $20 and $70. AT&T has a $35 restocking fee for netbooks and all devices purchased at AT&T stores, as well as a 10% restocking fee on all tablets, iPhones, and iPads (except if they are unopened).
Price Protection and Refund Protection from Your Credit Card Company
Ever thought you could get a check from your credit card company? I did!
And the reason why is a little gem called credit card price protection programs.
If you purchased the item using a credit card, then you may have protective options available to you should returning the item to the original retailer not work.
These programs typically allow you to receive a refund through the credit card company up to a certain dollar amount. On top of this policy, some credit cards also offer price protection plans.
My own experience with this has been great. On two separate occasions after purchasing an item I have found an advertisement for the same item at $20 or so less than the purchase price I received. As it turns out, my credit card has a program called Price Protection where I supply the advertisement (within 60 days of the original purchase date), the model/information on what I purchased, and the receipt and they supply a refund to my credit card of the difference in price (some programs send you a check).
What a great program!
Here are the return policies for three major credit cards:
Bonus Idea: Price Protection could be especially lucrative around the holidays. Though I have not given this a try yet, if you purchase items before Christmas at full price and then search advertisements in the post-Christmas sales, you might get a substantial refund through your credit card company. In some of the terms I read, they specifically have terms against doing this. So take a look at your own, and let us know if you decide to try it this year!
The best way for how to overcome buyers remorse is to prevent purchasing items you may not want. However, we don't live in a perfect world, so this is not always possible. It's nice to know that there are contingency plans for when we don't make the best decisions at the store.
Buyer's Remorse House – Buyer's Regret, House
A house purchase is no joke. Buyer's remorse after buying a house happens more often than you think.
I've sat at the closing table twice, myself. Once when we first purchased our home 9 years ago, and again when refinancing our mortgage from 30 years down to 15 years, 5 years ago.
And both times? I had a heavy feeling in the pit of my stomach.
Mortgages are about the most debt a person will take on in their life. So it's easy to feel completely overwhelmed when you take one on.
Still, sometimes, your emotions sweep you into a purchase that you shouldn't have made.
So, I want to cover how you can deal with buyer's remorse on your house, in case you really need to get out of it.
Take a deep breath. Seriously. You've got to approach this through your head, not your heart.
Review your numbers. Did you buy a home you couldn't afford? Did you buy a home that has too many repairs and renovations that need to be done, ones you can't really afford? OR, can you really afford it (and really want it), but you're just feeling cold feet?
Look at your rights. Have you heard of the right of rescission? It's the right of a consumer to cancel certain types of loans. Some good news and bad news here — the good news is that you have this for when you refinance a mortgage. The bad news is that you don't have this right after signing all your closing documents on the original purchase. For refinancing a home, you have until midnight of the third business day after the transaction to cancel (rescind) your mortgage contract (Sundays, or legal holidays do not count).
Know that you can save money on your home after closing so that you don't have to live house poor. I've written extensively about ways you can save money on your monthly mortgage payment, even after you've closed.
What About that other 5% of Buyer's Remorse?
If you use the strategies listed above, then you will stop 95% of buyer's remorse in your life from ever occurring in the first place (and if it does, you've got ways to back out of it).
But what about that other 5%? How to get over buyer's remorse, then?
Well, stuff happens.
Like products that don't deliver on their promises, dropping a brand new iPad onto a cement patio and smashing the screen (that never happened to us…), etc.
Instead of the 5% of buyer's remorse you can't stop, focus on the 95% that you can.
The following two tabs change content below.
Amanda L. Grossman is a writer and Certified Financial Education Instructor, Plutus Foundation Grant Recipient, and founder of Frugal Confessions. Over the last 13 years, her money work has helped people with how to save money and how to manage money. She's been featured in the Wall Street Journal, Kiplinger, Washington Post, U.S. News & World Report, Business Insider, LifeHacker, Real Simple Magazine, Woman's World, Woman's Day, ABC 13 Houston, Keybank, and more.
Read more here
.
Latest posts by Amanda L Grossman (see all)