Trying to serve 12 or more people with ease and without breaking your budget? Cheap and easy meals for a group of 12 on my must-try list.
When you're feeding a group of 12, you need to make things easy (and cheap) on yourself.
What do I mean by this?
Cheap and easy meals for a group of 12 are:
Easy to assemble
Easily cooked in one-shot (not in shifts)
Use uncomplicated, easy-to-find ingredients
Fit into your budget
I promise, it's possible to hit on each of these when choosing easy meals for large groups!
Let's dive into this awesome list of inexpensive and easy meals for large groups of 12.
Easy Meals for a Group of 12
Easy, cheap, and meals for 12 people can all go in the same sentence – I promise!
Here are some great, main dish recipes for large groups.
Psst: pair these main dishes with one of these 17 ideas for easy side dishes for family reunions.
Serving Size: 12
Sunny Anderson shared these on the Rachel Ray Show. I kinda can't believe how easy these are to make!
Did I mention that prep + cooking time is only about 30 minutes?
Serve it up with this Fall Harvest Chopped Salad for a crowd, for a whole meal.
Serving Size: 12
Have you ever heard of something so simple as cutting through an entire 12-pack of Hawaiian slider rolls (all in one shot), filling the sandwiches with cooked chicken tenders, cheese, and some seasonings, and then assembling with the other half of the roll?
Very time effective, and so simple to pull off.
Here's a Panzanella Salad for 12 you can pair with this to complete the meal. Yum!
Serving Size: 12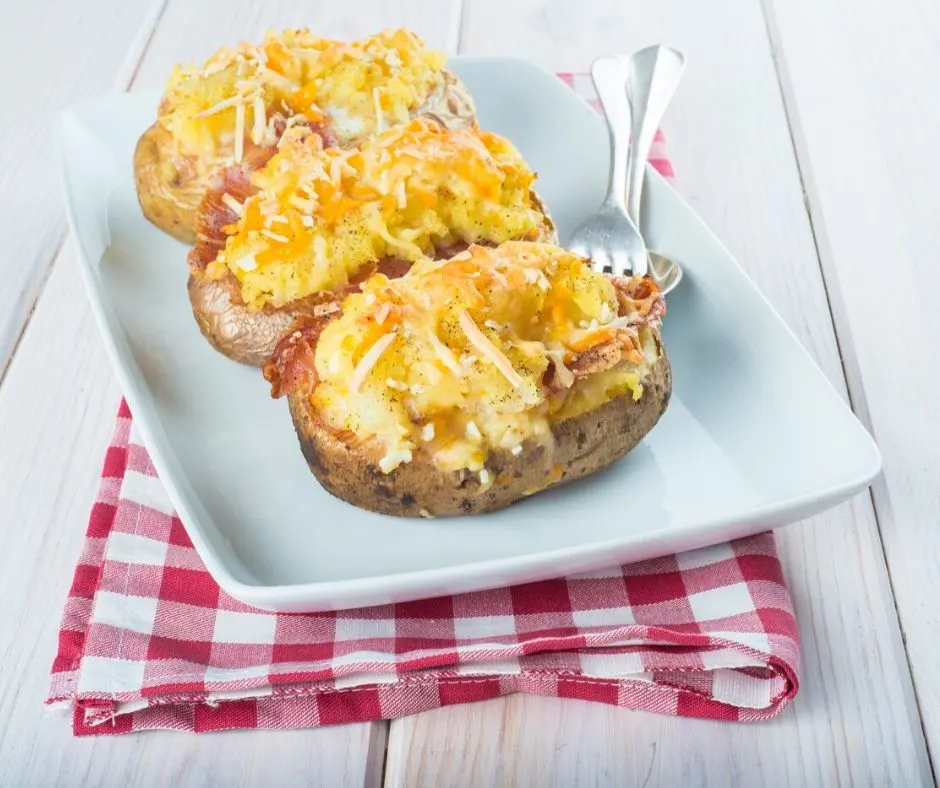 The Pioneer Woman has the perfect, easy meal for a group of 12 people: fill two sheet pans with baked potatoes and bake them, stuff them with all kinds of goodies, then bake them again.
One, and done! (errr…rather, 12 and done!).
Serving Size: 6 (use two pans to double)
One of the best things about breakfast for dinner? Is it typically costs less and is almost always less than an hour to make.
Even if you're cooking for a large group of12!
Check out this genius use of breakfast hash browns, eggs, bacon, and how she puts it together all on one sheet pan to serve a crowd in a hurry.
I love how this creates so few dishes to clean up afterwards, too.
Serving Size: 12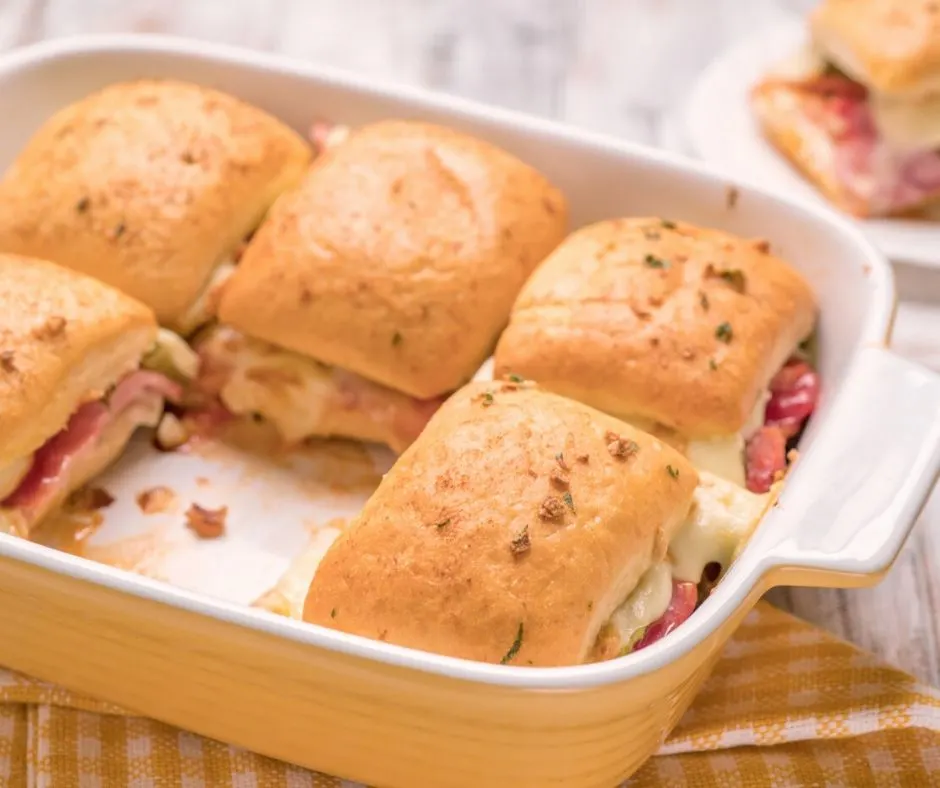 These look absolutely delightful! And again, making a 12-batch of sliders is actually quite simple.
Just roast a batch of sheet pan veggies, and you've got a full meal.
Psst: Like these? Then you'll definitely want to check out these 21 easy meals for groups on vacation, 17 cheap winter meals for a crowd, 17 inexpensive meals for large groups, 17 make ahead summer meals for a crowd, and 13 easy meals for 20 people.
Serving Size: 8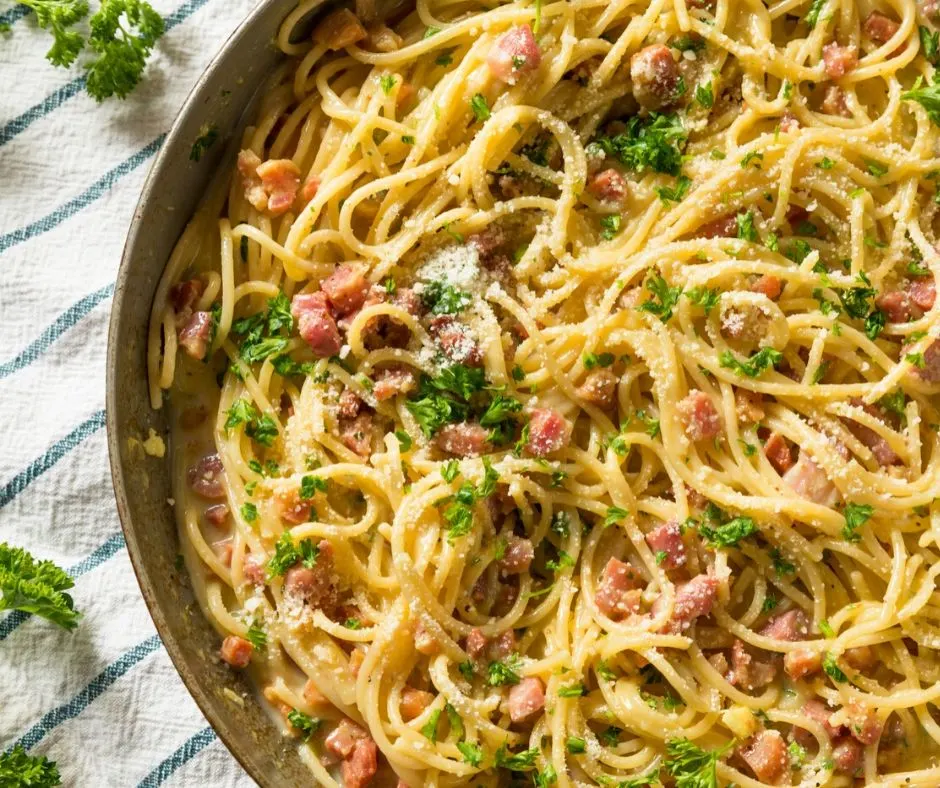 There's nothing simpler than creating a big batch of carbonara (you'll want to double this batch, as it serves 8).
Not only that, but carbonara is creamy and packed with flavor.
Serving Size: 8
You'd need to make two of these Reuben Braid Sandwiches for a group of 12. Hopefully, you'll have a few leftover for lunch the next day (or, just to yourself)!
Serving Size: 16
Total time in the kitchen to prep and cook this sandwich? Just 30 minutes. And it feeds 16 people!
Serving Size: 12
Can I just say how delicious these look? Hawaiian bread is great on its own…but when it's crusty and filled with all the goodness in this sandwich?
Remember that this one is a little spicy, so keep that in mind in case some of your guests don't like any heat.
Serving Size: 12
If you want to serve a Mexican-themed dinner…but don't want to assemble all those individual tacos/enchiladas/etc., then make this enchilada casserole, instead. Easy assembly, and feeds 12!
Recipes for Large Groups (Make-Ahead)
You've now entered one of my favorite sections – because let's be real, if you can find budget-friendly meals to cook for a large crowd, AND you can actually get your cooking done ahead of time?
Well, then that's success all around.
Serving Size: 20
Use your slow cooker to cook a bunch of tasty, juicy meatballs all at once (and ahead of time).
You just prep these 4-6 hours before you need them. Then, buy hoagie rolls or sliders, cheese, and a few other things so that people can assemble their own, hot, meatball slider sandwiches when it's time for dinner.
Serving Size: 12
Go ahead and make this ahead of time, and then stick it in a crockpot to heat up + stay warm for when guests arrive.
Then, you can serve it with:
Baked Potatoes (also can cook these in a slow cooker)
Fritos, onions, chives, and cheese (for some frito chili pies)
Avocados and red onions (I actually love to put avocados in with my chili bowl – adds a creaminess)
Sour cream
etc.
Not only is this an easy solution when cooking for 12, but when you cook something like chili ahead of time, those flavors get to combine and create an even better dish (sort of like how spaghetti and meatballs always tastes better on the 2nd, 3rd, and 4th days?).
Serving Size: 12
Soooo…this "soup" (quotations because it is quite hardy to just call it a "soup") looks off the hook.
Serving Size: 8
Go ahead and double this recipe to serve your group of 12.
I just love the author's ideas to serve this over grits, or rice, or even potatoes. YUMMY!
Bonus: Easy Desserts for 12
Easy desserts for 12 might be an afterthought in this article…but it's definitely not an afterthought in our household. Even if we're feeding a crowd!
So, I'd like to share some awesome, easy, and cheap ways to satisfy your group-of-12's sweet tooth after your awesome meal:
Cooking for 12 is no small feat. But with a little grace and prep time, these easy meals for a group of 12 should make the task seem doable. And not only doable…but actually enjoyable, which is one of the goals!
The following two tabs change content below.
Amanda L. Grossman is a writer and Certified Financial Education Instructor, Plutus Foundation Grant Recipient, and founder of Frugal Confessions. Over the last 13 years, her money work has helped people with how to save money and how to manage money. She's been featured in the Wall Street Journal, Kiplinger, Washington Post, U.S. News & World Report, Business Insider, LifeHacker, Real Simple Magazine, Woman's World, Woman's Day, ABC 13 Houston, Keybank, and more.
Read more here
.
Latest posts by Amanda L Grossman (see all)