You've got a crowd to feed and it's cold outside? Check out these cheap + belly-warming best winter meals for a crowd.
The best winter meals for a crowd are:
filling
warm
easy to cook (heck, some you can do ahead of time!)
served in a way that doesn't exhaust the host
And that's not just a wish list – these types of meals for large crowds exist!
Trust me when I say that these fuss-free winter meals for a group – whether that group be your family, for your party, or whatever the occasion – will keep you on budget, too.
I mean, finding inexpensive ways to do things while still getting awesome results is kinda my thing.
Let's dive in.
1. Build-Your-Own Baked Potato Bar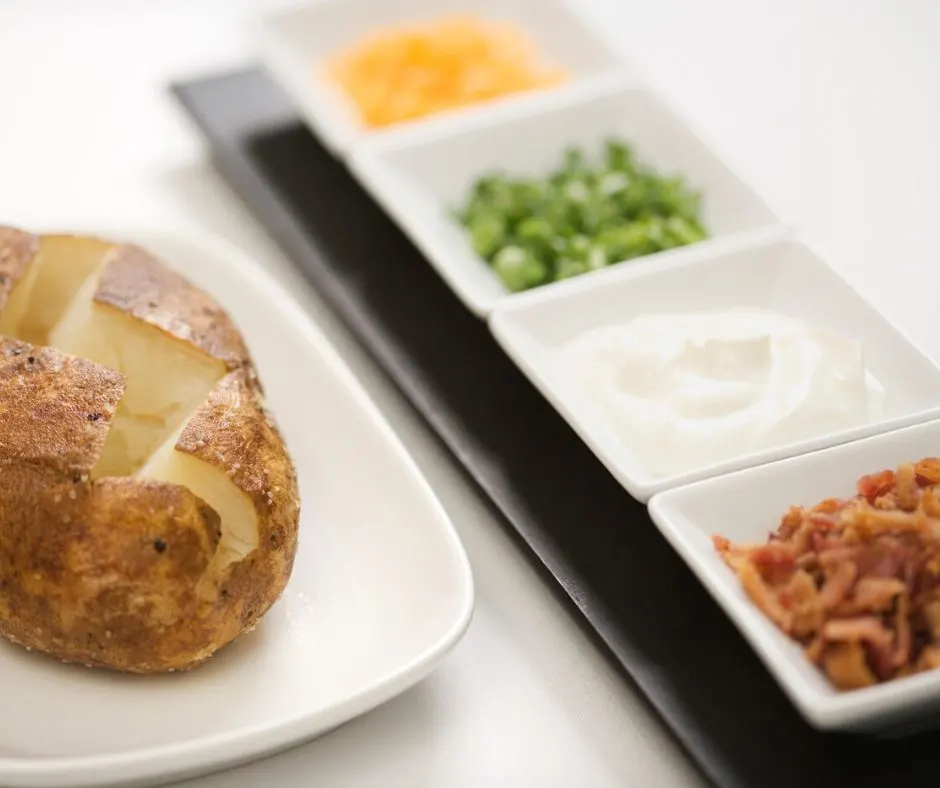 With a large crowd, there are so many different tastes, dietary needs, food likes and food dislikes.
That's why I just love bake potato bars. There is SO much variety being offered, that everyone can build their own version to make them satisfied.
Not only that, but people basically serve themselves, and the cost is very budget-friendly since the highlight of the meal is a cheap potato.
In fact, I made one for my husband's college graduation party 4 years ago at party with about 18 people. Big hit!
I cooked the baked potatoes in my slow cookers – here's instructions for how to do that.
Then, I came up with several themes for baked potatoes people could make. Like a broccoli-and-cheese baked potato, a "fajita" baked potato, chicken-bacon-broccoli potato, etc.
Here's a list of ideas to get you started:
Depending on the themed baked potatoes you pick, you'll pick out ingredients, fillings, and toppings to prep ahead of time.
Like…
Chopped chives/green onions, regular onions
Chopped bacon, chopped chicken, ground beef, chili
Shredded cheeses
Veggies like sautéed bell peppers, sautéed onions, and garlicky broccoli
Sauces, such as melted cheese, barbecue sauce, salsa, etc.
Butter pats and sour cream
These were arranged on a big table. You could also arrange them on a side table and serve this buffet-style.
Pro Tips: In our home, we use a wooden turntable (here's a similar one to ours) in the middle of our dining room table. It's really helped make dinner more accessible to everyone with build-your-own type meals, as well as more FUN. We also always have some of these metal tongs on hand, both for cooking, and for people to serve themselves.
2. Hot Casserole Slider Meals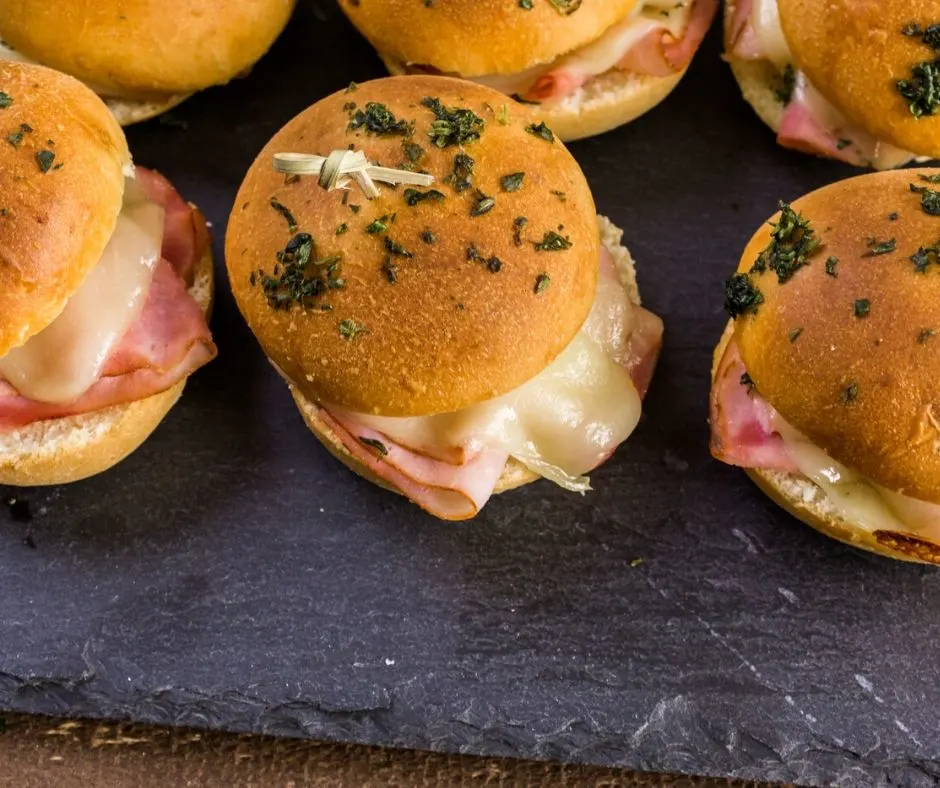 The day I learned about hot casserole slider meals? Was a good one.
They're so simple to make, so delicious and filling, and wayyyyy better than a "traditional" casserole dish.
Here are my favorite, crowd-pleasing ones:
Like these? Then you'll definitely want to check out 21 easy meals for groups on vacation, and 17 inexpensive meals for large groups.
3. Build Your Own Pasta Bar
Pasta is not only super cheap to make for a crowd, but it's filling and easy.
You can create an entire pasta bar of 3 sauces, giving people the chance to
a) serve themselves
b) satisfy their individual taste buds
Here's a pasta bar idea with a free printable to dress up the guest-serving station. And here's another idea for how to create your pasta bar.
4. Sheet Pan Meals for a Crowd
We just bought a set of these half-sheet pans, and I can't wait to take them for a spin with one of these crowd-pleasing meals below.
Psst: is your crowd of people, 20? Here's 13 easy meals for 20 people.
Bonus: Best Winter Desserts for a Crowd
Why not pair one of these winter meals for a crowd above with a winter dessert for a crowd below?
A few on my must-try list:
I hope I've shown you some of the best winter meals for a crowd out there. Not only for the taste, but also for the ease of cooking and serving. Your guests will be delighted, mostly because you won't be exhausted and grumpy from a day in the kitchen!
The following two tabs change content below.
Amanda L. Grossman is a writer and Certified Financial Education Instructor, Plutus Foundation Grant Recipient, and founder of Frugal Confessions. Over the last 13 years, her money work has helped people with how to save money and how to manage money. She's been featured in the Wall Street Journal, Kiplinger, Washington Post, U.S. News & World Report, Business Insider, LifeHacker, Real Simple Magazine, Woman's World, Woman's Day, ABC 13 Houston, Keybank, and more.
Read more here
.
Latest posts by Amanda L Grossman (see all)