Tasked with feeding a crowd? These easy meals for 20 people will help you pull it off with ease!
Looking for easy meals for 20 people to devour?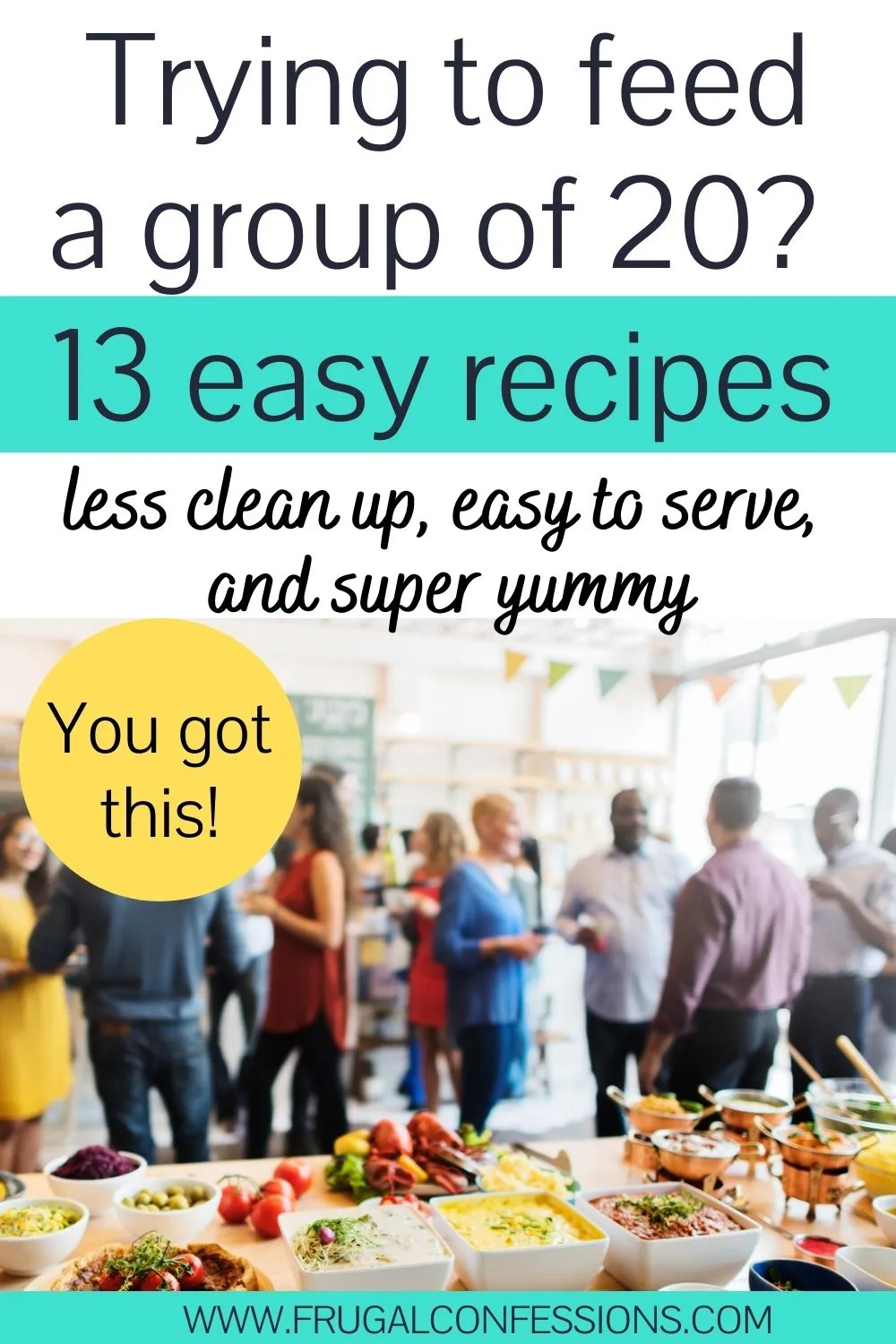 Perhaps you're having a family reunion, or hosting a holiday party, or you just have a large family to feed.
Whatever the occasion – any of these meal ideas should do the trick.
Hint: and if you're tired of seeing casserole ideas? Then keep reading. Most of these are casserole-free!
So, what exactly makes a meal easy to cook and prep for 20 people?
One that:
Uses the least number of dishes possible
Has veggies included in the main dish
Is customizable by the eater, since you'll get a variety of eaters in such a big crowd
Is easy to serve, and/or people can serve themselves
Easy Meals for 20 People
Got 20 mouths to feed? Check out these easy meals for 20 people (only two of which are casseroles).
Serving Size: 24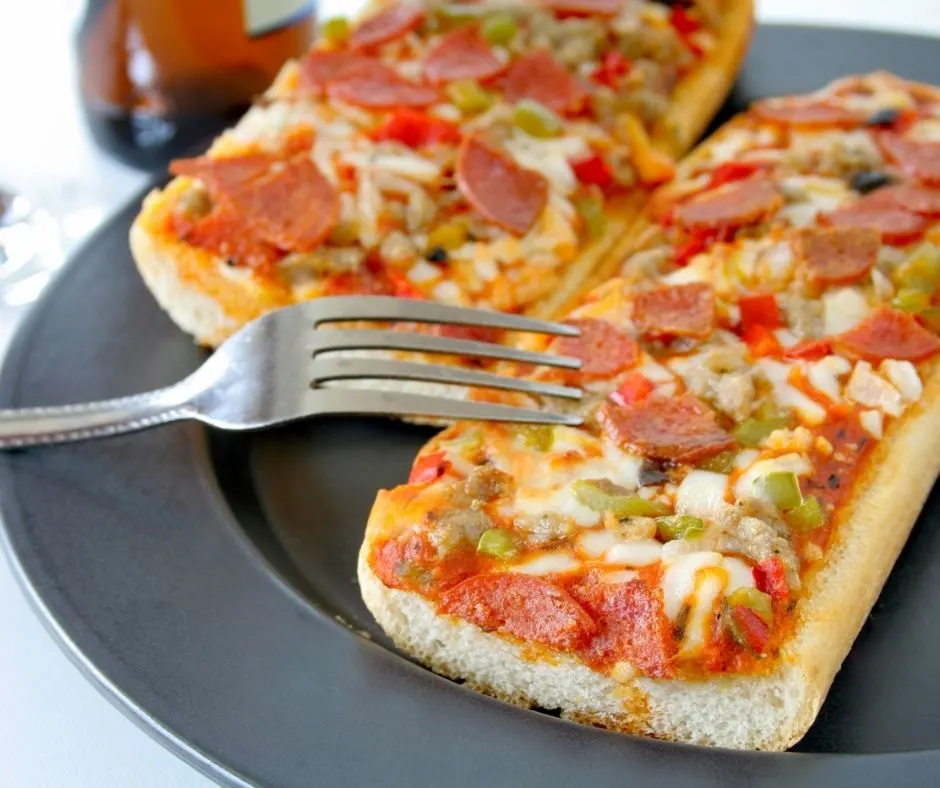 Check out these awesome French bread pizzas – you can fit 12 of them on one sheet, so you'll need to either do two shifts of cooking time, or have two sheet pans.
Psst: here are the sheet pans we purchased almost two years ago – we're very happy with them (and it looks like they're cheaper now than when I purchased them!).
I love the variations. You can put pizza sauce and cheese on each as the base, and then make Hawaiian pizzas, sausage pizzas, veggie pizzas…and you can also used jarred pesto sauce to create "white pizzas" in place of the red sauce. Lots of options here.
Serving Size: 20
Use your slow cooker (you'll likely need more than one, for a group of 20) to cook a bunch of tasty, juicy meatballs all at once (and ahead of time).
You just prep these 4-6 hours before you need them. Then, buy hoagie rolls or sliders, cheese, and a few other things so that people can assemble their own, hot, meatball slider sandwiches when it's time for dinner.
Shortcut: use plain, frozen meatballs (you'll need 66 for this recipe) from your grocery store and just heat them up in your slow cooker.
Serve with this broccoli salad for 20, for a full meal.
Serving Size: 16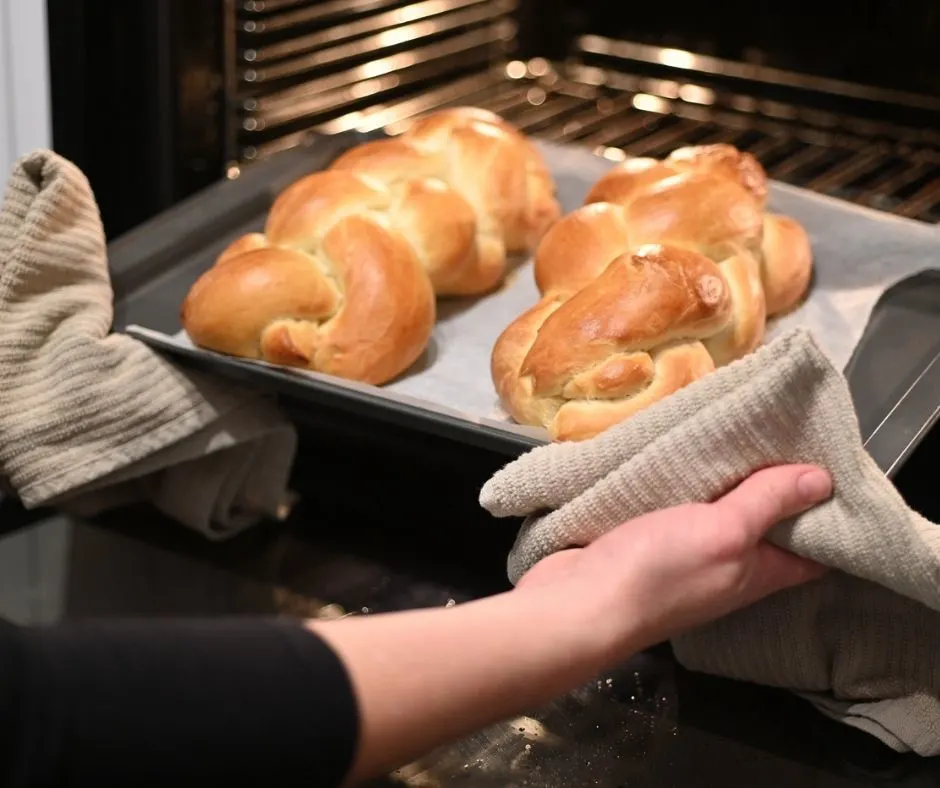 Somebody made this for one of our morning church couple's meetings, and it was amazing.
It says it serves 8, so you'll need to make either 2 or 3 to cover your group of 20. The cool thing is that, while it doesn't take a lot of work, it looks quite impressive when all is said and done!
Serving Size: 20
Here's a two-pot, and one-pan crowd pleaser to feed your group of 12. I like how it includes a vegetable in the main dish, meaning you won't need to create a side dish (unless you want to!).
5. Taco Haystacks with Tater Tots
Serving Size: 20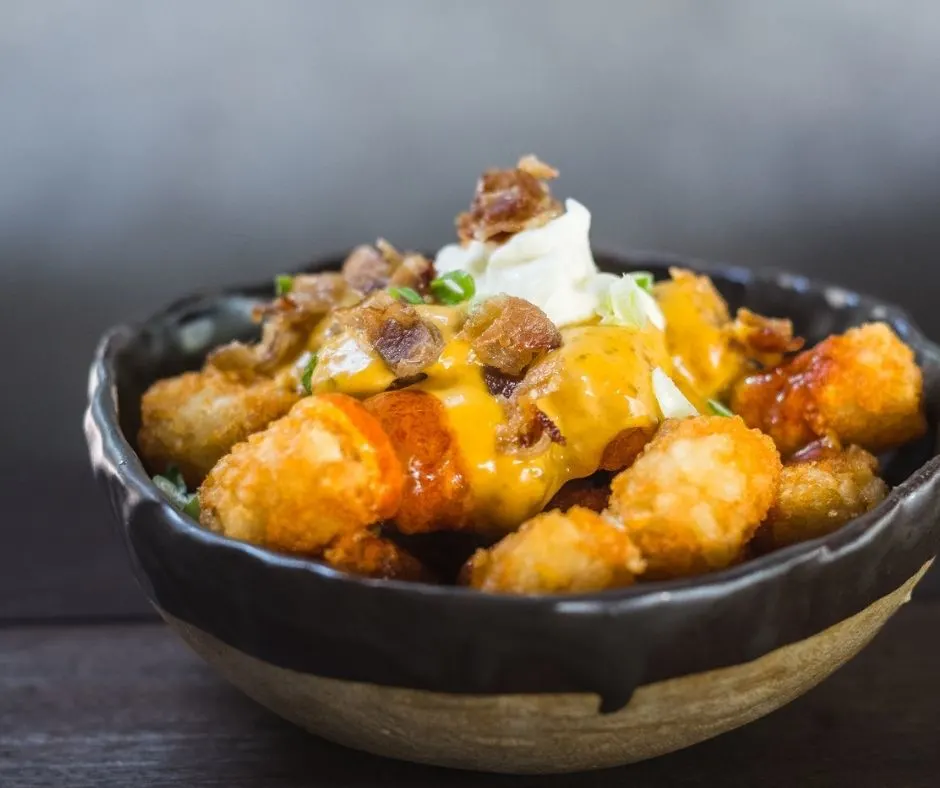 Who doesn't love to eat tater tots? Both kids and adults will enjoy this one.
Here's the deal: you make a ton of tater tots on half-sheet pans in the oven, and then you prepare the toppings. You set everything up buffet style, with serving plates of tater tots only, and have people make their own plates.
Dinner (or lunch), done!
Hint: wondering how many tater tots to cook? According to this site, you'll need an estimated 360 tater tots, or 7.5 lbs. of tater tots to feed 20 people.
In a crockpot, you'll want to make a big batch of taco meat.
Then, you can have the following as sides:
Cheeses
Chopped onions
Chopped cilantro
Sour cream
Warm enchilada sauce
Salsa
Chopped avocado (or pre-made guacamole)
6. Loaded Baked Potato Bar
Serving Size: 20
One of the best party foods I ever picked was to create a loaded baked potato bar for my husband's college graduation several years ago.
It definitely served 20 people, and was simple (plus cost-effective) to create. And, people loved how they could customize their food!
Here's what you'll need:
20 Baked Potatoes (you can do these in the oven, or in crockpots)
Cooked bacon (crumble it up)
Sour cream
Chives
Meats (could be taco meat, sausage, pot of chili, etc.)
Shredded cheese
Fritos
For a cool twist? Make some sweet potatoes. I absolutely love a BBQ chicken sweet potato with diced red onions and Monterrey Jack.
Psst: pair this and other main dishes with one of these 17 easy side dishes for family reunions.
Serving Size: 20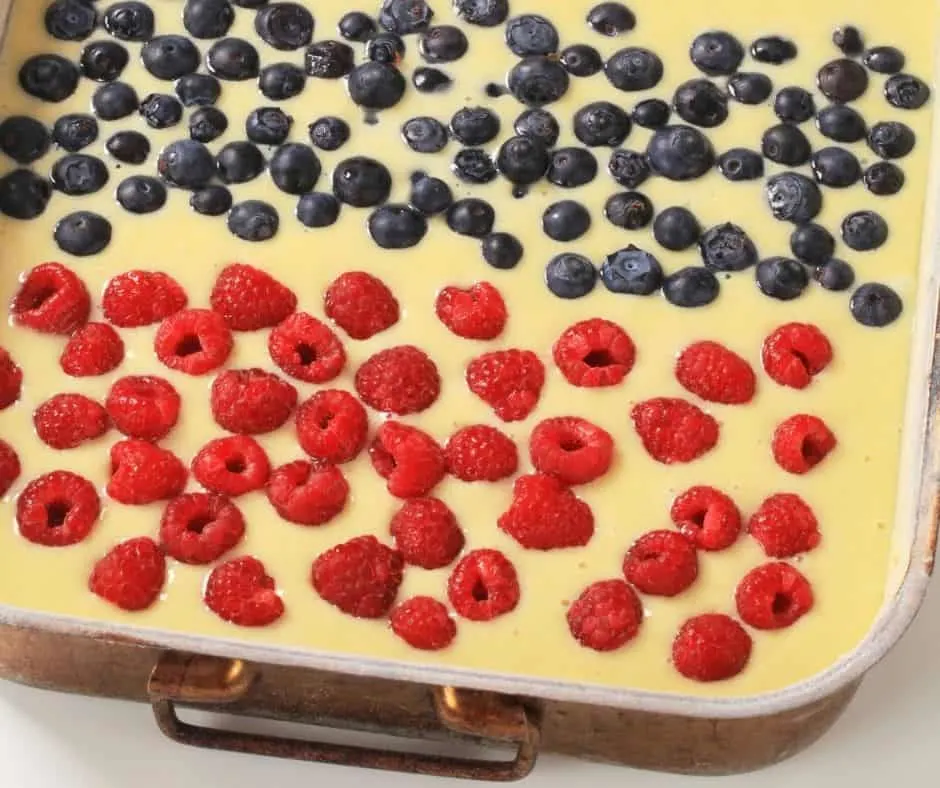 If you were to make individual pancakes for everyone for breakfast…well, you'd likely still be cleaning up when it's time to start lunch.
Instead, check out this sheet pan pancake recipe for 10 (two sheet pans = 20 servings).
Not only will this be filling for everyone, but get this: you can prep it the night before and then just pop it in the oven 20 minutes ahead of when everyone wants to eat! Genius.
8. Sheet Pan Eggs and Hash Browns
Serving Size: 20
Forget the frying pan – you can easily cook scrambled eggs and hash browns for 20, using your sheet pans!
Here's the recipe for sheet pan scrambled eggs (you'll need to double), and here's the recipe for sheet pan hash browns (serves 24).
Serving Size: 20
What I love about serving this dish for 20? Well, you can get a foil baking pan for easy clean-up afterwards, and the sides are quite simple: add in garlic bread and a big salad.
For garlic bread, we buy those $1.00 Walmart French loaves, and slather each side in olive oil, butter, and garlic powder.
Here's an easy Caesar salad for a crowd (that you can double for all 20 of you). Dinner, served!
10. Sausage and Veggie Bake
Serving Size: 20
Got two sheet pans? Great – you can load them both up with sausage and lots of vegetables, and make a scrumptious sausage veggie bake for everyone.
Take this recipe for 6, and adapt it for 20.
And here's a twist: Cajun shrimp and sausage sheet pan bake (serves 18).
You can pair this with this German Potato Salad for 20.
Serving Size: 24
Make two sheet pans of these chicken quesadillas for something different to feed your group.
Then, chop up some tomatoes, avocados, and roast some Mexican street corn as a side dish (hint: using frozen corn is perfectly acceptable!).
Serving Size: 24
For our couple's group a month ago, one woman brought in a huge pan of macaroni and cheese. Can I tell you that it was all gone by the end of the meeting?
People love mac'n'cheese. You can balance this one out with a side salad for 20, or even a sheet pan full of roasted veggies for a crowd.
Serving Size: 20
Double this recipe (cooking in two different slow cookers) to create some yummy food for 20 people.
You'll want to provide rolls for the sandwiches (our favorite with pulled pork sandwiches are Hawaiian rolls), pickles, extra barbecue sauce, and maybe even a big batch of coleslaw (serves 30).
Bonus: Desserts for 20
In a group of 20 people, I'd think at least half of them is probably going to want something sweet after the meal (I've got a pretty robust sweet tooth, myself)!
Here are desserts with at least 20 servings.
Use these easy meals for 20 to not only going to delight and satisfy everyone, but to save yourself some serious time (and money) in the kitchen. Now that's something worth toasting!
The following two tabs change content below.
Amanda L. Grossman is a writer and Certified Financial Education Instructor, Plutus Foundation Grant Recipient, and founder of Frugal Confessions. Over the last 13 years, her money work has helped people with how to save money and how to manage money. She's been featured in the Wall Street Journal, Kiplinger, Washington Post, U.S. News & World Report, Business Insider, LifeHacker, Real Simple Magazine, Woman's World, Woman's Day, ABC 13 Houston, Keybank, and more.
Read more here
.
Latest posts by Amanda L Grossman (see all)