Hold the phone – there really ARE free sample boxes, free shipping and no credit card required? Here are my favorite free sample boxes for snacks, beauty products, and more.
A few years ago, if someone had told me that there were free sample boxes with free shipping…and I didn't even have to input my credit card info, I would've laughed them off the stage.
That's why I'm writing you this article today – because these things actually exist.
Let me run that down for you:
Free samples, in a box
Shipped to your door, for free
No credit card required
No "catch"
*does happy dance*
Not only am I going to share with you examples below, but you can rest assured that I received each of these in my own home in the last few months (in prep to write this article – I like to try things out first before I recommend them to others).
Hint: for maximum free samples goodness? Sign up for all three below. It won't cost you a dime! Also, I'll be adding to this list as I find + test out more.
Free Sample Boxes, Free Shipping (No Catch)
What I love about trying free samples in my own home? Well, for starters, many boxes send snacks. Who doesn't love to receive snacks?
And also, I think it's so fun to get to try out products that are really new to the market – not all products are brand new, but many are.
Anyway, let's do this!
Here is my list of favorite free sample boxes with free shipping and absolutely no catches.
Seriously – absolutely 100 free stuff, no shipping costs.
Is Daily Goodie Box free? You betcha.
No shipping, no credit card, no fluff…just awesome free samples.
And I would know, because theirs is the second sample box I just had to try out, given my success with the first one. And I was pleasantly surprised with the results!
In fact, getting a second sample box from an entirely different company – and having a great experience while doing it – confirmed for me that this whole free-samples-thing isn't a fluke.
Here's what my unboxing of Daily Good Box revealed:
NEATsheets – 4 Count Sample Pack
Rejuva Minerals – Sheer Tinted Moisturizer
We Are Rugged Beauty – Long Lasting Nail Polish
Rowdy Bar – Chocolate Coconut Cashew
Wholeberry – Passion Fruit Snack Rounds
Nature Nut – Shampoo
Jada Spices – Vegan Chicken Salt
Coco Luxe – Hydration
Pro Tip: increase your chances of getting a Daily Goodie Box after you sign up by commenting on their Facebook Page. They post new boxes, daily, and choose 50-100 people to send them to!
Of the legit companies that give free samples, PINCHme is one of my favorites.
Theirs is the first free sample box with free shipping that I stumbled across, and boy was it a good one.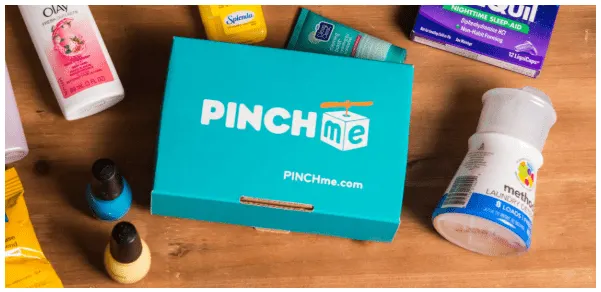 My personal boxed free samples included:
1 Bausch + Lomb Lumify sample
2 Compeed Advanced Blister Care Samples
1 Coconut & Vanilla Native Deodorant sample
4 Cookie Squares baked in France (these were DA BOMB)
1 Ghirardelli chocolate square
1 Ester-C Effervescent packet
1 Umbra Sheer Physical Daily Defense sunscreen sample
1 Aquaphor Ointment Body Spray sample
I love how there was a great mix of free health products by mail, free beauty samples, free snacks, and more.
All in one, cute, box!
3. Axe and Olay Samples (Both New!)
Check out these new beauty sample deals where you can qualify for a free Axe fragrance sample, or a free Olay Super Serum.
Need a few healthy snacks for your office drawer, or just curious about the latest and greatest healthy snacks out there (but wary of paying for them in case you don't like it)?
Sign up for a free healthy snack box filled with samples of the latest good-for-you snacks. No credit card required, and shipping is free.
Here's what I got from my Sampler box:
Builders Chocolate Peanut Butter Protein Bar
Bona Hardwood Floor Cleaner (4 oz.)
Monistat Care Chafing Relief Powder Gel (0.3 oz.).
Better Natured Color Care Shampoo (2 oz.)
Better Natured Color Care Conditioner
As with the other ones, you'll be asked to fill out your profile and answer survey questions so that they can cater their free samples from products you'll actually want to use.
Here's what I got to choose from, after filling out my info: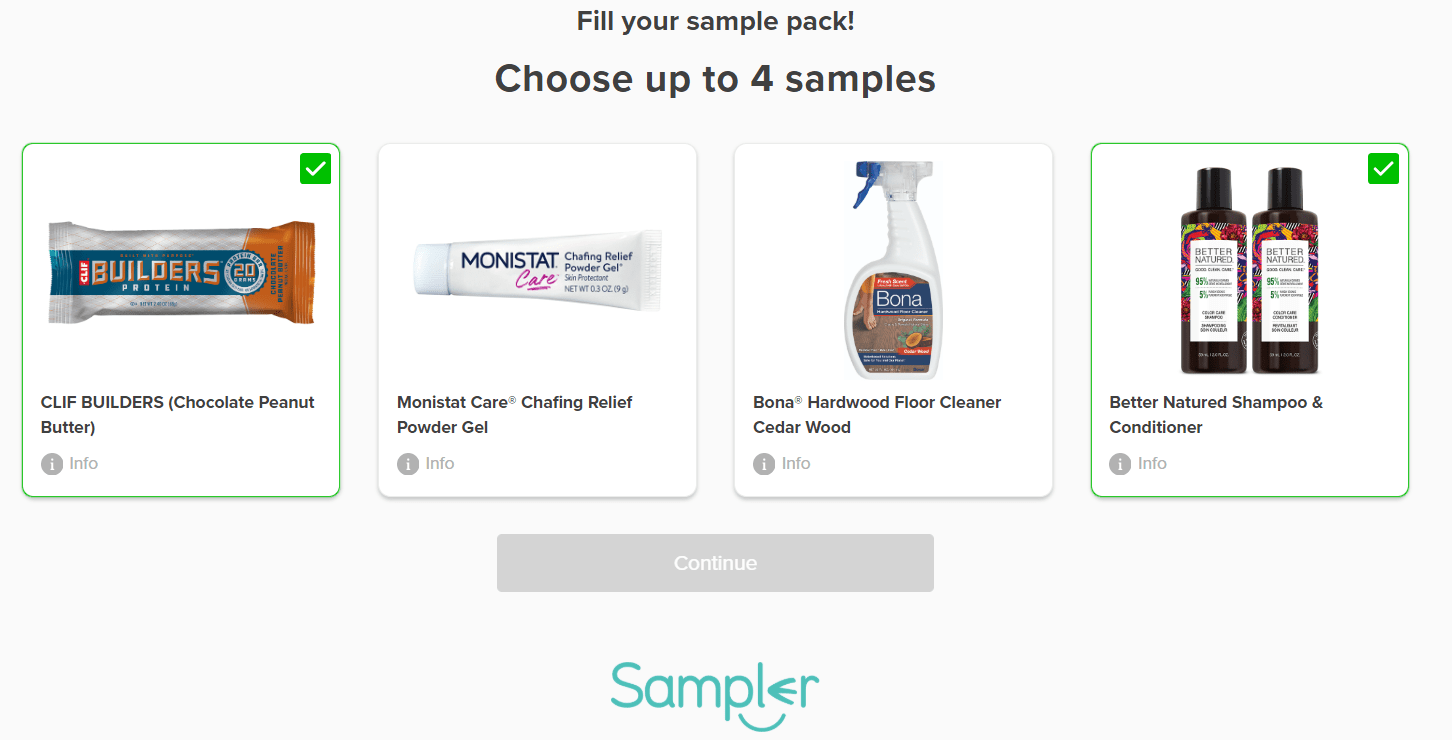 Hint: one of the things I love about receiving free beauty samples by mail? Well, they're typically the perfect size to stash in my carry-on bag at the airport.
Reasons I Love Receiving Free Sample Boxes of Products
In case you haven't noticed from reading above, I just love it when I receive a free box of goodies in the mail.
Psst: don't forget to also sign up for freebies on your birthday. Tons of companies give out free products to help you celebrate!
In fact, I'm so excited by this, that I want to lay out the reasons why I love doing it (and I think you will, too):
Makes Getting Mail FUN Again: I don't know about you, but we got tons of junk mail and bills in our mailbox. Not a lot of fun. But when I open my mailbox to one of these cute, fun-shaped size boxes? It brings a smile to my day.
I Don't Have to Buy Travel-Sized Beauty Products: Getting these free samples saves me money. How? Well, when I travel on an airplane, I can just bring along one of my travel-sized shampoos, conditioners, and other items that's been sent to me (I store them for when I know I'll be taking a trip).
Feeds My Snack Appetite: I am a snacker. I love to snack throughout most of the day. These snack-sized samples are just perfect for me to throw in my purse or the pantry, and then take out when I'm looking for something new to try.
I Can Give Free Samples to Family and Friends: Every so often, I get a product that I just won't use. Which means I get to give it to a family or friend when I see them next! For example, I do not color my hair, and so the Better Natured Color are shampoo and conditioner that I received won't work. However, my mother – who dyes her hair – will be visiting us this Fall. It's the perfect way for me to stock the guest shower with a new product she gets to try out!
What to Do with Free Samples (Freebies)
Perhaps you have wanted to send away for free sample boxes with free shipping, or to review products for free, but do not see the point in doing so.
After all, how is a little 3 oz. bottle of shampoo going to help you in the long run?
Well, I am here to tell you that there are several great ways for you to use free samples.
Here are some ideas to get you started:
Make a Guest Basket: Put together a guest basket for your guest bathroom, sort of like a hotel. Include toothpaste, shampoo, conditioner, disposable razor, floss, etc. This added touch will make your guests more at home and appreciative of your hosting talents.
Make a Travel Bag and Gift to a Student: Purchase a travel makeup bag, and fill this with all of the airline-safe free samples you have received. You can give this as a gift to a college or high school student going abroad, a friend taking a honeymoon, or even someone going off to college.
Make Your Own Travel Bag: Use this for your own personal travel. Keep all of these items in a travel bag so that the next time you take a trip, you can just grab it and go without having to pick through your own items at home to figure out which to pack.
Reuse the Sample Containers for Travel: After you use the products from these containers, wash them out and use them to put your own products in for when you travel instead of purchasing a set. The containers that free samples come in are generally all within the allowable 3 ounce limit for liquids on airlines.
Gift to a Mother-to-Be: You can collect free baby samples of products, then purchase a baby traveling bag and fill it with products. Purchase a few baby travel tools and give this as a baby shower gift for mothers who plan on traveling with their infants.
I've tried each of these free sample boxes (free shipping) out in the last few months, and couldn't be happier. Not only did I get to sample new products I wouldn't want to purchase in the store without testing out first, but I felt nicely pampered by the whole experience…all without even whipping out my credit or debit card.
Now, it's your turn!
The following two tabs change content below.
Amanda L. Grossman is a writer and Certified Financial Education Instructor, Plutus Foundation Grant Recipient, and founder of Frugal Confessions. Over the last 13 years, her money work has helped people with how to save money and how to manage money. She's been featured in the Wall Street Journal, Kiplinger, Washington Post, U.S. News & World Report, Business Insider, LifeHacker, Real Simple Magazine, Woman's World, Woman's Day, ABC 13 Houston, Keybank, and more.
Read more here
.
Latest posts by Amanda L Grossman (see all)